Commentary
Sleeping positions: Five teams that could surprise
Originally Published:
August 30, 2007
By
John Clayton
| ESPN.com
From a competitive standpoint, the NFL provides every opportunity for teams to quickly go from worst to first in a division. The draft is weighted so that lower-rung teams get the best players. And even though schedule breaks aren't as beneficial as before, the league tries to give fourth-place teams in each division the easiest schedules in hopes of gaining ground on the stronger clubs.
But as you search ESPN.com's preseason power rankings for a sleeper team, don't concentrate solely on those with favorable schedules. Injuries also will play a factor, and while you can't predict them, you know they will happen. For older teams, it's more difficult to overcome the injury drain since the recovery time for veteran players is longer.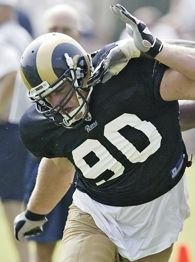 AP Photo/Tom GannamFirst-round pick Adam Carriker should have a quick impact on the Rams' run defense.
One other thing likely to happen: Roughly half the teams that will make the playoffs this season are teams that failed to reach the postseason last year. Taking all that into consideration, it's no surprise that three of our five sleeper teams finished in fourth place in their respective divisions a season ago.
The Rams, coming off an 8-8 season in which they averaged 22.9 points, are loaded on offense. Steven Jackson is talking about 2,500 yards combined running and receiving. Quarterback Marc Bulger, having signed a $65 million contract extension, has a high-priced group of receivers to whom he can spread the wealth -- Torry Holt, Isaac Bruce, Drew Bennett and Randy McMichael. Sure, there is concern about the wear and tear on Holt's knee, but he knows how to take care of himself. Besides, the offense doesn't revolve around only him.
But the pleasant surprise in St. Louis will be the defense. First-round choice Adam Carriker looks like the type of defensive tackle the club has sought for years. He's a tough run-stopper and will anchor the front. Defensive end James Hall also is tenacious against the run, a sore spot last season when the Rams ranked next to last in rushing defense. The linebackers have speed and playmaking ability, while Tye Hill has grown as a coverage cornerback.
The Redskins' defense had too many holes last season. The pass rush was nonexistent, and points allowed jumped from 18.3 a game in 2005 to 23.5 in '06. Defensive coordinator Gregg Williams, hoping to stem the tide, resorted to plays that didn't work, and Joe Gibbs didn't have enough offense to counter the problem.
But expect the defense to show some life in 2007. London Fletcher brings energy and experience to the middle linebacker position, and Rocky McIntosh provides enthusiasm and range on the weak side. In fact, whenever the Redskins make a tackle, it seems as though Fletcher, McIntosh and either LeRon Landry or Sean Taylor are around the ball.
The offense seems to be maturing, with Jason Campbell appearing more comfortable as a quarterback. Gibbs doesn't have to rely exclusively on Clinton Portis as the main running back because Ladell Betts does a great job off the bench.
Underestimate the Dolphins at your own risk. Sure, quarterback Trent Green looks shaky as he learns the changes new coach Cam Cameron has made to the offense since the two worked together in Washington. And yes, the offensive line looks horrible right now. Every play seems to break down, which forces Green to get rid of the ball quicker on pass plays when Ronnie Brown isn't having to dodge defenders on run plays.
But defensive coordinator Dom Capers has pieced together a solid unit. He knows how to put his defenders in position to stop the run and rush the quarterback. Dolphins GM Randy Mueller is doing his part by giving Capers some younger players to work into the mix.
Still, the key is Green. Once he gets up to speed, expect him to complete more than 60 percent of his passes while increasing the team's scoring average from 16.3 points last season to more than 20 a game this year. If the Dolphins take advantage of one of the conference's easier schedules, they could challenge the Jets for second place in the AFC East.
Vince Young comes off a season in which he completed only 51.5 percent of his passes. He has lost two of his best targets in Bobby Wade and Drew Bennett. The team's best runner, Travis Henry, also is gone. The numbers just don't work & but maybe they aren't supposed to work.
After all, following a 2-7 start last season, the Titans won six straight games and eventually finished 8-8 despite playing an impossibly tough schedule (.571 opponents' winning percentage). Veteran center Kevin Mawae says there is a togetherness on this team that defies statistics. Maybe he's right. Maybe this is a team that shouldn't be judged on paper.
Head coach Jeff Fisher compares the closeness of this team to the one in 1999 that reached the Super Bowl. Now let's not go that far. But as long as Young's elusive legs and accurate arm keep the Titans above the 20-point level while the team tightens up its defense, last year's finish will not be a fluke.
Clearly, an easier schedule will help Tampa Bay this season. The Bucs go from a .535 schedule to a .473, the biggest flip in the league. Expect that to translate into a three-game improvement from last year's 4-12 disaster.
But besides the schedule, there are other reasons to expect improvement from the Bucs. The easiest way for a team to rise from four wins to eight or nine is to run the ball and play good defense. While the Bucs' defense isn't as good as in previous years, the running game could improve from 28th in the league to the middle of the pack this season.
Quarterback Jeff Garcia should jump-start the offense, and he knows how to manage a game. During his days in San Francisco, he usually got 1,050 rushing yards and 50 catches a season from his lead tailback. Running back Cadillac Williams should bounce back to the 1,200-yard range after a drop-off last season, and he can catch 50-plus passes.
NFL senior writer
Senior NFL writer and commentator
Joined ESPN in 1995
Member of the writers' wing of the Pro Football Hall of Fame in Canton, Ohio
SPONSORED HEADLINES
MORE NFL HEADLINES
MOST SENT STORIES ON ESPN.COM
2007 NFL PREVIEW

In our 2007 preview, 'Secrets of The Game," we take you inside the NFL, with stories on the playbook, video preparation and a peek at Peyton Manning's passing camp.
THE BASICS
•
Team-by-team previews, more
•
Power rankings: Pats clear No.1
•
For your ears only: SB predictions, more

•
Our experts' picks...
|
...and yours
SPORTSNATION
•
Vote:
And the Super Bowl teams will be...
•
Vote:
NFL 101
|
Week 1 Pick 'em
•
Rank 'em:
Teams
|
MVP favorites
|
QBs
DAY 1: Mystery of the playbook
•
The NFL's sacred diary of trust
•
Scouts Inc on go-to plays:
AFC
|
NFC
•
Inside an '04 playbook
|
10 pages from it (PDF)
•
Playbook stories: Lost, found, confused
•
Pasquarelli: How different are they?
•
For your ears only: Talking X's, O's

•
Scout-speak: A glossary
DAY 2: Tales of the tape
•
Breaking down the game with Matt Hasselbeck
•
How teams collect, dissect video
•
Merril Hoge's all-game tape team
•
Film room: 'Holy land' of the NFL
•
Video:
Hoge, EA Sports on tape study
•
Future film study could be like video game
•
Clayton: Five sleeper teams
•
Scouts Inc.: 10 unnoticed contributors
•
Jeremy Green: What I learn from tape

DAY 3: Inside Manning's passing camp
•
Behind the scenes with Manning & Co.
•
Football joy at Manning Passing Academy
•
Milestones: Favre, others approach marks in '07
•
Brett Favre Zoom gallery
•
Scouts Inc: 5 passers of near future
•
Scouts Inc: 5 passers of distant future
...and in ESPN The Magazine

Season preview: NFL players spend the entire offseason looking forward to September. Then poof! A star QB (hi, Mike) is indicted and a marquee DT blows out his knee (that's gotta hurt, Booger). Winning the Super Bowl isn't easy. Ask LT, who's trusting his my-way-is-the-only-way GM to take him all the way.
On newsstands Wed., Aug. 29
...and on ESPN
Watch the season debut of the award-winning "Sunday NFL Countdown" on Sept. 9 at 11 a.m. (ET).