Commentary
Falcons leaning on Petrino playbook
Despite all the "borrowing" that takes place in the league, each NFL playbook still manages to retain its own identity.
Originally Published:
August 29, 2007
By
Len Pasquarelli
| ESPN.com
ATLANTA -- On the opening day of training camp here last month, Atlanta Falcons players tried to compensate verbally and physically for the absence of star quarterback Michael Vick. Wide receiver Joe Horn cited the playbook compiled by first-year head coach Bobby Petrino as one component that might help the embattled team somehow move beyond the loss of its highest-profile performer.
Having pored over playbooks for a dozen league seasons, Horn spoke of Petrino's offensive tome with a degree of awe, as if it included the definitive answers to life's most vexing curiosities.
"It's just different," concluded Horn.
Maybe so. But the guts of virtually every NFL playbook, save for the terminology used by the coaching staff, probably doesn't vary all that much from one franchise to the next. Ever since Hall of Fame coach and noted innovator Paul Brown conceived the notion of actually having his players scribble down their assignments, the basic rudiments haven't changed all that much.
That said, there must be something different about each team's playbook, right? And even in a sport where there are no proprietary trademark rights on any idea, and coaches "borrow" from one another all the time, there has to be something that sets apart every coach's playbook, one would think.
Just because the NFL grants every coach a license to steal doesn't mean there can't be a little intellectual license, does it?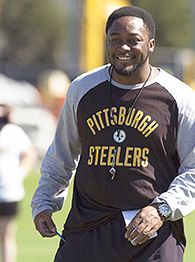 Michael Fabus/WireImage.comMike Tomlin's past will influence his approach in Pittsburgh.
"I don't know about that," said first-year
Pittsburgh Steelers
coach Mike Tomlin. "We're all, to some extent, a product of where we've been and who we've worked for and worked with over our careers. So when you put together your playbook, sure, there's a big piece of you in there, you would hope. But there are a lot of pieces of a lot of other people, too. Stuff that you've picked up along the way."
Indeed, it might be the manner in which such stuff is edited in or out, discarded one year or reintroduced the next, that sets apart each coach's playbook. And which, essentially, makes it his own.
Don Shula, who won more games than any coach in NFL history, was infamous for rarely uncluttering his playbook. In augmenting the football Bible for the Miami Dolphins every season, Shula created an encyclopedic playbook. Longtime coach Dan Reeves, who based many of his offensive principles on the tenets of the Tom Landry-era Cowboys' attack, had a notably verbose playbook, one that regularly flummoxed new quarterbacks. Chuck Noll's Pittsburgh playbooks were steeped in fundamentals. Other coaches have interspersed platitudes into their playbooks.
But those singular quirks, it seems, are what made the playbooks their playbooks.
So maybe, as Joe Horn insisted, the Petrino playbook really is different from any of the others upon which the grizzled wide receiver has ever laid eyes. It is, after all, a playbook most recently used at the University of Louisville. Except that it has a lot of NFL roots, too, from when Petrino was an assistant on the Jacksonville staff.
"It evolves," Petrino said earlier this summer. "But I don't know that there is anything that's all too radical in there."
Said first-year Oakland Raiders coach Lane Kiffin, another rookie boss whose background is primarily in the college game, on addressing playbook differences: "It's just in the way you present the material. That's what makes it yours. There isn't anything mystical or magical about it."
Still, one would think that, after some NFL tenure, every coach would like to regard his playbook as his own, rather than merely a compendium of borrowed concepts, tweaked philosophies and shamelessly pirated ideas.
That juncture, apparently, only comes with time.
"After awhile, the way you add and subtract things [philosophically], the manner in which you merge some ideas and maybe purge some others ... that's what sets apart your coaching style," Tomlin said. "And it's probably what makes your [playbook] a little different."
Len Pasquarelli is a senior writer at ESPN.com.
SPONSORED HEADLINES
MORE NFL HEADLINES
MOST SENT STORIES ON ESPN.COM
EDITORS' PICKS
If Marc Trestman is on his way out, he'll do so with a QB unlikely to take the risks that doomed Jay Cutler.
Wright »

Big-name QBs lead off Todd McShay's first 2015 mock draft. Is RB Melvin Gordon far behind?
McShay

Drew Brees and his contemporaries have obliterated the numerical feats of Johnny Unitas and his peers.
Seifert »