Commentary
Favre looking to make history
Brett Favre's pursuit of the all-time mark for TD passes is one of several milestones players will be chasing this season.
Updated:
August 31, 2007, 7:27 PM ET
By
William Bendetson
| ESPN.com
While players chasing records usually receive greater attention in baseball, football has its share of noteworthy milestones. Green Bay Packers quarterback Brett Favre is just six touchdown passes shy of tying Dan Marino's NFL record (420). He is also within striking distance of two more Marino marks. With 57,500 yards passing, Favre is 3,861 shy of the record, and he needs just 135 pass attempts to tie Marino in that category as well.
Memory Lane
QB Brett Favre has given Green Bay fans a lot of thrills through the years.
1. In a 1993 playoff game against the Lions, Favre threw across his body to Sterling Sharpe down the sideline, giving the Packers a 28-24 victory.
2. In a 1994 game against Atlanta, Favre scored the go-ahead touchdown on a 9-yard run, diving across the goal line for the score.
3. Favre threw an 81-yard touchdown pass to Antonio Freeman in Super Bowl XXXI, the longest in Super Bowl history.
4. Against the Bears in 1995, Favre played on a sprained ankle but still threw a career-high five touchdowns.
5. In the 1996 playoffs, Favre tossed two touchdown passes to Dorsey Levens as the Packers demolished the 49ers 35-14.
William Bendetson
The Atlanta Falcons actually selected Favre in the second round of the 1991 NFL draft, but he was dealt to the Packers the following year in exchange for a first-round pick. Favre was supposed to be an understudy to Don Majkowski, but in the third week of the season, the Packers trailed the Cincinnati Bengals 10-3 at halftime and Favre replaced Majkowski. He led Green Bay to a 24-23 victory, throwing a 35-yard touchdown pass to Kitrick Taylor with 13 seconds remaining.
"Even with all of Favre's incredible comebacks, it is still one of the games that I remember most," former Green Bay general manager Ron Wolf said.

Favre has not missed a game since, suiting up for 236 straight starts. The only player to win three consecutive MVPs, Favre led the Packers to consecutive Super Bowl appearances, and in the 1996 season, their first title in 29 years.

"I was in the business 41 years and I never saw a player who loved the game as much as Favre," Wolf said. "When you go to Green Bay, people always used to say the best Packer ever was Don Hutson, but now they are mentioning Brett Favre in that conversation, which is truly a testament to Favre. I will always tell people that Favre is the guy who turned around the franchise."

Of course, over his long career, Favre has also amassed some negative statistics. He needs just four more interceptions to tie George Blanda's career record (277).

Here are more milestones to watch for this season:

1. Seattle Seahawks running back Shaun Alexander needs just four rushing touchdowns to become the eighth player in NFL history with 100. He now stands tied for 11th place on the NFL list with Jim Taylor, and needs 11 more to pass Jim Brown for fourth place and 15 to pass Walter Payton for third.

2. Indianapolis Colts wide receiver Marvin Harrison has 122 career touchdown catches and needs eight more to tie Chris Carter for second on the all-time list. Harrison is also one of only four receivers to notch at least 1,000 career receptions (1,022). He needs 79 catches and 1,237 receiving yards to move into second place in both categories, tying Carter (1,101) and Tim Brown (14,934), respectively.

3. Peyton Manning needs just 25 touchdown passes to become the fifth player in NFL history to throw 300, and tie John Elway for fourth all time. Manning also needs 2,414 yards to become the 11th quarterback in NFL history to throw for 40,000 yards, and 110 pass attempts to become the 16th player in NFL history to have at least 5,000 pass attempts

4. LaDainian Tomlinson needs 23 rushing touchdowns to pass Marcus Allen and move into second place all time with 123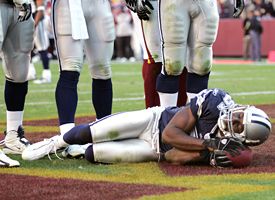 Jeff Fishbein/WireImage.comLove him or hate him, Terrell Owens is etching his name in the history books.

5. Jaguars running back Fred Taylor (9,513) and Falcons running back Warrick Dunn (9,461) have a good opportunity to reach 10,000 career rushing yards.

6. Houston Texans wide receiver Keenan McCardell needs 39 catches to become the seventh player in NFL history with 900.

7. Wide receivers Terrell Owens (11,715 yards), Rod Smith (11,389) and Randy Moss (10,700) all have a chance to reach 12,000 receiving yards, joining 13 other players.

8. Tampa Bay Buccaneers DE Kevin Carter needs only 2½ sacks to become the 23rd player in NFL history with 100.

9. St. Louis Rams wide receiver Dante Hall needs two punt/kick returns for touchdowns to tie Brian Mitchell's NFL record of 13.

William Bendetson covers football for ESPN.com.
2007 NFL PREVIEW

In our 2007 preview, 'Secrets of The Game," we take you inside the NFL, with stories on the playbook, video preparation and a peek at Peyton Manning's passing camp.
THE BASICS
•
Team-by-team previews, more
•
Power rankings: Pats clear No.1
•
For your ears only: SB predictions, more

•
Our experts' picks...
|
...and yours
SPORTSNATION
•
Vote:
And the Super Bowl teams will be...
•
Vote:
NFL 101
|
Week 1 Pick 'em
•
Rank 'em:
Teams
|
MVP favorites
|
QBs
DAY 1: Mystery of the playbook
•
The NFL's sacred diary of trust
•
Scouts Inc on go-to plays:
AFC
|
NFC
•
Inside an '04 playbook
|
10 pages from it (PDF)
•
Playbook stories: Lost, found, confused
•
Pasquarelli: How different are they?
•
For your ears only: Talking X's, O's

•
Scout-speak: A glossary
DAY 2: Tales of the tape
•
Breaking down the game with Matt Hasselbeck
•
How teams collect, dissect video
•
Merril Hoge's all-game tape team
•
Film room: 'Holy land' of the NFL
•
Video:
Hoge, EA Sports on tape study
•
Future film study could be like video game
•
Clayton: Five sleeper teams
•
Scouts Inc.: 10 unnoticed contributors
•
Jeremy Green: What I learn from tape

DAY 3: Inside Manning's passing camp
•
Behind the scenes with Manning & Co.
•
Football joy at Manning Passing Academy
•
Milestones: Favre, others approach marks in '07
•
Brett Favre Zoom gallery
•
Scouts Inc: 5 passers of near future
•
Scouts Inc: 5 passers of distant future
...and in ESPN The Magazine

Season preview: NFL players spend the entire offseason looking forward to September. Then poof! A star QB (hi, Mike) is indicted and a marquee DT blows out his knee (that's gotta hurt, Booger). Winning the Super Bowl isn't easy. Ask LT, who's trusting his my-way-is-the-only-way GM to take him all the way.
On newsstands Wed., Aug. 29
...and on ESPN
Watch the season debut of the award-winning "Sunday NFL Countdown" on Sept. 9 at 11 a.m. (ET).

MOST SENT STORIES ON ESPN.COM