To gain an edge, Hasselbeck goes to the tape
In an effort to gain an edge, Seattle quarterback Matt Hasselbeck spends up to 20 hours a week during the season studying video of opponents, Mike Sando writes.
Updated:
August 30, 2007, 9:50 PM ET
By
Mike Sando
| ESPN.com
KIRKLAND, Wash. --While NFL teams spend millions on elaborate video systems, Matt Hasselbeck thanks the TiVo in his living room for helping the Seattle Seahawks reach Super Bowl XL.
An intense work week was nearly finished when Hasselbeck dove into his DVR the day before Seattle faced Carolina in the NFC title game 19 months ago.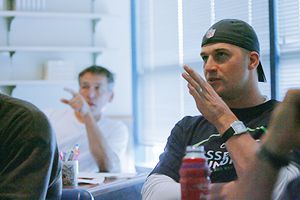 Tom Hauck for ESPN.comSeattle quarterback Matt Hasselbeck (right), with QB coach Jim Zorn at a video session, watches up to 20 hours of video a week during the season to prepare for opponents.
This is how home-game Saturdays go for Seattle's three-time Pro Bowl quarterback. His wife, Sarah, takes the kids out of the house. Hasselbeck hits the playbook and watches the opponent's recently televised games, looking for clues not found in the snap-to-whistle clips NFL teams assemble from elevated sideline and end-zone cameras.
Right away Hasselbeck noticed something he only could have seen on the televised version.
Carolina tended to open games in the "Bear" defense made famous by Buddy Ryan. The opposing offense would adjust, and someone on the Panthers would call an audible.
"Move!" the defender would yell, and the Panthers would get into their preferred defense, leaving the offense at a disadvantage. This is when the team-shot video would normally pick up, but the broadcast version exposed the Panthers' tactics.
"NFC Championship Game, first play, I couldn't believe it, they lined up in a Bear defense," Hasselbeck said. "And in that same voice I heard on TiVo, I go, 'Move!' "
The Panthers moved.
Seattle stuck with its original play.
"It was awesome, like a 12-yard gain to Bobby Engram, naked bootleg to the left," Hasselbeck said. "It set the tone. I was feeling very good about the game after that one."
Intense Preparation
Five things Matt Hasselbeck breaks down first when studying video of opponents:
1. Base blitzes. Hasselbeck wants to know from where the pressure is coming, and when.
2. Nickel blitzes. Sometimes the Seahawks run against the blitz on passing downs.
3. Third downs. The most important down in football for a quarterback.
4. Red-zone. Handing off to Shaun Alexander near the goal line is a luxury most QBs don't enjoy.
5. First play of the game. Seattle stresses fast offensive tempo early in games.
The Seahawks won, 34-14.
"That play never came up in our film study because our film didn't show the shift," Hasselbeck said. "It just showed where they ended up lining up. I would have gone up [to take the snap] that first play and had to audible out and it wouldn't have been a good play."
Hasselbeck saves the conventional video study for the office, up to 20 hours per week during the season.
His typical in-season Monday features a review of the previous day's game. Players are off Tuesdays, but quarterbacks tend to work anyway. That's when Hasselbeck watches four recent games featuring the next opponent, spending 30 to 45 minutes on each. On Wednesdays he takes a closer look at the opponent's base blitzes and base coverages. Thursdays are for nickel blitzes, nickel coverages and nickel fronts, followed by red-zone video on Fridays.
The team checks into a hotel Saturday night, even for home games. The quarterbacks will watch more video there. It's all about situations: two-minute, goal-line, short-yardage, etc.
"If we are going to overdose in one area, it's got to be blitz," Seahawks quarterbacks coach Jim Zorn said. "Because as you know, defensive coordinators are evil. They come up with all of this stuff, and it seems like when they get to us, they love to pour it on, for whatever reason."
Hasselbeck also watches opposing safeties to see which tend to cheat in on run support, leaving themselves vulnerable downfield.
Veteran defensive backs are adept at disguising their intentions, but coverage styles can let quarterbacks know which routes have a better chance of succeeding.
Hasselbeck must differentiate between various techniques: off-coverage zone, press man-to-man, press-bail (showing press coverage before bailing into man or zone) and cloud coverage (when a Cover 2 defender disrupts the receiver's release with a hard jam).
Watching one cornerback isn't enough. Hasselbeck watches to see how corners blend their techniques with those of the safeties, linebackers and linemen. Video analysis might show, for example, that a team pairs specific coverages with specific fronts a high percentage of the time.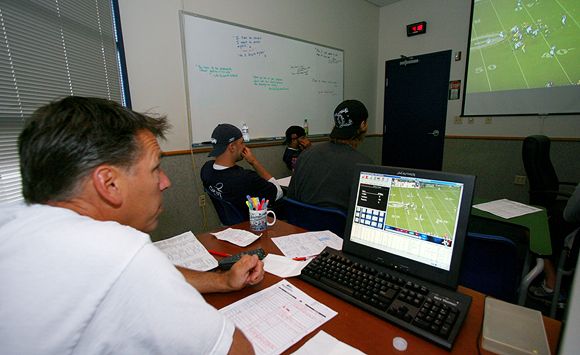 Tom Hauck for ESPN.comSeahawks QB coach Jim Zorn ( left), watching video with Hasselbeck (second from left) and his other QBs, says they spend an extra amount of time preparing for teams' blitzes "because as you know, defensive coordinators are evil."
"You can play certain teams and there is not that much work going into it," Hasselbeck said. "Other teams, it's like, 'Are you kidding me?' "
The Washington Redskins come to mind among those that vary their defensive schemes the most.
"They are incredibly hard to prepare for," Hasselbeck said, "and yet, if you do the work and you do prepare for them, because they are aggressive in their blitz schemes, there are opportunities."
Hasselbeck turns 32 next month. He has seen pretty much everything in 80 regular-season starts since 2001. Yet transferring knowledge from the video room to the field wasn't always easy.
"Early in my career, sitting in a film room and watching it from the press box, which is the angle our film comes from, I could tell you my check, my read, my responsibilities in a heartbeat," he said. "But it's a whole lot different when you are standing up under center."
The Seahawks helped Hasselbeck by walking him through his decisions on the practice field.
Hasselbeck tossed 72 touchdowns with 39 interceptions over the 2003, 2004 and 2005 seasons. Seattle won more games than any team in the NFC during that stretch.
Injuries and personnel changes dragged down Hasselbeck last season. Decisions he made during a divisional playoff defeat in Chicago bothered Mike Holmgren, but the coach seemed more sympathetic after watching the game with Hasselbeck during a March video session.
While watching game video following a tough defeat can be therapeutic, Hasselbeck would prefer to learn from the mistakes of others. He also enjoys collaborating with defensive teammates, particularly the safeties, some of whom serve as quarterbacks on defense. Hasselbeck and veteran Brian Russell regularly exchange secrets in an effort to help each other improve, an approach that can carry long-term risks as players change teams.
The Seahawks acquired Hasselbeck from Green Bay in 2001, the year they used a second-round draft choice on cornerback Ken Lucas. Both players struggled at times early in their careers, and Hasselbeck wanted to help. But he nearly came to regret taking Lucas into the video room for a detailed look at which pass routes to expect from specific formations and personnel groupings.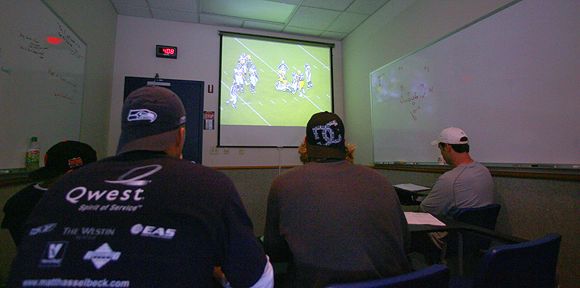 Tom Hauck for ESPN.comIn video sessions, Hasselbeck is keen on watching opposing safeties to see which tend to cheat in on run support, leaving themselves vulnerable downfield.
"One of the things that I had shared with him was, 'Here's how you can know 100 percent of the time when we're running a slant with that receiver,' " Hasselbeck said. "The reason I showed that to him is because there are teams around the league that do the same thing, so if you learn our offense, you learn other teams' offenses in the process."
Hasselbeck was having second thoughts about his approach to mentoring when preparing to face Lucas and the Panthers in that NFC title game. "I'm a little nervous about this," he told Zorn before the game.
Zorn talked it over with Holmgren and offensive coordinator Gil Haskell. They decided to replicate the conditions Hasselbeck outlined to Lucas, with two significant twists. They would have backup quarterback Seneca Wallace line up as the primary receiver, and they would have Wallace run a slant-and-go, hoping Lucas would jump the slant.
The result was a 28-yard completion to Wallace, a pivotal play in Seattle's first touchdown drive.
The Seahawks' victory left Carolina's John Fox and staff to coach Hasselbeck and the NFC squad in the Pro Bowl. Someone should have bought them a TiVo subscription instead.
"I told them that story," Hasselbeck said, "and they were like, 'You gotta be kidding.' "
Mike Sando covers the NFL for ESPN.com.
NFL Insider
ESPN Insider NFL columnist and blogger
Covered the NFL since 1998
Member of Pro Football Hall of Fame selection committee
2007 NFL PREVIEW

In our 2007 preview, 'Secrets of The Game," we take you inside the NFL, with stories on the playbook, video preparation and a peek at Peyton Manning's passing camp.
THE BASICS
•
Team-by-team previews, more
•
Power rankings: Pats clear No.1
•
For your ears only: SB predictions, more

•
Our experts' picks...
|
...and yours
SPORTSNATION
•
Vote:
And the Super Bowl teams will be...
•
Vote:
NFL 101
|
Week 1 Pick 'em
•
Rank 'em:
Teams
|
MVP favorites
|
QBs
DAY 1: Mystery of the playbook
•
The NFL's sacred diary of trust
•
Scouts Inc on go-to plays:
AFC
|
NFC
•
Inside an '04 playbook
|
10 pages from it (PDF)
•
Playbook stories: Lost, found, confused
•
Pasquarelli: How different are they?
•
For your ears only: Talking X's, O's

•
Scout-speak: A glossary
DAY 2: Tales of the tape
•
Breaking down the game with Matt Hasselbeck
•
How teams collect, dissect video
•
Merril Hoge's all-game tape team
•
Film room: 'Holy land' of the NFL
•
Video:
Hoge, EA Sports on tape study
•
Future film study could be like video game
•
Clayton: Five sleeper teams
•
Scouts Inc.: 10 unnoticed contributors
•
Jeremy Green: What I learn from tape

DAY 3: Inside Manning's passing camp
•
Behind the scenes with Manning & Co.
•
Football joy at Manning Passing Academy
•
Milestones: Favre, others approach marks in '07
•
Brett Favre Zoom gallery
•
Scouts Inc: 5 passers of near future
•
Scouts Inc: 5 passers of distant future
...and in ESPN The Magazine

Season preview: NFL players spend the entire offseason looking forward to September. Then poof! A star QB (hi, Mike) is indicted and a marquee DT blows out his knee (that's gotta hurt, Booger). Winning the Super Bowl isn't easy. Ask LT, who's trusting his my-way-is-the-only-way GM to take him all the way.
On newsstands Wed., Aug. 29
...and on ESPN
Watch the season debut of the award-winning "Sunday NFL Countdown" on Sept. 9 at 11 a.m. (ET).
Nike Men's Home Elite Jersey Seattle Seahawks Russell Wilson #3 Shop »

MOST SENT STORIES ON ESPN.COM