Commentary
Weakened Giants pass rush will be big factor in NFC East race
In his latest mailbag, John Clayton tackles questions on Donovan McNabb, Alge Crumpler's impact on the Titans and more.
Originally Published:
August 27, 2008
By
John Clayton
| ESPN.com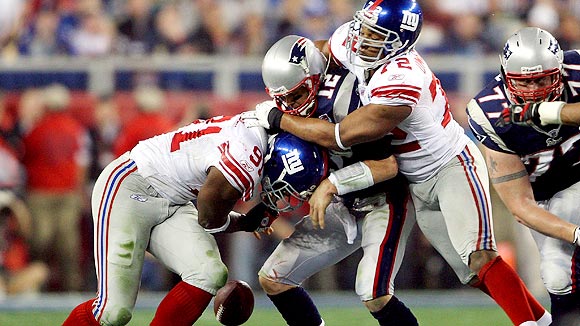 Andy Lyons/Getty ImagesWithout Osi Umenyiora (72) and Michael Strahan, Justin Tuck (91) and the rest of the Giants' pass rush will be hard-pressed to repeat their 2007 performance, when they led the league in sacks.
The New York Giants were a welcome wakeup call to the NFL last season.
Aside from Eli Manning establishing himself as the franchise quarterback retired general manager Ernie Accorsi expected him to be, the Giants proved that a hot NFC team can compete and beat a top AFC team in the Super Bowl. With their four-defensive-end pass-rush scheme, devised by creative defensive coordinator Steve Spagnuolo, the Giants pressured the quarterback in a way that unnerved Tom Brady on their way to the Super Bowl victory.
Any questions?
Have a question for John Clayton? Connect with him here. Mailbag
More and more teams are trying their best to copy the four-defensive-end alignment -- as long as they have four ends who can pass rush. Watch for the Philadelphia Eagles to do a lot of it. And the Washington Redskins upgraded their pass rush by trading for Jason Taylor. Taylor, who is pushing his rehab from a knee injury to be ready for the opener against the Giants, should team up with Andre Carter and give the Redskins the chance to go from a 33-sack team to the 45- to 50-sack level.
Last Saturday, though, the fates of two defensive lines changed dramatically, and, coincidentally, the two teams will meet next Thursday in the league's opening game. Giants Pro Bowl defensive end Osi Umenyiora suffered a major knee injury early in Saturday's preseason game against the Jets and will be sidelined for the season. Taylor sprained his knee in a home game against the Jaguars but had the good fortune of having Dr. James Andrews in attendance.
Andrews checked out the knee Saturday night and immediately told Taylor it was only a sprain. Though the injury usually requires a 10- to 14-day recovery period, it's not out of the question for Taylor to be ready for the Giants game.
Suddenly, the great Giants pass rush is suspect going into the regular season. They lost 22 sacks with Umenyiora's season-ending injury and the retirement of Michael Strahan. If you include the departures of linebackers Reggie Torbor and Kawika Mitchell, the Giants lost 26.5 of their 53 sacks from last season. Even though Mathias Kiwanuka could have an eight- to 10-sack season moving from linebacker to defensive end, it's hard to imagine the Giants being back atop the sack leaders league-wide.
Sacks can sometimes be a misleading stat, but pressuring the quarterback can't be underestimated. A team that can't pressure the quarterback can't stop the great ones. Brady, even though he was playing on a sprained ankle, wasn't himself in the Super Bowl facing the Giants' pass rush.
The Giants led the league last year with 53 sacks. Now, without Umenyiora and Strahan, the Giants might finish fourth in the division in sacks. The Cowboys were second in the conference last season with 46 sacks. The Eagles were tied for sixth with 37, but they should be in the 40s this season. The Redskins will improve from their 33 with Taylor and Carter applying pressure from the outside.
Things change fast in this league.
Let's dive into the mailbag:
From the inbox

Q: If Shawne Merriman is out for the season, are the Chargers talented and deep enough to cover up his loss? I am a huge Chargers fan and was hoping that this would be the season they could get over the hump and win one just like the Giants did last year. Will this make them closer as a team/unit and will they be able to jell together and win it without No. 56?
Robert in Fort Wayne, Ind.
A: As you heard Wednesday, Merriman decided to play this season, which is what I suspected all along. But the knee is a ticking time bomb, so let's look at what might happen if he can't play at some point this season. It won't be the same without him, but, yes, the Chargers can survive and still go to the Super Bowl. The Chargers designated his likely replacement, Jyles Tucker, by giving him a four-year, $14 million extension. Clearly, he's not Merriman, but he has some of the same pass-rushing mannerisms. He's big. He has some speed. He's not bad. While it's still possible Merriman might play, the Chargers will just have to adjust their pass rush. Shaun Phillips is one of the better pass-rushing linebackers in the league. Some top 3-4 defenses only have one top pass-rusher. The Chargers have two. The schedule remains easy, so the Chargers -- with or without Merriman -- should have a good chance at home-field advantage during the playoffs. Every team has to adjust to a major injury.
Short takes
To Matt in Florida, nope, Kordell Stewart is done. He's not going to surface as a backup anywhere. . . . To M. Martinez in Philadelphia, there will be no Anquan Boldin trade. The Eagles have tried to get Roy Williams, Chad Johnson, Boldin and others over the past year. So have the Cowboys. Boldin will not be traded by the Cardinals this season. Sorry, end of story. . . . To Tim from Pittsburgh, the Steelers' defense had a horrible day of tackling in their second preseason game. They picked it up against the Vikings. More than likely, it was just a case of tired bodies and tired legs. Despite some age issues along the defensive front seven, the Steelers remain a top-five defense. . . . To Cheng in Bolder, Colo., I am worried about a possible lockout in 2010 with the passing of Gene Upshaw. Upshaw knew how to settle the labor problem. He knew what needed to be done to get a deal. Now, he's gone. If the union undergoes a major change in leadership, it will set back negotiations another year. The clock is ticking to an uncapped year in 2010. A deal needs to be done by no later than March, 2010. . . . To Jack in Minnesota, Joe Horn will land with some contending team, but I don't see any spot open for him on the Vikings. . . . Jason in Pensacola, Fla., wonders if Andrew Walter of the Raiders can be traded to a team such as the Bears. Don't see it. Walter hasn't established himself yet as a backup quarterback. He'll get a chance to go elsewhere if the Raiders cut him, but that doesn't look like it will happen either. . . . To Casey, Cadillac Williams, as you know, is on the physically unable to perform list until October. It wouldn't surprise me if he doesn't come back this season, but if he does, I don't expect a great year. He suffered one of the worst knee injuries among the running backs last season. That doesn't mean he can't come back to have a great 2009. The Bucs like being an old team. I like how they are trying to get younger on defense. The Bucs are a contender, but I question whether they can win the NFC South again. . . . To Chioke in Baltimore, I don't see a new stadium on the horizon for the Oakland Raiders. The state of California isn't doing anything on new stadiums for any of its pro teams. . . . An e-mailer contends Kyle Orton makes as many if not slightly more turnovers per play than Rex Grossman. Remember, Orton put up most of his stats as a rookie pressed into service. If you watch the tapes of preseason and see some practices, Grossman tends to make dumb throws at the wrong time or fumbles. The Bears had no choice but to go with Orton.
Q: In the discussions about shortening the regular season has adding an extra bye week for each team been tossed around? An extra bye week would be extremely easy to schedule and it would make the bye weeks fairer as far as timing of the bye for each team. In weeks 4-7 and 12-15 each division would get a week off. This prevents all the negative effects of a 17th game (unbalanced home and away schedule, too much weight on non-divisional games, etc.). Also, the league gets another week of television revenue.
Anthony in Marion, Ill.
A: The league is still in the early stages of 17-game discussions, so everything is on the table. The problem with adding an extra bye week during the season is that it turns the season into a 19-week affair, and that's a concern. The league likes the idea of having the season between Labor Day and New Year's. The 17th game would mean the season either starts before Labor Day or ends the first or second week of January, pushing the Super Bowl until the middle of February. My guess is that they would put a bye week before the opener after the third preseason game to give every team a chance to go into the season healthy. The Competition Committee will get into extensive planning on that sometime in the next year or two and maybe see if an extra bye week works. The extra-home-game concept for a 17-game schedule has been discussed. They would alternate the home games by conference each year.
Q: Last year the Eagles took Kevin Kolb in the second round as their quarterback of the future. When do you think that future will be? Do you think after the 2008 season, they will contemplate trading Donovan McNabb and turning the team over to Kolb? I know McNabb is from Chicago and after the Bears probably go 4-12 this year, would Chicago be willing to give the Eagles at least a second-round pick for him?
Jeff in Reading, Pa.
A: There may have been some thought to that in 2007, but not now. McNabb has re-established himself as the Eagles' franchise quarterback. At some point in the next two years, they've got to figure out a way to get him a career-ending extension. McNabb went through a lot in 2007. He sensed the organization wanted to replace him. It probably did. He wasn't as strong in the locker room heading into 2007. He was coming off reconstructive knee surgery. But McNabb won back the locker room and the organization last season. Now he's even stronger. He's throwing the ball exceptionally well. Eagles management knows better than most teams that a quarterback is the key to any Super Bowl run. Kolb has the potential to be a good quarterback, but watching him throw against McNabb is a mismatch. Injuries happen, and that's where Kolb's value will grow. He'll be used ahead of A.J. Feeley as the backup, I presume. If he turns out to be a good quarterback, the Eagles could trade him for value, if necessary. Nothing wrong with having two or three good quarterbacks, especially if the starter can take you to the Super Bowl.
Q: Hi John, I was wondering [about] your thoughts on Alge Crumpler. How do you think he will rank among other top tight ends in the NFL? I know Tennessee has two others there, do you think he will stand out?
Eric
A: Alge Crumpler is an interesting fit in Tennessee. First, he's the perfect teammate for Vince Young. Crumpler will quiz Young in practices and games, comparing notes about the coverages. Crumpler is one of the smartest tight ends in football. He's a good leader and a good ally for Young. As far as the passing part of it, Young seems to have a better downfield passing feel with Bo Scaife. That's a good one-two tight end punch. Scaife seems to work the out routes and sideline patterns well. Crumpler works the middle of the field well. Wouldn't surprise me if 90 to 100 completions go to the tight ends with Scaife getting the slight edge.
Q: I'm leaning heavily [toward thinking] that the Bears' problems are coaching more so than players. From Lovie Smith to Bob Babich to Ron Turner and the specialist coaches other than Dave Toub, we don't seem to get the production out of players. Lovie needs to be called to task for his approach and his coaching choices. What's your opinion?
Richard
A: While no coaching staff is beyond criticism, I believe in Lovie Smith. He took the Bears to the Super Bowl with Rex Grossman at quarterback. Think about that for a second. That's getting the most out of the talent on the team. Still, the defense does seem to be missing a spark since Ron Rivera left. Other than maybe finding a better plan for the use of Devin Hester and getting him on the field more, I have no issue with Ron Turner. He's a bright offensive coach. He brought in a great running scheme, and he helped Grossman in the Super Bowl year. The main problem is still talent. The offensive line got old and replacements have yet to surface. The Bears are at a disadvantage compared to other teams at quarterback, although Kyle Orton will cut down on turnovers. Who are the wide receivers? While it's clear the defense is underachieving, it's tough to perform at a high level without much offense. Ask the Ravens.
Q: Why is it that the Arizona Cardinals are always such a bad team? If they keep getting a top draft pick every year, why don't they do better?
Kilohana in San Diego
A: Hold out some hope this year. Maybe Ken Whisenhunt can get them over the top. I love the makeup of this coaching staff, both on offense and defense. They are good coaches and good teachers. Plus, Whisenhunt and Russ Grimm have a plan for building the team. They do a pretty good job in college scouting. Two-thirds of their starters are from the draft. Where they get themselves in trouble is on the contract side of things. They don't tend to keep players or they have tough times getting second deals. It took more than a month of free agency to get the Larry Fitzgerald deal done, and that angered Anquan Boldin. Whisenhunt handled the quarterback competition perfectly. Unfortunately, Matt Leinart got worse, not better. The team isn't deep, but it has a chance to compete for the NFC West title. They have a chance.
Q: Why have I not seen the Panthers put together two consecutive good years? They seem to yo-yo from one year to the next. What's the deal? Coaching, injuries, abilities, what?
Chip in Gastonia, N.C.
A: Maybe it's a disease in the NFC South, the division in which worst-to-first seems to be the plan every season. Really, though, Jake Delhomme has been battling the elbow problem for three years. Finally, he got the problem fixed with Tommy John surgery, and he's throwing stronger and better than he was for the past two years. Quarterback play and schedule determine where a team is going to finish. Another thing that was going on with the Panthers was an older roster. If a team gets too old in one area, they tend to fluctuate. Now, the Panthers have tried to get younger, and Delhomme is back. With an easy schedule ahead, they have a chance to battle the Saints and Bucs for the division title. If that fails, they could get a wild card.
Q: Don't you think 1,000 yards rushing is overrated since there is a 16-game schedule? That averages out to 62.5 yards a game. I don't think it is as great a feat anymore.
A: Great question. Yes, it is. But we are in a new era of running back standards and we are going to have to adjust the numbers down. Most teams use two-back schemes. Some use three backs if the third back is used on third downs. There aren't that many carries to go around. Clinton Portis of the Redskins had the most carries last year, and he had 325. Getting to 1,000 yards should be the minimum requirement of a good back, but a back is going to need 250 carries to do that. What we are seeing is a narrowing of the margin of good and average for the lead back. The days of the 350-carry back are gone. Maybe one or two backs at the most will reach that. A good back should get 80 yards a game. But the more carries a back gets, the bigger the chance they get injured. A lot of backs can't stay healthy for 16 games so their stats are spread over 13 or 14 games. With more backs sharing the position, we might have to look at 1,100 yards as a decent milestone.
Q: What does it take to establish a team? What team do you believe has the best chance to rise from the ashes, the Cardinals, 49ers or Rams? Why? Is Seattle a lock to win the NFC West?
Wilson in San Francisco
A: The Seahawks have the best chance to win the division. They have the best quarterback, Matt Hasselbeck. They probably have the most talented defense. The 49ers defense looks pretty good. It should rank in the top 15. I like some of the things I see from the Cardinals' defense, but it might rank low because of yards allowed. It may be more bend, but not break. With Kurt Warner at quarterback, the Cardinals could again average 25 points a game. A healthy Marc Bulger could get the Rams' offense into the top 10, but I'm not sure if there is enough offensive line protection to keep him healthy. The Seahawks have the best chance to win the division, but I wouldn't call them a lock.
Q: John, if the NFL shortens the preseason from four games to two games, will the league then expand the regular season to 18 games? I don't want the 16-game season to change. Adding one or two more regular season games dilutes milestones such as 1,000 yards rushing/receiving, 4,000 yards passing and jeopardizes hallowed records such as LT's 31 TDs or Eric Dickerson's 2,105 yards. Will the league avoid the blunder of a bloated 17- or 18-game regular season?
Gurman in San Ramon, Calif.
A: The stats argument is fine, but the league might have to go to 17 or 18 games just to get a new collective bargaining agreement. Saving the game is more important than the stats. The stats adjusted from 12-game to 14-game to 16-game schedules. If the players have to trade back a few gains from Gene Upshaw's last collective bargaining agreement success, then more revenue will be needed to make it work. A 17-game schedule means more money for the players, and it gives the union more money to work with to satisfy swaps with owners on a new agreement. We tend to get comfortable with the stats. I like the balance of a 16-game, 32-team schedule. But something has to give to get a new CBA. The thought of a lockout and no football is too scary.
John Clayton, a member of the Pro Football Hall of Fame writers' wing, is a senior writer for ESPN.com.
NFL senior writer
Senior NFL writer and commentator
Joined ESPN in 1995
Member of the writers' wing of the Pro Football Hall of Fame in Canton, Ohio
SPONSORED HEADLINES
MORE NFL HEADLINES
MOST SENT STORIES ON ESPN.COM
NFL PREVIEW 2008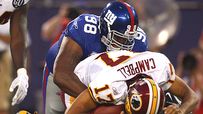 The Giants defeated the Redskins, 16-7, in the NFL opener Thursday night. Which teams will complete the journey to Tampa for Super Bowl XLIII?
NFL preview index
|
Playoff dates
Predictions/Power rankings
•
Power rankings: Champs start season No. 8
•
Gene Wojciechowski: Another run at perfection?
•
Bristol's picks: We love Bolts-'Boys
AFC emerging stars
•
Williamson: Broncos' Cutler ready for stardom
•
Kuharsky: Titans' Finnegan never satisfied
•
Walker: Steelers' Holmes has lofty goals
•
Graham: Bills' Whitner maturing on, off field
•
Scouts Inc.: More emerging AFC stars
NFC emerging stars
•
Seifert: Lions' Johnson poised for monster year
•
Sando: Seahawks' Hill seeking consistency
•
Mosley: Giants' Tuck no longer under radar
•
Yasinskas: Beason takes lead in Carolina
•
Scouts Inc.: More emerging NFC stars
Commentary/features
•
Chadiha: Replacing big names
•
Clayton: NFC East reigns supreme
•
Kuharsky: AFC South is toughest division
•
Chadiha: Merriman a marked man
•
Clayton: Gonzalez is a Chief asset
•
Football Outsiders: Under-the-radar prospects
•
Clayton: Cards' James likes latest trends
•
Joyner: Brady among true big-game players

SportsNation
•
Vote: How will your team fare?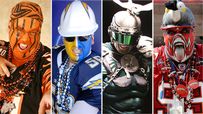 NFL fan base rankings
Best fans in the NFL? We think they wear black and gold. So who's Nos. 2-32? And was there a method to our ranking madness? Matt Mosley explains.
ESPN.com fan base rankings
•
Yasinskas: The Panthers' garage band
•
ZOOM gallery: Carolina's Garage Mahal
•
32 NFL fans you need to know
AFC team previews
•
North:
Balt.
|
Cincinnati
|
Cleve.
|
Pittsburgh
•
South:
Houston
|
Indy
|
Jax
|
Tennessee
•
East:
Buffalo
|
Miami
|
New England
|
NY Jets
•
West:
Denver
|
K.C.
|
Oakland
|
San Diego
Scouts Inc.
From Boldin's best crossing route to Addai's bread-and-butter running play to Washington's pressure defense, watch the signature plays unfold for every NFL team.
Play animations
|
Team schemes
NFC team previews
•
North:
Chicago
|
Detroit
|
Green Bay
|
Minnesota
•
South:
Atlanta
|
Carolina
|
New Orleans
|
Tampa
•
East:
Dallas
|
NY Giants
|
Philly
|
Washington
•
West:
Arizona
|
St. Louis
|
San Fran.
|
Seattle
NFL blog network
•
NFL Nation blog
|
Contact our bloggers
•
AFC
:
North
|
South
|
East
|
West
•
NFC:
North
|
South
|
East
|
West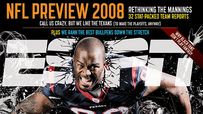 ESPN The Magazine
•
On newsstands Aug. 29:
How control-freak Peyton Manning and laid-back little bro Eli channeled each other to become the NFL's biggest winners. Plus, our experts join NFL scouts and players for a 3-D preview of all 32 teams.
•
The Mag
:
Season preview
|
The 'It' Team 2008
•
Mannings:
Madmen
|
Watch:
Sklars
|
Williams
•
Injuries:
We're all just day-to-day
|
Fitzgerald
•
Watch:
Mario Williams
|
Matt Hasselbeck
•
More:
Marion The Barbarian
|
Colleges vs. Pros
•
NEXT:
Five NFL rookies to watch