Commentary
Cerebral James taking steps to extend shelf life
Edgerrin James believes the leaguewide emphasis on the short, safe passing game will make him a more effective running back and allow him to play well into his 30s, writes John Clayton.
Originally Published:
September 1, 2008
By
John Clayton
| ESPN.com
Edgerrin James' vision has always given him an edge.
Taken by the Indianapolis Colts as the fourth pick in the 1999 draft -- a slight surprise one spot ahead of Ricky Williams -- James has rushed for 11,607 yards in nine seasons. After games, he'd flash back to plays as if he had a photographic memory. He could tell you the defensive coverages or the angle a linebacker was taking. James runs with his mind as well as with his legs.
James offers an interesting insight in regard to the state of running backs in the league. "This is no more smashmouth football,'' James said.
Come to think of it, he's right. Brandon Jacobs (264 pounds) of the Giants, LenDale White (235 pounds) of the Titans and Jamal Lewis (245 pounds) of the Browns may cause big headaches for defenses because of their size and impact, but it's not the size of the dog that works in backfields nowadays -- it's the speed of the dog.
"It's a speed game,'' James said. "Everybody is passing. The NFL has turned into a passing game. You have the stretch play and zone blocking.''
[+] Enlarge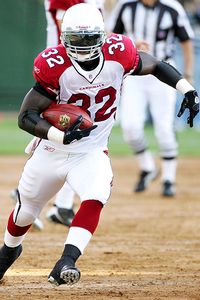 Gene Lower/Getty ImagesEdgerrin James expects to benefit from the leaguewide move away from smashmouth football.
James isn't complaining. At about 215 pounds, James is rarely going to overpower a defender. Early in his career he didn't have to -- he could just outrun them. But a knee reconstruction forced him to make a few changes. Once he came back from his knee injury, the yards kept coming. He's had seven 1,000-yard seasons, including five in a row.
James believes the leaguewide shift to short, safe passes has created more of a level playing field for running backs.
"Look at the guys on the defensive side of the ball,'' James said. "They aren't as big. You don't have all of those 250-pound linebackers that you used to have back in the day. Now, you have only a few. Now, there may only be three or four big guys on the field on defense at any given time. A lot of the linebackers are 220 or 230 pounds.''
James gets a break playing in the NFC, where there are only three teams that use the 3-4 defense -- an alignment designed a little more for size. The three-man front requires a big nose tackle and bigger linebackers, because they engage guards and centers more often. The NFC is more of a Cover 2, 4-3 defense conference, featuring smaller linemen and linebackers than the AFC.
At 215 pounds, James feels at home in the NFC, and he definitely feels comfortable with the way the game is changing. Coaches around the league are copying the Giants' four-defensive-end pass-rush scheme that caught fire late last season and helped them upset the Patriots in the Super Bowl. James feels the more defensive ends, the better.
"Defensive ends, they just want sacks,'' James said. "You don't worry about them. There are some defenses where you see only two big guys on the field. When everybody is trying to get sacks, that works in a running back's favor.''
James turned 30 this summer, a scary age for running backs. Teams target backs for replacement when they get to 28 or 29 and have wear and tear on their bodies from more than 1,600 carries. Though his rushing average has slipped under 4 yards an attempt in the past two seasons, James believes backs can last longer now thanks to the greater emphasis on passing.
He looks at the success stories of Fred Taylor, Tiki Barber and Curtis Martin, who all had career years in their 30s. Williams is 31, and he beat out Ronnie Brown for the starting job in Miami. The league isn't geared toward rewarding backs once they turn 30, but the opportunity is there if an older back is smart enough to take advantage of it.
"I think the 30th birthday thing is more of a cliché,'' James said. "I've talked to Curtis Martin, Tiki Barber and Fred Taylor. The main thing is every year you have to make sure you don't get bigger. The offseasons are more important as you get older. Look what Fred Taylor did last year. You don't worry about 30.''
James didn't turn back the clock this offseason, but he did fight the scale. In 2007, the Cardinals, under new coach Ken Whisenhunt, tried to find their identity. Whisenhunt wanted to bring the Pittsburgh Steelers' power running game to the Cardinals, a team that has been based on the three-receiver philosophy. Assistant head coach Russ Grimm tried to build a bigger, more physical offensive line.
The running game struggled. Matt Leinart was injured and Kurt Warner took over at quarterback. The situation wasn't easy for a running back. The Cardinals trailed in a lot of games and had to pass to stay competitive. Warner played with an elbow injury, making it hard to hand off to his right.
James finished with 1,222 yards and a 3.8-yard average, which he considered a good start in a new offense. After the season, he immediately started training for 2008.
First, he made sure he would be lighter. For the power game of 2007, he bulked up to 220 pounds. Now he's 215, give or take a pound or two. He did more squats to build up his leg strength and explosiveness.
"Stronger and lighter equals being faster,'' James said.
Even though Whisenhunt still wants to establish the Cardinals' physical presence with a power running game, James believes the trends of the league suggest the Cardinals will stay with a three-receiver set and a balanced attack. After all, the trend toward more passing makes the NFL a finesse league, which James likes.
"It's still a simple game,'' James said. "As a running back, you go where they aren't, you have a forward lean and you keep playing. As the game goes on, the yards are going to come.''
James does it the smart way. He'll keep running until the NFL takes the ball away from him.
John Clayton, a member of the Pro Football Hall of Fame writers' wing, is a senior writer for ESPN.com.
NFL senior writer
Senior NFL writer and commentator
Joined ESPN in 1995
Member of the writers' wing of the Pro Football Hall of Fame in Canton, Ohio
SPONSORED HEADLINES
MORE NFL HEADLINES
MOST SENT STORIES ON ESPN.COM
NFL PREVIEW 2008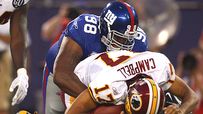 The Giants defeated the Redskins, 16-7, in the NFL opener Thursday night. Which teams will complete the journey to Tampa for Super Bowl XLIII?
NFL preview index
|
Playoff dates
Predictions/Power rankings
•
Power rankings: Champs start season No. 8
•
Gene Wojciechowski: Another run at perfection?
•
Bristol's picks: We love Bolts-'Boys
AFC emerging stars
•
Williamson: Broncos' Cutler ready for stardom
•
Kuharsky: Titans' Finnegan never satisfied
•
Walker: Steelers' Holmes has lofty goals
•
Graham: Bills' Whitner maturing on, off field
•
Scouts Inc.: More emerging AFC stars
NFC emerging stars
•
Seifert: Lions' Johnson poised for monster year
•
Sando: Seahawks' Hill seeking consistency
•
Mosley: Giants' Tuck no longer under radar
•
Yasinskas: Beason takes lead in Carolina
•
Scouts Inc.: More emerging NFC stars
Commentary/features
•
Chadiha: Replacing big names
•
Clayton: NFC East reigns supreme
•
Kuharsky: AFC South is toughest division
•
Chadiha: Merriman a marked man
•
Clayton: Gonzalez is a Chief asset
•
Football Outsiders: Under-the-radar prospects
•
Clayton: Cards' James likes latest trends
•
Joyner: Brady among true big-game players

SportsNation
•
Vote: How will your team fare?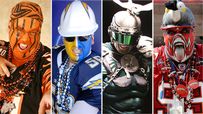 NFL fan base rankings
Best fans in the NFL? We think they wear black and gold. So who's Nos. 2-32? And was there a method to our ranking madness? Matt Mosley explains.
ESPN.com fan base rankings
•
Yasinskas: The Panthers' garage band
•
ZOOM gallery: Carolina's Garage Mahal
•
32 NFL fans you need to know
AFC team previews
•
North:
Balt.
|
Cincinnati
|
Cleve.
|
Pittsburgh
•
South:
Houston
|
Indy
|
Jax
|
Tennessee
•
East:
Buffalo
|
Miami
|
New England
|
NY Jets
•
West:
Denver
|
K.C.
|
Oakland
|
San Diego
Scouts Inc.
From Boldin's best crossing route to Addai's bread-and-butter running play to Washington's pressure defense, watch the signature plays unfold for every NFL team.
Play animations
|
Team schemes
NFC team previews
•
North:
Chicago
|
Detroit
|
Green Bay
|
Minnesota
•
South:
Atlanta
|
Carolina
|
New Orleans
|
Tampa
•
East:
Dallas
|
NY Giants
|
Philly
|
Washington
•
West:
Arizona
|
St. Louis
|
San Fran.
|
Seattle
NFL blog network
•
NFL Nation blog
|
Contact our bloggers
•
AFC
:
North
|
South
|
East
|
West
•
NFC:
North
|
South
|
East
|
West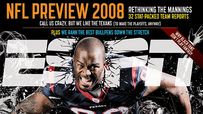 ESPN The Magazine
•
On newsstands Aug. 29:
How control-freak Peyton Manning and laid-back little bro Eli channeled each other to become the NFL's biggest winners. Plus, our experts join NFL scouts and players for a 3-D preview of all 32 teams.
•
The Mag
:
Season preview
|
The 'It' Team 2008
•
Mannings:
Madmen
|
Watch:
Sklars
|
Williams
•
Injuries:
We're all just day-to-day
|
Fitzgerald
•
Watch:
Mario Williams
|
Matt Hasselbeck
•
More:
Marion The Barbarian
|
Colleges vs. Pros
•
NEXT:
Five NFL rookies to watch