Commentary
Tragedy, loss, success help Bills' Whitner mature on, off field
Look both ways. Grow up fast. Those concepts have helped Bills DB Donte Whitner to become an emerging NFL star mature beyond his years.
Originally Published:
September 1, 2008
By
Tim Graham
| ESPN.com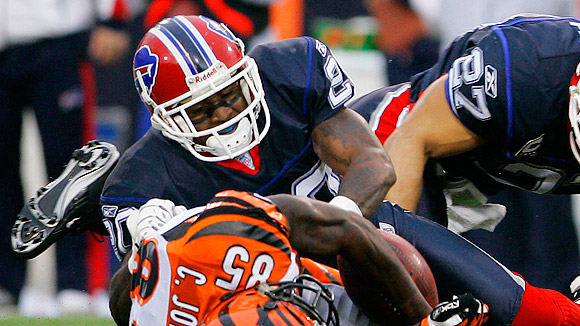 AP Photo/David DupreyDonte Whitner helped rock Cincinnati Bengals receiver Chad Johnson's world in a game last season. His philosophy: "I just want to force teams to pay attention to me on the field. I want those guys to have to game plan for me."
Chad Johnson
's teammates kneeled in prayer. The
Cincinnati Bengals
receiver writhed delicately on the cold Ralph Wilson Stadium turf. He was in too much pain to thrash. His problem? He made a mistake. He made himself vulnerable in
Donte Whitner
's neighborhood. Johnson, arms out, dove for a sinking pass in the closing minutes of a Nov. 4, 2007 loss to the
Buffalo Bills
. A torpedo screamed for Johnson's ribcage. Whitner, the Bills' bone-jolting strong safety, blasted him.
You can't spell "detonate" without the D, O, N, T or E. "When a guy gets that football in his hands, you get an opportunity to do something we can't do in public," Whitner said. "If we did, then we'd all be locked up. I try to be as violent and as fast as possible. I've always liked it. It's an adrenaline thing."
Johnson failed to do something Whitner, at an early age, learned nobody should forget to do.
Look both ways. A near-fatal accident when Whitner was 4 years old drove home that lesson. Then, as he got older, he encountered a series of discouraging episodes that constantly reinforced another truism. Grow up fast. Those concepts have combined to make Whitner who he is, and have established his reputation as an emerging NFL star mature beyond his years. The fast track is the only path he has known. He graduated high school early and left Ohio State early. He's entering his third NFL season, but he didn't turn 23 until the day the Bills reported to training camp. And this is the year he plans to blow up. "I just want to force teams to pay attention to me on the field," Whitner said. "I want those guys to have to game plan for me. "Any player who wants to be disruptive or be a good player in this game, they should want the same thing. I really want to be the best safety in the game of football, and if you don't want to be the best at your position, there's really no reason to be playing. When I come away from this game, I want to be considered one of the best."
AFC East blog

The Bills had nothing to lose aside from nine more football games and some cash so they took a flyer on linebacker Shawne Merriman, ESPN.com's Tim Graham writes. Blog
Those closest to him don't doubt he's capable. Whitner not only has the physical skills; he also is known as one of Buffalo's classiest, most dedicated players. He's a leader and highly involved in the community through his Team 20 Foundation. "I don't like to compare young players to anybody else, but he's a special guy," said Bills assistant George Catavolos, who has coached NFL defensive backs since 1984. "He can do whatever he wants with his future." That would have been difficult to foresee for Deborah Robinson 19 years ago. For three months she carted her son around their Cleveland neighborhood in a wagon. Little Donte (he has his mother's maiden name) was in a body cast, multiple fractures in both legs. Doctors cautioned Deborah he might not be able to walk normally. In a decision similar to the one Ocho Cinco lamented last autumn, Whitner dashed after a ball without looking both ways. He ran into the street. A car ran him over. That wasn't the worst of Whitner's childhood. He had to become the man of the house when he was 12. His father, Lindsey Robinson, served six years in the Mansfield Correctional Institution for attempted robbery. Whitner, his little brother and his mom lived with his grandmother and three cousins on Cleveland's dodgy East Side. "I hate to say it, but a lot of his determination, I feel, comes from the anger and resentment and absent love in his life," Lindsey Robinson told the Dayton Daily News shortly after his prison release in 2003. "He took that to heart and put it to something positive."
Look both ways. Grow up fast.
Whitner was a blue-chip recruit at Glenville High, where he played with
Baltimore Ravens
quarterback
Troy Smith
,
Miami Dolphins
receiver
Ted Ginn Jr.
and
New England Patriots
linebacker
Pierre Woods
. Whitner graduated several months early to enroll at Ohio State. He was 17, in Columbus and competing for a starting job with the Buckeyes while his Glenville classmates still were horsing around in study hall and drinking their lunchtime milk out of 8-ounce cartons. He developed a reputation at Ohio State as hard hitter, a relentless worker, a leader. He played three years and left after his junior season. The Bills selected him eighth overall in 2006. Whitner was 20. "He has a lot of the characteristics you want in a safety," Catavolos said. "He's intense. He's hard-hitting. He's good against the run. He can cover. He can play strong safety, free safety and nickel and he doesn't bat an eye."
Whitner established himself as an NFL talent straight away. He started 14 games as a rookie, and before the flu sidelined him for the meaningless 2007 season finale in Philadelphia, he was the only Bill to play every defensive snap. His 102 tackles ranked third on the team.
"I see a very passionate player," Bills receiver Lee Evans said. "He plays with high energy. He plays downhill. He slides all around the field, and he's kind of the spark plug of that defense."
Whitner certainly sparked discussion before training camp, when he guaranteed the Bills will make the playoffs this year.
Young players are supposed to keep their mouths shut. In light of the Bills' 7-9 finish last season -- the eighth consecutive campaign without a playoff berth -- Whitner's guarantee sounds foolhardy.
Many rolled their eyes.
Now Whitner intends to roll some heads.
"We're going to make the playoffs," Whitner reiterated. "I'm not backing down from that guarantee. I feel even stronger about it now than when I made it.
"We'll see what people say at the end of the day."
Whitner knows his guarantee will make him a target for criticism every weekend this fall. "Scrubs don't make predictions like that," Whitner said. "You have to be an impact player in the league to even open up your mouth and say something like that."
He insisted he's ready for the extra attention because he sees how the Bills' Tampa 2-style defense is morphing with such acquisitions as defensive tackles Marcus Stroud and Spencer Johnson and linebacker Kawika Mitchell, and the return of middle linebacker Paul Posluszny from a broken forearm.
"It doesn't take a rocket scientist to see what you have on the football field," Whitner said. "And with the guys coming together, it's more of a brotherhood than a football team.
"This is the time when it all happens, when you get all the pieces around you, all the players get better and everybody can make plays. We have those pieces in place."
What has Whitner jacked up is that, with a revamped line, the defense can be more aggressive. That means he should have the chance to be a more versatile weapon.
Whitner, who is 5-foot-10 and 208 pounds, doesn't have an NFL sack yet. That might be surprising to those who watched him at Ohio State, where he recorded five sacks and 13 tackles for loss.
"We're going to be a pressure football team," Whitner said. "The way the coaches got me around the football in practice, I'm loving it.
"We feel we can go with man coverage and bring some of those safety blitzes and zone blitzes. You might think I'm coming or I'm not coming. We're doing a lot of things to make plays and be a good defense."
That might keep opposing receivers up at night in the days leading up to a Bills game.

A lot of guys are good at this game, but it's people who aren't scared to take the next step that want to be great. You have to hold yourself up to high expectations and know what you want and go out and get it.
--Donte Whitner
"He's a tough matchup," Dolphins receiver
Derek Hagan
said. "He's a young guy, but he comes to play. When you see a small safety you expect to run right through him, but he's got a lot of power and he brings it.
"Whenever I'm on the field I'm watching out for the safeties, but he's one of those guys that you know, when you watch film, he'll come up and hit you. He's made his mark on being physical. He's not afraid to hit."
As a burgeoning leader would, Whitner always is looking for ways to stimulate team cohesiveness.
Last year, he played host to Thursday-night film sessions in the basement of his Hamburg, N.Y. home. He brings in a chef and a masseuse. The turnout's always strong.
Not many 23-year-olds would take it upon themselves to do something like that. Or start a charitable foundation. Or buy his mother and grandmother a new house far removed from the gritty city. Or make a haughty guarantee.
"A lot of guys are good at this game, but it's people who aren't scared to take the next step that want to be great," Whitner said. "You have to hold yourself up to high expectations and know what you want and go out and get it."
Tim Graham covers the NFL for ESPN.com.
SPONSORED HEADLINES
MORE NFL HEADLINES
MOST SENT STORIES ON ESPN.COM
NFL PREVIEW 2008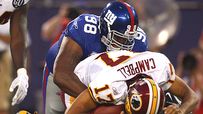 The Giants defeated the Redskins, 16-7, in the NFL opener Thursday night. Which teams will complete the journey to Tampa for Super Bowl XLIII?
NFL preview index
|
Playoff dates
Predictions/Power rankings
•
Power rankings: Champs start season No. 8
•
Gene Wojciechowski: Another run at perfection?
•
Bristol's picks: We love Bolts-'Boys
AFC emerging stars
•
Williamson: Broncos' Cutler ready for stardom
•
Kuharsky: Titans' Finnegan never satisfied
•
Walker: Steelers' Holmes has lofty goals
•
Graham: Bills' Whitner maturing on, off field
•
Scouts Inc.: More emerging AFC stars
NFC emerging stars
•
Seifert: Lions' Johnson poised for monster year
•
Sando: Seahawks' Hill seeking consistency
•
Mosley: Giants' Tuck no longer under radar
•
Yasinskas: Beason takes lead in Carolina
•
Scouts Inc.: More emerging NFC stars
Commentary/features
•
Chadiha: Replacing big names
•
Clayton: NFC East reigns supreme
•
Kuharsky: AFC South is toughest division
•
Chadiha: Merriman a marked man
•
Clayton: Gonzalez is a Chief asset
•
Football Outsiders: Under-the-radar prospects
•
Clayton: Cards' James likes latest trends
•
Joyner: Brady among true big-game players

SportsNation
•
Vote: How will your team fare?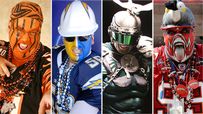 NFL fan base rankings
Best fans in the NFL? We think they wear black and gold. So who's Nos. 2-32? And was there a method to our ranking madness? Matt Mosley explains.
ESPN.com fan base rankings
•
Yasinskas: The Panthers' garage band
•
ZOOM gallery: Carolina's Garage Mahal
•
32 NFL fans you need to know
AFC team previews
•
North:
Balt.
|
Cincinnati
|
Cleve.
|
Pittsburgh
•
South:
Houston
|
Indy
|
Jax
|
Tennessee
•
East:
Buffalo
|
Miami
|
New England
|
NY Jets
•
West:
Denver
|
K.C.
|
Oakland
|
San Diego
Scouts Inc.
From Boldin's best crossing route to Addai's bread-and-butter running play to Washington's pressure defense, watch the signature plays unfold for every NFL team.
Play animations
|
Team schemes
NFC team previews
•
North:
Chicago
|
Detroit
|
Green Bay
|
Minnesota
•
South:
Atlanta
|
Carolina
|
New Orleans
|
Tampa
•
East:
Dallas
|
NY Giants
|
Philly
|
Washington
•
West:
Arizona
|
St. Louis
|
San Fran.
|
Seattle
NFL blog network
•
NFL Nation blog
|
Contact our bloggers
•
AFC
:
North
|
South
|
East
|
West
•
NFC:
North
|
South
|
East
|
West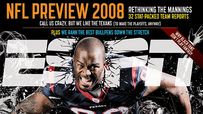 ESPN The Magazine
•
On newsstands Aug. 29:
How control-freak Peyton Manning and laid-back little bro Eli channeled each other to become the NFL's biggest winners. Plus, our experts join NFL scouts and players for a 3-D preview of all 32 teams.
•
The Mag
:
Season preview
|
The 'It' Team 2008
•
Mannings:
Madmen
|
Watch:
Sklars
|
Williams
•
Injuries:
We're all just day-to-day
|
Fitzgerald
•
Watch:
Mario Williams
|
Matt Hasselbeck
•
More:
Marion The Barbarian
|
Colleges vs. Pros
•
NEXT:
Five NFL rookies to watch