Commentary
Titans' Finnegan evolving from afterthought to cornerstone
How has Cortland Finnegan gone from seventh-round pick to rising star? By playing with a mean streak and never being satisfied with his own performance, writes Paul Kuharsky.
Originally Published:
September 1, 2008
By
Paul Kuharsky
| ESPN.com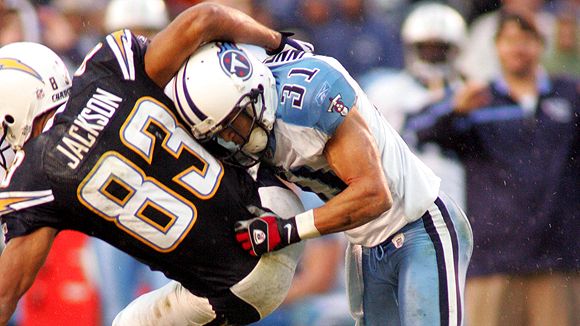 Stan Liu/US PresswireTitans CB Cortland Finnegan had 109 tackles last season and led the team with 16 passes defensed.
NASHVILLE, Tenn. -- Put a cap and gown over his shoulder pads. Attach a two-toned blue tassel to his helmet.
Cortland Finnegan has graduated from unknown into an NFL starter on the verge of very big things.
"At some point he's got to get rid of that tag, 'seventh-round pick,'" Tennessee Titans defensive coordinator Jim Schwartz said of the 24-year-old cornerback. "He's more than that. Everybody is so surprised when they say, 'seventh-round pick out of Samford.' But that didn't really matter once he walked in here. It didn't matter if he went to Ohio State or Samford. The surprises are over with him.
"He's a good player in the league. It's not about proving people wrong now, it's about just continuing to get better as a player. He's the right kind of person. He's a player without real weakness. He's a good run-support player. He's a good blitzer. He's good in pass coverage -- he can play man, he can play zone. He's tough, he's smart, he's young. That's a lot to like right there."
It's enough to rank Finnegan as the best emerging star in the AFC South as the NFL season approaches.
Finnegan is finishing his third training camp, his first as an established starter. In 2007, he was in the lineup every game, finishing third on the team with 109 tackles and leading the Titans with 16 passes defensed. His first career interception came when he stepped between Peyton Manning and Reggie Wayne. Then, after the Titans ended their three-year playoff drought, he responded to a high-pressure situation with an excellent performance in Tennessee's wild-card game at San Diego: He had nine tackles, sacked Philip Rivers to force a fumble and picked off Rivers in the end zone.
Back at Titans headquarters, no matter how Finnegan has practiced, free safety Michael Griffin looks across the locker room aisle and sees a guy who, by the looks of it, must have done horribly. Finnegan is typically frowning and bemoaning his workday.
"It seems like he's never happy," Griffin said. "Every time he comes in he's saying, 'That was a bad practice.' But from what I am seeing, it looks like he's doing a great job."
It's the sort of mentality the Titans hope defines the stalwarts of their next generation.
On Aug. 15, the Titans finalized a new $17 million contract for Finnegan that came with $8.5 million guaranteed and runs through 2011.
"It took some hard work and my course was one less traveled," Finnegan said. "At the same time, I couldn't be more excited about what they did for me."
There is irony in the fact that Finnegan, the 215th pick in the 2006 draft, has helped the franchise overcome its failures with Adam "Pacman" Jones, the sixth pick in 2005.
While Jones was brash in every facet as a Titan, Finnegan is humble and soft-spoken. He calls everybody "sir."
But on the field, he can be grating, not unlike Jones.
Denver's Brandon Stokley singled out Finnegan for a mention in an ESPN.com story this summer on the dirtiest players in the league. In joint workouts with the St. Louis Rams during training camp, Finnegan brawled with receiver Reche Caldwell. Texans receiver Andre Johnson is complimentary of the cornerback, but also brands him an irritant.
"He's a hard-nosed player," Johnson said. "He's always going hard, that's one thing that sticks out about him when you watch him on film, whether it's a run play or a pass play. He's definitely a guy who can play. Sometimes he can be a little irritating. He's a guy that's always on you, in your ear. Definitely when you play against him you have to be ready. I think it's just part of his game."
On a franchise that once had a famously disinterested tackler at cornerback in Cris Dishman, Finnegan frequently brings down the ball carrier, and not just after a pass is caught. The team plays more zone than it used to, and its right cornerback is fearless at setting the edge and preventing a running back from doing much damage outside. The interior players have to worry less about what might happen wide, and everyone benefits.
"You've got to be a two-way guy," Finnegan said last season. "The days of just covering are out."
After an excellent first year as a starter, Finnegan said his coaches told him he needs to be less hard on himself and be quicker to let things go.
Ray Lewis ranks as Finnegan's favorite player now. But he grew up playing running back and receiver in high school. Before he took off as a safety in high school, he mimicked Barry Sanders and wanted to be tough like Ed McCaffrey.
At Milton (Fla.) High School, he was used to playing in front of 8,000 or even 10,000 fans. At Samford, in Birmingham, Ala., the average attendance was closer to 3,000. He was first-team All-Ohio Valley Conference three times and set an NCAA Division I-AA record with a 28.3-yard career kickoff return average. He ran a 4.33 in the 40 and jumped 44 inches in pre-draft workouts.
In Tennessee he worked as the nickelback his first year and was in the starting lineup his second, quickly becoming such a valuable defender that he has been a nonfactor as a return man.
With so much praise coming at him, Finnegan said his family will ask him who beat him at practice and rib him that he's not as good as he thinks he is, which helps him stay grounded. He's also not one to watch the sports report or read the sports page.
During camp he was concentrating on sticking with his man all the way though a play.
"A lot of times I think my speed is where it needs to be, but I'm just a step slow because I'm looking back at the quarterback," he said. "So it's one of the things during this offseason I'm really trying to do is drive the receiver, but I still haven't gotten it down pat. Hopefully by Sept. 7 I have it down pat."
Colts president Bill Polian remembers taking note in his draft room when the Titans picked Finnegan. He liked him then and loves him now.
Even from a distance, Polian said he can see that Finnegan is a player who can lead the charge for the Titans' defense.
"He runs very well, not just good enough, but very well," Polian said. "He's got great instincts and anticipation. He really sees the play well, he sees the receiver well, he sees the ball. He's very aggressive attacking the ball, which is a rare skill with defensive backs. He's not just content to knock the ball down, he's going to go for the interception. He's physical, he's tough, he likes to play the game, that comes shining through.
"So he has all the characteristics of a leader, because guys follow people like him. I really think he's a very, very good player, one of the top corners in the AFC. He just doesn't get a lot of publicity. When you watch tape every week and you have to play against him, you recognize that Cortland Finnegan is a very, very good player."
Paul Kuharsky covers the NFL for ESPN.com.
ESPN Tennessee Titans reporter
Covered AFC South for five years for ESPN.com
Covered Oilers/Titans for The Tennessean
New Jersey native and Columbia graduate lives in Nashville with his wife and son
NFL PREVIEW 2008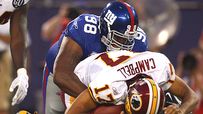 The Giants defeated the Redskins, 16-7, in the NFL opener Thursday night. Which teams will complete the journey to Tampa for Super Bowl XLIII?
NFL preview index
|
Playoff dates
Predictions/Power rankings
•
Power rankings: Champs start season No. 8
•
Gene Wojciechowski: Another run at perfection?
•
Bristol's picks: We love Bolts-'Boys
AFC emerging stars
•
Williamson: Broncos' Cutler ready for stardom
•
Kuharsky: Titans' Finnegan never satisfied
•
Walker: Steelers' Holmes has lofty goals
•
Graham: Bills' Whitner maturing on, off field
•
Scouts Inc.: More emerging AFC stars
NFC emerging stars
•
Seifert: Lions' Johnson poised for monster year
•
Sando: Seahawks' Hill seeking consistency
•
Mosley: Giants' Tuck no longer under radar
•
Yasinskas: Beason takes lead in Carolina
•
Scouts Inc.: More emerging NFC stars
Commentary/features
•
Chadiha: Replacing big names
•
Clayton: NFC East reigns supreme
•
Kuharsky: AFC South is toughest division
•
Chadiha: Merriman a marked man
•
Clayton: Gonzalez is a Chief asset
•
Football Outsiders: Under-the-radar prospects
•
Clayton: Cards' James likes latest trends
•
Joyner: Brady among true big-game players

SportsNation
•
Vote: How will your team fare?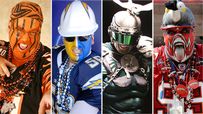 NFL fan base rankings
Best fans in the NFL? We think they wear black and gold. So who's Nos. 2-32? And was there a method to our ranking madness? Matt Mosley explains.
ESPN.com fan base rankings
•
Yasinskas: The Panthers' garage band
•
ZOOM gallery: Carolina's Garage Mahal
•
32 NFL fans you need to know
AFC team previews
•
North:
Balt.
|
Cincinnati
|
Cleve.
|
Pittsburgh
•
South:
Houston
|
Indy
|
Jax
|
Tennessee
•
East:
Buffalo
|
Miami
|
New England
|
NY Jets
•
West:
Denver
|
K.C.
|
Oakland
|
San Diego
Scouts Inc.
From Boldin's best crossing route to Addai's bread-and-butter running play to Washington's pressure defense, watch the signature plays unfold for every NFL team.
Play animations
|
Team schemes
NFC team previews
•
North:
Chicago
|
Detroit
|
Green Bay
|
Minnesota
•
South:
Atlanta
|
Carolina
|
New Orleans
|
Tampa
•
East:
Dallas
|
NY Giants
|
Philly
|
Washington
•
West:
Arizona
|
St. Louis
|
San Fran.
|
Seattle
NFL blog network
•
NFL Nation blog
|
Contact our bloggers
•
AFC
:
North
|
South
|
East
|
West
•
NFC:
North
|
South
|
East
|
West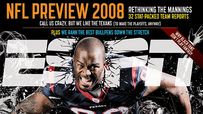 ESPN The Magazine
•
On newsstands Aug. 29:
How control-freak Peyton Manning and laid-back little bro Eli channeled each other to become the NFL's biggest winners. Plus, our experts join NFL scouts and players for a 3-D preview of all 32 teams.
•
The Mag
:
Season preview
|
The 'It' Team 2008
•
Mannings:
Madmen
|
Watch:
Sklars
|
Williams
•
Injuries:
We're all just day-to-day
|
Fitzgerald
•
Watch:
Mario Williams
|
Matt Hasselbeck
•
More:
Marion The Barbarian
|
Colleges vs. Pros
•
NEXT:
Five NFL rookies to watch

MOST SENT STORIES ON ESPN.COM