Commentary
Giants' Tuck won't be flying under the radar this year
With Michael Strahan retired and Osi Umenyiora hurt, Justin Tuck is ready to assume his role as the Giants' top pass-rusher, writes Matt Mosley.
Originally Published:
September 2, 2008
By
Matt Mosley
| ESPN.com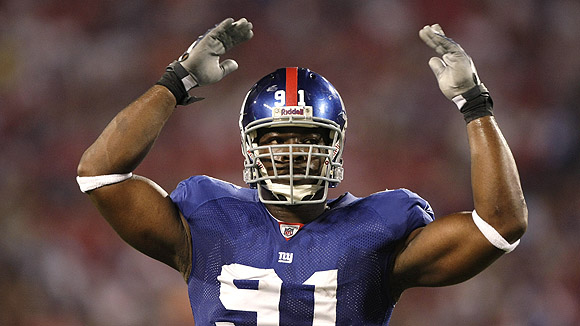 Rich Kane/US PRESSWIREJustin Tuck had 10 sacks last season, which helped earn him a $30 million extension.
ALBANY, N.Y. --
New York Giants
defensive end
Justin Tuck
was a dominant force in his team's Super Bowl win over the Patriots, but he's still surprised when people get his name right. The former Notre Dame standout (24½ sacks) says people are convinced he is
Jason Tucker
, who played in the league for a couple of years before launching a distinguished career in the CFL.
A third-round pick in 2005, the 25-year-old Tuck has flown under the radar on the national scene, but his 10 sacks last season earned him a $30 million contract extension, which included $16 million in guarantees. General manager Jerry Reese nailed down a deal with Tuck in the week leading up to the NFC title game, and his timing couldn't have been better -- or worse, depending on which side of the table you were sitting on.
But in light of recent events, Tuck has completely lost the element of surprise. Teammate
Osi Umenyiora
went down with a season-ending knee injury Aug. 23, which automatically made Tuck the Giants' top pass-rusher.
He had flourished while rotating with Umenyiora and Michael Strahan, but now he's the headliner. Fortunately for Giants fans, Tuck doesn't sound overwhelmed by the news.
"Obviously, Osi is a remarkable player and that really hurts us, but it just means someone has to step up now," Tuck said. "Feeling sorry for yourself in this league never flies. The Dallas offensive line or the Washington offensive line isn't going to feel sorry for us. Obviously it is a setback, but if we feel sorry for ourselves, that is when the real trouble starts. I think it gives an opportunity to really rely on each other and put that concept of team-first at the utmost right now."
That's the type of inspirational message you'd expect from a man who was teaching Sunday School in his church in Alabama before he entered high school. Like many of his teammates, Tuck has bought into Tom Coughlin's team-first message, and he doesn't believe one (huge) injury is cause for panic.
After Strahan announced his retirement in June, Tuck, who rotated at left end with Strahan and Umenyiora last season, was the obvious replacement. Giants officials insist that Tuck's not as anonymous as he thinks he is.
"Fans across the league might not know about Justin," Reese said, "but I guarantee you every defensive coordinator in the league knows who he is."
Last year, Tuck went through an entire training camp as the starter while Strahan was contemplating his future with the club. When Tuck missed "like eight sacks" his rookie season, it was Strahan who reassured him that it would eventually come. Tuck finally collected a sack (Drew Bledsoe) in the third quarter of a game against the Cowboys, causing a fumble on the play. He has mixed emotions about Strahan not returning to the team.
"It's weird, but it's also good in a way," he said. "You get used to hearing 92's voice in the huddle, but it had to end at some point. You don't replace Michael Strahan, but hopefully we can all help make up for him."
Tuck said two weeks ago that he's not worried about a Favre-like comeback for Strahan, who didn't waste any time joining the broadcasting ranks. But Umenyiora's injury prompted the Giants to at least reach out to Strahan. By all accounts, he gave it a great deal of thought while traveling in Europe and then chose to stay in the Fox studio.
"He could come back if he wanted, but every time I talk to him he's on a beach somewhere," Tuck said. "The way his career ended ... you can't script that out any better - unless he won the MVP."
And speaking of MVP, Tuck jokes with quarterback Eli Manning that the award should've gone to him. After all, he had two sacks and caused a fumble against the mighty Patriots.
"I tell him, 'Eli, you know you stole that trophy from me,'" Tuck said. "I can make a great argument."
The Giants rave about Tuck's versatility. In the past, he has moved inside to play tackle in certain passing situations. In high school, he had 37 sacks and caught 17 touchdowns as a tight end. He also led his Central Coosa (Ala.) basketball team to two state titles and seriously thought about playing both sports at Notre Dame.
When he arrived in South Bend, Tuck was 6-foot-6, 205 pounds. When he left school a year early for the NFL, he was 6-6, 265. This past offseason, Tuck focused on his conditioning. He started boxing to work on his hand quickness and stamina, and he is hoping to learn more about martial arts next season. It's a training method that Cowboys linebacker Greg Ellis once used.
No longer in Strahan's shadow, Tuck is poised to have a breakout season. Playing in the same division as pass-rushers DeMarcus Ware, Jason Taylor, Trent Cole and Umenyiora, it's not easy to get noticed.
But Tuck's used to blending in because he grew up with seven siblings. At the Super Bowl, he had to find accommodations for 17 family members. He said his favorite moment was sitting at a table during a postgame celebration and seeing how happy his family was.
Tuck purchased an aerial photo of what it looked like moments after Super Bowl XLII ended. It's his most prized possession from the game.
"You can see the clock hitting zero and the confetti going everywhere," Tuck said. "It was pretty amazing."
Now, Tuck and the Giants are trying to do it again. Because of the Umenyiora injury, almost no one's giving them a chance to win the NFC East, much less return to the Super Bowl.
And that's why no one should count them out.
Matt Mosley covers the NFL for ESPN.com.
SPONSORED HEADLINES
MORE NFL HEADLINES
MOST SENT STORIES ON ESPN.COM
NFL PREVIEW 2008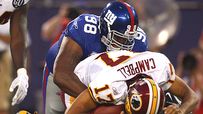 The Giants defeated the Redskins, 16-7, in the NFL opener Thursday night. Which teams will complete the journey to Tampa for Super Bowl XLIII?
NFL preview index
|
Playoff dates
Predictions/Power rankings
•
Power rankings: Champs start season No. 8
•
Gene Wojciechowski: Another run at perfection?
•
Bristol's picks: We love Bolts-'Boys
AFC emerging stars
•
Williamson: Broncos' Cutler ready for stardom
•
Kuharsky: Titans' Finnegan never satisfied
•
Walker: Steelers' Holmes has lofty goals
•
Graham: Bills' Whitner maturing on, off field
•
Scouts Inc.: More emerging AFC stars
NFC emerging stars
•
Seifert: Lions' Johnson poised for monster year
•
Sando: Seahawks' Hill seeking consistency
•
Mosley: Giants' Tuck no longer under radar
•
Yasinskas: Beason takes lead in Carolina
•
Scouts Inc.: More emerging NFC stars
Commentary/features
•
Chadiha: Replacing big names
•
Clayton: NFC East reigns supreme
•
Kuharsky: AFC South is toughest division
•
Chadiha: Merriman a marked man
•
Clayton: Gonzalez is a Chief asset
•
Football Outsiders: Under-the-radar prospects
•
Clayton: Cards' James likes latest trends
•
Joyner: Brady among true big-game players

SportsNation
•
Vote: How will your team fare?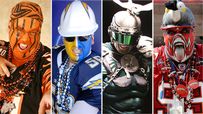 NFL fan base rankings
Best fans in the NFL? We think they wear black and gold. So who's Nos. 2-32? And was there a method to our ranking madness? Matt Mosley explains.
ESPN.com fan base rankings
•
Yasinskas: The Panthers' garage band
•
ZOOM gallery: Carolina's Garage Mahal
•
32 NFL fans you need to know
AFC team previews
•
North:
Balt.
|
Cincinnati
|
Cleve.
|
Pittsburgh
•
South:
Houston
|
Indy
|
Jax
|
Tennessee
•
East:
Buffalo
|
Miami
|
New England
|
NY Jets
•
West:
Denver
|
K.C.
|
Oakland
|
San Diego
Scouts Inc.
From Boldin's best crossing route to Addai's bread-and-butter running play to Washington's pressure defense, watch the signature plays unfold for every NFL team.
Play animations
|
Team schemes
NFC team previews
•
North:
Chicago
|
Detroit
|
Green Bay
|
Minnesota
•
South:
Atlanta
|
Carolina
|
New Orleans
|
Tampa
•
East:
Dallas
|
NY Giants
|
Philly
|
Washington
•
West:
Arizona
|
St. Louis
|
San Fran.
|
Seattle
NFL blog network
•
NFL Nation blog
|
Contact our bloggers
•
AFC
:
North
|
South
|
East
|
West
•
NFC:
North
|
South
|
East
|
West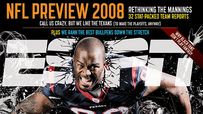 ESPN The Magazine
•
On newsstands Aug. 29:
How control-freak Peyton Manning and laid-back little bro Eli channeled each other to become the NFL's biggest winners. Plus, our experts join NFL scouts and players for a 3-D preview of all 32 teams.
•
The Mag
:
Season preview
|
The 'It' Team 2008
•
Mannings:
Madmen
|
Watch:
Sklars
|
Williams
•
Injuries:
We're all just day-to-day
|
Fitzgerald
•
Watch:
Mario Williams
|
Matt Hasselbeck
•
More:
Marion The Barbarian
|
Colleges vs. Pros
•
NEXT:
Five NFL rookies to watch