Commentary
Finally healthy, Lions' Johnson poised for monster season
Originally Published:
September 2, 2008
By
Kevin Seifert
| ESPN.com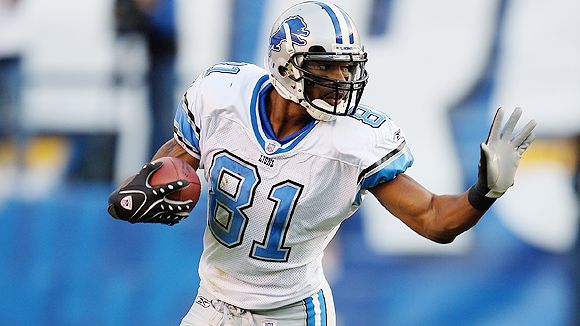 Paul Spinelli/Getty ImagesLions wide receiver Calvin Johnson had 48 catches for 756 yards in his rookie season in 2007.
ALLEN PARK, Mich. -- You know the look. It comes with a low whistle and a slight blush. The head swivels in all directions.
Did anyone else see what I just saw?
Finally, there is a quiet laugh as you thank the good Lord it happened for your team and not against it.
Such was the reaction Calvin Johnson inspired this summer at Detroit Lions training camp, where grown men heard a clicking sound and realized only later it was their knocking knees. Johnson, the second overall pick of the 2007 draft, reported to camp in perfect health, with refined mechanics and big plans to take over the NFC North.
Because he plays in Detroit, home of the perennially underachieving Lions, Johnson's summer exploits have gone largely unnoticed. That oversight is about to change.
"It's like a veil has been lifted," Lions receivers coach Shawn Jefferson said after a late-afternoon training camp practice. "It's just been awesome to watch."
What's so different about Johnson, whose rookie season (48 receptions, 756 yards) was underwhelming relative to the enormous expectations he generated?
First, a back injury that limited him considerably over the final 12 games last season has healed. Second, the Lions have dumped the complex passing offense of former coordinator Mike Martz and are running a scheme they hope will give Johnson more freedom to make plays. Third, Johnson spent much of the offseason refining footwork issues that should help a man of his size -- 6-foot-5 and 239 pounds -- run more precise routes.
Johnson is the type of modest competitor who smiles politely after tossing you aside to make a circus catch. So he simply grins when the topic of his eye-opening summer comes up.
"Things have just slowed down on me," he said. "I'm not making any mistakes out there. I'm running good routes. But the main thing is that things have slowed down for me now that I'm in my second year.
"People have told me I would see a big change after my rookie season, and I've seen a big change."
Johnson caught a touchdown in his first two NFL games in 2007 before suffering the injury Sept. 23 at Philadelphia. He sat out the Lions' next game, and he admitted that he was able to play in the remaining 12 games only because he took two Vicodin pills every Sunday morning.
The treatment deadened the pain, but it couldn't do anything for Johnson's decreased agility and slower movement.
"He never said anything about it," Lions coach Rod Marinelli said. "He just quietly did his job."
It wasn't until late this spring, Johnson said, when his back finally started to feel better. He has been assured the injury was "a freak deal" and isn't concerned about a relapse.
That's what got the Lions so excited this summer. Unencumbered by the injury, Johnson put on full display the physical attributes that made him -- in the words of Minnesota coach Brad Childress -- a prospect "with no downside."
Said Marinelli: "You watch him and it's just unique. The NFL probably only has 10 guys like that, who can do the things he does."
On one August afternoon, Johnson lined up at the far left of the offensive formation. Cornerback Travis Fisher positioned himself near the line of scrimmage, and safety Kalvin Pearson cheated a few steps left to set up a bracket coverage.
At the snap, Johnson took off on a go route. He toasted Fisher with a modest swim-like move; Fisher lost ground on every step thereafter. Pearson's angle left him at least 10 yards too shallow when Johnson spotted the ball. There was so much separation against this supposed double-team, in fact, that Johnson had ample time to stop running, turn toward the line of scrimmage and haul in Jon Kitna's underthrown pass.
It was so smooth and surgical that it took you a moment to realize what had happened. Fellow receiver Roy Williams, never at a loss for words, felt compelled to point it out.
"See that?" Williams called out to a reporter standing on the sideline, as if picking up an earlier conversation. "Did you see that? That's what I'm talking about. That's it, right there."
Such plays were commonplace at Lions camp this summer, a tribute to Johnson's healthy back as well as the Lions' new offensive philosophy.
Marinelli eliminated the complexities of Martz's pass-oriented scheme to focus more on the running game. The smaller playbook, according to Jefferson, will ultimately give Johnson more freedom.
"Last year our offense was complicated," Jefferson said, "and boy, he just didn't look as fast on the field because of the complexity of the offense. But this year, he's really freed up. It's like the weight has been lifted off his shoulders. I really know when he's running fast, because when he's running fast, it doesn't look like he's running.
"He's just loping. He's like a gazelle. Every stride is literally like 5 or 6 yards. That's what we want."
This season, of course, Johnson will face better corners than Fisher and more accomplished safeties than Pearson. To that end, he spent much of the offseason refining his footwork with Jefferson. Specifically, he wanted to improve his efficiency going into and out of his cuts -- a particularly difficult task for a 6-foot-5 receiver.
"You can have the size and the height and the coordination and the speed," Jefferson said, "but if you can't control your speed and get in and out of your breaks, a person off the street could cover you in your routes. ... It's rare to find a big, tall guy like Calvin who can sink his hips, drop his weight and accelerate coming in and out of cuts. It's hard. But just to see how much better he's gotten at that, it just blows our mind."
Half-jokingly, Jefferson added that his most important job this summer was "making sure Calvin stays healthy." To that end, the Lions played him sparingly during the preseason, but they consider his inactivity to be the proverbial calm before the storm.
Not that you'll hear Johnson complaining -- or that you'll even hear him. The only running Johnson does is on the field. His mouth remains steadfastly in neutral.
"I don't really feel any need to tell everyone what's coming," he said. "I feel like it will take care of itself based on how I play."
Kevin Seifert covers the NFL for ESPN.com
NFL Nation
ESPN.com national NFL writer
ESPN.com NFC North reporter, 2008-2013
Covered Vikings for Minneapolis Star Tribune, 1999-2008
NFL PREVIEW 2008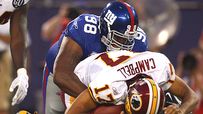 The Giants defeated the Redskins, 16-7, in the NFL opener Thursday night. Which teams will complete the journey to Tampa for Super Bowl XLIII?
NFL preview index
|
Playoff dates
Predictions/Power rankings
•
Power rankings: Champs start season No. 8
•
Gene Wojciechowski: Another run at perfection?
•
Bristol's picks: We love Bolts-'Boys
AFC emerging stars
•
Williamson: Broncos' Cutler ready for stardom
•
Kuharsky: Titans' Finnegan never satisfied
•
Walker: Steelers' Holmes has lofty goals
•
Graham: Bills' Whitner maturing on, off field
•
Scouts Inc.: More emerging AFC stars
NFC emerging stars
•
Seifert: Lions' Johnson poised for monster year
•
Sando: Seahawks' Hill seeking consistency
•
Mosley: Giants' Tuck no longer under radar
•
Yasinskas: Beason takes lead in Carolina
•
Scouts Inc.: More emerging NFC stars
Commentary/features
•
Chadiha: Replacing big names
•
Clayton: NFC East reigns supreme
•
Kuharsky: AFC South is toughest division
•
Chadiha: Merriman a marked man
•
Clayton: Gonzalez is a Chief asset
•
Football Outsiders: Under-the-radar prospects
•
Clayton: Cards' James likes latest trends
•
Joyner: Brady among true big-game players

SportsNation
•
Vote: How will your team fare?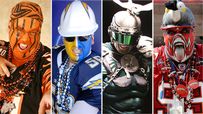 NFL fan base rankings
Best fans in the NFL? We think they wear black and gold. So who's Nos. 2-32? And was there a method to our ranking madness? Matt Mosley explains.
ESPN.com fan base rankings
•
Yasinskas: The Panthers' garage band
•
ZOOM gallery: Carolina's Garage Mahal
•
32 NFL fans you need to know
AFC team previews
•
North:
Balt.
|
Cincinnati
|
Cleve.
|
Pittsburgh
•
South:
Houston
|
Indy
|
Jax
|
Tennessee
•
East:
Buffalo
|
Miami
|
New England
|
NY Jets
•
West:
Denver
|
K.C.
|
Oakland
|
San Diego
Scouts Inc.
From Boldin's best crossing route to Addai's bread-and-butter running play to Washington's pressure defense, watch the signature plays unfold for every NFL team.
Play animations
|
Team schemes
NFC team previews
•
North:
Chicago
|
Detroit
|
Green Bay
|
Minnesota
•
South:
Atlanta
|
Carolina
|
New Orleans
|
Tampa
•
East:
Dallas
|
NY Giants
|
Philly
|
Washington
•
West:
Arizona
|
St. Louis
|
San Fran.
|
Seattle
NFL blog network
•
NFL Nation blog
|
Contact our bloggers
•
AFC
:
North
|
South
|
East
|
West
•
NFC:
North
|
South
|
East
|
West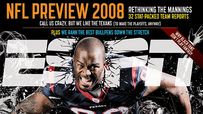 ESPN The Magazine
•
On newsstands Aug. 29:
How control-freak Peyton Manning and laid-back little bro Eli channeled each other to become the NFL's biggest winners. Plus, our experts join NFL scouts and players for a 3-D preview of all 32 teams.
•
The Mag
:
Season preview
|
The 'It' Team 2008
•
Mannings:
Madmen
|
Watch:
Sklars
|
Williams
•
Injuries:
We're all just day-to-day
|
Fitzgerald
•
Watch:
Mario Williams
|
Matt Hasselbeck
•
More:
Marion The Barbarian
|
Colleges vs. Pros
•
NEXT:
Five NFL rookies to watch