Commentary
Steelers' Holmes aims for his first 1,000-yard season
Some shy from sharing statistical goals. But WR Santonio Holmes is leaving a written record of what stat mark he'd like to achieve.
Originally Published:
September 1, 2008
By
James Walker
| ESPN.com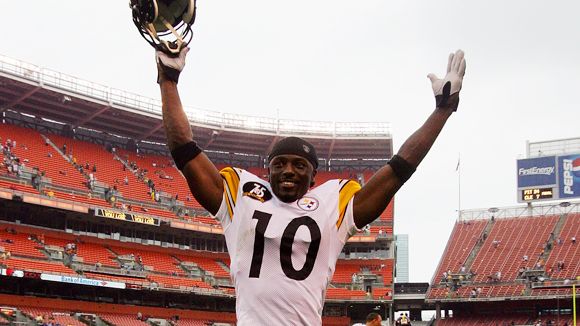 Jim McIsaac/Getty ImagesSteelers WR Santonio Holmes knows exactly what he wants to accomplish in 2008.
LATROBE, Pa.--The NFL leader in yards per catch last season was not
New England Patriots
receiver
Randy Moss
. The
Pittsburgh Steelers
' reception yards and touchdown leader wasn't
Hines Ward
. To the surprise of many, the owner of these three accolades is Steelers receiver
Santonio Holmes
, who quietly has developed into one of the most feared deep threats and respected young receivers in the NFL.
Coming off a 52-catch, 942-yard season in 2007, Holmes is just scratching the surface of his potential. That is why Holmes is ESPN.com's pick as the breakout player in the AFC North for the 2008 season.
"I don't like to jinx myself, and I don't want to sound too over the edge,'' Holmes told ESPN.com. "But everything that I've gotten my hands on, if I have a pen around, I've written '1,200-plus yards' on it.
"That's just something that I'm setting myself up for, because I've never had a 1,000-yard season before."
Indeed, the elusive 1,000-yard season has escaped Holmes for his entire football career. He's never reached that milestone in four years at Glades Central High School (Fla.), three seasons at Ohio State University, or his first two years in the pros.
But twice Holmes has gained more than 900 yards -- once with the Steelers last season and also during his junior year with the Buckeyes. He was only 23 yards shy of the landmark with Ohio State in 2005, which was his final collegiate season before entering the NFL draft. "We threw enough [at Ohio State] where I should have had 1,000 yards," Holmes said disappointedly. "I know I left a lot of plays on the field. In high school, we always had two or three great running backs." But Holmes appears primed to get what he's been aiming for in 2008. The Steelers are favorites to win the AFC North, have one of the NFL's top quarterbacks in
Ben Roethlisberger
, and at age 24, Holmes is starting to learn the mental side of the NFL as he begins to enter the prime of his career. Holmes' numbers have increased steadily with Pittsburgh. Last year he improved his receptions, yards, touchdowns and yards per catch compared to his rookie season. But Holmes did not rest on his laurels this offseason.
While many players were vacationing this summer, Holmes was in Orlando, Fla., with several Steelers teammates working with a personal trainer to improve his speed, quickness and agility. Holmes believes improving in those three categories will give him an added burst, which could be the difference in turning a routine play into a big gain. Last year he missed three games -- including two in late November and early December -- because of an ankle injury. But through minicamp and training camp, Holmes was healthy again, and has been the toughest receiver for Pittsburgh's defense to cover. "Santonio wants to be great, and he wants to do what's required to be great," Steelers head coach Mike Tomlin said. "He came [to camp] in absolute awesome physical condition. He's in great shape, he's a good worker, he's very vocal and can communicate with younger receivers, older receivers -- both sides. We expect great things from him, and I think he expects great things from himself."

Teammate and fellow receiver Nate Washington said Holmes "was just playing and trying to get on the field" when he arrived in Pittsburgh in 2006. Now, Washington also notices an improved focus and work ethic with Holmes.

"He's a kid that's definitely striving to be one of the best," Washington said. "This game is all about the mental. If you settle for what you're already doing, then you're already going to be done. But he's definitely a guy that hasn't settled for less. He's been steady in working to get to the top."

Ward, an 11-year veteran, led the Steelers with 71 receptions last year. He remains the team's No. 1 option, but Holmes is quickly pushing for that top role in Pittsburgh's offense with his steady improvement. The difference is, Holmes admits, he hasn't made as many routine plays as he would have liked in his first two seasons.

Holmes has developed a reputation as a "big-play receiver," and his 18.1 yards per catch last season certainly warrants that label. But what separates the good receivers from the elite receivers is the ability to make all the plays at the position -- big or small.

Holmes had the tendency to drop some passes during his first two seasons, and most of his drops have been during easier, shorter routes. He believes that is the next step in his maturity as an NFL receiver.

"I don't want to be one of those receivers that people look at as just making a big catch," Holmes said. "I want to be the guy that's going to make every catch and finish every play -- whether that's being the short passes or stretching the field on the deep balls."

Eyeing a 1,200-yard season and back-to-back division titles for the first time in his career, Holmes expects great things in 2008. When asked for his thoughts on being picked as ESPN.com's breakout player in the AFC North, he nodded in agreement with the logic.

Now, in his third season, it's time for Holmes to carry out his immense potential and make it a reality.

"I've been on the rise," Holmes said. "The numbers have been productive year in and year out. Everything has been on the rise, and I don't want this following year to be a fall-off year.''

James Walker covers the NFL for ESPN.com.
ESPN Miami Dolphins reporter
A Temple graduate and Hyattsville, Md., native who lives in Miami
Joined ESPN in 2008
NFL PREVIEW 2008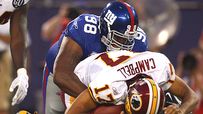 The Giants defeated the Redskins, 16-7, in the NFL opener Thursday night. Which teams will complete the journey to Tampa for Super Bowl XLIII?
NFL preview index
|
Playoff dates
Predictions/Power rankings
•
Power rankings: Champs start season No. 8
•
Gene Wojciechowski: Another run at perfection?
•
Bristol's picks: We love Bolts-'Boys
AFC emerging stars
•
Williamson: Broncos' Cutler ready for stardom
•
Kuharsky: Titans' Finnegan never satisfied
•
Walker: Steelers' Holmes has lofty goals
•
Graham: Bills' Whitner maturing on, off field
•
Scouts Inc.: More emerging AFC stars
NFC emerging stars
•
Seifert: Lions' Johnson poised for monster year
•
Sando: Seahawks' Hill seeking consistency
•
Mosley: Giants' Tuck no longer under radar
•
Yasinskas: Beason takes lead in Carolina
•
Scouts Inc.: More emerging NFC stars
Commentary/features
•
Chadiha: Replacing big names
•
Clayton: NFC East reigns supreme
•
Kuharsky: AFC South is toughest division
•
Chadiha: Merriman a marked man
•
Clayton: Gonzalez is a Chief asset
•
Football Outsiders: Under-the-radar prospects
•
Clayton: Cards' James likes latest trends
•
Joyner: Brady among true big-game players

SportsNation
•
Vote: How will your team fare?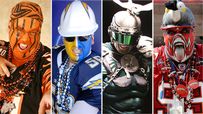 NFL fan base rankings
Best fans in the NFL? We think they wear black and gold. So who's Nos. 2-32? And was there a method to our ranking madness? Matt Mosley explains.
ESPN.com fan base rankings
•
Yasinskas: The Panthers' garage band
•
ZOOM gallery: Carolina's Garage Mahal
•
32 NFL fans you need to know
AFC team previews
•
North:
Balt.
|
Cincinnati
|
Cleve.
|
Pittsburgh
•
South:
Houston
|
Indy
|
Jax
|
Tennessee
•
East:
Buffalo
|
Miami
|
New England
|
NY Jets
•
West:
Denver
|
K.C.
|
Oakland
|
San Diego
Scouts Inc.
From Boldin's best crossing route to Addai's bread-and-butter running play to Washington's pressure defense, watch the signature plays unfold for every NFL team.
Play animations
|
Team schemes
NFC team previews
•
North:
Chicago
|
Detroit
|
Green Bay
|
Minnesota
•
South:
Atlanta
|
Carolina
|
New Orleans
|
Tampa
•
East:
Dallas
|
NY Giants
|
Philly
|
Washington
•
West:
Arizona
|
St. Louis
|
San Fran.
|
Seattle
NFL blog network
•
NFL Nation blog
|
Contact our bloggers
•
AFC
:
North
|
South
|
East
|
West
•
NFC:
North
|
South
|
East
|
West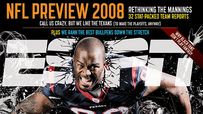 ESPN The Magazine
•
On newsstands Aug. 29:
How control-freak Peyton Manning and laid-back little bro Eli channeled each other to become the NFL's biggest winners. Plus, our experts join NFL scouts and players for a 3-D preview of all 32 teams.
•
The Mag
:
Season preview
|
The 'It' Team 2008
•
Mannings:
Madmen
|
Watch:
Sklars
|
Williams
•
Injuries:
We're all just day-to-day
|
Fitzgerald
•
Watch:
Mario Williams
|
Matt Hasselbeck
•
More:
Marion The Barbarian
|
Colleges vs. Pros
•
NEXT:
Five NFL rookies to watch
Nike Youth Home Game Jersey Pittsburgh Steelers Ben Roethlisberger #7 Shop »

MOST SENT STORIES ON ESPN.COM