Commentary
Cutler primed to emerge as star for Broncos
Jay Cutler is close to becoming an impact NFL quarterback. Cottrell, the defensive coordinator of the San Diego Chargers, has been expecting this time to come for a couple of years and he isn't excited about it.
"Jay Cutler is about to become a star in this league," Cottrell said. "I know it's coming. You could see it last year. He is a good, smart, young quarterback who can be a star for a long time. He is a guy we are going to have to worry about."
Chargers star linebacker Shawne Merriman agrees. He knows Cutler's on the cusp of great things in Denver and the Chargers will have to focus on him.
Because of his capability, Cutler, who was recently diagnosed with Type 1 diabetes, is the clear candidate in the AFC West to be a breakout star in 2008. Cutler, 25, was the 11th overall pick in the 2006 draft after the Broncos traded up five spots to take him. Cutler took over for veteran Jake Plummer with five games remaining in his rookie season and he started every game last season.
The Vanderbilt product is only 9-12 in his 21 NFL starts, but he has showed steady improvement. And thus far he has been a better pro quarterback than Vince Young -- who isn't the passer Cutler is but who has proved he can win in the NFL -- and Matt Leinart, the two quarterbacks who were selected ahead of him in his draft class.
Despite suffering the effects of diabetes, which was undiagnosed at the time, Cutler threw for 3,497 yards and 20 touchdowns last season and completed 63.6 percent of his passes. Cutler threw 14 interceptions last season and has thrown 19 picks in 21 games. Reducing his interceptions is something Cutler, Denver coach Mike Shanahan and passing game coordinator Jeremy Bates worked on extensively this offseason. In addition to cutting down on the mistakes, the Broncos want to see Cutler take the next step in his career.
The Broncos expect Cutler to carry the team on his back at times. Great quarterbacks can overcome sluggish play, on offense or defense. Cutler, who has showed an ability to play very well in the fourth quarter and overtime, thus far has been unable to win games by himself. The Broncos want to see that change. Shanahan believes his quarterback is ready to add that ability to his repertoire.
"I think everybody knows that with a quarterback it takes some time for them to feel comfortable with the system, feel comfortable with the terminology and with what the defenses are throwing at you on a day-to-day basis," Shanahan said. "All the reps that you are able to get over a two-, three-year time frame is something that you need. … Jay has been doing a very good job."
Cutler, who doesn't get overly excited over much, has been confident this summer about his position in Denver. He knows he's the future of the team, which has slipped to a 16-16 record the past two years after advancing to the AFC Championship Game in Plummer's final full season as the Broncos' starter. Being the Denver Broncos' quarterback in the shadow of John Elway, arguably the most pressure-packed job in the state, isn't too big for Cutler.
"Every year is a new year, and everyone comes in with a clean slate," Cutler said. "We feel good about where we are at. We are just going to take it day by day, practice by practice and hopefully during the season we are where we want to be."
Cutler and the Broncos are confident his disease will not get in his way. Cutler was diagnosed with the most serious form of diabetes in April. He will take insulin shots several times a day for the rest of his life. Cutler has regained almost all of the 33 pounds he lost last season. He looked very good in training camp and his patented velocity is back. Cutler has been diligent in dealing with the disease and doesn't foresee any issues.
"Once I hit the field, I am not really thinking about it. I have a monitor that monitors my blood sugar every minute," Cutler said. "I know all the information I need to know about it. Obviously it is an ongoing struggle every day just keeping the levels where I want them. We are doing a great job with my food and my insulin intakes. It has went well so far."
Cutler's teammates know that the time is now for their quarterback to evolve into a Pro Bowl player. But he will do it on his terms, they say.
"The one thing I love about Jay, after being around quarterbacks during my career, he has a quiet confidence, and I love that about him," Denver veteran cornerback Dre' Bly said. "He's not going to do a bunch of talking about it. He is not going to be jabbering to a lot of people. He does his talking with his play, and I love that about Jay. I think he is ready to go this year. He is ready to do good things and get this team back at the top of the AFC West."
That's what worries Cottrell.
Bill Williamson covers the NFL for ESPN.com
NFL PREVIEW 2008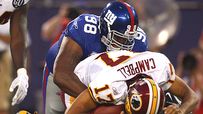 The Giants defeated the Redskins, 16-7, in the NFL opener Thursday night. Which teams will complete the journey to Tampa for Super Bowl XLIII?
NFL preview index
|
Playoff dates
Predictions/Power rankings
•
Power rankings: Champs start season No. 8
•
Gene Wojciechowski: Another run at perfection?
•
Bristol's picks: We love Bolts-'Boys
AFC emerging stars
•
Williamson: Broncos' Cutler ready for stardom
•
Kuharsky: Titans' Finnegan never satisfied
•
Walker: Steelers' Holmes has lofty goals
•
Graham: Bills' Whitner maturing on, off field
•
Scouts Inc.: More emerging AFC stars
NFC emerging stars
•
Seifert: Lions' Johnson poised for monster year
•
Sando: Seahawks' Hill seeking consistency
•
Mosley: Giants' Tuck no longer under radar
•
Yasinskas: Beason takes lead in Carolina
•
Scouts Inc.: More emerging NFC stars
Commentary/features
•
Chadiha: Replacing big names
•
Clayton: NFC East reigns supreme
•
Kuharsky: AFC South is toughest division
•
Chadiha: Merriman a marked man
•
Clayton: Gonzalez is a Chief asset
•
Football Outsiders: Under-the-radar prospects
•
Clayton: Cards' James likes latest trends
•
Joyner: Brady among true big-game players

SportsNation
•
Vote: How will your team fare?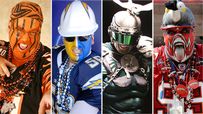 NFL fan base rankings
Best fans in the NFL? We think they wear black and gold. So who's Nos. 2-32? And was there a method to our ranking madness? Matt Mosley explains.
ESPN.com fan base rankings
•
Yasinskas: The Panthers' garage band
•
ZOOM gallery: Carolina's Garage Mahal
•
32 NFL fans you need to know
AFC team previews
•
North:
Balt.
|
Cincinnati
|
Cleve.
|
Pittsburgh
•
South:
Houston
|
Indy
|
Jax
|
Tennessee
•
East:
Buffalo
|
Miami
|
New England
|
NY Jets
•
West:
Denver
|
K.C.
|
Oakland
|
San Diego
Scouts Inc.
From Boldin's best crossing route to Addai's bread-and-butter running play to Washington's pressure defense, watch the signature plays unfold for every NFL team.
Play animations
|
Team schemes
NFC team previews
•
North:
Chicago
|
Detroit
|
Green Bay
|
Minnesota
•
South:
Atlanta
|
Carolina
|
New Orleans
|
Tampa
•
East:
Dallas
|
NY Giants
|
Philly
|
Washington
•
West:
Arizona
|
St. Louis
|
San Fran.
|
Seattle
NFL blog network
•
NFL Nation blog
|
Contact our bloggers
•
AFC
:
North
|
South
|
East
|
West
•
NFC:
North
|
South
|
East
|
West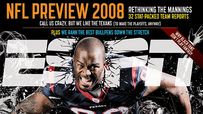 ESPN The Magazine
•
On newsstands Aug. 29:
How control-freak Peyton Manning and laid-back little bro Eli channeled each other to become the NFL's biggest winners. Plus, our experts join NFL scouts and players for a 3-D preview of all 32 teams.
•
The Mag
:
Season preview
|
The 'It' Team 2008
•
Mannings:
Madmen
|
Watch:
Sklars
|
Williams
•
Injuries:
We're all just day-to-day
|
Fitzgerald
•
Watch:
Mario Williams
|
Matt Hasselbeck
•
More:
Marion The Barbarian
|
Colleges vs. Pros
•
NEXT:
Five NFL rookies to watch
Nike Women's Home Game Jersey Chicago Bears Jay Cutler #6 Shop »

MOST SENT STORIES ON ESPN.COM