Commentary
Jon Beason takes the lead in Carolina
The Panthers called on rookie linebacker Jon Beason to lead the defense last season, and he was more than up to the challenge, writes Pat Yasinskas.
Originally Published:
September 2, 2008
By
Pat Yasinskas
| ESPN.com
Jake Delhomme
examined the
Carolina Panthers
' defense.
It didn't take the injured quarterback long to come to a conclusion.
"We needed a leader on defense," Delhomme said. "Jon Beason had to be that leader."
Dan Morgan
suffered yet another injury that ended yet another season.
"At that point, I was just going along and trying to feel my way," Beason said. "I was just trying to learn the defense and, because I was a rookie, I didn't want to step on anybody's toes."
It was about that time when Delhomme, who went down with an elbow injury in Week 3, threw the leadership job at Beason's feet. Carolina's offense was about to crumble without Delhomme, but the quarterback wasn't going to let the defense do the same.
Mike Rucker
had plenty of respect in the locker room, but his career was coming to an end. Supremely talented defensive end
Julius Peppers
was anointed a leader by owner Jerry Richardson before last season, but he's one of the most shy and quiet players in the NFL, and his personality will prevent him from ever being a vocal leader.
That's why Delhomme stepped in and pulled Beason aside.
"I told him several times, and I think other people did, too, 'Jon, you have to be the leader. Don't worry about being a rookie. This is your defense,'" Delhomme said. "Julius is Julius. He's a quiet guy, and there's nothing wrong with that. But Jon is just a natural-born leader all the way around."
Beason, Delhomme and the rest of the Panthers can't pinpoint the exact moment Beason became the leader of the defense, but everyone agrees it happened. That emergence helped save Carolina's season from complete disaster as the offense struggled mightily with Vinny Testaverde, David Carr and undrafted rookie Matt Moore trying fruitlessly to fill Delhomme's shoes.
Beason and the defense kept the team respectable and carried the Panthers to a 7-9 finish. Along the way, Beason produced a franchise-record 160 tackles and led or tied for the team lead in tackles in 13 games.
"When you consider the fact Jon missed a big chunk of camp and started the season on the outside, that makes it even more incredible what he did last year," coach John Fox said. "He's been through it once now and he's been through this entire offseason working in the middle, so we're expecting more big things from him."
So is everyone else.
"Beason's going to be a Pro Bowler very soon," another NFC head coach said. "The guy has all the tools. He and [San Francisco's] Patrick Willis [another 2007 first-round pick] are going to be the next dominant linebackers."
Beason might be the rising star in the NFC South, and he must be a central figure if the Panthers are going to get back to the kind of hard-nosed, dominant defense they played earlier in Fox's tenure.
"I don't mind being a leader," Beason said. "In fact, I kind of like it. I think I lead by example more than anything. But I don't mind getting in a guy's face if he needs to step up, and I'll feel more comfortable doing that this year."
That's what the Panthers want -- and need. In Beason, whom they took with the 25th pick in last year's draft, they believe they have a leader. They also believe they have a very complete linebacker. Beason is a sideline-to-sideline player against the run and also can drop into pass coverage when needed.
The Panthers always believed they had that kind of linebacker in Morgan, a first-round pick in 2001, but chronic injuries prevented Morgan from ever playing a full season and reaching his potential.
In Beason, though, the Panthers believe they have a linebacker who is as good as Morgan could have been if he had stayed healthy. It's kind of ironic because Beason and Morgan both went to the University of Miami and Beason points to Morgan as his mentor.
"Dan became my friend when he came back to Miami to work out before my sophomore year," Beason said. "When I came here, there was no jealousy from Dan. He showed me the ropes from the first day."
Little did Morgan know Beason would take his place before long. Morgan went down with an injury in the third game last season, and Beason slid into the middle in Week 5.
"When Dan got hurt, he still talked me through everything with the defense," Beason said.
Beason played so well that it made the decision easier for the Panthers to cut ties with Morgan after last season. He signed with New Orleans but then elected to retire in May.
"Dan's still one of my best friends," Beason said. "I've called him several times during training camp just to ask questions. It's a bond that all the Miami linebackers have."
The bond with Morgan has helped get Beason this far. But the bond he started building with the rest of the defense last year is why he'll be counted on even more as a team leader this season.
Several teammates said Beason has been even more vocal and forceful this training camp, and the rest of the defense is following his lead.
"Jon's a great football player and a fiery, excitable kind of guy," Delhomme said. "Every team needs a few guys like that. Jon's going to put a hit on running backs from other teams when he tackles them. But he also puts a hit on his own teammates. If you make a good play, you've got to look out for Jon because he's going to come up and jump on you because that's the kind of guy he is."
Pat Yasinskas covers the NFL for ESPN.com.
SPONSORED HEADLINES
MORE NFL HEADLINES
MOST SENT STORIES ON ESPN.COM
NFL PREVIEW 2008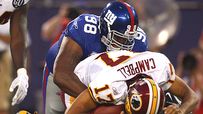 The Giants defeated the Redskins, 16-7, in the NFL opener Thursday night. Which teams will complete the journey to Tampa for Super Bowl XLIII?
NFL preview index
|
Playoff dates
Predictions/Power rankings
•
Power rankings: Champs start season No. 8
•
Gene Wojciechowski: Another run at perfection?
•
Bristol's picks: We love Bolts-'Boys
AFC emerging stars
•
Williamson: Broncos' Cutler ready for stardom
•
Kuharsky: Titans' Finnegan never satisfied
•
Walker: Steelers' Holmes has lofty goals
•
Graham: Bills' Whitner maturing on, off field
•
Scouts Inc.: More emerging AFC stars
NFC emerging stars
•
Seifert: Lions' Johnson poised for monster year
•
Sando: Seahawks' Hill seeking consistency
•
Mosley: Giants' Tuck no longer under radar
•
Yasinskas: Beason takes lead in Carolina
•
Scouts Inc.: More emerging NFC stars
Commentary/features
•
Chadiha: Replacing big names
•
Clayton: NFC East reigns supreme
•
Kuharsky: AFC South is toughest division
•
Chadiha: Merriman a marked man
•
Clayton: Gonzalez is a Chief asset
•
Football Outsiders: Under-the-radar prospects
•
Clayton: Cards' James likes latest trends
•
Joyner: Brady among true big-game players

SportsNation
•
Vote: How will your team fare?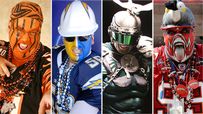 NFL fan base rankings
Best fans in the NFL? We think they wear black and gold. So who's Nos. 2-32? And was there a method to our ranking madness? Matt Mosley explains.
ESPN.com fan base rankings
•
Yasinskas: The Panthers' garage band
•
ZOOM gallery: Carolina's Garage Mahal
•
32 NFL fans you need to know
AFC team previews
•
North:
Balt.
|
Cincinnati
|
Cleve.
|
Pittsburgh
•
South:
Houston
|
Indy
|
Jax
|
Tennessee
•
East:
Buffalo
|
Miami
|
New England
|
NY Jets
•
West:
Denver
|
K.C.
|
Oakland
|
San Diego
Scouts Inc.
From Boldin's best crossing route to Addai's bread-and-butter running play to Washington's pressure defense, watch the signature plays unfold for every NFL team.
Play animations
|
Team schemes
NFC team previews
•
North:
Chicago
|
Detroit
|
Green Bay
|
Minnesota
•
South:
Atlanta
|
Carolina
|
New Orleans
|
Tampa
•
East:
Dallas
|
NY Giants
|
Philly
|
Washington
•
West:
Arizona
|
St. Louis
|
San Fran.
|
Seattle
NFL blog network
•
NFL Nation blog
|
Contact our bloggers
•
AFC
:
North
|
South
|
East
|
West
•
NFC:
North
|
South
|
East
|
West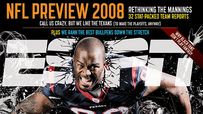 ESPN The Magazine
•
On newsstands Aug. 29:
How control-freak Peyton Manning and laid-back little bro Eli channeled each other to become the NFL's biggest winners. Plus, our experts join NFL scouts and players for a 3-D preview of all 32 teams.
•
The Mag
:
Season preview
|
The 'It' Team 2008
•
Mannings:
Madmen
|
Watch:
Sklars
|
Williams
•
Injuries:
We're all just day-to-day
|
Fitzgerald
•
Watch:
Mario Williams
|
Matt Hasselbeck
•
More:
Marion The Barbarian
|
Colleges vs. Pros
•
NEXT:
Five NFL rookies to watch
ESPN FAN SHOP