Commentary
These fans hold a reserved spot in their hearts for the Panthers
Carolina fans Bill and Cindy Buchanan have parked their cars in the driveway since 1996; the 'Garage Mahal' is reserved for Panthers fans, Pat Yasinskas writes.
Originally Published:
August 29, 2008
By
Pat Yasinskas
| ESPN.com
Carolina Panthers
history was just getting intense when the radio station employee asked Cindy Buchanan a question.
"He said, 'Buchanan? Do you know a Bill Buchanan?'" Cindy said. "I said, 'Yeah, that's my husband.' He said, 'You're bidding against him.'"
For the only time in her life, Cindy backed off a quest for Panthers memorabilia. She let Bill make the winning bid ($350) for the spotter board used by former Carolina radio play-by-play announcer Bill Rosinski from the first game in Panthers history, the 1995 Hall of Fame Game against Jacksonville.
So, in the summer of 2005, Bill Buchanan drove downtown, picked up the board, drove home and parked in the driveway outside his garage. Outside what's known as the Garage Mahal, where the spotter board now lives.
You'd never know it as you drive into the suburban neighborhood where the Buchanans live in the extreme southwest corner of Charlotte (right on the shores of Lake Wylie, near the South Carolina border), but the most complete Carolina Panthers museum in existence is in the garage of their upscale home.
Walk inside, and you'll see that the garage is covered with the very same carpet that used to be in the Panthers' locker room at Bank of America Stadium. Look around, and you'll find nothing but blue, black and white.
This is where it really gets good. Look up high and you'll see the NFC flag that flew over Bank of America Stadium for the first 10 years of the franchise. Look over in that glass case and you'll see a football shoe.
"That's one of the shoes [linebacker] Kevin Greene was wearing the day he punched out [assistant coach] Kevin Steele," Bill Buchanan said.
How in the world did the Buchanans get that shoe?
"Let's just say a friend gave it to me," Bill said with a smile.
Now look up in the back-left corner of the garage. There's a Julius Peppers wooden bobblehead that's at least 3 feet tall. Look a little closer, and you'll see this is No. 3 of only three such dolls that were made.
"[Panthers owner] Jerry Richardson has No. 1," Bill said. "No. 2 was damaged in shipping to the team store, and we've got No. 3."
There's also a glass panther statue that the Buchanans bought in Italy.
"We bought that on the day that [former quarterback] Kerry Collins had his jaw broken," Cindy said.
There are hundreds of other Panthers items around Garage Mahal, which used to house two cars. But there hasn't been a car in the Buchanans' garage since 1996.
Instead, Bill, 52 and an insurance agency owner, and Cindy, 48 and an urgent-care doctor, have filled the garage with anything (and everything) related to the Panthers. More important, they've filled the garage with friends.
Bill and Cindy have attended every home game the Panthers have played, and they'll do it in style this year in the Whisker Wagon -- what was once a shuttle bus for a nursing home that seats 20 and has been painted in Panthers colors. The Buchanans also travel to a couple of road games a year, but it's those other road games that bring the garage fully to life. For those games, Bill, Cindy and 50 to 75 of their closest friends gather and watch the Panthers on one of the garage's six televisions.
Friends bring food and drinks, and the Buchanans supply the ambiance. Often, they put up a tent and open the garage door because the garage can get a little crowded. Each friend has a locker with his or her name on it.
It all may sound a little over the top, and Bill and Cindy know that. But the garage and the Panthers are their passion, and they're in it together.
"If you asked me to name everybody who's played for the Panthers, I couldn't do it," Bill said. "Cindy could. She knows more football than I do."
Said Cindy: "That's all true. But I'm the one who had to draw the line on the garage. If I didn't, the whole house would be decorated in Panthers stuff."
But the Buchanans didn't create this Panthers shrine just for themselves. Bill, a West Virginia native and lifelong Mountaineers fan, and Cindy, who earned her undergraduate degree from Oklahoma State, knew all about tailgating and being rabid fans before the Panthers came to town.
The Buchanans take pride in saying they taught a lot of folks around Bank of America Stadium how to tailgate.
"We had to raise Panthers fans from the ground up," Cindy said. They've also taught their friends how to tailgate for road games.
It has taken a lot of time and money to build the garage into its current state, and it always will remain a work in progress. But it's all worth it, Bill and Cindy said, because they love the Panthers so much.
"It's still special to watch a fan of the Panthers walk in for the first time," Bill said. "And, then, to watch their face light up."
Pat Yasinskas covers the NFL for ESPN.com.
NFL PREVIEW 2008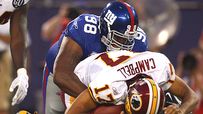 The Giants defeated the Redskins, 16-7, in the NFL opener Thursday night. Which teams will complete the journey to Tampa for Super Bowl XLIII?
NFL preview index
|
Playoff dates
Predictions/Power rankings
•
Power rankings: Champs start season No. 8
•
Gene Wojciechowski: Another run at perfection?
•
Bristol's picks: We love Bolts-'Boys
AFC emerging stars
•
Williamson: Broncos' Cutler ready for stardom
•
Kuharsky: Titans' Finnegan never satisfied
•
Walker: Steelers' Holmes has lofty goals
•
Graham: Bills' Whitner maturing on, off field
•
Scouts Inc.: More emerging AFC stars
NFC emerging stars
•
Seifert: Lions' Johnson poised for monster year
•
Sando: Seahawks' Hill seeking consistency
•
Mosley: Giants' Tuck no longer under radar
•
Yasinskas: Beason takes lead in Carolina
•
Scouts Inc.: More emerging NFC stars
Commentary/features
•
Chadiha: Replacing big names
•
Clayton: NFC East reigns supreme
•
Kuharsky: AFC South is toughest division
•
Chadiha: Merriman a marked man
•
Clayton: Gonzalez is a Chief asset
•
Football Outsiders: Under-the-radar prospects
•
Clayton: Cards' James likes latest trends
•
Joyner: Brady among true big-game players

SportsNation
•
Vote: How will your team fare?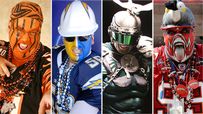 NFL fan base rankings
Best fans in the NFL? We think they wear black and gold. So who's Nos. 2-32? And was there a method to our ranking madness? Matt Mosley explains.
ESPN.com fan base rankings
•
Yasinskas: The Panthers' garage band
•
ZOOM gallery: Carolina's Garage Mahal
•
32 NFL fans you need to know
AFC team previews
•
North:
Balt.
|
Cincinnati
|
Cleve.
|
Pittsburgh
•
South:
Houston
|
Indy
|
Jax
|
Tennessee
•
East:
Buffalo
|
Miami
|
New England
|
NY Jets
•
West:
Denver
|
K.C.
|
Oakland
|
San Diego
Scouts Inc.
From Boldin's best crossing route to Addai's bread-and-butter running play to Washington's pressure defense, watch the signature plays unfold for every NFL team.
Play animations
|
Team schemes
NFC team previews
•
North:
Chicago
|
Detroit
|
Green Bay
|
Minnesota
•
South:
Atlanta
|
Carolina
|
New Orleans
|
Tampa
•
East:
Dallas
|
NY Giants
|
Philly
|
Washington
•
West:
Arizona
|
St. Louis
|
San Fran.
|
Seattle
NFL blog network
•
NFL Nation blog
|
Contact our bloggers
•
AFC
:
North
|
South
|
East
|
West
•
NFC:
North
|
South
|
East
|
West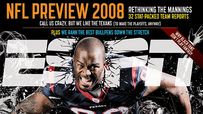 ESPN The Magazine
•
On newsstands Aug. 29:
How control-freak Peyton Manning and laid-back little bro Eli channeled each other to become the NFL's biggest winners. Plus, our experts join NFL scouts and players for a 3-D preview of all 32 teams.
•
The Mag
:
Season preview
|
The 'It' Team 2008
•
Mannings:
Madmen
|
Watch:
Sklars
|
Williams
•
Injuries:
We're all just day-to-day
|
Fitzgerald
•
Watch:
Mario Williams
|
Matt Hasselbeck
•
More:
Marion The Barbarian
|
Colleges vs. Pros
•
NEXT:
Five NFL rookies to watch

MOST SENT STORIES ON ESPN.COM