Commentary
Under-the-radar prospects ready for breakout season
The word "prospect" means something different in football compared with baseball. Unlike Major League Baseball, the NFL doesn't have a minor league system to give players time to develop their skills at a lower level.
So they play college football -- some at large, BCS schools and others at small, lesser-known colleges -- showing up in hopes of catching the eye of a professional scout.
There are hundreds of Web sites devoted to these players: sites for mock NFL drafts, fans of each college and those who follow recruiting.
But what happens to these college stars after draft day? Some don't start immediately; others disappear as role players on NFL rosters. Hardcore fans may know every player on their favorite team, but not necessarily every player around the league. Meanwhile, the obsessive subculture of NFL draftniks has moved on to the next crop of prospects.
In our book Pro Football Prospectus 2008, we decided to fill that gap with our second annual list of the top 25 professional prospects -- young, up-and-coming players who are already in the NFL, but haven't yet reached stardom. Our original list in 2007 featured such players as Brandon Marshall, Marion Barber, Cortland Finnegan and Stacy Andrews.
To be considered for our top prospects list, players had to meet the following criteria:
• Drafted or signed between 2005 and 2007
• Drafted in Rounds 3 through 7, or undrafted
• Fewer than five career games started
• Still on their original rookie contract or a free-agent contract
Here are our top 10 prospects, lesser-known role players and brand-new starters who could make a difference in 2008 and/or beyond. (For this article, I've adjusted our list somewhat based on the preseason.) To find out which other players made our top 25, you'll need to pick up our book, Pro Football Prospectus 2008, available online or at bookstores everywhere.
[+] Enlarge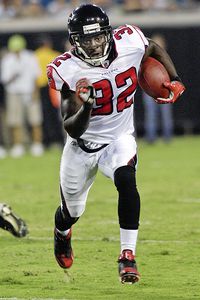 Fernando Medin/US PresswireFalcons RB Jerious Norwood rushed for 613 yards and one touchdown in 2007.
A third-round draft pick in 2006, Norwood put up six yards per carry average in 2007 behind the NFL's worst run-blocking line. Warrick Dunn, by comparison, gained just 3.2 yards per carry behind the same line. Splitting time with Michael Turner could have Norwood on the verge of a breakout season, but how much splitting will there be? We don't think they gave Turner that money to run the ball just 160 times. Norwood is small (6-0, 205 pounds), so perhaps he couldn't handle a 300-carry load on his own, but if the Falcons don't give Norwood an equal share of the carries they are making a huge mistake.
A valuable backup in Dallas' defensive end rotation, this 2006 third-round pick out of Grambling is an intelligent player who simply overpowers offensive linemen with an explosive first step. At 295 pounds, Hatcher could also move inside with a little more bulk, which is exactly what was rumored around draft time. In a part-time role, Hatcher had seven quarterback hurries and four quarterback hits. Starters Chris Canty and Marcus Spears had six hurries and three hits combined. Once he's mastered more in the way of technique, Hatcher will take Spears' place in the starting lineup. If it doesn't happen this season, the Cowboys will let Spears go elsewhere when his contract ends and hand Hatcher the job in 2009.
Young talent like McDonald gave general manager Phil Savage the confidence to trade top corner Leigh Bodden away to Detroit. McDonald's 67 percent success rate and 5.8 adjusted yards allowed per pass both led the Browns last year (stats explained here). The highlight of McDonald's season may have been his Week 12 performance, when he had three passes defensed and picked off a pass to Andre Johnson to help preserve a fourth-quarter lead.
Quick -- who led the Pac-10 in rushing yardage in 2005? Well, if it was Reggie Bush, we wouldn't be writing this under the name "Jerome Harrison," would we? Harrison actually led all of Division I with 1,900 rushing yards in 2005 but fell to the fifth round because of size concerns (5-foot-9, 210 pounds). Harrison gained just 60 yards in 20 carries as a rookie, but last year he made the most of the few touches he got when Cleveland gave the resurgent Jamal Lewis a breather. He had 145 yards on 23 carries for 45 DYAR (defense-adjusted yards above replacement) and a 74 percent success rate, plus a couple of catches. So long as Lewis remains effective, Harrison is stuck in a reserve role, but he adds an extra dimension to Cleveland's ground game and the coaching staff would be wise to give him more opportunities and keep the not-so-old man (Lewis is actually only 29, seemingly going on 67) fresh.
Rouse has the size to really hit guys up in the box -- he started out as an outside linebacker at Virginia Tech -- and he has reasonably good coverage ability despite the kind of height (6-foot-4) that usually creates problems with defensive backs moving their hips and changing directions. Rouse wasn't able to beat out Nick Collins or Atari Bigby in the preseason, but we wouldn't be surprised if he takes over for the flag-happy Bigby by midseason. Last year's ESPN The Magazine draft preview compared Rouse to Arizona's Adrian Wilson. Oh, Packers fans, you can only dream.
Harris is a pass-rush specialist who has turned out a lot better than what scouts expected back when he was at Southern Utah. The Chargers brought him in as an undrafted free agent and ended up with Shaun Phillips Lite to stick on the bench behind Shaun Phillips Classic. Last year, Harris had an 82 percent stop rate, plus 1.5 sacks and two hurries in limited action. The year before, he had a 74 percent stop rate and three sacks, and became a bit of a folk hero in San Diego when he did a backflip on the field after a sack that forced a Damon Huard fumble. With more and more teams considering a 3-4 defensive scheme, don't be surprised if Harris is targeted in restricted free agency next offseason. Dolphins have been known to do the occasional backflip, right?
[+] Enlarge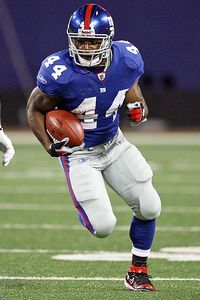 Evan Pinkus/Getty ImagesAhmad Bradshaw was a surprise weapon during the Giants Super Bowl run last season.
Bradshaw became the back every fan wished his team had as the playoffs went along, a scatback with enough power to break tackles, but the ability to cut back without going down like so much
Shaun Alexander
. Bradshaw isn't incredibly fast, but he's lightning quick in and out of his cuts, is assertive in his gap recognition and is a patient, instinctive runner. He still needs to work on his pass protection and catching the ball out of the backfield, and he may very well be easily breakable if given a larger workload. For 100 carries, though, Bradshaw could be a top-10 DVOA guy.
From Tom Nalen and Pete Kendall to Dan Koppen and Chris Snee, Boston College has been one of the NFL's top sources for offensive linemen in recent years. Beekman, Chicago's new left guard, is the latest lineman to make his way off Chestnut Hill and into an NFL starting lineup. Beekman is an A-1 road grader who could become Matt Forte's best friend. However, scouts felt he had to work on pass blocking coming out of college, and there was some worry that at a little under 6-2, he's a bit short for an NFL lineman.
Once upon a time he was that guy in the film next to Mario Williams, but soon Tyler will the guy who gets all the sacks and quarterback hurries because the offense has to double-team Glenn Dorsey. He's a physical beast who shows good upfield rush for a big guy, though he can sometimes be pushed around on runs.
Draft experts can put together all the big boards and top-200 lists they want, but once you get into the middle rounds of the NFL draft, the talent differentiation becomes small enough from pick to pick that a player's ability to fit your system becomes more important. And thus did Celek, a tight end born to play in the West Coast offense, find his way from the University of Cincinnati to Andy Reid and the Philadelphia Eagles. Celek is a smart route runner with outstanding hands who really opened eyes at the 2007 East-West Shrine Game. When blocking, he makes up for his lack of natural talent with competitiveness. The Eagles put the franchise tag on L.J. Smith because this year's free-agent class was low on tight ends, but he's not exactly wowing everyone with his 24.2 percent DVOA and 50 percent catch rate. Celek will get more time in 2008 and is in line to start in 2009.
Aaron Schatz is president of Football Outsiders Inc. and the lead author of "Pro Football Prospectus 2008," now on sale online and in bookstores everywhere.
NFL analyst for ESPN Insider
Founder of Footballoutsiders.com
NFL PREVIEW 2008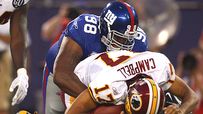 The Giants defeated the Redskins, 16-7, in the NFL opener Thursday night. Which teams will complete the journey to Tampa for Super Bowl XLIII?
NFL preview index
|
Playoff dates
Predictions/Power rankings
•
Power rankings: Champs start season No. 8
•
Gene Wojciechowski: Another run at perfection?
•
Bristol's picks: We love Bolts-'Boys
AFC emerging stars
•
Williamson: Broncos' Cutler ready for stardom
•
Kuharsky: Titans' Finnegan never satisfied
•
Walker: Steelers' Holmes has lofty goals
•
Graham: Bills' Whitner maturing on, off field
•
Scouts Inc.: More emerging AFC stars
NFC emerging stars
•
Seifert: Lions' Johnson poised for monster year
•
Sando: Seahawks' Hill seeking consistency
•
Mosley: Giants' Tuck no longer under radar
•
Yasinskas: Beason takes lead in Carolina
•
Scouts Inc.: More emerging NFC stars
Commentary/features
•
Chadiha: Replacing big names
•
Clayton: NFC East reigns supreme
•
Kuharsky: AFC South is toughest division
•
Chadiha: Merriman a marked man
•
Clayton: Gonzalez is a Chief asset
•
Football Outsiders: Under-the-radar prospects
•
Clayton: Cards' James likes latest trends
•
Joyner: Brady among true big-game players

SportsNation
•
Vote: How will your team fare?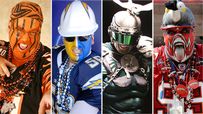 NFL fan base rankings
Best fans in the NFL? We think they wear black and gold. So who's Nos. 2-32? And was there a method to our ranking madness? Matt Mosley explains.
ESPN.com fan base rankings
•
Yasinskas: The Panthers' garage band
•
ZOOM gallery: Carolina's Garage Mahal
•
32 NFL fans you need to know
AFC team previews
•
North:
Balt.
|
Cincinnati
|
Cleve.
|
Pittsburgh
•
South:
Houston
|
Indy
|
Jax
|
Tennessee
•
East:
Buffalo
|
Miami
|
New England
|
NY Jets
•
West:
Denver
|
K.C.
|
Oakland
|
San Diego
Scouts Inc.
From Boldin's best crossing route to Addai's bread-and-butter running play to Washington's pressure defense, watch the signature plays unfold for every NFL team.
Play animations
|
Team schemes
NFC team previews
•
North:
Chicago
|
Detroit
|
Green Bay
|
Minnesota
•
South:
Atlanta
|
Carolina
|
New Orleans
|
Tampa
•
East:
Dallas
|
NY Giants
|
Philly
|
Washington
•
West:
Arizona
|
St. Louis
|
San Fran.
|
Seattle
NFL blog network
•
NFL Nation blog
|
Contact our bloggers
•
AFC
:
North
|
South
|
East
|
West
•
NFC:
North
|
South
|
East
|
West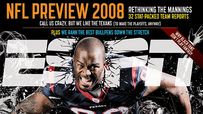 ESPN The Magazine
•
On newsstands Aug. 29:
How control-freak Peyton Manning and laid-back little bro Eli channeled each other to become the NFL's biggest winners. Plus, our experts join NFL scouts and players for a 3-D preview of all 32 teams.
•
The Mag
:
Season preview
|
The 'It' Team 2008
•
Mannings:
Madmen
|
Watch:
Sklars
|
Williams
•
Injuries:
We're all just day-to-day
|
Fitzgerald
•
Watch:
Mario Williams
|
Matt Hasselbeck
•
More:
Marion The Barbarian
|
Colleges vs. Pros
•
NEXT:
Five NFL rookies to watch

MOST SENT STORIES ON ESPN.COM