BUFFALO BILLS (Consensus division finish: 3rd)
Jerome Davis/Icon SMI
EXPERTS' PICKS
The Bills finished second in the AFC East in 2007 with a 7-9 record. For AFC East coverage, visit Tim Graham's AFC East blog. | Discuss Bills | MAG Preview
ANALYST
PREDICTION
Jeffri
Chadiha
ESPN.com

DIVISION FINISH: 3 They're young and talented. They're also not ready to vault into serious playoff contention just yet.
John
Clayton
ESPN.com
DIVISION FINISH: 3 Trent Edwards looks as though he can run Turk Schonert's new offense, and the defense is sounder in the front seven with the additions of DTs Marcus Stroud and Spencer Johnson and OLB Kawika Mitchell.

Tim
Graham
ESPN.com

DIVISION FINISH: 3 They were the division's second-best team and should be better. If they can make amends with holdout LT Jason Peters, their playoff hopes improve.
Jeremy
Green
Scouts Inc.

DIVISION FINISH: 2 The Bills have a chance to be a surprise team in 2008. Offensive coordinator Turk Schonert's new system should allow WR Lee Evans and others to get off to a fast start. The defense will be better as well, with MLB Paul Posluszny in the starting lineup after missing his entire rookie season.
Paul
Kuharsky
ESPN.com

DIVISION FINISH: 2 An influx of healthy players should provide a big boost to a team that wasn't too far out of the mix of contenders last season. But I'm not sold on QB Trent Edwards yet.
Matt
Mosley
ESPN.com

DIVISION FINISH: 3 Let's see what QB Trent Edwards can do for a full season. RB Marshawn Lynch is impressive.
Mike
Sando
ESPN.com

DIVISION FINISH: 3 A favorable schedule should give the Bills a boost. Buffalo must improve at home, where the team went 4-4 last season.
Kevin
Seifert
ESPN.com

DIVISION FINISH: 2 Never count out a Dick Jauron defense. Or a Stanford quarterback like QB Trent Edwards.
James
Walker
ESPN.com

DIVISION FINISH: 3 The Bills got hot toward the end of last season, but the Patriots and Favre-led Jets will douse those fires pretty quickly.
Seth
Wickersham
ESPN The Magazine

DIVISION FINISH: 2 WRs Roscoe Parrish and Lee Evans will be tough on secondaries. QB Trent Edwards just needs time to get the ball out. If Buffalo's offensive line -- you ready, Jason Peters? -- performs, so will the Bills.
Bill
Williamson
ESPN.com

DIVISION FINISH: 3 If the Bills develop some young players and can stay healthy (unlike last season), they could be a team to watch. This team is making strides, but it will be tough in the talent-rich AFC.
Matt
Williamson
Scouts Inc.

DIVISION FINISH: 3 The defense will be dramatically improved, the special teams are top-notch and RB Marshawn Lynch is on the verge of asserting himself as a top-tier back. But the rest of the offense isn't dynamic enough to take the Bills to the next level. They'll fall short of a wild-card berth.
Pat
Yasinskas
ESPN.com

DIVISION FINISH: 3 You don't hear much about these guys, but Buffalo is a sleeper. If things break right and they avoid injuries, the Bills could sneak past the Jets. But they can't sneak past the Patriots.


CONSENSUS DIVISION FINISH: 3 | NFL standings
BEST OF THE BILLS
Best offensive player: RB Marshawn Lynch. Most of the offseason attention has been paid to how well second-year QB Trent Edwards is picking up the offense, but Lynch is the one who makes the Bills go. Lynch can wear out a defense. He tramples would-be tacklers seemingly without breaking stride.
Best defensive player:
DE Aaron Schobel. That Schobel made his second Pro Bowl last season with only 6 1/2 sacks is testament to how highly he's regarded by his peers. He frequently was double-teamed, but this season he should be less restricted. Offensive lines also will have DT Marcus Stroud and MLB Paul Posluszny to contend with, freeing up Schobel to create more havoc.
Best playmaker:
WR Lee Evans. Although his production dropped substantially last season, Evans remains the Bills' primary receiving threat. After amassing 1,292 yards and eight touchdowns in 2006, he drew extra attention on passing downs because the Bills didn't have an adequate second option and Lynch doesn't catch many passes out of the backfield.
Best athlete:
P Brian Moorman. If the Bills were to hold an intra-squad decathlon, Moorman would be the favorite. He was an eight-time All-American in track and field at Pittsburg State and was inducted into the U.S. Track and Field and Cross Country Coaches Association Division II Hall of Fame. He won three national titles in the 400-meter hurdles. Moorman's speed and passing ability keeps coverage units honest.
Best unheralded player:
CB Jabari Greer. The Bills drafted three cornerbacks, including Leodis McKelvin with the 11th overall pick, but Greer keeps holding on to his starting position. Greer wasn't drafted out of Tennessee, toiling on special teams for three years before emerging as the left-side starter last season.
-- Tim Graham, ESPN.com
SCOUTS INC.'S FAB FIVE
Scouts Inc. has evaluated and graded more than 2,400 NFL players heading into the 2008 season, giving Insiders a leg up on the competition with exclusive grades, alerts and scouting reports.
Top five players

ANALYSIS
1. Jason Peters
Offensive tackle
6-4 | 340
(Grade 87) He is quick to kick step and gain leverage as a pass-blocker, using an effective punch and footwork to keep defenders at bay. Peters isn't very active on the second level, but he's a steady effort player.
3. Marcus Stroud
Defensive tackle
6-6 | 310
(78) He is tall and has long arms, excellent bulk and the athletic ability to make plays in pursuit or in the open field with his change-of-direction skills. He is a very good player around whom a defense can be built.
3. Marshawn Lynch
Running back
5-11 | 215
(78) He has an excellent combination of size, strength and speed. He shows great in-line vision and run instincts. He has the speed to get to the perimeter, but can be patient in off-tackle and interior schemes.
5. Aaron Schobel
Defensive end
6-4 | 243
(77) He is a tall, lean player with the deceptive strength to hold the point. He is an instinctive end who reacts quickly as plays unfold. He is a high-motor player and he chases well, with good speed and range downfield.
5. Donte Whitner
Safety
5-11 | 208
(77) He has good size, strength and athleticism. He is a hard-nosed safety who is better against the run than he is defending the pass. He shows great instincts, a good feel for angles and the ability to leverage the ball.
Player grading scale: Elite (90-100), outstanding (80-89), solid starter (75-79), good starter (70-74)
SCOUTS INC.'S ANALYSIS
Best play option
QB Trent Edwards is inexperienced and still adapting to the NFL, but the Bills wisely created plays to give him some easy reads.
More best plays

Strengths

Improved defense: The Bills' defense was ravaged by injuries last season, but it should be healthier this season. Plus, the additions of DT Marcus Stroud, LB Kawika Mitchell and first-round selection CB Leodis McKelvin are major upgrades. This is an aggressive, well-coached group that is one defensive end away from being among the league's best.
Marshawn Lynch:
He was even more impressive during his rookie season than his numbers indicated. He is a do-it-all weapon who should be further incorporated into the passing game in his second season. He is an aggressive, powerful every-down back with enough make-you-miss agility to separate him from most runners. Lynch has Pro Bowl written all over him and is ready to blow up in his sophomore campaign.
Special teams:
Bobby April is one of the top assistant coaches in the league and his special teams units consistently rank among the league's best. The kicking specialists are excellent, the coverage teams are disciplined and a group of dangerous returner men only improves with the addition of McKelvin.
Weaknesses

Receivers: WR Lee Evans is an electric player who can change a game in a heartbeat. But he's too easy to eliminate because Buffalo has no other receiving options who frighten defensive coordinators. If second-rounder WR James Hardy proves he can get off jams and run sharp routes, the Bills may finally have a true No. 2 weapon. But counting on rookie wideouts is dangerous. The tight ends are among the NFL's worst group of pass-catchers at the position.
Unproven quarterback:
Trent Edwards surpassed expectations in his rookie season; his performance was strong enough to send QB J.P. Losman to the bench. But he's far from a sure thing. Edwards is poised and intelligent, but he isn't overwhelming physically. He appears to have the ceiling of a game manager, not a player who can put his team on his shoulders and carry them to victory.
Scouts Inc. watches games, breaks down film and studies football from all angles.
JEREMY GREEN'S X FACTORS
FOOTBALL TODAY PODCAST: DIVISION PREVIEW
MY MOST CHALLENGING OPPONENT

Schobel
Bills defensive end Aaron Schobel on Patriots left tackle Matt Light:
Matt Light won't take plays off, and he finishes. He's so athletic that he can stop and start with ease. He's a scrapper. I'm trying to do my best against whoever I'm playing, but you have to study harder to find a weakness on some guys. Some guys you watch five minutes of tape and see how you can beat him. With Matt Light, I know that to get to his weakness I have to do something that is uncomfortable for me to do. There's a lot of things I can do just automatically. My body will just do it. Then there are some things I have to work at that feel uncomfortable. If I want to spin six, seven yards upfield ... I can spin in three and four yards easy. At six or seven you have to take that extra step. You get going to a speed where it's not natural against him. He's not a big guy, but he's strong in his hands. A lot of guys in that position, all they can do is play offensive tackle. He's probably one of those guys that can go out and play basketball, baseball. He's just an athlete that goes out and plays offensive tackle.
-- As told to Tim Graham, ESPN.com
FRANCHISE BEST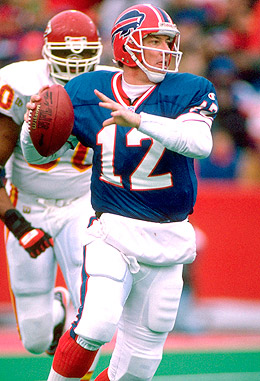 Photo by Paul Spinelli/Getty Images
In a vote by SportsNation, quarterback Jim Kelly was selected best Bill ever. He led the Bills to four consecutive Super Bowls and ranks 14th all time in passing yards. Complete results
BLOGS: PRO AND FAN

Looking for more Bills coverage? You've come to the right place. Tim Graham writes about all things AFC East in his division blog.




Featured Fan Preview

by hophead1974
A badly dinged-up squad showed a lot of heart last year, and they had a nice offseason. Marcus Stroud and Paul Posluszny should shore up the run defense, and Leodis McKelvin adds a lot of raw ability. Blog

Submit your blog preview
FANTASY FOCUS
Can Lee Evans be a No. 2 receiver?

Evans
The real query at hand is whether he can be a "consistent" No. 2 fantasy receiver. Which is to say, can he be what he's never been before? Even in his 2006 breakout season, he posted six anemic outings in which he averaged three receptions and just over 30 yards per game with no scores. He's never had the adequate support he deserves with respect to both consistent QB play and attention-drawing wideout peers. It's not clear that those issues have been resolved. In an attempt to help the 5-foot-10 Evans get open and afford him relief from constant double-teams, the Bills drafted wideout James Hardy, a 6-7 former hoops player with a 42-inch vertical. So now the team has a red zone target to go with Evans' deep-ball abilities. Trent Edwards has a full offseason under center, and new offensive coordinator Turk Schonert was Edwards' QB coach last season. While these elements, combined with a promising running game led by Marshawn Lynch, should seemingly help Evans return to this 2006 form, it's still difficult for me to endorse investing in him at his going rate. ESPN live draft results have him slotted as the 24th receiver taken on average, just behind Dwayne Bowe and Roddy White.
-- Jim McCormick, Special to ESPN.com
More Bills
|
Fantasy index