DENVER BRONCOS (Consensus division finish: 2nd)
Max Simbron/US Presswire
EXPERTS' PICKS
The Broncos finished second in the AFC West last season with a 7-9 record. For AFC West coverage, visit Bill Williamson's AFC West blog. | Discuss Broncos | MAG preview
ANALYST
PREDICTION
Jeffri
Chadiha
ESPN.com

DIVISION FINISH: 2 Head coach Mike Shanahan cleaned house after the first losing season in his Broncos tenure. The problem is that this team is still filled with far too many questions -- especially on defense -- to see them rising back above the .500 mark this year.
John
Clayton
ESPN.com
DIVISION FINISH: 3 The Broncos are the Bengals of the AFC West: a team with a great QB and a shaky defense. Jay Cutler is the real deal, but the Broncos' defense has holes.

Tim
Graham
ESPN.com

DIVISION FINISH: 2 Mike Shanahan is on the hot seat, coming off his first losing season. They could ride a forgiving schedule to a wild-card berth.
Jeremy
Green
Scouts Inc.

DIVISION FINISH: 3 The Broncos have issues and inexperience along the offensive line, question marks at RB, and star WR Brandon Marshall has been suspended for what could amount to the first three games. Simply put, the Broncos have a lack of playmakers right now on both sides of the football.
Paul
Kuharsky
ESPN.com

DIVISION FINISH: 3 Jay Cutler makes some strides. But they didn't add enough and are counting on too many unproven pieces simultaneously.
Matt
Mosley
ESPN.com

DIVISION FINISH: 2 Despite receiving an offseason diagnosis of Type 1 diabetes, Jay Cutler is poised to have a breakthrough season. I think he's ready to put it all together, and Brandon Marshall gives him a constant downfield threat. The key will be the defense, though.
Mike
Sando
ESPN.com

DIVISION FINISH: 2 Jay Cutler looks like he'll challenge for the Pro Bowl sooner rather than later. He'll need a better defense at his back to challenge for more meaningful postseason honors.
Kevin
Seifert
ESPN.com

DIVISION FINISH: 2 Coach Mike Shanahan is hoping to get a more even performance from quarterback Jay Cutler. But the Broncos don't have enough juice to compete for a title.
James
Walker
ESPN.com

DIVISION FINISH: 3 The free-fall in Denver continues. Having its best offensive player, WR Brandon Marshall, sidelined because of a one-game suspension at the start of the season could hurt right away.
Seth
Wickersham
ESPN The Magazine

DIVISION FINISH: 2 Musts for 2008: Creating a good pocket on offense and crumbling them on defense. The O-line, with LT Ryan Clady and a healthy C Tom Nalen, looks good. The D-line, not so much.
Bill
Williamson
ESPN.com

DIVISION FINISH: 3 Although Denver has some nice pieces in place, there are too many questions to believe the Broncos will end a two-year playoff drought.
Matt
Williamson
Scouts Inc.

DIVISION FINISH: 2 Because of the schedule they face, Denver could back into the playoffs, where they'd be one and done. Jay Cutler is coming of age and will make everyone around him better, but Brandon Marshall's suspension cripples this offense early on, and the defense and special teams are not strong enough to carry Denver.
Pat
Yasinskas
ESPN.com

DIVISION FINISH: 2 Jay Cutler's ready for a breakout year and Mike Shanahan's ready to redeem his reputation. There's a good opportunity for a wild card in this division and the Broncos should have a shot.


CONSENSUS DIVISION FINISH: 2 | NFL standings
BEST OF THE BRONCOS
Best arm: Quarterback Jay Cutler. He has a cannon arm. The third-year player has major zip on his passes and could be poised for a breakout year.
Best brothers:
Champ and Boss Bailey. Champ is entering his fifth season in Denver and is an elite cornerback. Boss just came over from Detroit as a free agent and is the team's strongside linebacker.
Best talent:
Receiver Brandon Marshall. Yes, he has had his share of off-field issues, but Marshall is a brilliant player. He is a beast with the ball in his hands at 6 feet 5, 230 pounds.
Best rookie:
First-round pick Ryan Clady steps in as the left tackle. The Broncos believe they have a superstar on their hands with the Boise State product.
Best unit:
The running backs. Selvin Young, Ryan Torain, Michael Pittman and Andre Hall all will have a role in Denver's offense. Each player brings something different to make a formidable group.
-- Bill Williamson, ESPN.com
SCOUTS INC.'S FAB FIVE
Scouts Inc. has evaluated and graded more than 2,400 NFL players heading into the 2008 season, giving Insiders a leg up on the competition with exclusive grades, alerts and scouting reports.
Top five players

ANALYSIS
1. Champ Bailey
Cornerback
6-0 | 192
(Grade 94) He is a rare breed who is not only a shutdown corner, but also has the ability and temperament to come up and force the run. He knows how to read routes and does a good job of reading the quarterback's eyes.
2. Brandon Marshall
Wide receiver
6-4 | 230
(85) He is a big target who is learning how to use his size to his advantage by screening defenders from the ball and going up to highpoint the ball in a crowd. He is a long strider who eats up lots of ground.
3. D.J. Williams
Linebacker
6-1 | 242
(75) He has the quickness, agility and acceleration to make plays in the hole or to bounce it outside to make the play off pursuit on the sideline. He is on the verge of becoming an elite linebacker.
4. Jay Cutler
Quarterback
6-3 | 233
(75) When he is focused and things are going well, he can be dominating with his arm strength and ability to throw through small windows. He is a decent athlete with adequate scrambling skills.
5. Elvis Dumervil
Defensive line
5-11 | 260
(73) He has shown flashes of rare pass-rushing skills. He is explosive off the ball and has the upfield speed and acceleration to consistently pressure the pocket coming off the edge.
Player grading scale: Elite (90-100), outstanding (80-89), solid starter (75-79), good starter (70-74)
SCOUTS INC.'S ANALYSIS
Best play option
QB Jay Cutler can make all the throws. Here's how the Broncos help him make the right decision and move the ball downfield.
More best plays

Strengths

Champ Bailey: He didn't dominate to his usually ridiculous level last season, but he remains an elite corner who has the rare ability to lock down an offense's top wideout and allow the rest of the Broncos' defense to gain a favorable numbers advantage in coverage. The Broncos would be wise to eliminate much of the suspense, walk Bailey up on the No.1 receiver and let the other 10 defenders worry about the rest. Few teams have such a luxury.
Jay Cutler:
He made strides you would expect from a developing franchise QB in his second season, despite battling a diabetic condition that greatly diminished the amount of weight he was able to keep on. He still makes too many poor decisions, and with his gunslinger mentality, he probably always will. But he also has the arm and mobility to do things that few QBs can pull off.
Brandon Marshall:
Just as Cutler is developing very well, Marshall is on the verge of asserting himself as one of the top wide receivers in the league. His physical skills are phenomenal and he demands the football. Marshall is only getting better, but he has character concerns. He is suspended for the first game of the season because of off-field issues.
Weaknesses

Secondary receivers: Without Marshall on the field, Denver has no one who threatens defenses consistently. The Broncos took a quantity-over-quality approach to acquiring wideouts this past offseason. However, this group doesn't inspire confidence at this point. TE Tony Scheffler is a wild card who could develop along the same lines as Cutler and Marshall, but he has injury concerns.
Specialists:
PK Jason Elam is now in Atlanta, and Matt Prater is in line to replace him. Elam was someone coach Mike Shanahan could count on when the chips were down, and while Prater might surprise, a drop-off in production from the place kicker must be expected. Making matters worse, Denver will be breaking in a new punter as well.
Who are these guys?
The system has always been the key in Denver, not the running back. But that might be tested this year. Selvin Young looked good last season when he played, but can he carry the load for a full season? Behind him is Michael Pittman, Ryan Torain and Andre Hall. The system better work.
Scouts Inc. watches games, breaks down film and studies football from all angles.
JEREMY GREEN'S X FACTORS
FOOTBALL TODAY PODCAST: DIVISION PREVIEW
MY BEST OPPONENT

McCree
Denver safety Marlon McCree on Chiefs running back Larry Johnson:
I think the best player I have faced throughout the years is Kansas City running back Larry Johnson. That was the case when I was with the Chargers, and that is the case now that I am with the Denver Broncos. When you face the Kansas City Chiefs, you have to be ready for Larry Johnson.
Larry Johnson is a beast. You can't come into a game against Larry Johnson and not be prepared. You have to be ready. You know that it is going to be a long day when you face him.
He is big, strong and he's physical. It's a physical game. … You know the impact he has on the game. You know he can be a difference-maker for his team. It is a different week when you prepare for Larry Johnson. You just have to be prepared. I say facing Larry Johnson means you lose about a half-hour of sleep every night.
You can't go into a game against him unprepared. It takes 11 guys to stop a player like him. He's a special player.
-- As told to Bill Williamson, ESPN.com
FRANCHISE BEST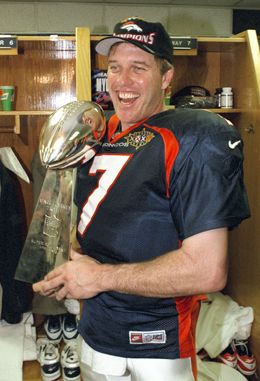 Photo by E. Bakke/NFL
In a vote by SportsNation, quarterback John Elway was selected best Bronco ever. He is third all time in passing yards, fifth in passing TDs, and he won two Super Bowls. Complete results
BLOGS: PRO AND FAN

Looking for more Broncos coverage? You've come to the right place. Bill Williamson writes about all things AFC West in his division blog.



Featured Fan Preview

by anthonyc218
Cutler is coming along, but the AFC is full of 8 or 9 clearly better teams. Guys like Champ [Bailey], Brandon Marshall, Selvin Young and D.J. Williams will have great years -- but B Marsh's suspension will hurt. Blog

Submit your blog preview
FANTASY FOCUS
What's the deal with Denver's running game?

Young
In Mike Shanahan's 13 seasons as the Broncos' coach, the Week 1 starting running back has lost his job during that season six times. Those 13 seasons include the five seasons that either Terrell Davis or Clinton Portis was the traditional feature back, getting about 300 carries. So in reality, "The Shanahan Switch" has been made in six of eight seasons. Denver's famous zone-blocking scheme is the very reason the RB scenario has long been such a fantasy enigma. It's so effective that it allows the team to essentially plug and play a variety of inexpensive backs without much dropoff in production. Whenever one of these players is underperforming or injured, the team simply dives into its stash, thus the current four-headed monster. If this current Selvin Young/Andre Hall split continues, look for this season to mirror 2006. Young should play the Tatum Bell role on his way to 1,000 yards, mostly between the 20s, with a modest TD total, and Hall should play the vulture role Mike Bell so ably performed. Anthony Alridge and Michael Pittman, for good measure, are the ever-present wild cards.
-- Jim McCormick, Special to ESPN.com
More Broncos
|
Fantasy index