4:05 PM ET, October 13, 2013
Sports Authority Field at Mile High, Denver, CO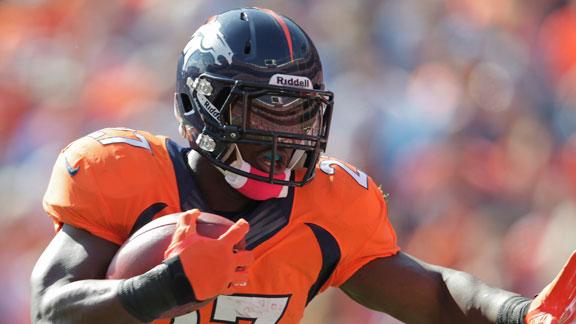 Sunday Blitz: Jaguars-Broncos Recap
Sunday Blitz: Jaguars-Broncos Recap
VIDEO PLAYLIST
When Denver Broncos coach John Fox was asked if last week's narrow victory was good for his team after it breezed through its first four weeks, he made it clear he prefers the less-stressful moments.
"We don't go into each game trying to see how close we can make it," Fox said.
Few are expecting Sunday's home matchup with the winless Jacksonville Jaguars to be at all close, with Denver entering as the biggest favorite in NFL history.
The Broncos (5-0), winners of 16 consecutive regular-season games, matched Jacksonville's point total for the season in a 51-48 victory over Dallas last week. Peyton Manning threw his first interception but finished 33 of 42 for 414 yards and four touchdown passes, pushing his league-best total to 20.
Denver, which leads the league with 489.8 yards and 46.0 points per game, won its first four contests by an average of 22.3 points. On Sunday, it needed a 28-yard field goal from Matt Prater as time expired as it overcame a seven-point fourth-quarter deficit.
"It's going to happen. No team is invincible," safety Rahim Moore said. "It was ugly. It's the NFL. It's hard to win in this league."
Though the Broncos have mostly made it look easy this season, Fox insists his team will remain focused against a Jacksonville team that's dropped its last three by a combined 76 points.
"One thing I've learned is if you fall asleep at the wheel, you wreck," Fox said. "Sometimes dealing with prosperity is more difficult than the adversity. Our guys understand that. They understand it's more about the process than the results. They understand it's more about the preparation work which will relate to the performance."
Denver's offense has been the class of the NFL, but the club is looking to improve defensively. The Broncos rank last against the pass with 347.0 yards allowed per game and are 29th in overall defense at 416.6 total yards, though they've been playing without suspended linebacker Von Miller and injured defensive back Champ Bailey.
However, Bailey was a full participant at practice Wednesday for the first time since hurting his left foot in a preseason game Aug. 17, and he's expected to make his 2013 debut Sunday.
Denver will face Jacksonville's league-worst offense that averages 251.8 yards. The Jaguars will also likely have Chad Henne under center rather than Blaine Gabbert, who is expected to sit out with a hamstring injury.
Gabbert went 9 of 19 for 181 yards -- 67 coming on a touchdown pass to Justin Blackmon in the first quarter -- and two interceptions before leaving a 34-20 loss to St. Louis last week.
Henne went 7 of 13 for 89 yards and a score in relief. He's completed 55.8 percent of his passes and will be making his third start in place of Gabbert, who ranks last with a passer rating of 36.0 while throwing seven interceptions.
"As a quarterback, with that comes the responsibility of being a leader," coach Gus Bradley said. "I think our guys are working towards that, but they need to step it up. We feel strongly about both of them, we're going to challenge both of them and they're going to need to step up."
Blackmon may be able to help, as he caught five passes for 136 yards in his return from a four-game suspension for violating the league's substance-abuse policy. He'll provide another target in the passing game to go along with leading receiver Cecil Shorts.
The running game isn't in nearly as good shape. Maurice Jones-Drew is averaging 2.8 yards per carry, and the Jaguars rank 30th with 58.8 yards per game on the ground. Jacksonville will attempt to improve on that number without left tackle Luke Joeckel, who fractured his ankle against the Rams and will miss the rest of the season.
Denver ranks first against the run with an average of 69.6 yards allowed, though that number is somewhat deceiving given opponents' need to throw while trying to overcome the large deficits they've faced -- which also inflates the Broncos' ugly pass defense numbers. The Broncos have faced 21.2 rushing attempts per game, second fewest in the league.
Manning's stellar performances have been the main reason for those big leads, and Bradley knows his team faces a tough test Sunday. Manning has completed 75.9 percent of his passes with 12 touchdowns in his last five starts against the Jaguars.
"He's the best that I've ever encountered," Bradley said. "How he manages the game, it appears like he never puts the team into a bad call. He knows everything about you on defense, he studies, he controls the whole offense. He's very talented."
Jacksonville has won three straight meetings with the Broncos, the most recent a 24-17 victory Sept. 12, 2010.
More from ESPN.com
Welker likely out until playoffs, sources say
Broncos wide receiver Wes Welker is expected to be held out of the teams final two regular-season games as he recovers from two concussions in a span of four games.
Sources: Welker not expected back vs. Texans
Denver Broncos wide receiver Wes Welker is making progress in the NFL's concussion protocol, but is still expected to be ruled out for Sunday's game against the Houston Texans, sources told ESPN.com's Jeff Legwold.
Clayton: Farewell to Candlestick
John Clayton's First and 10: Likely finale at iconic Candlestick Park, Indy-K.C. potential playoff preview highlight Week 16 action.
Broncos' Welker still not cleared to practice
The Denver Broncos' Wes Welker has not been medically cleared to return to practice and coach John Fox said only that the wide receiver is day to day.
Matchup
JAX

DEN

W-L
0-6
6-0
Avg Points
11.7
44.2
Avg Points Allowed
33.0
26.3
Home Record
0-2
4-0
Road Record
0-4
2-0
Division Record
0-1
1-0
Conference Record
0-4
3-0
Complete Standings
Team Averages & NFL Ranks
TEAM OFFENSE
TEAM
PER GAME AVERAGE
Total Yards
JAX

290
DEN

453
Yards Passing
JAX

208
DEN

337
Yards Rushing
JAX

83
DEN

117
TEAM DEFENSE
TEAM
PER GAME AVERAGE
Yards Allowed
JAX

382
DEN

372
Pass Yds Allowed
JAX

250
DEN

266
Rush Yds Allowed
JAX

132
DEN

105
Head to Head Matchups (Since 2001)
Jacksonville leads 4-2
Sep 12, 2010
JAX 24, DEN 17
Oct 12, 2008
JAX 24, @DEN 17
Sep 23, 2007
JAX 23, @DEN 14
Oct 2, 2005
JAX 7, DEN 20
Sep 19, 2004
JAX 7, DEN 6
Research Notes
With
Justin Blackmon
back, the Jaguars will have two productive receivers available. Over the last two seasons,
Chad Henne
has done a much better job getting the ball to the Jaguars' play-makers.
[+]
Recent history isn't kind to 20+ point favorites. Since 1990, the only team to beat a 20+ point spread was the 1991 Bills, who beat the Colts 42-6 in Week 7 after being favored by 20 points. Source: pro-football-reference.com
[+]
ESPN Stats & Information