1:00 PM ET, October 21, 2001
INDIANAPOLIS (AP) -- David Patten did anything and everything the New England Patriots needed. His performance was unlike any other in the NFL in exactly 22 years.
Triple Threat
David Patten of the Patriots caught a touchdown pass, threw a touchdown pass and rushed for a touchdown Sunday against the Colts, the first player to accomplish that feat since Walter Payton did it 22 years ago to the day. Patten is the sixth player since 1960 to get the touchdown trifecta. Patten had two TD catches Sunday, while Keith Lincoln of the Chargers had two TD passes in his trifecta game in 1965.
Date
Player
Opp.
10/21/01
David Patten
NE
Colts
10/21/79
Walter Payton CHI
Vikings
12/7/69
Harmon Wages ATL
Saints
12/10/67
Dan Reeves DAL
Eagles
11/7/65
Keith Lincoln SD
Broncos
12/11/60
J.H. Johnson PIT
Eagles
Patten became the first player since Walter Payton in 1979 to run, catch and pass for touchdowns in the same game, helping the Patriots beat the
Indianapolis Colts
38-17 on Sunday. Quarterback
Tom Brady
, filling in for the injured
Drew Bledsoe
, won for the third time in four starts and the New England defense stopped Indianapolis' high-powered offense when it mattered. Still, the day belonged to Patten. "Every time I touched the ball, I was able to make something happen," said Patten, who accounted for four of the Patriots' five touchdowns. "That's what I pride myself on. I think I'm able to do that every time I go on the field and today I made that happen." He seemed the unlikeliest of heroes after playing little more than his role as part of the Patriots' supporting cast in the first five weeks. On Sunday, he played more because receiver
Terry Glenn
was out with a hamstring injury, and he was better than anyone could have imagined. He ran 29 yards for a touchdown on the Patriots' first offensive play, threw a 60-yard TD pass to
Troy Brown
and caught two touchdown passes himself, including a 91-yarder -- the longest play from scrimmage in team history. The Patriots (3-3) won for the third time in four games and swept the Colts for the season.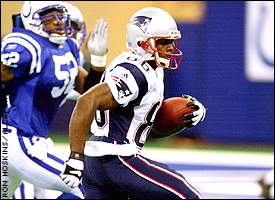 David Patten runs 29 yards for the first-quarter TD. He went on to throw and catch TD passes.
Patten finished with four receptions for 117 yards and the two TDs. Payton, the
Chicago Bears
' Hall of Famer, scored touchdowns by running, passing and throwing on Oct. 21, 1979, against the
Minnesota Vikings
. Brady, who replaced Bledsoe four weeks ago, was almost as impressive as Patten. He was 16-of-20 for 202 yards with three touchdowns. Bledsoe hasn't played since a hard hit by
Mo Lewis
of the New York Jets on Sept. 23 caused bleeding in his chest, but the Patriots have lost just once in his absence. It's unclear when Bledsoe will return. The Patriots had 385 yards in total offense and at one juncture, had 31 points while running just 29 offensive plays.
Is Jim Mora's job in jeopardy?
The owner came out at the beginning of the season and said that if the Colts don't go far in the playoffs, there will be major changes. So is Mora's job in jeopardy now? Who knows? But the Colts are not playing up to their potential, and if things don't improve ... well, it's safe to say that the temperature is rising for Mora.

The Colts have been in a funk for three weeks now. They're playing flat, and you can't just pin it on the defense -- the offense isn't making plays, either. In fact, the Colts got beat at their own game today: the long pass.

ESPN.com NFL analyst Vinny Cerrato has served as director of player personnel for the Redskins and 49ers.
"It's about going out and executing our plays," Brady said. "We executed them today." The Colts (2-3) struggled for the second time in four weeks against the Patriots, who beat them 44-13 on Sept. 30. Right away it was clear it was not the Colts' day -- the scoreboard didn't work at the start of the game. In the first half alone,
Mike Vanderjagt
had two field-goal attempts blocked,
Peyton Manning
was sacked three times, and defensive back
David Macklin
was beaten on consecutive plays for touchdown passes of 91 yards and 60 yards. Not even good performances from the Colts' three offensive stars could offset that. Manning completed 22 of 34 passes for 335 yards and a touchdown,
Edgerrin James
ran 30 times for 143 yards, and
Marvin Harrison
caught eight passes for 157 yards, including a 2-yard TD pass. But it wasn't enough. "It started out bad with the blocked field goal and it didn't get a whole lot better," Colts coach Jim Mora said. The block, by
Brandon Mitchell
on the Colts' first possession, was returned to the Indianapolis 29 by
Leonard Myers
and set up Patten's touchdown run. After a 42-yard field goal, the Patriots really got going on offense. Brady connected with Patten on a 91-yard TD pass. On New England's next offensive play, Patten threw his 60-yard touchdown pass to Brown, making it 21-3 midway through the second quarter. Brown finished with eight receptions for 120 yards. That was only the start. Before halftime, Brady threw a 2-yard touchdown pass to Jermaine Wiggins to make it 28-3. When the half ended, the Colts headed to the locker room to a chorus of boos and with a 28-6 deficit. The Colts tried to rally, but New England sealed the outcome early in the fourth quarter when Brady threw 6 yards to Patten for another TD, making it 38-17. "They were expecting us to come up with the same plan as last time," Patten said. "It was a good day. It was one of those days where everything was clicking."
Game notes
It was the final division game in the series between teams who have played in the AFC East for the last 31 years. Next season, the Colts will move to the AFC South. ... Colts right tackle Adam Meadows missed the game with a sprained foot. ... Brown passed Russ Francis and Harold Jackson to move into sixth place on the team's career yards receiving list. ... It was only the second time in 13 games that the Colts lost when Harrison had 100 yards receiving and James had 100 yards rushing.
Copyright by STATS LLC and The Associated Press
Scoring Summary
FIRST QUARTER
NE
IND
TD
12:00
David Patten, 29 yd run

Drive info: 1 plays, 29 yds, 0:00

6
0
SECOND QUARTER
NE
IND
TD
9:15
Touchdown

Drive info: 1 plays, 91 yds, 0:00

13
3
TD
7:09
Touchdown

Drive info: 1 plays, 60 yds, 0:00

20
3
FIRST QUARTER
NE
IND
12:00

Drive info: 1 plays, 29 yds, 0:00

7
0
SECOND QUARTER
NE
IND
9:15

Drive info: 1 plays, 91 yds, 0:00

14
3
7:09

Drive info: 1 plays, 60 yds, 0:00

21
3
TD
1:29
Touchdown

Drive info: 6 plays, 24 yds, 1:59

27
3
1:29

Drive info: 6 plays, 24 yds, 1:59

28
3
FOURTH QUARTER
NE
IND
TD
14:22
Touchdown

Drive info: 4 plays, 63 yds, 11:52

37
17
14:22

Drive info: 4 plays, 63 yds, 11:52

38
17
THIRD QUARTER
NE
IND
FG
4:43
Adam Vinatieri 10 yd Field Goal

Drive info: 8 plays, 44 yds, 3:24

31
14
FIRST QUARTER
NE
IND
FG
5:51
Mike Vanderjagt 10 yd Field Goal

Drive info: 10 plays, 47 yds, 3:54

7
3
THIRD QUARTER
NE
IND
TD
8:40
Touchdown

Drive info: 10 plays, 68 yds, 4:05

28
12
FG
1:54
Mike Vanderjagt 10 yd Field Goal

Drive info: 10 plays, 64 yds, 2:30

28
14
SECOND QUARTER
NE
IND
FG
0:22
Mike Vanderjagt 10 yd Field Goal

Drive info: 8 plays, 56 yds, 0:50

28
6