1:00 PM ET, October 21, 2001
LANDOVER, Md. (AP) -- The Washington Redskins were headed for 0-6. They were losing by two touchdowns in the fourth quarter. The offense was doing nothing. The fans were leaving.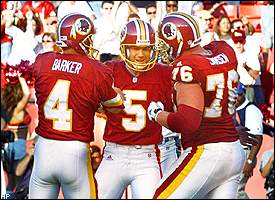 Redskins kicker Brett Conway is congratulated by Bryan Barker, left, and Jon Jansen after kicking the winning FG in overtime.
Then
LaVar Arrington
intercepted a pass. Arrington, who missed most of the first half after being knocked woozy, intercepted rookie
Chris Weinke
's overthrown screen and returned it 67 yards for a touchdown, inspiring the Redskins to a 17-14 overtime victory over the
Carolina Panthers
on Sunday. "I feel terrible physically," said Arrington, crouching with arms folded at his locker. "Emotionally and mentally, I'm on top of the world."
| | |
| --- | --- |
| | Biakabutuka's bad break |
| | Panthers running back Tshimanga Biakabutuka broke his foot Sunday in his best game of the season and is probably out until next year. In the fourth quarter of the 17-14 overtime loss to the Washington Redskins, Biakabutuka came out of a pile after a 1-yard run and had to be carried off the field by teammates. He was scheduled for surgery Monday. Biakabutuka rushed for 121 yards, more than his previous four games combined, and his first touchdown of the season before he got hurt. "He played a great game. I was excited and happy for him. Obviously it ended in a disastrous way," Carolina coach George Seifert said. "Not only did we lose the game, but I think we lost him, too." Also Sunday, Panthers linebacker Hannibal Navies broke his right arm and will miss at least several weeks, and guard Kevin Donnalley injured his right knee. |
Arrington's first career touchdown, with 10:10 to play, got the crowd and his teammates excited. The Panthers, plagued by false starts, could barely run a play their next two series. On the Redskins' next offensive play,
Tony Banks
hit rookie
Rod Gardner
for an 85-yard touchdown to tie the game.
Brett Conway
, who missed a short attempt late in regulation, kicked a 23-yard field goal 1:52 into overtime to complete embattled coach Marty Schottenheimer's first win with the Redskins (1-5). Stories abounded this week that Schottenheimer was already a lame duck, but now he has his first taste of success. "A lesser group of men would not have persevered at 14-0," Schottenheimer said. "They would have booked it, and this group won't do that. I didn't think it would take this long, but it did. We are growing." The Panthers (1-5) have lost five straight and were beaten on the last play of the game for the second consecutive week. They could have had a blowout by halftime, but Weinke threw two interceptions inside the Redskins' 10 in the first half. Weinke finished 28-of-35 for 226 yards but threw four interceptions. Untimely penalties and blown coverages on defense did the rest."It's the same stuff we've been doing since Day One," said tight end
Wesley Walls
, who caught a 2-yard touchdown pass in the first quarter. "We looked like a high-school football team out there. In fact, my high school team didn't do that stuff." The Panthers also lost three key players. Running back Tshimanga Biakabutuka broke his foot in the fourth quarter after rushing for 121 yards and a touchdown. He is to have surgery Monday and probably is out for the season.
Has Tony Banks found a go-to receiver in Rod Gardner?
It looks that way. Gardner is the guy Banks tries to get the ball to; he's the guy the Redskins have confidence in -- when there are clutch situations, he's the guy they look to. Gardner made some great plays against Carolina, averaging 34.7 yards on six catches in his team's first win. He's just a rookie, but that's being a go-to receiver.

ESPN.com NFL analyst Vinny Cerrato has served as director of player personnel for the Redskins and 49ers.
Linebacker
Hannibal Navies
broke his right arm and will miss at least several weeks, and guard
Kevin Donnalley
injured his right knee. "Words cannot describe the emotion right now," Carolina coach George Seifert said. "Last week was a tough loss. This was pretty devastating." The Redskins twice believed they had won the game before they really did. Conway thought his 32-yard field goal with 36 seconds left in regulation was good -- it was ruled wide right -- and Gardner had a touchdown catch in overtime overturned when it was ruled that he was down by contact at the Panthers' 5-yard line. Conway kicked the game-winner on the next play. Banks completed 17 of 30 passes for 346 yards with one touchdown and one interception. Gardner had six catches for 208 yards, and
Stephen Davis
ran for 99 yards on 26 attempts. The Redskins' offense was so self-destructive through three quarters that there seemed little hope when Carolina took the 14-0 lead on Biakabutuka's 10-yard run with about 13 minutes left. The fans that hadn't left were booing. Others saw Hall of Fame quarterback Sonny Jurgensen in the broadcast booth and chanted "We want Sonny." Earlier, Davis fumbled for the fifth time this season, and a series of penalties on one drive had created a second-and-38. Then
Chris Hetherington
tipped the overthrown screen to Arrington for Washington's biggest play of the season. "The fans needed it really bad," Arrington said. "And we really needed it as well." The Redskins won the toss to get the ball first in overtime and needed just four plays to score.
Bryan Johnson
caught a 32-yard pass, and Gardner had a 47-yard reception on the next play. He rolled on the ground, was touched at the 5-yard line, got up and ran into the end zone. A touchdown was signaled, and players flooded the field before Carolina's successful replay challenge.
Game notes
Other injuries: Carolina KR
Steve Smith
strained a knee, and FB
Brad Hoover
had a concussion. Washington DE
Kenard Lang
sprained an ankle. ... Carolina has never beaten Washington in six meetings.
Copyright by STATS LLC and The Associated Press
Scoring Summary
FOURTH QUARTER
CAR
WSH
TD
10:53
Touchdown

Drive info: 1 plays, 72 yds, 0:00

14
6
TD
7:37
Touchdown

Drive info: 1 plays, 85 yds, 0:00

14
13
10:53

Drive info: 1 plays, 72 yds, 0:00

14
7
7:37

Drive info: 1 plays, 85 yds, 0:00

14
14
OVERTIME
CAR
WSH
FG
13:13
Brett Conway 10 yd Field Goal

Drive info: 4 plays, 80 yds, 0:52

14
17
FIRST QUARTER
CAR
WSH
TD
5:32
Touchdown

Drive info: 6 plays, 54 yds, 2:14

6
0
5:04

Drive info: 6 plays, 54 yds, 2:14

7
0
FOURTH QUARTER
CAR
WSH
TD
13:12
Tim Biakabutuka, 10 yd run

Drive info: 9 plays, 83 yds, 14:18

13
0
13:12

Drive info: 9 plays, 83 yds, 14:18

14
0