1:00 PM ET, December 15, 2002
MIAMI (AP) -- While Ricky Williams played only a supporting role Sunday, plenty of Miami Dolphins had a big day -- even Dan Marino.
Allen's Analysis
Question on the Raiders: Do you see any other defense being able to pressure Gannon in the playoffs like Miami did today?
Not necessarily, but an opposing offense that's high-scoring could put pressure on Oakland's offense. The Raiders like to throw early and often, but when the opposing offense can score, the Raiders need to be more concerned with controlling the ball -- which takes them out of their preferred style. Today, the Raiders' D was missing both starting cornerbacks, and those defensive concerns caused the Raiders to take more of a ball-control approach on offense. The result was a lackluster day for Rich Gannon in the day's marquee matchup.

Question on the Dolphins: Will they run the table by winning road games in Minnesota and New England?
Those will be tough games for Miami, and it's tough to just chalk them up as wins. Minnesota is playing better, and the game at New England could be for the AFC East title. But the Dolphins' defense earned its accolades today, keying a huge December victory. And the next two games are even bigger.

Eric Allen played cornerback for 14 NFL seasons with the Eagles, Saints and Raiders.
Relying on six defensive backs and a fierce pass rush, Miami slowed
Rich Gannon
's pursuit of Marino's NFL record for yards passing in a season and limited the league's top-ranked offense to 218 yards in a 23-17 victory.
Jason Taylor
had three of Miami's five sacks, giving him a sack in a team-record seven consecutive games, and
Patrick Surtain
's interception ended Oakland's final bid for a comeback. Gannon threw for just 204 yards, and needs 676 in the final two games to break Marino's record of 5,084 set in 1984."Dan should be happy,'' Taylor said. "I'll have to call him to buy me a bottle of wine.''With the victory, Miami (9-5) tied the Raiders (9-5) for the best record in the AFC with two regular-season games to go.Williams totaled a relatively modest 101 yards rushing, ending his streak of consecutive 200-yard games at two. But
Chris Chambers
caught seven passes for a career-high 138 yards, and
Cris Carter
made his first touchdown reception since coming out of retirement."We knew coming out we were going to have to make some plays in the passing game,'' said quarterback
Jay Fiedler
, 7-1 this year as a starter. He threw for 237 yards and directed a 97-yard touchdown drive, the Dolphins' longest since 1989.By snapping the Raiders' five-game winning streak, the Dolphins took sole possession of first place atop the AFC East. They're a half-game ahead of New England, which plays Monday night at Tennessee.The Dolphins won their fifth consecutive regular-season game against Oakland, and won for the 15th time in their past 16 regular-season games against the AFC West. The Raiders retained a one-game lead in the West."We've got a chance to see these guys again, because they have an outstanding team,'' Miami coach Dave Wannstedt said.Miami played mostly with six defensive backs, even on first down, and the approach limited Gannon and the NFL's top passing attack to 162 net yards. Gannon completed 17 of 31 attempts and had at least three passes dropped, including a potential touchdown throw that
Tim Brown
failed to catch.The Dolphins limited Brown and
Jerry Rice
to three catches apiece for 30 yards."We were trying everything,'' Raiders coach Bill Callahan said. "They were physical. They were aggressive. They maul you on the line of scrimmage. They've got shutdown corners. They can blanket you. They did an excellent job.''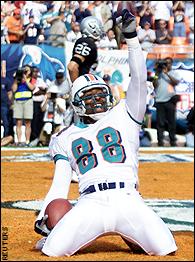 Cris Carter celebrates after catching a touchdown pass on Sunday.
To compound matters, Gannon said, the audio feed to his helmet from the sideline didn't work properly half the time. That complicated offensive coordinator Marc Trestman's attempts to send in plays."I had to run over a lot and read Marc's lips,'' Gannon said. "We had all sorts of problems.''Two fourth-quarter turnovers sealed the Raiders' fate. Brown fumbled on a punt return when hit by
Trent Gamble
, setting up
Olindo Mare
's third field goal, a 41-yarder with 2:28 left. Surtain then stepped in front of Rice to intercept a long pass by Gannon and clinch the win."It was a play someone had to make, and I was fortunate to make it,'' Surtain said. "To hold those guys to one touchdown is a phenomenal feat.''The Raiders were without starting cornerbacks
Charles Woodson
and
Tory James
, both hurt, and Miami threw deep more than in any game this season. Fiedler went 21-for-32, with completions of 40, 29 and 29 yards to Chambers.Carter made a one-handed catch for a 5-yard touchdown reception, his first with the Dolphins and the 130th of his career. Oakland had the ball for less than nine minutes in the second half."I knew they were going to be gearing to stop the run,'' he said. "I just wanted to bang away and hopefully eat up some time.''Taylor set the tone for the defense by sacking Gannon on the second and third plays, each time forcing a fumble that Oakland recovered."We felt like we had the upper hand,'' Taylor said. "They didn't do a whole lot that scared us.''
Game notes
Dolphins guard
Jamie Nails
hurt his left Achilles' tendon on the final series and will miss the rest of the season. Rookie
Seth McKinney
is expected to move into the lineup. ... Williams set a team record for rushing attempts in a season with 337. ... Taylor took over the NFL lead in sacks with 17, 1½ shy of Bill Stanfill's team record set in in 1973. ... Gannon has attempted 577 passes this season, breaking his own team record of 549 set last year.
Copyright by STATS LLC and The Associated Press