1:00 PM ET, October 21, 2012
Lucas Oil Stadium, Indianapolis, IN
Top Performers
Passing: B. Weeden (CLE) - 264 YDS, 2 TD
Rushing: V. Ballard (IND) - 20 CAR, 84 YDS
Receiving: R. Wayne (IND) - 6 REC, 73 YDS
INDIANAPOLIS -- Andrew Luck gave Indianapolis coach Chuck Pagano another reason to celebrate.
Hours after Pagano was sent home from the hospital, Luck became the first Colts quarterback to run for two touchdowns in a game since 1988 as Indianapolis put away Cleveland 17-13.Interim coach Bruce Arians intimated he could almost hear Pagano cheering."He was at the house, and we're really excited about that," Arians said of Pagano, who is undergoing treatment for leukemia. "That's probably as big as the win today. ... I'm sure he's feeling great right now."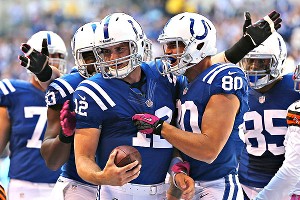 Jonathan Daniel/Getty Images
Andrew Luck rushed for two scores in the Colts' victory becoming the first Colts QB to run for two touchdowns in the same game since 1988.
The victory came in typical Pagano style.Indy (3-3) controlled the ball for more than 35 minutes, ran for a season-high 148 yards, held Cleveland to 55 yards on the ground, and finished with two stops in Colts territory before finally forcing the last man with the ball out of bounds on the final play.The Colts have one more win than they had all of last season, and the biggest reason has been Luck -- who won this season's first head-to-head matchup among the five rookie starting quarterbacks.Luck didn't follow the traditional script.While he had a solid day throwing the ball, finishing 16 of 29 for 186 yards with no touchdowns or interceptions, he was more efficient running it. He had three carries for 12 yards, becoming the third quarterback in franchise history with two rushing TDs in a game. Ricky Turner did it on Dec. 4, 1988, against Miami, and Bert Jones accomplished the feat on Oct. 20, 1974, against the Jets.For the first time all season, Luck didn't have to rally the Colts at the end.But it was team owner Jim Irsay's postgame speech about Pagano that made Luck feel even better."I'm thrilled to hear that. I'm more thrilled about that than the win," Luck said.The Browns (1-6) took the field on Sunday with heavy hearts after team officials said Friday that left guard
Jason Pinkston
had been hospitalized due to life-threatening blood clots.
Brandon Weeden
did everything he could to rally his teammates, going 25 of 41 for 264 yards, two touchdowns and no interceptions. He just didn't get enough help.After
Greg Little
made a beautiful juggling catch in the back of the end zone for a 14-yard TD, punter
Reggie Hodges
dropped the ball on the extra point, putting the Browns in a 7-6 hole that they couldn't overcome.The defense couldn't seem to stop the Colts at critical times.Running back
Trent Richardson
attempted to play despite a rib injury, but after managing eight yards on eight carries in the first half, he was yanked by coach Pat Shurmur and didn't return in the second half.
SportsNation: NFL Week 7

What did you make of the big-time storylines in Week 7 of the NFL's regular season?
Cast your votes!

"The injury was pretty bad, I guess it limited me a lot," Richardson said. "I sat down, so, you know, it just hurt me not being out there, hurt me inside not being out there."I didn't want to come out. I said Pat knows what's best. He made his decision, and I think he made a great decision."Without a healthy Richardson, the Browns' ground game got stuck.Weeden still had chances to rally the Browns after Luck opened the game with a 3-yard TD run and a 5-yard TD dash on the Colts' first two possessions.He started the second half with a 33-yard TD pass to
Josh Gordon
, making it 14-13, but
Adam Vinatieri
made a 38-yard field goal on the next series.Then, with 7:25 left in the game,
Sheldon Brown
recovered Luck's fumble at the 50. Three plays later, Weeden threw a perfect 41-yard strike to Gordon in the end zone. But instead of taking the lead, Gordon dropped the ball. Cleveland punted on the next play to the dismay of Browns fans and new owner Jimmy Haslam."He makes that catch nine times out of 10, so be it, it didn't happen on this day, but I stay positive with him," Weeden said. "He's made a lot of big plays. He's coming into his own and he's becoming a really good player."The defense answered with another stop, and Weeden marched the Browns to the Colts 39 -- a drive that ended when a fourth-and-6 pass to
Josh Cooper
fell incomplete.Cleveland got the ball back one more time, needing to go 80 yards in 1 second. All the Browns could do was run a play with five laterals and a fumble before
Josh Cribbs
was finally shoved out of bounds -- setting off the celebration at Pagano's home."Hopefully, he (Pagano) didn't get too dag gone exhausted coaching from the bedroom, and his count didn't go down," Arians said. "As long as his count stays up, he'll be OK."
Game notes
Browns defensive tackle
Ahtyba Rubin
left with a calf injury during the first half and didn't return. Brown hurt his left ankle and left briefly. ... Cleveland has lost 11 straight road games. The Browns haven't won two consecutive against the Colts since 1988. ...
Reggie Wayne
caught six passes for 73 yards, and rookie
Vick Ballard
ran 20 times for 84 yards for the Colts. ... Colts right tackle
Winston Justice
left in the second half with an ankle injury.
Copyright by STATS LLC and The Associated Press
Photo Wire
INDIANAOPLIS, IN - OCTOBER 21: of the Indianapolis Colts of the Cleveland Browns at Lucas Oil Stadium on October...
(Photo by Jonathan Daniel/Getty Images)
Team Stat Comparison
| | CLE | IND |
| --- | --- | --- |
| 1st Downs | 19 | 21 |
| Passing 1st downs | 14 | 8 |
| Rushing 1st downs | 3 | 10 |
| 1st downs from penalties | 2 | 3 |
| 3rd down efficiency | 6-13 | 6-15 |
| 4th down efficiency | 0-1 | 1-1 |
| Total Plays | 58 | 69 |
| Total Yards | 319 | 321 |
| Yards per play | 5.5 | 4.7 |
| Total Drives | 10 | 9 |
| Passing | 264 | 173 |
| Comp-Att | 25-41 | 16-29 |
| Yards per pass | 6.4 | 5.4 |
| Interceptions thrown | 0 | 0 |
| Sacks-Yards Lost | 0-0 | 3-13 |
| Rushing | 55 | 148 |
| Rushing Attempts | 17 | 37 |
| Yards per rush | 3.2 | 4.0 |
| Red Zone (Made-Att) | 0-0 | 0-0 |
| Penalties | 9-75 | 7-50 |
| Turnovers | 0 | 1 |
| Fumbles lost | 0 | 1 |
| Interceptions thrown | 0 | 0 |
| Defensive / Special Teams TDs | 0 | 0 |
| Possession | 24:39 | 35:21 |
Scoring Summary
FIRST QUARTER
CLE
IND
TD
7:29
Andrew Luck 3 Yard Run (Adam Vinatieri Kick is Good)

Drive info: 11 plays, 80 yds, 7:37

0
7
SECOND QUARTER
CLE
IND
TD
14:07
Greg Little 14 Yard Pass From Brandon Weeden (Phil Dawson Kick is No Good)

Drive info: 16 plays, 90 yds, 8:22

6
7
TD
7:47
Andrew Luck 5 Yard Run (Adam Vinatieri Kick is Good)

Drive info: 14 plays, 76 yds, 6:20

6
14
THIRD QUARTER
CLE
IND
TD
12:00
Josh Gordon 33 Yard Pass From Brandon Weeden (Phil Dawson Kick is Good)

Drive info: 6 plays, 80 yds, 3:07

13
14
FG
3:24
Adam Vinatieri 38 Yard Field Goal is Good

Drive info: 17 plays, 61 yds, 8:34

13
17
Research Notes
Play-action passes continue to be an effective weapon for Browns quarterback
Brandon Weeden
, who threw both of his touchdowns Sunday against the Colts on such plays. Five of the nine touchdowns Weeden has thrown this season have come on play-action passes.
No one is going to confuse Colts rookie quarterback
Andrew Luck
with fellow rookie
Robert Griffin
III in terms of the ability to make plays with their legs. Luck, however, rushed for a pair of touchdowns Sunday against the Browns, a three-yard scramble and five-yard designed rush, and he's shown the ability to make plays with his legs this season. Luck has three rushing touchdowns (two designed rushes, one scramble) and is averaging 7.3 yards on his 15 scrambles this season.
ESPN Stats & Information