4:25 PM ET, October 6, 2013
AT&T Stadium, Arlington, TX
Top Performers
Passing: T. Romo (DAL) - 506 YDS, 5 TD, 1 INT
Rushing: K. Moreno (DEN) - 19 CAR, 93 YDS, 1 TD
Receiving: T. Williams (DAL) - 4 REC, 151 YDS, 1 TD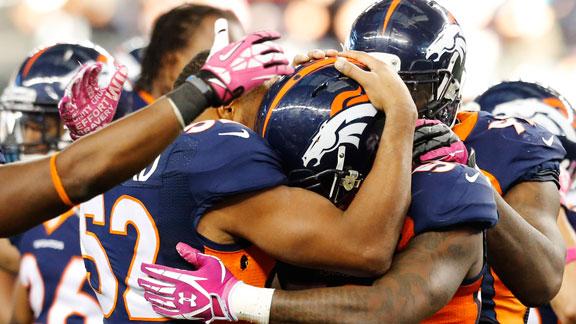 Sunday Blitz: Broncos-Cowboys Recap
Jim Basquil and Eric Allen break down the Broncos week 5 win over the Cowboys.
Sunday Blitz: Broncos-Cowboys Recap
VIDEO PLAYLIST
ARLINGTON, Texas -- Peyton Manning spent all afternoon putting the Broncos in the end zone during a wild shootout with Tony Romo and the Dallas Cowboys.
The last time he got the ball, Manning kept Denver out of the end zone -- and that was the best way to win the game.
The four-time MVP kept up his record pace for touchdown passes, Matt Prater kicked a 28-yard field goal as time expired after an interception by Romo spoiled the first 500-yard game in Dallas history, and the Broncos stayed unbeaten with a 51-48 victory Sunday.
More Broncos-Cowboys coverage

The Broncos had been inducing yawns on the way to 20-something-point wins, until the Cowboys presented a test, Jeff Legwold writes. Blog
---

There are no moral victories for the Cowboys, who remain the epitome of mediocre as they find ways to lose, writes Jean-Jacques Taylor. Story
• Clayton's Last Call: Unbeatens shine
• Stats & Info: Showtime! | Top stats
• Radio: Mike & Mike weigh in
"It was pretty amazing that it came down to the defense making a big play at the end," Denver coach John Fox said. "Thank God our offense kept us in the game all day long."
In the waning seconds of one of the highest-scoring thrillers in NFL history, Manning ensured that his kicker -- not Romo -- had the last chance to score.
And with that, the Broncos ran their total to 230 points this season -- the most by an NFL team through the first five games. The Broncos have also won 16 consecutive regular-season games.
The Broncos (5-0) had moved the ball to the Dallas 2 after Danny Trevathan's diving interception at the 24 in the final 2 minutes.
Needing a first down but not a touchdown so they could run out the clock, Manning and Knowshon Moreno shouted at each other in the backfield just before the snap.
"He basically was asking me, 'How am I supposed to do that? How can I get a half a yard but not get a yard and a half?' " said Manning, who threw for 414 yards and four touchdowns to give him a record-setting 20 in the first five games.
"I just said, 'You can't! You can't score! You can't do it!' "
Moreno managed to pull off the first down without scoring, and Manning took three snaps to drain the clock to 2 seconds for Prater, who also had a 50-yarder among his three field goals.
50-50? More Than A Good Chance
With their 51-point outburst Sunday, the Broncos became the fourth team in NFL history to score 50 points in consecutive games. No team has ever done it three straight times.
| | Total Points |
| --- | --- |
| 2013 Broncos | 103 |
| 2012 Seahawks | 108 |
| 1950 Rams | 135 |
| 1950 Giants | 106 |
-- ESPN Stats & Information
It was quite a debate over a measly yard in a game with 1,039 yards of total offense combined in the fourth-highest scoring game in NFL history and tied for the second-highest in regulation since the NFL-AFL merger in 1970, according to STATS.
Romo was 25 of 36 for 506 yards and five touchdowns, breaking Don Meredith's franchise record of 460 yards. He is the fifth quarterback in NFL history to pass for at least 500 yards and five touchdowns in a game.
Romo's 79-yard pass to Dez Bryant set up a 4-yard scoring toss to Cole Beasley for a 48-41 lead.
Manning, who threw for 414 yards and moved past Dan Marino for second on the career passing list with 61,371 yards, answered by leading a nine-play, 73-yard drive to Moreno's tying 1-yard score with 2:44 remaining.
Romo's interception came two plays later, when Trevathan dived in front of tight end Gavin Escobar.
"I was baiting him," said Trevathan, who scared his teammates with a knee injury in practice last week that turned out not to be serious.
"Romo threw it and I felt like, man, hopefully I don't drop the ball when I get in the end zone this time. I fell to the ground and said, 'Forget it!' "
The Cowboys (2-3) were on the verge of getting blown out early in the second half when they finally stopped Manning and forced a field goal. They later ended his streak of 227 passes without an interception when Morris Claiborne picked him off late in the third quarter.
Dallas, which scored its most points ever in a loss, converted the turnover into a 41-38 lead on Romo's 10-yard pass to Jason Witten, but the Broncos pulled even with a drive to Prater's 50-yarder.
The biggest momentum swing came on Romo's 82-yard touchdown to rookie Terrance Williams that cut Denver's lead to 35-27 in the third quarter.
SportsNation: Broncos win in shootout

The Broncos beat the Cowboys 51-48. Are they unstoppable, or vulnerable? Which records will fall? Vote!
"So you leave this game and obviously you are crushed and disappointed," said Witten, who had 121 yards receiving and a touchdown. "Offensively, this needs to be the standard by which we play."
The Cowboys jumped ahead 14-0 in the first quarter, but Dallas defenders just couldn't stay with Denver's receivers. Then Manning fooled them and the 92,758 watching his first game at the $1.2 billion home of the Cowboys with a bootleg for an easy 1-yard score and a 28-17 lead late in the first half.
Denver lined up for what looked like a run on third down from the 1. But Manning had faked the handoff, and the roar from thousands of orange-clad Denver fans grew as they realized he was jogging toward the left corner of the end zone for his first touchdown rushing since 2008.
"The key is you want to do it about every five years or so," Manning said. "If you do it every game, they're going to be playing it right. Naked bootlegs only work, the ones I've done, is when you don' tell anybody."
Romo got Dallas in position for a 48-yard field goal by Dan Bailey just before halftime with a 38-yard completion to Williams, who had 151 yards receiving.
Bryant had six catches for 141 yards and two touchdowns.
Julius Thomas led the Broncos with 122 yards and two scores, and Moreno had 93 yards rushing for the Broncos.
Game notes: Manning fell two passes short of Jake Plummer's franchise record of 229 straight passes without an interception. Plummer set the mark in 2005. ... Manning's 20 TDs through five games broke Daunte Culpepper's record for Minnesota of 18 in 2004. ... Broncos CB Chris Harris, who started in place of Champ Bailey, didn't play in the second half because of a concussion.
Copyright by STATS LLC and The Associated Press
Photo Wire
ARLINGTON, TX - OCTOBER 06: Julius Thomas #80 of the Denver Broncos celebrates his touchdown against the Dallas...
(Photo by Ronald Martinez/Getty Images)
Team Stat Comparison
| | DEN | DAL |
| --- | --- | --- |
| 1st Downs | 34 | 24 |
| Passing 1st downs | 20 | 20 |
| Rushing 1st downs | 9 | 3 |
| 1st downs from penalties | 5 | 1 |
| 3rd down efficiency | 9-13 | 4-6 |
| 4th down efficiency | 0-0 | 0-0 |
| Total Plays | 73 | 54 |
| Total Yards | 517 | 522 |
| Yards per play | 7.1 | 9.7 |
| Total Drives | 13 | 12 |
| Passing | 414 | 470 |
| Comp-Att | 33-42 | 25-36 |
| Yards per pass | 9.9 | 11.8 |
| Interceptions thrown | 1 | 1 |
| Sacks-Yards Lost | 0-0 | 4-36 |
| Rushing | 103 | 52 |
| Rushing Attempts | 31 | 14 |
| Yards per rush | 3.3 | 3.7 |
| Red Zone (Made-Att) | 6-7 | 5-6 |
| Penalties | 5-55 | 9-81 |
| Turnovers | 2 | 2 |
| Fumbles lost | 1 | 1 |
| Interceptions thrown | 1 | 1 |
| Defensive / Special Teams TDs | 0 | 0 |
| Possession | 32:34 | 27:26 |
Scoring Summary
No Scoring Summary available
Research Notes
Peyton Manning
(93.7) and
Tony Romo
(92.1) both posted Total QBRs over 90 while tallying more than 40 action plays. It is only the second game since 2006 in which two opposing quarterbacks each posted a Total QBR greater than 90 with that many action plays (
David Garrard
and
Matt Schaub
- Week 4, 2008). Peyton Manning has a Total QBR of at least 93.7 in 3 straight games.
Aaron Rodgers
is the only other quarterback with a Total QBR of at least 93.7 in 3 straight games (Week 6-9 in 2011) during the last 8 seasons. Manning also did it with the Colts from Week 4 to Week 7 in 2009. Romo's Total QBR Sunday was the highest for a starting quarterback in a loss this season.
From Elias: Cowboys are 2nd team in AFL/NFL history with 3 players with 120+ receiving yards and at least one receiving TD in a game. Oilers also did it on November 19, 1961 against the New York Titans.
Dez Bryant
had six catches for 141 yards and two touchdowns. The Cowboys are now 1-7 in Bryant's career when he catches multiple touchdown passes.
-
Peyton Manning
completed 78.6% of his 42 attempts for 414 yards and four touchdowns. None of those numbers are a season high. - Broncos receivers gained 205 yards after catch. 39 different quarterbacks this year have failed to reach 205 passing yards in a game (minimum five attempts). However, that also is not a Broncos' season high (259 YAC, Week 1). - Manning threw his 20th touchdown pass of the season on Sunday. Manning's 20th pass last season was in Week 9, and he had thrown six interceptions by the end of that game. Manning's first interception of the season was Sunday. - Denver's 51 points was its most in a game since, well, last Sunday (52 points vs Eagles). The Jaguars have 51 points this season, and the Buccaneers have 44 (in four games). No other team has scored 50 in a game this season, and the Seahawks and Patriots are the only teams to do it twice since the start of last year.
Peyton Manning
(93.7) and
Tony Romo
(92.1) both posted Total QBR's over 90 while tallying over 40 action plays. It is only the second game since 2006 in which two opposing quarterbacks each posted a Total QBR over 90 in a game where they had that many action plays (
David Garrard
and
Matt Schaub
- Week 4, 2008).
Tony Romo
's lone interception Sunday was the 23rd fourth-quarter interception of his career. The Cowboys have lost each of the last eight games in which Romo has thrown a fourth-quarter interception, with six of those eight losses coming by seven points or less.
Tony Romo
is the fifth player in NFL history to throw for 500 yards and 5 TD in a game but joins
Matthew Stafford
as the only players to do so in a losing effort.
[+]
ESPN Stats & Information