4:25 PM ET, November 3, 2013
Gillette Stadium, Foxboro, MA
Top Performers
Passing: T. Brady (NE) - 432 YDS, 4 TD
Rushing: S. Ridley (NE) - 26 CAR, 115 YDS, 2 TD
Receiving: R. Gronkowski (NE) - 9 REC, 143 YDS, 1 TD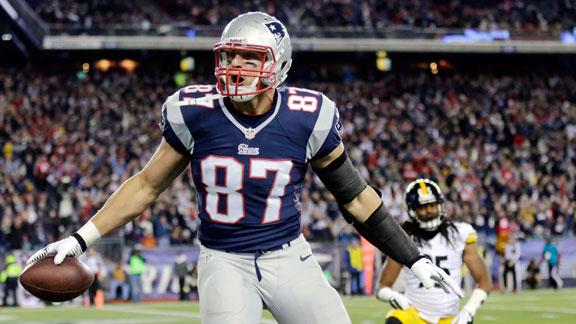 Sunday Blitz: Steelers-Patriots Recap
Jim Basquil and Eric Allen break down the Patriots' Week 9 win over the Steelers.
Sunday Blitz: Steelers-Patriots Recap
VIDEO PLAYLIST
FOXBOROUGH, Mass. -- Tom Brady looked into the end zone and found his favorite receiver. Rob Gronkowski caught the ball, then slammed it to the ground.
The familiar spike was back after the star tight end's first touchdown of an injury-delayed season.
So was the Patriots' offense.
More Steelers-Patriots coverage

With Rob Gronkowski rounding into form, the Patriots offense is starting to look like its usual well-oiled machine self, writes Mike Reiss. Blog
---

When a defense that is old and slow starts blowing assignments, things like the Steelers' abysmal second half take place, writes Scott Brown. Blog
• Williamson: Brady back to form


• Radio: Ron Jaworski | Cris Carter
Brady shook off the inconsistency of his first eight games, threw for season-highs of 432 yards and four touchdowns and led New England to a 55-31 win over the Pittsburgh Steelers on Sunday.
"You throw it, they catch it, they run with it," he said. "It makes a good day for a quarterback."
The Patriots (7-2) go into their bye week with a two-game lead in the AFC East despite playing mediocre football for most of the first half of the season.
The 55 points were the most scored in an NFL game this season and the most ever against the Steelers (2-6). The Patriots' 610 yards were the third most in team history and the most ever allowed by Pittsburgh.
"We are going to comb through this with a fine-tooth comb," Steelers coach Mike Tomlin said, "and those people who are lacking effort won't be playing. It's just that simple."
Brady had 252 yards passing in the first half, more than in five of his other eight games.
And 119 of those came on seven catches by Gronkowski in his third game since missing the first six recovering from surgeries on his left forearm and back. He finished with a career-high nine catches for 143 yards.
"He's one of the best players in the NFL," Brady said of Gronkowski, speaking Monday with the "Dennis and Callahan" show on WEEI sports radio in Boston. "We really haven't had him for a long time and we've learned to play without him, but it's obvious when he's in there [that] he adds a different element to what we're trying to do and that's why he's such a good player.
"He worked really hard to get back to this point and after he's got a few games under him and he's got his football legs back hopefully he can continue to do it," Brady continued. "It was a big spark for us yesterday and he really came out making some big plays for us on third down, some drive starters when we got things going into the drive."
That's More Like It
Tom Brady had by far his best game of the season against the Steelers Sunday, putting behind an uncharacteristically rough first half of the season by his standards.
1st 8 Gms
Sunday*
Comp pct
55.7%
69.7%
Pass YPG
228.0
432
TD-Int
9-6
4-0
Total QBR
48.6
97.7
* Season-highs in all categories
-- ESPN Stats & Information
Gronkowski caught his 19-yard touchdown pass with 4:30 gone in the second quarter as the Patriots took a 14-0 lead.
"It felt great out there," Gronkowski said. "It was important for us to play this way. Until now, we hadn't been clicking for all four quarters."
The Steelers wasted a solid performance by Ben Roethlisberger, who completed 28-of-48 passes for 400 yards, four touchdowns and two interceptions.
The excitement began before the game when Boston Red Sox pitcher Jon Lester, accompanied by several teammates, carried the World Series trophy onto the field.
"I'm not sure exactly how it all happened today," Patriots coach Bill Belichick said. "Maybe we got inspiration from the Red Sox."
The Patriots gained the most yards in the NFL last season but were just 18th in that category going into Sunday's game. And Brady threw for just 116 yards a week earlier in a 27-17 win over the Miami Dolphins.
But he was sharp all day Sunday, completing 23 of 33 passes against a defense that let receivers run free for several long receptions, including a 57-yarder to Danny Amendola that set up Stephen Gostkowski's 20-yard field goal that made it 17-3.
Brady threw scoring passes of 34 yards to Amendola, and 17 and 81 yards to Aaron Dobson, while Stevan Ridley rushed for 115 yards and two touchdowns as part of a 197-yard ground game.
The Patriots led 24-10 at halftime before the Steelers tied it on their first two series of the third quarter on Roethlisberger's touchdown passes to Jerricho Cotchery of 20 and 8 yards.
He added a 6-yarder to Cotchery midway through the fourth quarter that made it 41-31. But two plays after the kickoff, Brady launched a pass down the left sideline that Dobson caught at the Steelers 40 and carried into the end zone.
LeGarrette Blount got the final touchdown on a 5-yard run with 2:41 left.
Three Patriots had more than 100 yards receiving, Gronkowski's 143, Dobson with 130 and Amendola with 122.
"It's embarrassing for our organization to give up points like that," Steelers safety Ryan Clark said. Brady "is the most accomplished quarterback of our era. Tom Brady played like Tom Brady."
Roethlisberger turned the ball over twice on his first two series when he fumbled then threw an interception.
"We're all angry and disappointed," Roethlisberger said, Brady "is good, so you know that your mistakes have to be limited."
After Gronkowski's touchdown, Pittsburgh's Shaun Suisham and Gostkowski traded field goals before Roethlisberger hit Antonio Brown for a 27-yard touchdown. It was the 200th touchdown pass of Roethlisberger's career, second in Steelers history to Terry Bradshaw's 212.
The Patriots got the ball back with 1:50 left in the half and went 77 yards on nine plays to a 1-yard scoring run by Ridley.
After Cotchery tied it at 24, the Patriots took the lead for good on Gostkowski's 32-yard field goal.
"When (Gronkowski's) healthy and on the field, he's tough to stop," Brady said, "It's been a process for us, but at the bye week, 7-2 is not bad and, hopefully, our best football's ahead of us."
Game notes

The Patriots scored at least 50 points for the sixth time with Brady as their starting quarterback. ... New England has 36 straight games with at least one takeaway, the current longest streak in the NFL. ... The Steelers fell to 2-6 for the first time since 2006, the season after they won the Super Bowl.
Information from The Associated Press and ESPNBoston.com's Field Yates was used in this report.
Copyright by STATS LLC and The Associated Press
Photo Wire
FOXBORO, MA - NOVEMBER 3: Chandler Jones #95 of the New England Patriots stretches before a game with the...
(Photo by Jim Rogash/Getty Images)
Team Stat Comparison
| | PIT | NE |
| --- | --- | --- |
| 1st Downs | 24 | 33 |
| Passing 1st downs | 18 | 17 |
| Rushing 1st downs | 6 | 13 |
| 1st downs from penalties | 0 | 3 |
| 3rd down efficiency | 5-13 | 7-12 |
| 4th down efficiency | 1-3 | 0-1 |
| Total Plays | 73 | 71 |
| Total Yards | 479 | 610 |
| Yards per play | 6.6 | 8.6 |
| Total Drives | 14 | 14 |
| Passing | 371 | 413 |
| Comp-Att | 28-48 | 23-33 |
| Yards per pass | 7.0 | 11.5 |
| Interceptions thrown | 2 | 0 |
| Sacks-Yards Lost | 5-29 | 3-19 |
| Rushing | 108 | 197 |
| Rushing Attempts | 20 | 35 |
| Yards per rush | 5.4 | 5.6 |
| Red Zone (Made-Att) | 3-4 | 5-8 |
| Penalties | 8-96 | 3-30 |
| Turnovers | 3 | 1 |
| Fumbles lost | 1 | 1 |
| Interceptions thrown | 2 | 0 |
| Defensive / Special Teams TDs | 0 | 0 |
| Possession | 31:12 | 28:48 |
Passing Leaders
PIT
C/ATT
YDS
AVG
TD
INT
SACKS
Roethlisberger
28/48
400
8.3
4
2
5-29

NE
C/ATT
YDS
AVG
TD
INT
SACKS
Brady
23/33
432
13.1
4
0
3-19
Scoring Summary
No Scoring Summary available
Research Notes
Ben Roethlisberger
completed 25-of-40 passes for 362 yards and three touchdowns against four or fewer rushers on Sunday. However, Roethlisberger struggled against extra pass rushers, continuing a season-long trend. Roethlisberger entered Sunday with a 67.4 Total QBR against four or fewer rushers, 14th among qualified quarterbacks, but his 16.6 Total QBR against added pressure ranked last.
[+]
From Elias: Patriots/Steelers game today was the 5th game in NFL history during which both QBs had 400 yards and 4 TD. The home QB has won each game:
[+]
Stevan Ridley
equaled or set season highs with 29 touches for 124 yards, two touchdowns and nine first downs against the Steelers. Ridley averaged 64.3 yards on 14 touches per game this season entering Sunday. Ridley now has six touchdowns in his last four games after failing to score in his first five.
Tom Brady
completed 9-of-14 passes at least 15 yards downfield for 306 yards and four touchdowns. Brady completed both of his throws deeper than 30 yards downfield after entering Sunday having completed 2-of-12 throws at that distance. - Brady was 4-of-4 for 96 yards and a touchdown targeting
Rob Gronkowski
at least 15 yards downfield. Brady had connected with Gronk on 2-of-7 attempts this season entering Sunday.
[+]
From Elias: The Patriots become the 3rd team in NFL history to have 3 players with 120 receiving yards and a TD in the same game... it had happened once before this season:
[+]
The Patriots defense has allowed more than 130 rush yards in all four games since losing run defense anchor
Vince Wilfork
, the longest active streak in the league. Only Jacksonville has allowed more rush yards than New England over the last four weeks, a weakness the Patriots addressed by trading for defensive tackle
Isaac Sopoaga
on Tuesday. When Sopoaga was on the field, his team's 3.4 yards per rush average would have ranked as the best in the league from 2008-13 as a stand-alone total. Without Sopoaga, his defense's 4.1 yards per rush average would have ranked 10th in that span.
[+]
Tom Brady
has thrown three touchdowns in a game for the first time since Week 14 last season against the Texans, when he threw four touchdown passes in a 42-14 win. This snaps a streak of 11 straight games for Brady without throwing three touchdowns, the second-longest streak of his career (longest was 12 games in 2004).
Without
Wes Welker
and
Aaron Hernandez
working out of the slot,
Tom Brady
has struggled connecting with slot receivers this season. Brady has one touchdown and four interceptions targeting slot receivers this season.
[+]
The Patriots became the third team in NFL history to finish with a 400-yard passer, three 100-yard receivers and a 100-yard rusher.
[+]
The Patriots won big yesterday against the Steelers and it should come as no surprise. Since 2010, the Patriots are 24-3 in Weeks 9-17 of the NFL season (including yesterday).
ESPN Stats & Information