8:30 PM ET, November 25, 2013
FedEx Field, Landover, MD
Colin Kaepernick, 49ers take showdown with Robert Griffin III, Redskins
LANDOVER, Md. -- Colin Kaepernick looked left, scrambled right, then found Anquan Boldin open in the end zone for a 6-yard touchdown.
Quarterback and receiver raced toward each other for a celebratory chest-bump, proving to all that the San Francisco 49ers' offense is alive and well.
"We showed people we can pass the ball," running back Frank Gore said. "That's big for this team."
More 49ers-Redskins coverage

The 49ers' passing game showed signs of life and should only get stronger as it gets healthier, making this team dangerous, Bill Williamson writes. Blog
---

The only positive thing about the Washington Redskins, a team clearly heading in the wrong direction, is their attitude, John Keim writes. Blog
If Kaepernick and Robert Griffin III have become the future of football suddenly put on hold, consider Kaepernick the one who looks ready to play his way out of the doldrums.
The young, mobile quarterbacks, who have struggled in 2013 after breakout seasons in 2012, faced off for the first time Monday night, and Kaepernick outperformed his counterpart as the 49ers broke a two-game losing streak with a 27-6 win over the Washington Redskins.
"I did comment to him in the middle of the week, Wednesday or Thursday, that he was being exactly perfect -- leadership and demeanor-wise," 49ers coach Jim Harbaugh said.
"A combination of loose and focused. ... Some people have baby deer skin. Some people have armadillo skin. He's got the armadillo skin."
Kaepernick completed 15 of 24 passes for 235 yards -- the first time in five games he has topped 200 yards -- with three touchdowns and no interceptions for a career-best 134.5 passer rating.
The Redskins dared him to throw the ball by bottling up Gore (13 carries, 31 yards), and the QB responded by showing some veteran-like chemistry with the veteran Boldin, who had five catches for 94 yards and two touchdowns.
"Colin, he's been taking a lot of criticism, but one thing I like about Colin, he's always hanging in there," receiver Vernon Davis said. "He's always fighting through adversity. He's one of those guys who's tough."
Davis also had a touchdown catch for the 49ers (7-4), who are tied for second with the Arizona Cardinals in the NFC West and are three games back of the Seattle Seahawks with five to play.
"We knew what type of game this was for us," Boldin said. "We're right in the hunt. We've got to come out with a win."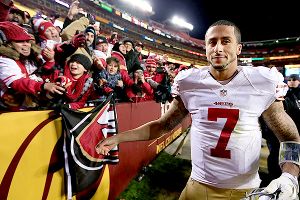 Rob Carr/Getty Images
Colin Kaepernick and the 49ers bested Robert Griffin III and Washington on Monday night, with Kaepernick throwing for a career-best passer rating.
A loss would have put the defending NFC champions in trouble in their quest to return to the playoffs, but they're nowhere near as bad off as the Redskins (3-8), who have dropped three straight and sit alone in last place in the NFC East a year after a late-season run that won the division.
Contrast the Kaepernick chest-bump scene with the sight of Griffin lying on his stomach after throwing an interception on the final play of the first quarter, a 15-minute span in which he completed 1 of 6 passes for minus-1 yard.
It used to be a guarantee that the fans would chant "R-G-3!" at some point during every Redskins home game, but not on a night when the franchise player completes 17 of 27 passes for only 127 yards and gets sacked four times -- and when the offense as a whole amasses a mere 190 total yards.
"We've got to conquer some of the demons that we have going on as an offense and just as a team in general -- and I think we will," Griffin said. "It takes all of us."
Griffin took some flak last week from teammate Santana Moss for not taking enough responsibility for mistakes, and on Monday, Griffin said a report on the NFL Network that he asked for his negative plays not to be shown during team meetings was evidence that "people are trying to character assassinate" him.
Regardless, there was plenty of fault to go around after this game, including a fair share of blame for coach Mike Shanahan, who said his team was "embarrassed" against the 49ers and whose future is unclear as his team heads for a third last-place finish in his four years in Washington.
"We haven't got dominated like that since I've been here," the coach said.
Kaepernick and Griffin seemed poised to take the quarterback position to a new dimension last season when they wowed the NFL with their mobility when running zone-read and play-action.
But defenses have adjusted, and the two QBs' stats have tumbled accordingly when they've been forced to throw in conventional dropback situations.
SportsNation: How good is S.F.?

The 49ers breezed past Washington on Monday, snapping a two-game skid. Are they legit Super Bowl contenders? Vote »
Griffin's fall has been more precipitous. He threw his 11th interception Monday, more than twice the number he had all last season.
And, even though the 49ers have a winning record, they've been relying heavily -- possibly too much -- on Gore and the running game while Kaepernick has floundered. They began the weekend ranked last in the NFL in yards passing.
"It's great to say, 'OK, we played well in a certain area.' But going into this one, it was by any means necessary," Harbaugh said. "And our guys rose up to the challenge and got it done."
Game notes
Harbaugh said 2012 leading wide receiver
Michael Crabtree
will be activated from the physically unable to perform list Tuesday and will play Sunday against the Rams. Crabtree returned to practice Nov. 5 for the first time since tearing his right Achilles tendon in May. ... The Redskins had their worst offensive output since gaining 178 yards in a 23-0 loss to Buffalo in 2011.
Copyright by STATS LLC and The Associated Press
Photo Wire
LANDOVER, MD - NOVEMBER 25: Head coach Jim Harbaugh talks with quarterback Colin Kaepernick #7 of the San...
(Photo by Rob Carr/Getty Images)
Team Stat Comparison
| | SF | WSH |
| --- | --- | --- |
| 1st Downs | 15 | 10 |
| Passing 1st downs | 12 | 4 |
| Rushing 1st downs | 3 | 6 |
| 1st downs from penalties | 0 | 0 |
| 3rd down efficiency | 4-14 | 4-15 |
| 4th down efficiency | 1-2 | 0-2 |
| Total Plays | 59 | 58 |
| Total Yards | 304 | 190 |
| Yards per play | 5.2 | 3.3 |
| Total Drives | 12 | 13 |
| Passing | 228 | 76 |
| Comp-Att | 15-24 | 16-26 |
| Yards per pass | 8.8 | 2.4 |
| Interceptions thrown | 0 | 1 |
| Sacks-Yards Lost | 2-7 | 6-42 |
| Rushing | 76 | 114 |
| Rushing Attempts | 33 | 26 |
| Yards per rush | 2.3 | 4.4 |
| Red Zone (Made-Att) | 3-4 | 0-2 |
| Penalties | 4-25 | 4-30 |
| Turnovers | 1 | 1 |
| Fumbles lost | 1 | 0 |
| Interceptions thrown | 0 | 1 |
| Defensive / Special Teams TDs | 0 | 0 |
| Possession | 31:26 | 28:34 |
Passing Leaders
SF
C/ATT
YDS
AVG
TD
INT
SACKS
Kaepernick
15/24
235
9.8
3
0
2-7

WSH
C/ATT
YDS
AVG
TD
INT
SACKS
Griffin
16/26
118
4.5
0
1
6-42
Scoring Summary
FIRST QUARTER
SF
WSH
TD
3:02
Anquan Boldin 19 Yard Pass From Colin Kaepernick (Phil Dawson Kick is Good)

Drive info: 7 plays, 62 yds, 3:19

7
0
SECOND QUARTER
SF
WSH
FG
12:14
Phil Dawson 29 Yard Field Goal is Good

Drive info: 5 plays, 47 yds, 2:51

10
0
FG
6:48
Kai Forbath 36 Yard Field Goal is Good

Drive info: 13 plays, 63 yds, 5:26

10
3
FG
0:04
Kai Forbath 35 Yard Field Goal is Good

Drive info: 11 plays, 62 yds, 4:55

10
6
THIRD QUARTER
SF
WSH
TD
9:33
Anquan Boldin 6 Yard Pass From Colin Kaepernick (Phil Dawson Kick is Good)

Drive info: 6 plays, 60 yds, 2:41

17
6
TD
1:09
Vernon Davis 1 Yard Pass From Colin Kaepernick (Phil Dawson Kick is Good)

Drive info: 5 plays, 39 yds, 2:30

24
6
FOURTH QUARTER
SF
WSH
FG
9:08
Phil Dawson 49 Yard Field Goal is Good

Drive info: 11 plays, 24 yds, 5:40

27
6
Research Notes
Colin Kaepernick
completed 6-of-9 passes to five different receivers on play action Monday.
Robert Griffin
III had as many interceptions as he did completions on play action.
[+]
The 49ers allowed just 190 yards on Monday night, the 5th time they've held their opponents below 200 yards since
Jim Harbaugh
took over in 2011, tied for the most such game in the NFL in that span (Ravens, Texans)
Robert Griffin
III now has an interception in 9 of the Redskins 11 games this season. His 11 interceptions this season is more than he accumulated in any season at Baylor University.
¿ Monday was
Anquan Boldin
's first game with multiple touchdown catches since Week 14 of 2012. That game was also played at Washington, when Boldin was a Raven. ¿ The Redskins averaged 3.3 yards per play Monday, their lowest since Week 8 of 2005 (2.40 against the Giants). ¿ Redskins receivers earned 60 yards after the catch Monday, their fewest in a game since Week 11 of last season (40 YAC against the Eagles). Their 3.5 yards after the catch per reception are also a season-low.
The Redskins gained 30 yards in the 2nd half, the fewest by any team in the 2nd half of a game this season
The 49ers sacked
Robert Griffin
III four times Monday, all with four or fewer pass rushers. RGIII has been sacked four times in each of his last three games. During the last two seasons, the Redskins are 0-5 when RGIII has been sacked at least four times in a game.
Monday was the 1st time in 68 combined college and NFL games when his offense didn't score a TD
Colin Kaepernick
completed 6-of-9 passes 15 or more yards downfield Monday, including a 19-yard touchdown to
Anquan Boldin
. Coming into the game, Kaepernick had completed 36.5% of his deep throws, 28th among qualified quarterbacks. --Kaepernick's six completions at least 15 yards downfield and Boldin's three receptions on such throws are each their second-most in a game this season. Kaepernick completed eight deep throws against the Packers in Week 1, with five going to Boldin. --The Redskins have allowed opposing quarterbacks to complete 49.4% of passes at least 15 yards downfield this season, fifth-highest in the league.
[+]
Regarding Jon Gruden's comments on read-option quarterbacks needing to prove they can throw...
[+]
Regarding Jon Gruden's comments on read-option quarterbacks needing to prove they can throw...
[+]
Robert Griffin
III will play in primetime for the sixth time in his career against the 49ers on Monday Night Football. Griffin posted a Total QBR of 76.4 in two primetime games last season, good for 6th in the NFL, but has not found the same success in night games this season.
[+]
ESPN Stats & Information