Commentary
Rookie Watch: Cam Newton needs time
In this year's first installment of my Rookie Watch, I saw it fitting to profile the first overall pick in the 2011 draft, quarterback Cam Newton.
The first overall pick in the 2010 draft, quarterback Sam Bradford, ended up atop my final rankings just ahead of Ndamukong Suh. This was a remarkable accomplishment for a rookie signal-caller who was selected by a franchise that deserved the first overall selection. And frankly, I don't expect Newton to duplicate Bradford's accomplishment.
But Newton is set up to get plenty of opportunities. Unlike many rookie quarterbacks, Newton will be the opening day starter for Carolina. And, although he is a much different quarterback prospect than Bradford, Newton's talent is obvious. He has fantastic size, strength and athletic ability for the position. It isn't much of a stretch to say that Newton is already the second-most dangerous NFL quarterback as a runner, behind only Michael Vick among the league's starters. And Newton also has a very powerful right arm. He does not have any limitations throwing the football.
That said, Newton is far more of a work-in-progress than Bradford was at this time last season. Accuracy is the biggest difference between the two. Newton missed many open receivers during the preseason -- far too many, in fact. Also, his throwing mechanics regressed as the preseason went along.
Newton has all the talent in the world and will be given the opportunity to show it, but he still has a very long way to go.
Ranking
Player, position (draft position)
Last week

1

Von Miller, Broncos LB (first round, No. 2)
My Defensive Rookie of the Year prediction, Miller is just lightning off the edge. Few pass-rushers have his kind of get-off. Miller and Elvis Dumervil will spend plenty of time this season terrorizing opposing offensive tackles.

--

2

Julio Jones, Falcons WR (first round, No. 6)
Jones is my prediction for Offensive Rookie of the Year. He is a fantastic situation in Atlanta with a great, young and cerebral quarterback and a star wide receiver opposite him who will be the focus of opposing defenses. A rare blend of size, power, competitiveness and speed, Jones is ready to break out.

--

3

Mark Ingram, Saints RB (first round, No. 28)
Like Jones, Ingram went to a very good situation with the Saints. New Orleans should be more dedicated to the run than last season, and Ingram has the qualities of a true bell-cow back. He also looks like a touchdown machine. I predict Ingram will cross the goal line at least 10 times in 2011.

--

4

Denarius Moore, Raiders WR (fifth round, No. 148)
If it were up to me, Moore and Jacoby Ford would be the Raiders' starting wide receivers -- and the featured pass-catchers to go along with Darren McFadden out of the backfield. Although Moore wasn't as high of a draft pick as most on this list, he is legit. He has rare speed but is also extremely fluid and agile. Moore is already a very good route runner. This guy is dangerous.

--

5

Marcell Dareus, Bills DE (first round, No. 3)
It wasn't long ago that I wrote a blog post discussing all that Dareus could do for Buffalo's defense. And that was before I saw him play in the preseason. Now I am even higher on the third overall choice.

--

6

A.J. Green, Bengals WR (first round, No. 4)
I don't like Green's situation at all. Ideally, he would be in a deep downfield passing offense like the one in San Diego. Instead, he will be getting the ball from a noodle-armed rookie quarterback in a West Coast offense. This ranking isn't a knock on Green, though, because I see him as a great prospect.

--

7

Greg Little, Browns WR (second round, No. 59)
After starting his college career as a running back and missing his final season at North Carolina due to suspension, Little might not burst onto the scene as a top wideout immediately. But I bet it doesn't take him too long. And the Cleveland depth chart at the position is far from daunting. He is the ideal wideout for the Browns' West Coast attack and will quickly be a Colt McCoy favorite.

--

8

J.J. Watt, Texans DE (first round, No. 11)
Watt made a lot of plays during the preseason. Defensive linemen often have a steep learning curve at this level, but Watt's hustle and natural gifts should alleviate that to some degree. Watt gets off the ball very well for a player of his stature. He is exactly the building block Houston needs for its 3-4 defense.

--

9

Ryan Kerrigan, Redskins LB (first round, No. 16)
With Brian Orakpo on the opposite side, Kerrigan could flourish in his rookie year. A better athlete than he's usually given credit for, Kerrigan still might struggle with the position switch to outside linebacker in Washington's 3-4 scheme. But he will be able to get after the passer -- as he did in college. The Redskins' defense looks much improved. Kerrigan is a major reason why.

--

10

Gabe Carimi, Bears OT (first round, No. 29)
He is just one man, so the drafting of Carimi in itself is unlikely to be the answer for Chicago's poor offensive line. But Carimi looks like a very good fit with the Bears and basically the prototype for the right tackle position. He is a better run-blocker than pass-blocker.

--
Other notables:
Aldon Smith
, 49ers LB;
Patrick Peterson
, Cardinals CB;
Corey Liuget
, Chargers DE;
Phillip Taylor
, Browns DT;
Jimmy Smith
, Ravens CB;
Randall Cobb
, Packers WR;
Cecil Shorts
, Jaguars WR;
Dwayne Harris
, Cowboys WR.
Scouts Inc. watches games, breaks down film and studies football from all angles for ESPN.com.
ESPN.com
Joined ESPN in 2005
Was an NFL and college scout for the Cleveland Browns
The NFL on ESPN.com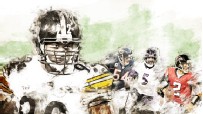 WEEK 1 PICKS
MORE NFL COVERAGE
2011 NFL PREVIEW
JOHN CLAYTON QB RANKINGS
NFL DRAFT

MOST SENT STORIES ON ESPN.COM