Barber is NFL's most complete corner
Ronde Barber wears a lot of hats for the Bucs, which is why his teammates are typically quick to tip their caps to him.
Updated:
July 30, 2005, 2:23 PM ET
By
Len Pasquarelli
| ESPN.com
LAKE BUENA VISTA, Fla. -- One-half of the most high-profile set of twins in NFL history began serious preparations for his ninth season Friday and, watching Tampa Bay Bucs cornerback Ronde Barber scamper around the practice field at the Disney Wide World of Sports complex, one couldn't help wonder if he had been joined by his brother.
Or if, perhaps, there is a Barber triplet that Ronde and Tiki have never spoken about publicly. Or maybe that Ronde, the reigning Vegematic of cornerbacks, has been cloned.
He slices, he dices, he lines up at cornerback and, on third down, in the slot. Barber runs upfield with a wide receiver on one play, blitzes the quarterback on another, moves up to support against the run on a sweep. One of the biggest bargains in the league, even at a 2005 price tag of $3.75 million, Barber wears a lot of hats for the Bucs, which is why his teammates are typically quick to tip theirs to him.
"They ask him to do so much," star defensive end Simeon Rice said, "you wonder how he can keep track of it all. He's probably the best corner in the league most people know nothing about. Outside of Tampa, or maybe even outside our locker room, I'm not sure enough people understand how good Ronde really is, you know?"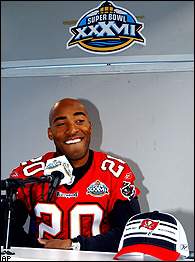 Ronde Barber's versatility is unmatched among NFL cornerbacks.
Fact is, Barber and partner
Brian Kelly
arguably represent the best, most overlooked cornerback tandem in the league. Even though it's a misrepresentation any longer to cast Tampa Bay as simply a "cover two" defense, no one plays the scheme that became the hallmark of the Bucs any better than their own cornerbacks. And no one in Tampa's secondary has as full a menu as Barber, who, despite two Pro Bowl appearances in his eight-year career, rarely receives the credit he deserves.
Often imitated, never duplicated -- well, technically not, since he does have a twin -- Barber, 30, is perhaps the NFL's most complete corner. And, make no mistake, coordinator Monte Kiffin and secondary assistant Mike Tomlin had conjured up a lot of ways to take advantage of his unique skills set.
Talk about well-rounded. Consider these statistics: Barber has 650 career tackles, including 70-plus stops in each of his seven years as a starter. His 23 interceptions, which include a career-best 10 in 2001, are the fourth-most in franchise history.
His 18 sacks are the second-most in the NFL by an active defensive back, and Barber has four seasons of three or more sacks and five years with at least six quarterback pressures. His résumé also includes 124 passes defensed, nine forced fumbles and six recoveries, and, just for good measure, 42 special teams tackles and a blocked punt.
"I just think," Barber said between Friday practices, "that I do the things they wouldn't ask anyone else to do. Look, to me, every corner in this league is a systems corner. In this system, you get to fly around a lot, run to the ball and try to make big plays. For me, it's a lot of fun because they've [designed] so much for me to do. A lot of teams have tried to copy us, but no one plays this [defense] the way we do. And I don't know that a lot of cornerbacks could do all the things that I'm asked to do here."
Indeed, in each of the last two seasons, and four times in his career, Barber has registered at least one play in every major defensive statistical category.
Last season was a typical Barber year: He had 111 tackles, the most by any cornerback in the league, with nine of those stops for losses; three interceptions; 12 passes defensed; one forced fumble; two recoveries; and six special teams tackles. Both the fumble recoveries were returned for touchdowns, raising to seven the number of times Barber has scored in his career.
About the only cornerback in the league who could rival those all-around numbers was Shawn Springs of Washington, who, in his first year with the Redskins, was transformed into a Barber-like defender by innovative coordinator Gregg Williams.
The Philadelphia tandem of Lito Sheppard and Sheldon Brown, in their first season as starters in '04, both have the potential to post similar numbers and play in a style of defense that asks a lot of them. But there just aren't many corners around the league capable of succeeding at the ambitious job description the Bucs have laid out for Barber.
In fact, at just 5-9 5/8 and 187 pounds, Barber is probably one of the biggest hitters, pound-for-pound, in the league. Even Barber struggles to explain the source of his raw explosiveness. But part of summoning up hitting momentum in the NFL is confidence and familiarity in a scheme, reaching a comfort zone in which your reactions are second nature, and where you aren't paralyzed by uncertainty.
As for his uncanny knack for authoring game-altering plays, well, one factor is that Barber plays so many different places in the Bucs' scheme. Another is that the former University of Virginia star, chosen by the Bucs in the third round of the '97 draft, is so naturally competitive.
Barber swears that, growing up, he wasn't nearly as naturally competitive with his sibling as might be expected. The will to succeed, he suggested, was more often taken out on the other kids in the neighborhood.
"But there was a part of me," Barber said, "that didn't want to finish second to Tiki. I mean, if he won the long jump competition, I'd think like, 'OK, now I've got to go out and win something, too.' I mean, you can't be an also-ran in your own family, right?"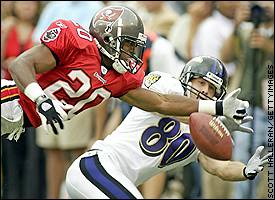 Ronde Barber had another strong season in 2004, with two interceptions and three sacks last season.
Barber is anything but an also-ran in Tampa Bay's defense. He is listed as the starting right cornerback, usually deployed there on early downs, but Barber is a whirling dervish in third-down situations. He characteristically lines up in the slot, where he mostly has single coverage, but can also flash some linebacker-like looks. He will be asked to cover receivers, tight ends, running backs in the flat, take on the deuce fullback. And, of course, there are those times when Kiffin brings him off the edge on a blitz.
"To me," said Eagles quarterback Donovan McNabb two years ago, "[Barber] is a guy you're always aware of, because he's like their wind-up toy in the secondary. He's all over the place."
The Eagles, and McNabb, have, of course, witnessed Barber's playmaking skills first-hand. In one of the most celebrated defensive performances in recent playoff history, Barber registered six tackles, a forced fumble, a sack and two passes defensed in the 2002 NFC championship game, and sealed the Bucs' 27-10 victory at Philadelphia with a 92-yard interception return for a touchdown.
"It's the kind of game," allowed coach Jon Gruden, "that guy is capable of having, since he's so [integral] to everything we do. I mean, he's an aggressive player, a guy who will try to blow you up, and we feed on that. He's going to come up and take you on in the running game. He'll absolutely run you over on the blitz. And he makes so many big plays. I mean, it's just not an accident, you know, that the ball is in his hands so much. You put on the tape, and start [assigning] plusses and minuses on every play ... [and] you're going to end up with a lot of plusses next to his name."
What Barber would like to have next to his name as well are a few more dollar signs. While his $3.75 million base salary is the third-highest in the league among cornerbacks, Barber's average for the six-year contract he signed in 2001 ranks him only between Nos. 25-30, it is believed. His cap number is one of the highest on the team, but principally because he has at least twice restructured his contract to accommodate the Bucs' cap needs, a move that inflated the charge in later years of his deal.
There were some rumblings of unrest this spring but, given Tampa Bay's annual cap squeeze, the team did not address the contract. And, typically, Barber never threatened to skip camp and the situation has been relegated to a non-issue.
And so in Friday's two practices, there was Barber, all over the field on defense, itching for a chance to maybe get a few snaps at running back, looking to make a play in just about any way possible. And, on a Bucs team where the landscape has changed dramatically in the last couple seasons, with roster defections and significant turnover, taking on a more vocal role as a leader.
"It's what I do," Barber said. "With the contract thing, well, I wasn't not going to play football. You just come out and do what they ask you to do."
Which for Ronde Barber, the league's most complete cornerback, is a lot.
Len Pasquarelli is a senior NFL writer for ESPN.com. To check out Len's chat archive, click here
.
EDITORS' PICKS
Marcus Mariota still doesn't trump Jameis Winston, but he makes a lot of sense for Tennessee at No. 2.
McShay

Mailbag: John Clayton explains why expanded playoffs are on hold and discusses overtime rules and extra points.
Story »

The Falcons should feel grateful that their punishments for piping in crowd noise weren't a lot more severe.
McClure »

MOST SENT STORIES ON ESPN.COM