Palmer leading the way for Bengals
Entering his second year as a starter, Carson Palmer clearly has the talent to lead the Bengals to bigger things in 2005.
Updated:
August 2, 2005, 11:31 AM ET
By
Len Pasquarelli
| ESPN.com
GEORGETOWN, Ken. -- It was once said of New England Patriots quarterback Tom Brady that women wanted to be with him and men wanted to be like him.
Inside Bengals camp
Are the Bengals ready to win 10 games? Did the Bengals do enough to improve their defense? Those are just a couple of the things Len Pasquarelli touches on in his observations from Bengals camp.
• Inside Bengals camp
Given that
Cincinnati Bengals
quarterback
Carson Palmer
is happily married, whatever magnetism the guy with the movie star name and the Hollywood looks possesses is moot when it comes to the dating game. As for the team
mating
game, well, Palmer is clearly the man most Bengals players gravitate to, and why not? Palmer seems poised, in his second season as the starter, to elevate a franchise that hasn't posted a winning mark since 1990 into playoff contention in 2005.
"I don't care whether it's the skill guys, or the linemen, or whatever, people just prefer to be around him," coach Marvin Lewis said of his quarterback. "It doesn't matter who it is. Guys are drawn to him and, for a quarterback, that's great, because he has to be a leader. With Carson, there's just something about him, you know?"
Indeed, there is a natural presence about Palmer, the way in which he carries himself, that not only exudes self-confidence, but also says, "Hey, get in line behind me, guys." And the Bengals have definitely queued up behind their Pied Piper of the Pass as they try to improve on consecutive 8-8 seasons.
There is no denying that Palmer looks the part of an NFL quarterback, a big, physically imposing guy who looks like he was delivered straight from central casting. But looks don't kill in the NFL -- plays do, and Palmer can play the part, too. And at just age 25, he can play it well enough to assume the reins of this Bengals team.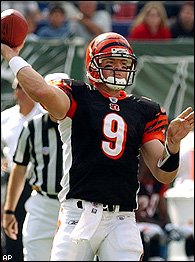 Carson Palmer moves around extremely well for his size.
Center
Rich Braham
and right offensive tackle
Willie Anderson
may be the graybeards of the team in terms of continuous service. Pro Bowl wide receiver
Chad Johnson
clearly is the most vocal and highest-profile player on the roster. But this is definitely Palmer's team, which is acknowledged even by
Jon Kitna
, the quarterback behind whom the former Heisman Trophy winner served his one-season apprenticeship in 2003.
And part of the reason for that, suggested Lewis and Palmer, is actually the experience of that '03 season, when Palmer got no experience at all -- at least in terms of playing time.
Despite having been the NFL's top overall choice in the 2003 draft, a distinction that earned him a six-year contract with a maximum value of $49 million, Palmer never even played a snap. Instead he watched Kitna carry the team deep into the season in playoff contention while he carried a clipboard. Still, the idle season proved to be an invaluable learning experience.
Minus the pressure of being thrown immediately into the fire, Palmer got the opportunity to learn the NFL ropes. Palmer said that was a key to his success in 2004, when he started the first 13 games of the year before being sidelined by a strained knee ligament.
"It meant that, when I came in last season, it wasn't like it was my first year," Palmer said after Sunday's sweltering practice. "I didn't feel like a rookie or a first-time starter, because I had learned so much from Jon, who is a great teacher. There's just so much about the structure of the game and the league that I didn't understand. I didn't know how to really watch tape the way you're supposed to. I didn't know what you were supposed to do on the Tuesday off-day, or what to do on Saturday. But I was able, thanks in large part to Jon, to get all that stuff out of the way so that, when last year came, I was more prepared to step into the job."
Fantasy focus: Carson Palmer
After a very promising 2004 campaign, Palmer could become a very dependable fantasy starter this year. He has quickly developed fine on-field relationships with wide receivers Chad Johnson and T.J. Houshmandzadeh. Kelley Washington and a hopefully healthy Peter Warrick make the Cincinnati passing game even more dangerous when multiple-receiver sets are featured.

Palmer is confident, efficient and makes quick, crisp reads. And the continued consistent production of RB Rudi Johnson keeps pressure off him and allows him to use play-action passing very effectively. Palmer threw seven TD passes in Weeks 12 and 13 (three TD passes and 382 against the mighty Ravens defense) last year, before a Week 14 knee injury shelved him and he missed the season's final three games. It was clear he was getting better as the schedule progressed. And he should become a reliable No. 1 fantasy QB in 2005.
-- Scott Engel, associate editor of Fantasy Games
A lot of outsiders, and even many young players, don't understand the importance of assimilating the nuance and infrastructure of the game. Think about the youngster who transfers to a new school and who suddenly doesn't know the way to the cafeteria or the gym, who doesn't know where to sit in class, or even the name of the principal. That's how it is sometimes for NFL rookies, and no matter the pedigree or draft status, a guy typically has to first get his feet planted on the ground before he can make a quantum leap.
It would appear, based on his 2004 performance, that Palmer is ready to jump into the top tier of NFL quarterbacks. And the Bengals, the only team in the league to return its entire starting offensive lineup intact from '04, are capable of going to the playoffs for the first time in a decade and a half.
There is an intriguing collection of wide receivers, led by the loquacious and explosive Johnson, a workhorse tailback in Rudi Johnson and a physical offensive line. But most important, there is Palmer, who over his last six games in 2004 before the knee injury was one of the hottest passers in the league. In that stretch, Palmer posted a quarterback rating of 96.9, completed 68.6 percent of his passes, and made big plays.
The streak came after a stretch of inconsistency in which Palmer struggled at times, with a pedestrian passer rating of just 62.6 in the first seven outings. Like all quarterbacks, the game got easier for Palmer when things slowed down. There may be little slowing the Bengals' offense this year, though, given the skills set of its quarterback and the weaponry at his disposal.
Palmer throws one of the prettiest passes you're ever going to see, with a facile motion and release, the ball exploding out of his hand with lots of RPMs. While Sunday's practice was admittedly his most inconsistent of the first week of camp, his accuracy and ability to drill the ball into small spaces is impressive.
Just as impressive is Palmer's maturity. There is an erroneous perception, maybe because he possesses such a complete package and grew up in Southern California in a family of some means, that Palmer is the Golden Boy who started life with a silver spoon. But when he was in high school, his father had to move to New York for his job as a banker. It was a move that kept the family together financially but apart logistically and forced Palmer to take on additional responsibilities.
So while it's been suggested that Palmer led a charmed existence his entire life, there were some difficult times, and they accelerated his advance out of adolescence. That familiarity with overcoming real-life obstacles, Lewis noted, helped make Palmer a leader. His growing familiarity with the Bengals' receivers, on the other hand, is what Lewis feels will push Palmer, and hopefully the team as well, to the next level.
| | | |
| --- | --- | --- |
| | " | I don't care whether it's the skill guys, or the linemen, or whatever, people just prefer to be around him. It doesn't matter who it is. Guys are drawn to him and, for a quarterback, that's great, because he has to be a leader. With Carson, there's just something about him, you know? " |
| | | — Marvin Lewis, Bengals coach |
Lewis said one of the goals he set for Palmer during the offseason was to gain improved rapport with his pass-catchers. Toward that end, Johnson and fellow wide receiver T.J. Houshmandzadeh worked out with Palmer in Los Angeles for a few weeks in July, crafting routes and passes and fine-tuning esoteric elements like body language.
"It's the kind of stuff Peyton Manning and his receivers are always working on," said Palmer, whose own personal brass ring for 2005 is a 4-to-1 ratio of touchdown passes to interceptions. "You want to get inside each other's heads, know every move, make it all second nature. We're getting there."
Whether the Bengals can get to the playoffs in 2005, with a quarterback whose résumé still includes just 13 career starts, remains to be seen. Cincinnati is kind of a chic early choice of some pundits to be a rising team in 2005. But mention that to Palmer and his response is a pragmatic one.
"We were still just 8-8 last year," Palmer said. "And it's not like we went out and got Randy Moss or something. Yeah, it's great that we have our whole offense back, but that also means whatever improvement we make has to come from within. The good part is that we're all getting so comfortable with one another, we should continue to grow."
Len Pasquarelli is a senior NFL writer for ESPN.com. To check out Len's chat archive, click here
.
EDITORS' PICKS
Mastery of the salary cap's intricacies, with its spending limits and minimums, is a necessity in today's NFL.
Ashley Fox »

How much does the combine matter in draft analysis? Look at Kevin White's surge up Mel Kiper's board.
Mock 3.0

Durable, fiery and talented, Ndamukong Suh would thrive on any NFL team. We size up his leading suitors.
Dominik

MOST SENT STORIES ON ESPN.COM