Vikings ditching flash for substance
The Vikings lack their usual sizzle, but new coach Brad Childress is making sure they won't lack toughness, writes John Clayton.
Originally Published:
August 7, 2006
By
John Clayton
| ESPN.com
MANKATO, Minn. -- Of the seven first-time NFL head coaches, Brad Childress knew he hit the lottery.
Inside Vikings camp
Can Koren Robinson be the No. 1 WR? Can Troy Williams bounce back and make an impact in his second season? Those are just two of the things John Clayton touches on in his observations from Vikings camp.
• Inside Vikings camp
The Vikings have an owner, Zygi Wilf, who is willing to spend -- on players, team facilities and a new stadium. Despite the turmoil of 2005, the Vikings won nine games, three to seven games more than the teams inherited by Childress' fellow rookie head coaches. The odds of success for a first-time coach are 50-50, but Childress believes his decision was a winner.
"I am on the record for saying this: I didn't think this team was void of talent," Childress said. "My thinking was this was one of the best of the seven jobs."
Does that mean Childress should be the most successful of the Lucky Seven?
"You're putting pressure on me," Childress said.
Childress is accustomed to pressure. He coached for an Eagles squad that reached four consecutive NFC title games. He might have become a head coach sooner if not for Philadelphia's postseason success. NFL owners making coaching changes often hurry to fill out their staffs, and league rules prohibit assistant coaches from accepting new positions until their clubs are eliminated from the playoffs.
Childress was Andy Reid's right-hand man on offense. That he didn't call the plays in Philadelphia isn't relevant. Mike Holmgren has called most of the plays on his teams through the years. Look how many of his assistants -- including Reid -- have made a successful transition to head coach. Holmgren instituted structure for his offensive coaches, making sure they perfected the protection packages before the offensive schemes. Childress, learning from Reid, is the first of the second generation of Holmgren prodigies to land a head coaching job.
What Childress brings to the Vikings is his knowledge of how to build a winning structure. The previous Vikings administration lacked the financial support necessary to maintain one. Former Vikings owner Red McCombs operated the team on a shoestring. Former head coach Mike Tice built a good roster but his coaching budget was so tight he couldn't even make an offer to his outgoing offensive coordinator, Scott Linehan, after the 2004 season. Tice could only promote his offensive line coach Steve Loney to coordinator, leaving the team understaffed.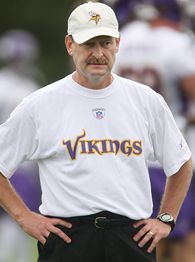 Tom Dahlin/WireImage.comNew head coach Brad Childress has brought a hard-nosed brand of football to Minnesota.
The first thing you notice about Vikings camp this year is the degree of organization. Childress learned that from Reid. Each moment of the day seems to be measured and planned. The other noticeable thing about the Vikings is their lack of the sizzle of past years.
Gone are the flash of Randy Moss, the deep throws of Daunte Culpepper, the speed of Michael Bennett. Childress uses the West Coast offense, but his version looks more like the Midwest Coast offense. This Vikings team will try to win with power instead of finesse.
"We don't have all of the marquee names," quarterback Brad Johnson said. "We will have to be under the radar because of the marquee thing, but sometimes it's good. I think we are a very sound team."
Replacing the flash and sizzle is hard-nosed football. Childress wants his Vikings to pound teams on offense and be physical on defense. When critics look at the Eagles they point to Reid's reluctance to run the ball. A pure advocate of the West Coast offense, Reid uses swing passes and screens to the halfback as if they are running plays.
That won't be the Vikings.
"You have to be physical in the division," Childress said. "Everything starts on the front. You can have the best ideas in the world as far as trying to run the ball or pass the ball but if you can't establish things on the offensive line, you are going to have problems. I like that group of guys [on the offensive line]."
He should. The Vikings added the league's best guard, Steve Hutchinson, to a line that boasts left tackle Bryant McKinnie and former Pro Bowl center Matt Birk. Childress traded for right guard Artis Hicks (Eagles) because he knows the blocking scheme. Marcus Johnson is a powerful (6-foot-6, 321 pounds) right tackle.
The Vikings could have the best offensive line in the league. Hutchinson understands top offensive lines. Teamed with Pro Bowl left tackle Walter Jones, Hutchinson helped lead the Seahawks to the Super Bowl last season.
"The way everything was going, the way we jelled, I don't think there was a better line," Hutchinson said of the Seahawks. "[But] I think we would be the best here. You've got McKinnie on the left. McKinnie's damn good. I think Walter Jones is the best left tackle. McKinnie has great feet for his size. He's just a mauler. Nobody is going to get around him, and once he gets his hands on a guy, they go flying. He's going to be a dominant player and he's going to be a dominant player for a long time."
Fantasy take
The first Viking to go in fantasy drafts is likely to be someone who is new to the team, and has never been a starter before. But Chester Taylor does have the ability to be a 1,000-yard running back, and he'll be a popular outlet for quarterback Brad Johnson as well. Taylor's fantasy value could mirror what LaMont Jordan did last year, as the former Jet finally got the chance to thrive in Oakland, so pay attention if Taylor is still on the draft board in round three.
-- Eric Karabell

• Play ESPN fantasy football!
• Check out ESPN's draft kit
Even though his NFL stamp is with the Eagles, Childress understands power. He called enough running plays at Wisconsin for
Ron Dayne
to gain more than 7,000 rushing yards and win a Heisman Trophy. His Vikings tenure will start with
Chester Taylor
as his featured back.
Taylor is a solid runner and a good receiver out of the backfield, although he doesn't have the breakaway speed of Robert Smith or Bennett. A former sixth-round pick, Taylor fits the image of Childress' first team -- solid.
"He's a good, tough kid from Detroit," Childress said of Taylor, who played college ball at Toledo. "All of those kids play with a chip on their shoulder if they didn't play in the Big Ten. He's compact but has the speed to circle the defense. But he can also stick his foot down in the ground and be a factor running inside the tackle."
Childress is stressing toughness and tempo in practice, much like former head coach Tice. The difference is Childress' entire staff will be preaching the same beliefs.
The first head coach hired this offseason, Childress had his choice of assistant coaches. Wasting no time, he grabbed Wilf's private plane and flew to Tampa in pursuit of former Bucs secondary coach Mike Tomlin. The fiery Tomlin was targeted by a few other head coaches, so Childress made sure to hire him first. His job is to install the Tampa Bay Cover 2 defense.
For talent, the Vikings' defense is loaded. It consists of six first-rounders, three second-rounders and a third-rounder. Kevin Williams and Pat Williams are dominating defensive tackles; ends Erasmus James and Kenechi Udeze can rush the quarterback.
"Good teams basically start with a pretty good defensive nucleus," Childress said. "We have three No. 1 picks along the defensive line and Pat Williams can stuff the run. At ends, we have James and Udeze, and you won't find pass rushers like that every day of the week. Everybody is worried about our linebackers, and I like our linebackers.''
So far, Wilf likes what he sees, too. Year one was tough for the Vikings' new owner. Efforts to get a new stadium failed in the state legislature. The boat incident in which several Vikings players were accused of lewd behavior embarrassed the franchise and hurt the stadium bid. Wilf ended up changing coaches, revamping the front office and reorganizing the entire business operation.
Wilf didn't buy the Vikings for the profit. Childress is giving Wilf a solid, no-nonsense team. Both hope they hit the lottery.
John Clayton is a senior writer for ESPN.com.
NFL senior writer
Senior NFL writer and commentator
Joined ESPN in 1995
Member of the writers' wing of the Pro Football Hall of Fame in Canton, Ohio
EDITORS' PICKS
With Marshawn Lynch signed and happy, Seattle cleared a major hurdle in its challenging offseason.
Blount »

Expect Chip Kelly's Eagles to stay busy when free agency begins. We predict each team's activity level.
NFL Nation »

Brandon Marshall comes with baggage, but the Jets are better off with him than the pricier Percy Harvin.
Cimini »
Nike Men's Home Game Jersey Minnesota Vikings Greg Jennings #15 Shop »

MOST SENT STORIES ON ESPN.COM