Commentary
Pats far from perfect without Brady
Who are the 10 most critical players in the NFL? Jeffri Chadiha once again identifies "The Indispensables."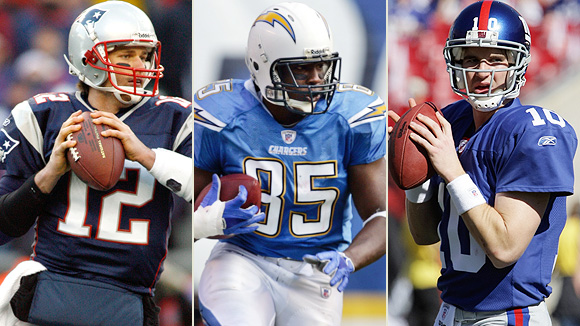 US presswireTom Brady (left), Antonio Gates (center) and Eli Manning (right). How can their teams thrive without them? They are just three of the NFL's 10 most indispensable players.
It's once again time to talk about the most indispensable players in the NFL. I did it in July 2007 -- on a whim no less -- and it created enough debate that it was worth bringing back for another year of discussion. After all, the same 10 players can't always be on the list. There are simply too many factors that change over the course of a year for that to happen.
More Indispensables?
Mike Sando, Paul Kuharsky, Tim Graham, Matt Mosley and Pat Yasinskas of our NFL Blog Network weigh in on other indispensables. Blog
In fact, there are only three players on the 2007 list that qualified to make this year's top 10. Why? Well, some of the players on the 2007 list wound up on teams that finished with losing records (like Chicago's Brian Urlacher). Others just didn't put up the kind of numbers that made them indispensable in the first place (like Carolina's Julius Peppers). And one fellow wound up in prison because he was dumb enough to operate a dogfighting ring with his pals (Atlanta's Michael Vick).
But that doesn't mean this list is any less interesting. It just means you will have more new names to argue about when you're deciding which players mean the most to their respective teams. So, as the 2008 training camps start, here are the most indispensable players in the NFL:
1. Tom Brady, QB, New England
This one shouldn't be a shocker. Brady produced one of the greatest seasons of any quarterback in league history during 2007. Along with claiming the league's Most Valuable Player award and setting several records (including his NFL mark of 50 touchdown passes in a season), he bonded with enigmatic wide receiver Randy Moss to form the most dangerous passing combo in years. To be honest, Brady would make this list every year it comes out. But he made it to the top this time after nearly leading the Patriots to perfection last season.
How good is Manning? Let's just say it's hard to imagine the Colts' making the playoffs last season if he wasn't the guy under center. This team was rocked with injuries throughout 2007, including one that led to the absence of Pro Bowl wide receiver Marvin Harrison for most of the season. But that barely fazed Manning. He kept firing away and his team believed it could win, even with so many players bouncing in and out of the training room.
Say what you will about T.O. and his controversial history, but you have to admit this much: He's the key to that high-powered offense in Dallas. We saw that much when a high ankle sprain made him ineffective in an NFC divisional playoff loss to the
New York Giants
. When Owens is healthy, he makes life easier on tight end
Jason Witten
, wide receiver
Patrick Crayton
and quarterback
Tony Romo
. When he's off the field, the Cowboys' passing game isn't nearly as scary … and neither is the rest of that team.
It's been a long time since a rookie running back raced through the NFL like this guy. Along with setting a league record for most yards in a single game (296 against San Diego), Peterson energized a Vikings offense that wasn't offering much in the way of sizzle. Now the people around Minnesota are harboring Super Bowl hopes and they're probably thinking Peterson could gain 2,000 yards if he avoids the injuries that slowed him as a rookie. But you have to remember something else about this guy -- he's a star back without a strong passing game to ease the pressure on him. That alone makes him a member of this list.
Like Brady and Manning, Gates is another holdover from last year's list. And as was the case in 2007, his inclusion has everything to do with his rare ability. Gates still means more to the Chargers than Pro Bowl running back LaDainian Tomlinson because it's rare for a tight end to command the kind of attention Gates requires. You're talking about a guy who's been that team's leading receiver during four of his five NFL seasons and you can bet he'll do it again this season. Before his career took off in 2004, the Chargers were arguably the worst team in the league, one that featured Tomlinson. But they've been in the playoffs three times since 2004, with a passing game built around his talents.
Haynesworth is the lone defender on this year's list because he had the biggest impact on his team in 2007. When he served a five-game suspension and played below his potential in 2006, the Titans' defense didn't intimidate too many opponents. When Haynesworth returned last season with obvious focus and determination, the Titans' pass rush and run defense started giving teams fits. The bottom line here: When this kid has his head right, the Titans' defense can make life hell for any offense.
Westbrook is one of two players on this list ( Joe Thomas is the other) from a team that didn't make the 2007 playoffs, but nobody can question whether he belongs. For one thing, he's one of the best all-purpose backs in the NFL. For another, I can't think of another one of the Eagles who is as reliable and explosive as Westbrook. Two years ago he helped the Eagles to the playoffs while quarterback Donovan McNabb was injured and last season he compiled 2,104 yards from scrimmage (1,333 rushing and 771 receiving). The dude is tough.
Thomas makes this list because you can't talk about indispensable players without mentioning at least one offensive lineman. And while there are bigger names at the position -- such as Seattle's Walter Jones and St. Louis' Orlando Pace -- no lineman meant more to his team's success last season than Thomas. His mere presence stabilized a Browns offensive line that had been historically lousy and he made Cleveland quarterback Derek Anderson feel much better about what was happening on Anderson's blind side. It's rare for a rookie to have that much impact, and that's why Browns fans should be feeling good about that spot for the next 10 or so years.
Yes, every quarterback is important to his team but Hasselbeck was extraordinary in 2007. The Seahawks couldn't rely on former Pro Bowl running back Shaun Alexander and they also faced multiple injuries to their receiving corps. How did Hasselbeck respond? By putting the Seahawks' offense on his shoulders and leading that team to the postseason. A performance like that deserves to be rewarded with a spot on this list.
10. Eli Manning, QB, New York Giants
Talk about a guy who came of age in a relatively short time last season. Manning started 2007 with people wondering if he could become a more effective leader and he ended it with the Lombardi Trophy in his grasp. I've now stopped wondering whether he'll ever be the prolific passer that his brother is, primarily because it doesn't matter. He's showed the world he can win in his own way and it's hard to imagine another Giant who belongs on this list over him.
ESPN.com senior NFL columnist
Reporter for ESPN TV's "E:60"
Sports Illustrated senior writer (2000-07)
Covered Raiders, 49ers for San Francisco Examiner (1996-1999)
SPONSORED HEADLINES
MORE NFL HEADLINES
MOST SENT STORIES ON ESPN.COM
TRAINING CAMP 2008
The regular season approaches. What teams will complete the journey to Tampa for Super Bowl XLIII? Training camp index | Dates


Commentary/features

Warner proves he has future
The Cardinals gave Kurt Warner the chance to compete with Matt Leinart for the starting spot, and the 37-year-old quarterback made the most of the opportunity.
John Clayton
---

Pennington's learning curve
It seemed the Jets could not help Chad Pennington pack his bags fast enough. Now the most experienced QB on the Dolphins, he's relishing the chance to excel again.
Jeffri Chadiha
---
•
Kreidler: Future still promising for 49ers' Smith
•
Clayton: Injuries impact preseason
•
Seifert: A new approach in Detroit
•
Smith: Favre drama a reality check for McNabb
•
Kuharsky: Titans focused on defense
•
Sando: Running key for Holmgren's swan song
•
Mosley: Giants hope history teaches well
•
Garber: Coughlin distances from SB win
•
Williamson: Chiefs engergized by youth
•
Chadiha: O-line might hold real keys for Jets
•
Wickersham: Three tips for Favre
•
Mosley: Giants done with celebrating
•
Naylor: Canadian divide on NFL invasion
•
Graham: Sleeper Bills
|
Blog: Yo, Canada
•
Seifert: For a change, no distractions for Vikes
•
Mosley: McNabb confident Eagles among elite
•
Kuharsky: Garrard taking control
•
Mosley: Eagles poised to return to prominence
•
Clayton: Young on his way to elite status
•
Kuharsky: Garrard ready to lead Jags
•
Chadiha: Delhomme determined to seize moment
•
Yasinskas: Smith's approach suits Falcons
•
Mosley: Zorn's coaching desire finally fulfilled
•
Williamson: Young Raiders share Kiffin's hunger
•
Graham: Jets wiping slate clean
•
Chadiha: Turner ready to lead Falcons
•
Clayton: Vikings firmly in Jackson's corner
•
Walker: Tough schedule awaits Steelers in 2008
•
Mosley: Favre is QB turned ringmaster
•
Clayton: 5 reasons Favre would start for Pack
•
Graham: Patriots not dwelling on past
•
Sando: Rams optimistic despite questions
•
Williamson: Shanahan points to playoffs
•
Walker: Bengals look to move past chaos
•
Yasinskas: Delhomme, Peppers must step up
NFL blog network
•
NFL Nation blog
•
AFC
:
North
|
South
|
East
|
West
•
NFC:
North
|
South
|
East
|
West
•
Contact our bloggers
Camp Confidential training camp tour
A breakdown of our annual camp tour:
• Saturday, July 26: Ravens, Saints
• Sunday, July 27: Colts, Bears
• Monday, July 28: Dolphins, Cardinals
• Tuesday, July 29: Packers

---
•
Wednesday, July 30:
Chargers
,
Cowboys
•
Thursday, July 31:
Texans
,
49ers
•
Friday, Aug. 1:
Patriots
•
Saturday, Aug. 2:
Bengals
,
Panthers
---
•
Sunday, Aug. 3:
Broncos
•
Monday, Aug. 4:
Rams
•
Tuesday, Aug. 5:
Steelers
•
Wednesday, Aug. 6:
Jets
---
•
Thursday, Aug. 7:
Raiders
|
Redskins
•
Friday, Aug. 8:
Falcons
•
Saturday, Aug. 9:
Jaguars
---
•
Tuesday, Aug. 12:
Eagles
|
Vikings
•
Wednesday, Aug. 13:
Bills
•
Thursday, Aug. 14:
Chiefs
---
•
Friday, Aug. 15:
Giants
|
Seahawks
•
Saturday, Aug. 16:
Bucs
|
Lions
•
Sunday, Aug. 17:
Browns
•
Monday, Aug. 18:
Titans
Video
•
NFL Insiders on Bills, Broncos, more
•
Rachel Nichols on Favre, Jets
•
NFL Live dissects ESPN.com power rankings
Audio
•
Podcast: Biggest questions
Scouts Inc.
•
Camp outlook: AFC Q&A on X's and O's

•
Camp outlook: NFC Q&A on X's and O's

•
Notable quarterback battles