Commentary
Jets' fortunes might turn on O-line, not Favre
The Jets' offensive line was the target of much criticism in 2007. The hubbub about Brett Favre's arrival aside, the Jets' 2008 hopes might hinge on the refortified unit, writes Jeffri Chadiha.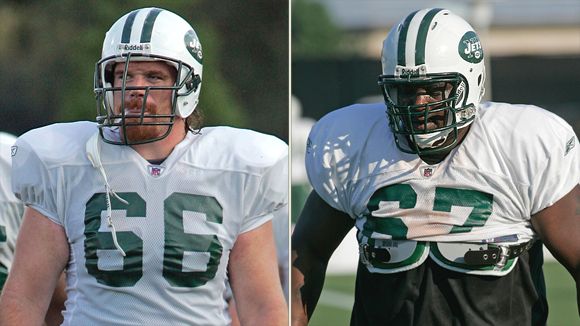 AP Photo/Ed BetzAlan Faneca (left) and Damien Woody are two of the New York Jets' key offseason additions
not
named Brett Favre. Guard Faneca, a six-time Pro Bowler, will be learning just the second different offensive system in his NFL career.
HEMPSTEAD, NY -- Guard
Alan Faneca
saw the potential during a
New York Jets
exhibition game against the
Cleveland Browns
on Aug. 7. The communication between his fellow linemen was so crisp that they hardly needed to talk. They were seeing the same clues in the defensive fronts. They were sensing the same subtle shifts of linebackers. In short, the Jets' line was displaying some legitimate chemistry, and that had to be exhilarating news for those who recognized the bonding process.
Sure, the arrival of quarterback Brett Favre has sent a jolt of energy through a Jets team hoping to rebound from last season's 4-12 record. But there have been other reasons for the Jets to feel good about themselves, and Favre's new blockers are Exhibit A.
By adding Faneca, a six-time Pro Bowler, and 10-year veteran Damien Woody in free agency, the Jets brought much-needed experience to a disappointing unit. The point to be made here is simple: Blocking shouldn't be a Jets' weakness in the coming months.
AFC East blog

ESPN.com has the Patriots, Jets, Dolphins and Bills covered in the AFC East division blog.
This is important for two reasons. One is that the 38-year-old Favre, while having started an NFL-record 253 consecutive games, will not last if the Jets allow 53 sacks like they did in 2007. The other reason is this team's ball carriers averaged only 3.8 yards per carry last season.
"It's been proven that if you can't do one phase on offense, then you're not going to be as successful as you want to be," Faneca said after a Wednesday morning practice at Jets' training camp. "We have to do our jobs. If we do that, we can open some holes in the run game and put Brett in position to throw some deep balls."
Faneca is easily the biggest key to the Jets' hopes of improving their offensive line. He was the anchor of the Pittsburgh Steelers' offensive line for 10 seasons, and he's known for both his agility and toughness. Along with ample physical ability, Faneca brought an undisputed leadership to the Steelers' locker room. The Jets hope his attitude and work ethic rub off on their own unit.
The Jets' offensive line suffered immensely in 2007 from the void created by the loss of guard Pete Kendall, who squabbled with management last summer until he eventually was traded to the Washington Redskins. That move didn't seem to be too destructive until the play of left tackle D'Brickashaw Ferguson and center Nick Mangold -- two players whom Kendall mentored as rookies during New York's surprising 10-6 season in 2006 -- started to decline.
The Jets hardly can afford another season with that happening. They used their first two picks of the 2006 draft on Ferguson and Mangold, who's already one of the better centers in the league, and both players have to become part of this team's foundation.
Faneca understands that fact as well anybody. Yet he's also not forcing himself on his younger teammates right now.
"You have to come in and be yourself," Faneca said. "You can't be a leader right away. You have to prove yourself first and show people that you're willing to work. Being a leader isn't a title. It's something you earn."
Faneca added that he's trying to make his own transition. He spent his entire career in Pittsburgh playing in the same offense. If you don't think that's astonishing, just consider that there are plenty of players in this league who change systems on their own teams every two or three years. Faneca admits that such good fortune has left him a bit spoiled. But that also means he's willing to work that much harder to find his comfort zone.
That's actually the goal for every member of this offensive line, especially because it's hard to create the kind of harmony that leads to a strong unit. For example, this season Woody is starting at right tackle, a position at which he has only played five games during his entire NFL career. The former Pro Bowl center in New England also is trying to put the weight problems and injuries that plagued his four-year tenure with the Detroit Lions behind him. The Jets are hoping his relationship with head coach Eric Mangini, a former Patriots assistant, will make a difference there.
Of course, the Jets also have to get three other players used to playing with these guys. "A lot of times, people look at those guys on paper and think that we added a right tackle and a left guard and those players will just fit in," said fullback Tony Richardson, another free agent signed to help the running game.
"But you're talking about players who came from other systems, where they're used to different terminology and different techniques. It takes time for all that to come together."
The reality, however, is that time is not on the Jets' side at the moment. They're relying on Favre to take a crash course in his first new offensive system in 16 years and to find his rhythm after an entire offseason spent away from the game. That fact alone means the Jets will be leaning more on their running attack when the season starts.
And if that offensive line can't generate space for backs like Thomas Jones and Leon Washington, it's hard to imagine Favre flinging all those pretty passes that fans are expecting from him.
Still, there is a legitimate sense that these Jets will be better up front this season. They have a nice mix of young talent and veteran experience, and they also have the benefit of ample motivation. This unit took a lot of blame for what went wrong with the Jets in 2007. As the linemen prepare for this regular season, they realize how much of this team's success depends on how quickly they come together.
Jeffri Chadiha covers the NFL for ESPN.com.
ESPN.com senior NFL columnist
Reporter for ESPN TV's "E:60"
Sports Illustrated senior writer (2000-07)
Covered Raiders, 49ers for San Francisco Examiner (1996-1999)
SPONSORED HEADLINES
MORE NFL HEADLINES
MOST SENT STORIES ON ESPN.COM
TRAINING CAMP 2008
The regular season approaches. What teams will complete the journey to Tampa for Super Bowl XLIII? Training camp index | Dates


Commentary/features

Warner proves he has future
The Cardinals gave Kurt Warner the chance to compete with Matt Leinart for the starting spot, and the 37-year-old quarterback made the most of the opportunity.
John Clayton
---

Pennington's learning curve
It seemed the Jets could not help Chad Pennington pack his bags fast enough. Now the most experienced QB on the Dolphins, he's relishing the chance to excel again.
Jeffri Chadiha
---
•
Kreidler: Future still promising for 49ers' Smith
•
Clayton: Injuries impact preseason
•
Seifert: A new approach in Detroit
•
Smith: Favre drama a reality check for McNabb
•
Kuharsky: Titans focused on defense
•
Sando: Running key for Holmgren's swan song
•
Mosley: Giants hope history teaches well
•
Garber: Coughlin distances from SB win
•
Williamson: Chiefs engergized by youth
•
Chadiha: O-line might hold real keys for Jets
•
Wickersham: Three tips for Favre
•
Mosley: Giants done with celebrating
•
Naylor: Canadian divide on NFL invasion
•
Graham: Sleeper Bills
|
Blog: Yo, Canada
•
Seifert: For a change, no distractions for Vikes
•
Mosley: McNabb confident Eagles among elite
•
Kuharsky: Garrard taking control
•
Mosley: Eagles poised to return to prominence
•
Clayton: Young on his way to elite status
•
Kuharsky: Garrard ready to lead Jags
•
Chadiha: Delhomme determined to seize moment
•
Yasinskas: Smith's approach suits Falcons
•
Mosley: Zorn's coaching desire finally fulfilled
•
Williamson: Young Raiders share Kiffin's hunger
•
Graham: Jets wiping slate clean
•
Chadiha: Turner ready to lead Falcons
•
Clayton: Vikings firmly in Jackson's corner
•
Walker: Tough schedule awaits Steelers in 2008
•
Mosley: Favre is QB turned ringmaster
•
Clayton: 5 reasons Favre would start for Pack
•
Graham: Patriots not dwelling on past
•
Sando: Rams optimistic despite questions
•
Williamson: Shanahan points to playoffs
•
Walker: Bengals look to move past chaos
•
Yasinskas: Delhomme, Peppers must step up
NFL blog network
•
NFL Nation blog
•
AFC
:
North
|
South
|
East
|
West
•
NFC:
North
|
South
|
East
|
West
•
Contact our bloggers
Camp Confidential training camp tour
A breakdown of our annual camp tour:
• Saturday, July 26: Ravens, Saints
• Sunday, July 27: Colts, Bears
• Monday, July 28: Dolphins, Cardinals
• Tuesday, July 29: Packers

---
•
Wednesday, July 30:
Chargers
,
Cowboys
•
Thursday, July 31:
Texans
,
49ers
•
Friday, Aug. 1:
Patriots
•
Saturday, Aug. 2:
Bengals
,
Panthers
---
•
Sunday, Aug. 3:
Broncos
•
Monday, Aug. 4:
Rams
•
Tuesday, Aug. 5:
Steelers
•
Wednesday, Aug. 6:
Jets
---
•
Thursday, Aug. 7:
Raiders
|
Redskins
•
Friday, Aug. 8:
Falcons
•
Saturday, Aug. 9:
Jaguars
---
•
Tuesday, Aug. 12:
Eagles
|
Vikings
•
Wednesday, Aug. 13:
Bills
•
Thursday, Aug. 14:
Chiefs
---
•
Friday, Aug. 15:
Giants
|
Seahawks
•
Saturday, Aug. 16:
Bucs
|
Lions
•
Sunday, Aug. 17:
Browns
•
Monday, Aug. 18:
Titans
Video
•
NFL Insiders on Bills, Broncos, more
•
Rachel Nichols on Favre, Jets
•
NFL Live dissects ESPN.com power rankings
Audio
•
Podcast: Biggest questions
Scouts Inc.
•
Camp outlook: AFC Q&A on X's and O's

•
Camp outlook: NFC Q&A on X's and O's

•
Notable quarterback battles
ESPN FAN SHOP