Commentary
Injured Merriman vulnerable, but some foes want to avoid 'bad karma'
If Shawne Merriman survives the season despite playing with an acknowledged serious injury, it will be his most amazing accomplishment, writes Jeffri Chadiha.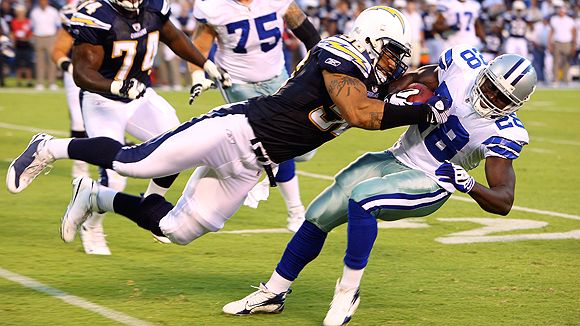 Paul Spinelli/Getty ImagesEven with a weakened left knee, Chargers linebacker Shawne Merriman (left) -- tackling Dallas Cowboy Felix Jones here -- intends to play with the same ferocity he normally does. San Diego opens at home Sunday against Carolina.
Editor's note:
This column originally was published Sept. 3.
St. Louis Rams
center
Richie Incognito
was like a lot of people who heard the recent news that
San Diego Chargers
linebacker
Shawne Merriman
would play with two torn left knee ligaments this season: Incognito couldn't believe it.
It wasn't just that Merriman had ignored recommendations by four doctors to have surgery. It was that Incognito knew how much Merriman's life on the field would change.
"When we played against him, we knew there were certain protection schemes that we just couldn't use because you needed a running back to help block him," Incognito said. "Now you'll see teams doing all kinds of different things to him."
This isn't news in pro football, a sport in which anybody is fair game if he can suit up on game day. However, what is interesting about Merriman's situation -- even more than a week after he publicly acknowledged the severity of his injury -- is that he really will be a marked man. Forget about his two Pro Bowl appearances and the 39½ sacks he's racked up during his first three NFL seasons. If he can make it through an entire season with a knee that mangled, this will be his most amazing accomplishment as a professional.
After all, the feeling around the league seems to be that it's open season on Merriman, whose team opens against Carolina on Sunday.
"If I'm on offense, I'm going to run at him on every play and put that knee to the test," said
Baltimore Ravens
outside linebacker
Bart Scott
.
"I'm cutting because it's legal. I'm chop-blocking him. I'm making him think about that knee on every play. I know those linemen are going to be trash-talking and cutting at his feet."
Scott's perspective on this issue is based on one simple fact of life in the NFL -- you'll be exposed if you have any weakness that can be exploited. In Merriman's case, the worst thing he could have done was to talk openly about the damage to his knee. There are plenty of cases in which NFL coaches have been fined for trying to hide injuries on their weekly injury reports. Merriman basically gave his opponents a clear-cut road map to the main pressure point on his body.
If he hadn't done that, Merriman at least could have prevented other teams from having such an obvious advantage against him. In fact, Miami Dolphins guard Justin Smiley said he once played through most of a season with a dislocated shoulder, mainly because he understood the importance of secrecy.
"People knew that I had dislocated my shoulder, but I didn't really miss any practice time," Smiley said. "So other teams probably didn't think it was that bad when it really was pretty painful. It slipped on me a couple times that year, but nobody tried to attack me any differently. I just knew I was going to have to step up my game with my footwork and my hands to overcompensate."
Merriman's problem is that he won't have the same luxury. His primary role is to come off the edge with an unbridled fury on pass plays and to attack the run as if the ball carrier just slapped his mother. The minute he starts thinking about his knee, that's one more second for a quarterback to throw, one more foot of space for a running back to roam. That also will be one more reason for his fellow Chargers defenders to wonder whether they should make up for whatever he can't do.
Now that doesn't mean opponents will be salivating at the chance to cripple Merriman.
Seattle Seahawks
guard
Mike Wahle
said that is not only wrong ethically but also an ineffective way of approaching the game. "You have to acknowledge [the injury] but at the same time, if you start thinking about hurting him -- or going after somebody's knee like that -- then you're probably going to get beat."

You have to acknowledge [the injury] but at the same time, if you start thinking about hurting him -- or going after somebody's knee like that -- then you're probably going to get beat.
--Seahawks OL Mike Wahle on Chargers LB Shawne Merriman
Oakland Raiders
offensive tackle
Kwame Harris
was even more to the point. He said intentionally trying to hurt somebody in Merriman's situation would be "bad karma."
What these players also acknowledge is that you can't underestimate an injured opponent. Just ask former Dolphins guard Bob Kuechenberg. He remembers facing Chicago Bears middle linebacker Dick Butkus toward the end of Butkus' Hall of Fame career, when a gimpy knee had severely limited the star defender.
Kuechenberg initially had decided to avoid blocking Butkus in the knees because the Dolphins were favored to win easily. "I told myself, 'Nope, I'm not going to do that,'" Kuechenberg said. "I'm going to go high and take him on like a man. The first time I tried that, it wasn't very enjoyable. Every play after that, I was going right for that knee."
That really is the ultimate lesson that people point to when talking about Merriman these days. Even with an injured knee, the man still has to be considered dangerous. He knows the risks he's taking with his career, and he surely will be far more motivated to prove himself this season. You simply don't gamble like this unless you're certain you can play at a high enough level.
Of course, the flip side is the reality of the game.
"This is a league where if you have a bad corner, they will throw the ball 100 times over there until you get that player out of there," Scott said. "You don't think they're going to run the ball at a wounded player?" You can bet that Merriman already has factored that information into his thought process. But the question that will be answered in the coming months is how big a price he'll have to pay for the riskiest decision of his brief career.
Jeffri Chadiha covers the NFL for ESPN.com. ESPN.com NFL writers James Walker, Mike Sando and Tim Graham contributed to this column.
ESPN.com senior NFL columnist
Reporter for ESPN TV's "E:60"
Sports Illustrated senior writer (2000-07)
Covered Raiders, 49ers for San Francisco Examiner (1996-1999)
SPONSORED HEADLINES
MORE NFL HEADLINES
MOST SENT STORIES ON ESPN.COM
NFL PREVIEW 2008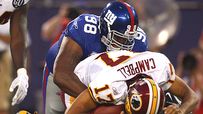 The Giants defeated the Redskins, 16-7, in the NFL opener Thursday night. Which teams will complete the journey to Tampa for Super Bowl XLIII?
NFL preview index
|
Playoff dates
Predictions/Power rankings
•
Power rankings: Champs start season No. 8
•
Gene Wojciechowski: Another run at perfection?
•
Bristol's picks: We love Bolts-'Boys
AFC emerging stars
•
Williamson: Broncos' Cutler ready for stardom
•
Kuharsky: Titans' Finnegan never satisfied
•
Walker: Steelers' Holmes has lofty goals
•
Graham: Bills' Whitner maturing on, off field
•
Scouts Inc.: More emerging AFC stars
NFC emerging stars
•
Seifert: Lions' Johnson poised for monster year
•
Sando: Seahawks' Hill seeking consistency
•
Mosley: Giants' Tuck no longer under radar
•
Yasinskas: Beason takes lead in Carolina
•
Scouts Inc.: More emerging NFC stars
Commentary/features
•
Chadiha: Replacing big names
•
Clayton: NFC East reigns supreme
•
Kuharsky: AFC South is toughest division
•
Chadiha: Merriman a marked man
•
Clayton: Gonzalez is a Chief asset
•
Football Outsiders: Under-the-radar prospects
•
Clayton: Cards' James likes latest trends
•
Joyner: Brady among true big-game players

SportsNation
•
Vote: How will your team fare?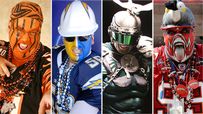 NFL fan base rankings
Best fans in the NFL? We think they wear black and gold. So who's Nos. 2-32? And was there a method to our ranking madness? Matt Mosley explains.
ESPN.com fan base rankings
•
Yasinskas: The Panthers' garage band
•
ZOOM gallery: Carolina's Garage Mahal
•
32 NFL fans you need to know
AFC team previews
•
North:
Balt.
|
Cincinnati
|
Cleve.
|
Pittsburgh
•
South:
Houston
|
Indy
|
Jax
|
Tennessee
•
East:
Buffalo
|
Miami
|
New England
|
NY Jets
•
West:
Denver
|
K.C.
|
Oakland
|
San Diego
Scouts Inc.
From Boldin's best crossing route to Addai's bread-and-butter running play to Washington's pressure defense, watch the signature plays unfold for every NFL team.
Play animations
|
Team schemes
NFC team previews
•
North:
Chicago
|
Detroit
|
Green Bay
|
Minnesota
•
South:
Atlanta
|
Carolina
|
New Orleans
|
Tampa
•
East:
Dallas
|
NY Giants
|
Philly
|
Washington
•
West:
Arizona
|
St. Louis
|
San Fran.
|
Seattle
NFL blog network
•
NFL Nation blog
|
Contact our bloggers
•
AFC
:
North
|
South
|
East
|
West
•
NFC:
North
|
South
|
East
|
West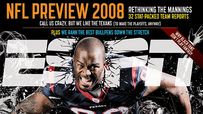 ESPN The Magazine
•
On newsstands Aug. 29:
How control-freak Peyton Manning and laid-back little bro Eli channeled each other to become the NFL's biggest winners. Plus, our experts join NFL scouts and players for a 3-D preview of all 32 teams.
•
The Mag
:
Season preview
|
The 'It' Team 2008
•
Mannings:
Madmen
|
Watch:
Sklars
|
Williams
•
Injuries:
We're all just day-to-day
|
Fitzgerald
•
Watch:
Mario Williams
|
Matt Hasselbeck
•
More:
Marion The Barbarian
|
Colleges vs. Pros
•
NEXT:
Five NFL rookies to watch
GameWear San Diego Chargers NFL Classic Football Bracelet Shop »