Commentary
Memo to Jets fans: Don't expect ultimate payoff with Favre
Jets fans shouldn't expect Brett Favre to deliver a championship. When Hall of Fame QBs switch teams late in their careers, the results are usually unspectacular, writes John Clayton.
Originally Published:
August 8, 2008
By
John Clayton
| ESPN.com
Barring a miracle voting push for Raiders great Ken Stabler, Brett Favre will be the next quarterback selected to the Pro Football Hall of Fame four years after he officially retires.
That would make him the 24th modern-era quarterback to go into the Hall. The trade to the New York Jets won't tarnish his Packers legacy. Favre's a first-ballot Hall of Famer, end of story.
The potentially sad part of the Favre story is the odds are against his leaving the league on a high note, considering that all-time greats like Johnny Unitas, Joe Namath and Warren Moon all failed to duplicate previous success after switching teams late in their careers. The best-case scenario for Favre is going out like Joe Montana, a tenacious leader who added more credibility to the Kansas City Chiefs but didn't leave with a Super Bowl ring.
[+] Enlarge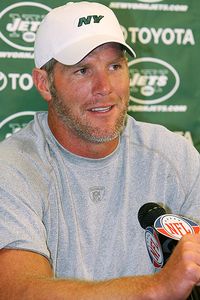 Al Pereira/Getty Images Brett Favre's move to the Jets is similar to the path taken by Hall of Famer Joe Montana in the 1990s.
First of all, it's rare for a Hall of Fame quarterback to finish on another team. John Elway, Dan Marino, Jim Kelly, Troy Aikman, Steve Young, Roger Staubach, Dan Fouts, Terry Bradshaw, Bob Griese, Bart Starr and Len Dawson all retired with the teams that made them famous, having reasonably clean endings to their great careers. Naturally, like Favre, it was hard for them to surrender to age. But the move to a new team for a quarterback in his late 30s is like a banker trying to open a new shop with devalued currency.
Last week, I spent a few days at Chiefs training camp. While Favre was battling Packers management, I reminisced about the two years Montana played for Kansas City. The circumstances had an eerie similarity to the Favre situation. Heading into the 1993 season, the 49ers were ready to make the permanent move to Young at quarterback. Montana was 37 and had missed 15 games the previous season because of a bursa sac problem in his elbow. Young was 32 and coming off two seasons in which he was the league's top-rated quarterback.
49ers management wanted Montana to compete against Young, but Montana sensed the outcome. He sensed the 49ers were willing to move on. Like Favre, Montana didn't want to enter a competition he could lose. Hall of Fame quarterbacks are used to winning.
The Arizona Cardinals and Chiefs were the two teams bidding the hardest for Montana. He ended up going to the Chiefs for a first-round pick and safety David Whitmore. Unlike the Jets, who are trying to bounce back after a horrible 2007 season, the Chiefs were a perennial playoff team usually frustrated by first-round playoff losses.
Quizzing many of the Chiefs' front-office holdovers from the Montana trade, no one had any regrets about the experience. In his two seasons with the Chiefs, Montana fought injuries and missed games. His stats were modest. The Chiefs' points per game went down slightly with Montana as their quarterback.
Change Of Scenery
Brett Favre isn't the first prominent quarterback to change teams late in his career. Here are some others.
ZOOM gallery
What validated the trade for GM Carl Peterson and the Chiefs was how Montana put together a little of the old magic in the 1993 playoffs. Montana beat the Pittsburgh Steelers and Houston Oilers in tight games before losing to the Bills and Jim Kelly in the AFC title game. The next year, the Chiefs made the playoffs as a wild-card team at 9-7 and lost in the first round to the Dolphins and Dan Marino.
That's the problem facing Favre with the Jets. Keeping Favre in Green Bay, with the same system in which he has played for 16 years, could have translated into a division title and a possible trip to the NFC Championship Game with home-field advantage for the Packers. But an aging Hall of Fame quarterback who moves to a new home this late usually translates into a wild-card spot and an uphill battle in the playoffs.
Of course, if Aaron Rodgers is only able to take the Packers into the wild-card round and allows the Vikings to take command of the NFC North, Packers brass will be severely criticized for not keeping Favre.
Schedule and quarterback play are the keys to success in modern-day football. Continuity in offense is also important.
That's why Favre's move to the AFC should come with limited expectations. With the Chiefs, Montana had to go up against Marino, Kelly, Elway and an aging Moon in Houston. Favre has to fend for himself on a new AFC team going against Tom Brady, Peyton Manning, Ben Roethlisberger, Philip Rivers and Carson Palmer, and Favre has to do it in a division that is dominated by the Patriots.
A Hall of Fame quarterback can be the wild card that turns a good franchise into a dynasty. Favre did that in Green Bay and might have been able to squeeze out another title had the Packers let him return. As Montana proved in Kansas City, it's a long shot for an aging Hall of Fame quarterback to produce three games of magic in the playoffs when starting in the wild-card round.
No matter what happens with Favre and the Jets, his place in history is secure. Legacies prevail, but expectations shrink with these types of moves.
John Clayton, a member of the Pro Football Hall of Fame writers' wing, is a senior writer for ESPN.com.
NFL senior writer
Senior NFL writer and commentator
Joined ESPN in 1995
Member of the writers' wing of the Pro Football Hall of Fame in Canton, Ohio
BRETT FAVRE SAGA: OVER
After pushing and pushing to keep playing either in Green Bay or elsewhere, Brett Favre's storied career will continue in 2008. The unretired quarterback has been traded by the Packers to the Jets.
NFC North blog | AFC East blog
News
•
Favre on offseason saga: 'I knew I wanted to play'
•
Favre unlikely to play in Jets' preseason finale
•
Report: Pack's Favre deal included souvenirs, blog
•
On Day 5 with Jets, Favre says arm feels 'fatigued'
•
Favre finally arrives in New York, meets mayor
•
Rodgers: 'Still following Brett's legacy'
•
Jets introduce Favre in Cleveland
•
Favre era ends in Green Bay with trade to Jets
•
Favre leaves Green Bay, destination unknown
•
Favre: 'This probably isn't going to work'
•
Favre flying under radar in Green Bay
•
Favre: Reinstatement done, Green Bay flight set
•
Favre mulling offer; NFL ruling put off again
•
Favre actively weighing Packers' offer
•
Report: Packers mull dealing Favre in division
•
Team president meeting with Favre, agent
•
Source: Favre files for reinstatement
•
Rodgers takes over as starting QB
•
Favre signs reinstatement letter, waits to send
•
Favre won't report to Packers camp Sunday
•
Sources: Favre, Packers talk trade destinations
•
Favre support muted at shareholders meeting
•
Report: Favre doesn't have team-issued phone
•
Report: NFL security visits Vikings
•
Favre questions likely from shareholders
•
Packers reportedly weigh trade offers for Favre
•
Favre returns to Lambeau Field
•
Packers president supports GM, coach
•
What they're saying about Favre
•
Favre won't apply for reinstatement right away
•
Sources: Packers claim Vikings tampered
•
Favre may show up at camp
•
Favre 'clears it up' in interview with Fox
•
Few fans attend Favre rally in Milwaukee
•
Pack fans rally, calling for Favre reinstatement
•
Pack won't release Favre
•
Sources: Favre seeks unconditional release
•
Favre itching to return to field
Trade Commentary/Features
•
Clayton: History doesn't favor Favre, Jets
•
Chadiha: Packers will be fine without Favre
•
Wojciechowski: Divorce cause? Lack of trust
•
Clayton: Deal is a downer for Favre
•
Scouts Inc.: Jets now a playoff contender

•
Clayton: Questions, answers on Favre trade
•
Fantasy spin: Deal boosts value of many Jets
Other Commentary/Features
•
Clayton: 5 reasons Favre would start for Pack
•
Mosley: Favre is QB turned ringmaster
•
Wojciechowski: Favre and away the best solution
•
Clayton: Favre wins ugly duel
•
Clayton: It's a painful divorce
•
Chadiha: Rodgers unfazed by Favre circus
•
Yasinskas: Favre makes sense for Bucs
•
Wojciechowski: Packers can't win this game
•
Clayton: It's a delicate situation
•
Wright Thompson: Catching Favre's fastballs
•
Wojciechowski: What's the answer, Packers?
•
Williamson: Where could he end up?
•
Seifert: What happens after HOF QBs move on
•
Paolantonio: Favre is overhyped
•
Kiper: 2005 analysis of prospect Rodgers
•
Madden '09 cover boy Favre to stay retired
•
Thompson: Brett, we miss you already
•
Wojciechowski: Worth the price of admission
•
Price of signed Favre items to go up
•
Yasinskas: Rodgers ready to take the reins
•
FB Outsiders: Measuring Favre's greatness
•
Sando: Gunslinger mentality defined Favre
•
Yasinskas: Majkowski on Favre's legacy
•
Clayton: Questions surrounding Favre
•
Clayton: Packers will miss Favre's magic
•
Chadiha: Favre will regret decision
•
Keating: Favre just getting started
•
Hashmarks: Favre fun-loving guy
•
Burning Questions: Is Rodgers ready?
•
Experts: Is Favre the best, or among them?
•
Favre's top 10 moments
•
Forde: Favre's flair for dramatic started in college
•
Favre's rating in Mel Kiper's '91 draft guide
•
Favre's hometown quiet on day of his retirement
•
Sadness, shock envelops Green Bay
•
Wounded Army officer has last ball thrown
•
Around sports: What they're saying
•
Fantasy spin: Rodgers not top-20 QB
•
Scouts: Rodgers has talent to succeed

•
Packers local: Complete hometown coverage
Video
•
Favre traded to Jets for conditional pick
•
Jets GM on trade for Favre, imminent release of Pennington
•
Steve Young on Favre's Jets future
•
Cris Carter on what trade means to Jets?
•
Schlereth: Exciting news for Jets
•
Sal Pal on Favre's move to AFC
•
Rachel Nichols on Favre's pre-trade mindset
•
Favre interview: Part 3
|
2
|
1
SportsNation
•
How will Jets do with Favre behind center?
•
Fans react to Favre's retirement
Photo Galleries
•
Favre flashback
•
Top TD guns
•
Top TD targets
Nike Youth Home Game Jersey Green Bay Packers Jordy Nelson #87 Shop »

MOST SENT STORIES ON ESPN.COM