Commentary
Finally healthy, Titans' Young ready to take next step
The Titans' Vince Young is well on his way to becoming an elite quarterback, writes John Clayton.
Originally Published:
August 11, 2008
By
John Clayton
| ESPN.com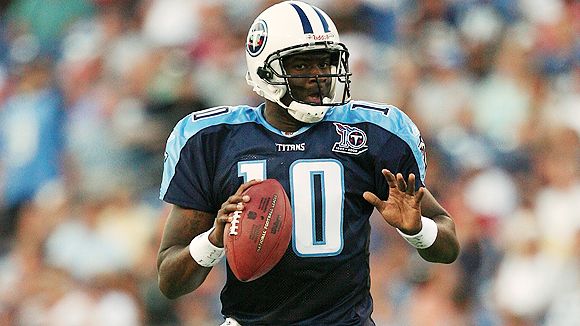 Doug Benc/Getty ImagesVince Young was limited by a quadriceps injury for much of last season.
The
Pittsburgh Steelers
' personnel officials assembled on the practice field in Latrobe, Pa., Sunday to watch workouts for
Byron Leftwich
and
Daunte Culpepper
, two talented quarterbacks who went through the offseason looking for work instead of preparing for the season.
They were amazed. "What are these guys doing on the street?" scouts muttered to themselves. Both quarterbacks are in great shape. They are big and physical with powerful arms. Both have been winners in this league. Feeling as though they had hit the lottery for a quick fix while Charlie Batch heals from a broken collarbone, the Steelers signed Leftwich for the minimum salary.
The NFL chews up quarterbacks like patrons at a football game devour hot dogs. Alex Smith, the top pick in the 2005 draft, is struggling in San Francisco and could be beaten out by journeyman J.T. O'Sullivan. Matt Leinart is the starter in Arizona, but one stumble could bring Kurt Warner into a starting role again. Rex Grossman isn't exactly wowing them in the great Chicago Bears quarterback debate.
With Peyton Manning sidelined with a knee infection and Tom Brady nursing an ankle injury, you wonder, "Where are the next great quarterbacks coming from?" On a recent trip to Nashville, Tenn., to see Titans quarterback Vince Young, I saw hope for the present and the future. Young might not be a fantasy football delight because he's not a numbers guy, but in time, the numbers might come.
In the meantime, Young, under the instruction of offensive coordinator Mike Heimerdinger, is taking the next step in developing into an elite NFL quarterback. Heimerdinger watched all of Young's game tapes and developed a plan for taking his immense talents to the next level. While Young is still a work in progress, the Titans are fortunate to have a quarterback who can be a winner on the field while he learns.
"Eventually, I think he'll be pretty darn good," Heimerdinger said. "This guy's physical presence is amazing. He's 6-4 or 6-5. I didn't think I would see anybody bigger than Steve McNair and John Elway, two guys I worked with.''
Young has Michael Vick-type running ability, but his height gives him a downfield edge when he stays in the pocket to pass. In two seasons, he has gone through some interesting configurations. Coming out of Texas, he was a running quarterback who could throw.
He went 8-5 as a rookie starter in 2006 and was billed as the NFL's next star. He was on the cover of the Madden game. He threw for 12 touchdowns and ran for seven. He was the offensive rookie of the year and earned a trip to the Pro Bowl.
Not only did he beat the Madden jinx by starting 15 games last season, Young, through his leadership, took the Titans on a surprise ride to the playoffs. Despite that success, things were holding him back. He played a good portion of the season with an agonizing quad injury that handcuffed him. Worse, he struggled in his second season, trying to be more of a pocket passer than a multidimensional quarterback.
"My quad, man, it was bad," Young said. "Every week you get it better, then you go out and play and hurt it again. The quad would get weak. I was taking those pills for the pain. I was running around trying to make plays when it's not there. The quad is definitely back where it needs to be although I still have a little hole in there."
Heimerdinger returns to the Titans at the right time for Young. Having worked with McNair and Elway, Heimerdinger knows how to craft a plan for a talented quarterback. Norm Chow, the Titans' offensive coordinator the past two seasons, helped in Young's early development but a different set of eyes was needed.
The first thing Heimerdinger did was work extensively on defense recognition. Young was lax in making pre-snap reads in his first two seasons. For Young, it was back to school and he had plenty of tutors. The Titans signed veteran tight end and former Atlanta Falcon Alge Crumpler, who's known as much for his recognition of defenses as he is for his pass-catching ability. Crumpler often bailed out Vick during Vick's mad scrambles by putting his big body in a spot where the quarterback could see it.
"I see the maturation of Vince," Crumpler said. "I just want to make sure he doesn't lose his confidence. Can he weather the storm of being the third pick in the draft and can I be one of those guys who help to get him there? Eli Manning took all the shots in his first few years and he weathered the storm. It's a great story. I would hope the same thing can happen to Vince.''
Vick's dogfighting trial and later imprisonment were the story in 2007, as much a part of the daily headlines as Brett Favre's divorce from the Packers this offseason. That experience adds perspective to Crumpler's move from Atlanta to Nashville to help Young. Vick's demise and Crumpler's season of noncommunication with Bobby Petrino were a personal hell for the Pro Bowl tight end and his Falcons teammates. Being with Young is heaven to Crumpler because he can help.
"Look at it, Vince threw nine touchdown passes and 18 interceptions last year," Crumpler said. "He had the Pacman Jones distraction. He had an injury. Yet he wins 10 games and goes to the playoffs in the AFC South, a tough division. We have a quarterback. His game management just has to get a little bit better. He's a difference-maker."
In his first practice this summer against non-Titans, Young completed 22 of 26 passes against the Rams last week in a scrimmage. Despite the struggles with confidence and the quad injury last season, Young improved from a 51.5 to a 62.3 percent passer. In his third season, he's starting to figure out who he is as a quarterback.
"I'm going to try to be rookie year Vince Young that everybody was talking about," Young said. "I'm going to go out, win games and try to go further in the playoffs."
His improvements are noticeable. Thanks to his offseason of studying pre-snap reads, Young is comfortable behind center. Heimerdinger has worked him in drills to improve his footwork.
"Different drills improved my base on five- and seven-step drops," Young said. "Now, I'm keeping my feet underneath me and I'm sliding up and moving in the pocket. I'm not just standing in one place and bouncing. Having my feet underneath me, I'm throwing more accurately. You watch Tom Brady. He brings his whole body with him when he moves in the pocket. Sometimes, I would use my arm more and not bring my whole body with me."
Heimerdinger showed Young tape of how he would stand eight yards behind the line of scrimmage, bouncing with his feet and looking downfield. If Young had to run, he was so far behind the line of scrimmage, it would be hard to make a gain. From reads to foot placement to depth in the pocket, Young is starting to turn old school. He's getting better.
Thanks to Young's development, remember the Titans when picking playoff contenders.
John Clayton, a member of the Pro Football Hall of Fame writers' wing, is a senior writer for ESPN.com.
NFL senior writer
Senior NFL writer and commentator
Joined ESPN in 1995
Member of the writers' wing of the Pro Football Hall of Fame in Canton, Ohio
SPONSORED HEADLINES
MORE NFL HEADLINES
MOST SENT STORIES ON ESPN.COM
TRAINING CAMP 2008
The regular season approaches. What teams will complete the journey to Tampa for Super Bowl XLIII? Training camp index | Dates


Commentary/features

Warner proves he has future
The Cardinals gave Kurt Warner the chance to compete with Matt Leinart for the starting spot, and the 37-year-old quarterback made the most of the opportunity.
John Clayton
---

Pennington's learning curve
It seemed the Jets could not help Chad Pennington pack his bags fast enough. Now the most experienced QB on the Dolphins, he's relishing the chance to excel again.
Jeffri Chadiha
---
•
Kreidler: Future still promising for 49ers' Smith
•
Clayton: Injuries impact preseason
•
Seifert: A new approach in Detroit
•
Smith: Favre drama a reality check for McNabb
•
Kuharsky: Titans focused on defense
•
Sando: Running key for Holmgren's swan song
•
Mosley: Giants hope history teaches well
•
Garber: Coughlin distances from SB win
•
Williamson: Chiefs engergized by youth
•
Chadiha: O-line might hold real keys for Jets
•
Wickersham: Three tips for Favre
•
Mosley: Giants done with celebrating
•
Naylor: Canadian divide on NFL invasion
•
Graham: Sleeper Bills
|
Blog: Yo, Canada
•
Seifert: For a change, no distractions for Vikes
•
Mosley: McNabb confident Eagles among elite
•
Kuharsky: Garrard taking control
•
Mosley: Eagles poised to return to prominence
•
Clayton: Young on his way to elite status
•
Kuharsky: Garrard ready to lead Jags
•
Chadiha: Delhomme determined to seize moment
•
Yasinskas: Smith's approach suits Falcons
•
Mosley: Zorn's coaching desire finally fulfilled
•
Williamson: Young Raiders share Kiffin's hunger
•
Graham: Jets wiping slate clean
•
Chadiha: Turner ready to lead Falcons
•
Clayton: Vikings firmly in Jackson's corner
•
Walker: Tough schedule awaits Steelers in 2008
•
Mosley: Favre is QB turned ringmaster
•
Clayton: 5 reasons Favre would start for Pack
•
Graham: Patriots not dwelling on past
•
Sando: Rams optimistic despite questions
•
Williamson: Shanahan points to playoffs
•
Walker: Bengals look to move past chaos
•
Yasinskas: Delhomme, Peppers must step up
NFL blog network
•
NFL Nation blog
•
AFC
:
North
|
South
|
East
|
West
•
NFC:
North
|
South
|
East
|
West
•
Contact our bloggers
Camp Confidential training camp tour
A breakdown of our annual camp tour:
• Saturday, July 26: Ravens, Saints
• Sunday, July 27: Colts, Bears
• Monday, July 28: Dolphins, Cardinals
• Tuesday, July 29: Packers

---
•
Wednesday, July 30:
Chargers
,
Cowboys
•
Thursday, July 31:
Texans
,
49ers
•
Friday, Aug. 1:
Patriots
•
Saturday, Aug. 2:
Bengals
,
Panthers
---
•
Sunday, Aug. 3:
Broncos
•
Monday, Aug. 4:
Rams
•
Tuesday, Aug. 5:
Steelers
•
Wednesday, Aug. 6:
Jets
---
•
Thursday, Aug. 7:
Raiders
|
Redskins
•
Friday, Aug. 8:
Falcons
•
Saturday, Aug. 9:
Jaguars
---
•
Tuesday, Aug. 12:
Eagles
|
Vikings
•
Wednesday, Aug. 13:
Bills
•
Thursday, Aug. 14:
Chiefs
---
•
Friday, Aug. 15:
Giants
|
Seahawks
•
Saturday, Aug. 16:
Bucs
|
Lions
•
Sunday, Aug. 17:
Browns
•
Monday, Aug. 18:
Titans
Video
•
NFL Insiders on Bills, Broncos, more
•
Rachel Nichols on Favre, Jets
•
NFL Live dissects ESPN.com power rankings
Audio
•
Podcast: Biggest questions
Scouts Inc.
•
Camp outlook: AFC Q&A on X's and O's

•
Camp outlook: NFC Q&A on X's and O's

•
Notable quarterback battles