Commentary
Underdogs emerge in quarterback battles
In his latest mailbag, John Clayton tackles questions on Daunte Culpepper, Steven Jackson's holdout, the outlook for the Raiders and much more.
Originally Published:
August 13, 2008
By
John Clayton
| ESPN.com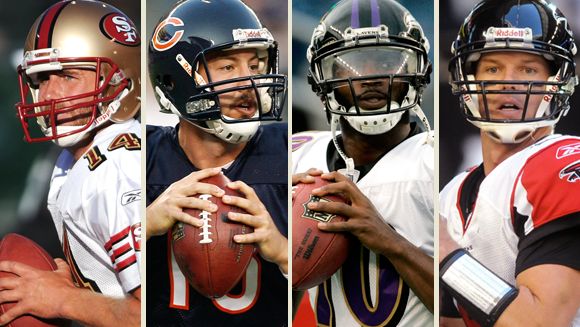 US PresswireJ.T. O'Sullivan, Kyle Orton, Troy Smith and Chris Redman could emerge as the winners of starting jobs in their battles with more heralded quarterbacks.
Here's to the underdog. The surprising part of the summer of
Brett Favre
is how underdogs could emerge as winners of some of the quarterback battles around the league.
Troy Smith, a fifth-rounder from the 2007 draft, could beat out former first-rounder Kyle Boller. Kyle Orton, the former Chicago Bears' fourth-rounder who doesn't make many turnovers, could beat out former first-rounder Rex Grossman. While it's inevitable Atlanta Falcons first-rounder Matt Ryan will start at some point this season, Chris Redman could take the team into the season.
AFC North

ESPN.com's James Walker writes an open letter to Troy Smith in his AFC North blog. Blog post.
Perhaps the most amazing upset is in San Francisco. J.T. O'Sullivan, a Lions backup signed for the NFL minimum $645,000, has the lead in a quarterback battle against
Alex Smith
, the first pick in the 2005 draft.
At least Favre cleared up two starting controversies. He took the New York Jets' starting job and allowed Chad Pennington to move to Miami and claim the Dolphins' starting job.
Let's dive into the mailbag:
From the inbox

Q: Yo John, is any team going to sign Daunte Culpepper? To me, he is too good. Come on, he could start for the Bears or half a dozen other teams. What is the 411?
Paul in Las Vegas
A: You don't need to go to the craps table and lose money on this one. Culpepper will land somewhere in the next couple of weeks. On Sunday, he put on a show for the Pittsburgh Steelers. Front office people couldn't explain why quarterbacks as talented and as young as Culpepper and Leftwich weren't on rosters. Both are good enough to start. As it did with Leftwich going to the Steelers, it's going to take an injury over the next two weeks to determine Culpepper's new home. For whatever reasons, teams get locked into thinking about developing young draft choices as their future starters and forget about proven commodities like Culpepper.
Q: John, if the Titans can turn red zone field goals into touchdowns this year, do the Titans have what it takes to make a run deep into the playoffs? The defense should be on par with last year, obviously the offense and Vince Young will be question marks. Assuming VY is able to get the ball in the end zone more this year, can my Titans turn into the dominant force of the AFC South they were from '99-01?
Tim in St. Louis
A: During my 14-team training camp trip, I remembered the Titans. To me, they look better than the playoff team of last season. Their young defensive linemen are coming on, particularly second-rounder Jason Jones. Other than Darren McFadden, Chris Johnson is the most electrifying runner I saw on the tour. Vince Young has improved his pre-snap reads and footwork. They are good enough to not only challenge the Jaguars for second place in the division but to challenge the Colts, too.
Any questions?
Have a question for John Clayton? Connect with him here. Mailbag
Q: John, enjoyed your piece on Favre and the comparison with the Montana trade of 1993. The one difference between the two was, as you mentioned, Steve Young and how he was not only the MVP that year but also took the 49ers to the NFC title game. As a 49er fan it pained me to watch a healthy Joe Montana sit on the sidelines for that loss because Joe had never lost to the Cowboys his whole career as a 49er. One thing that I find interesting as well, the Chiefs have never won a playoff game since Montana did his thing in 1993 -- 15 years later and no playoff wins. The Jets have had some recent playoff success.
Mike in Napa, Calif.
A: The Chiefs may have only been wild-card teams for Montana's two years in Kansas City, but they never regretted the trade, which cost them a first-rounder and safety David Whitmore. Montana took them deeper into the playoffs and gave them the hopes of making a Super Bowl. Quarterbacks are everything in this league, and it was that way back in the Montana days. I always felt the Chiefs failed in the playoffs because they went for starting quarterbacks at the ends of their careers. They caught a Hall of Famer in Montana who still had enough in the tank to take them to a championship game. Ron Jaworski had a great stat on the Monday Night Football broadcast this week. He said no quarterback 39 years or older has ever taken a team to the playoffs. Montana was 38 when he left the Chiefs in 1994. Favre, who turns 39 this fall, will try to beat Father Time.
Q: Doesn't Roger Goodell have the final say on trade details? Why would he allow the poison-pill clause in Favre's trade to the Jets? After sitting on reinstatement papers and giving Green Bay management more time, one may consider this tampering. I would like to hear your thoughts.
Jerry
A: Goodell had no choice but to approve the trade because the poison pill -- three first-round choices to the Packers if Favre ended up in Minnesota -- was an agreement between the two teams. To prevent Favre from moving in a second trade to Minnesota, Favre would have had to reach an agreement with the Packers on a no-trade provision, and that wasn't going to happen. Still, you raise a great point. Favre stayed with the commissioner one week in not reporting to Green Bay, and in the end, he lost out. Goodell is there to protect the rights of the teams and the players. He attempted to be a mediator, trying to let the process play out and let dialogue occur. Favre's the one who panicked at the end. That extra week of sitting made him worry about getting ready for the regular season. He could have said no to the Jets, and the process would have continued. Though Favre didn't go to the team of his choice, the commissioner got what he and the fans wanted -- Favre back in the NFL. Remember, this was a nasty divorce between Green Bay and Favre. It's hard for anybody to step into a situation like that and come to resolutions.
Short takes
Short takes: To Danny in Iraq, the Tennessee Titans didn't want Rashard Mendenhall or Felix Jones because they wanted Chris Johnson's explosiveness catching passes and making big run. They have their big back in LenDale White. . . . To Ryan in Seattle, Courtney Taylor seems to have a slight edge over Ben Obomanu as D.J. Hackett's replacement, but it's a four-way battle involving Jordan Kent and Logan Payne. The Seattle Seahawks didn't want to pay big money for Hackett because he's always hurt. Just checked in Carolina. Hackett's nursing a foot injury. . . . In time, Limas Sweed will be a starting receiver in Pittsburgh, but Nick in Pittsburgh, there is no time to rush things. Hines Ward and Santonio Holmes are solid as starters. Ben Roethlisberger loves having additional weapons. In two or three years, Mendenhall will probably beat out Willie Parker at halfback. The Pittsburgh Steelers drafted well. . . . Tom in Buffalo, Trent Edwards didn't light it up in the first preseason game and hasn't been wowing them in camp, but he will be solid in the new Turk Schonert offense. Of course, the offense could crash if they don't get Jason Peters into camp soon. Part of the major improvement with the Buffalo Bills was the offensive line. . . . To Mike in Maine, Michael Bush of the Oakland Raiders is only going to be a short-yardage, goal-line back this season. He needs to get a little more body lean into his runs. He's running too upright at the moment and not knocking people over. . . . Corey in Germany, I tell you somehow, someway, Chris Simms of the Bucs will end up with the Dallas Cowboys before the start of the season. The Chicago Bears are staying with the winner of the Rex Grossman-Kyle Orton battle. . . . To John in Fort Pierce, Chad Pennington will be the starter in Miami while Chad Henne and Josh McCown will battle for the backup job. John Beck will be moved in a trade. . . . Jon in Virginia, Tyrell Johnson will enter the Minnesota Vikings' season as a starting safety because Madieu Williams has back problems. Johnson should be fine but I can't shake the sight of seeing him stiff-armed to the ground by Larry Johnson in the Kansas City scrimmage a couple weeks ago. . . . Jason in Rockford, Ill., Eli Manning survived his make-or-break year in taking the New York Giants to the Super Bowl last season. He'll be the next quarterback to get a $12 million-plus salary. He proved he's a franchise quarterback. David Carr was only signed as a project to be a backup. . . . To Q in New Hampshire, ESPN didn't get flex scheduling because it has the Monday night game. For the sake of fans, the NFL didn't want to move a game from Monday to Sunday for those who drive or fly to games. . . . Finally, Brian in Pittsburgh, I don't see the Cleveland Browns signing Ty Law at cornerback. I think they will trade for or sign a younger corner in the next two weeks. In fact, I think they will bring in two corners.
Q: John, do you have any insight into what Steven Jackson's thought process is? Do you really think he'll hold out into the regular season? The two sides aren't even talking right now and in the meantime he is being fined $15k a day! This is getting ridiculous.
Craig in Lincoln, Neb.
A: Here's what he is thinking: He lost an accrued NFL season to illustrate to the Rams he is serious about getting a better offer than just being among the top-paid running backs. That doesn't mean he won't be a free agent next year. The loss of an accrued season hurts if he is unsigned in an uncapped year like 2010. Because he's young and one of the best backs in football, Jackson is gambling on having a long-term deal by then. This is a test of wills. The Rams won't increase their last offer without him in camp. Jackson won't budge until the Rams suggest an increase on their last offer. The Rams' offense suffers while he is out. They were embarrassed by the Titans last week. Jackson is telling friends he will sit out into the regular season if he can't get what he wants. He knows the worst-case scenario is that he's going to make at least $7.5 million a year. Because running backs rarely get a third contract, this is his last big deal in this league. That's his thinking. I still think this deal gets done.
Q: How can so many different pieces and a shook-up, at best, No. 2 receiver save a Raiders season that has been in shambles since Rich Gannon took that hard shot back in 2002-03? Is there any bright spot in the team with Al breathing Black and Silver dust into a dying team?
Superman in Lancaster, Pa.
A: Rest your cape for a second, Superman, because the hope lies in the schedule and Lane Kiffin's game plan. Running teams usually win between seven and nine games, and the Raiders had the sixth-best rushing team in football last year. Darren McFadden is the real deal. He doesn't run as mean and nasty as Bo Jackson, but he's fast and has great vision. They play a .395 schedule in their first 12 games and face only one team with a winning record in 2007, the Chargers. Their defense and the running game will keep them in games. If they can't stay near .500 by December, something is wrong. Just having the running game last year allowed them to add seven points a game to their offense. To me, it's the easiest thing in the world to say they will be 7-5 or 6-6 by December. Sure, they've got holes. But they do have hope.
Q: Hey John, aspiring journalist here, just wondering what your thoughts are on the Broncos? With the Brandon Marshall suspension, do you see them starting off strong and making the playoffs this year? Can Jay Cutler have a breakout year? And if not, is Mike Shanahan's job safe? One more thing, what is the potential of Eddie Royal? I thought they could have drafted a bigger-name wideout. Will he start, and where?
Pano is Salt Lake City
A: Jay Cutler is established as one of the best young quarterbacks in the league. Mike Shanahan has a job for life with owner Pat Bowlen. I just think the Broncos are in a down cycle at the moment. They have the fewest number of starters from their own draft of any team in football. Because teams do a better job of cap management with drafted players, you can't have more than half of your starting lineup come from free agency or trades. Shanahan the coach needs better help from Shanahan the general manager. The good news is that Ryan Clady looks good at left tackle and Cutler is the real deal. They are solid at cornerback. He can manage a decent running game no matter who is in the backfield. It's the rest of the lineup that will pull him down. Royal looks a little better than just a returner, but the Broncos have a long history of not getting starting receivers from of the draft. This year could be a tough one. I'm not mile high on their prospects.
Q: John, I saw a report that the Patriots began camp with 12 on the PUP list. Is this just a creative way for them to deal with the newly mandated 80-person roster limits?
Tom in Los Angeles
A: Negative. PUP players count against the 80-man roster. The Patriots entered camp with only 68 players healthy enough to practice. In their first preseason game, they had 21 players who weren't able to play. Bill Belichick usually leads the league in PUP players because they have to pass a conditioning test before they can practice. He also has a veteran roster and doesn't feel he needs to burn them out in the first couple weeks of camp. Stephen Neal and Oliver Ross are the only players still left on the list. Belichick is the best at getting the most out of his players, but he didn't find a creative trick to get around the 80-man roster.
Q: Felix Jones? What can I expect? I mean how many touches? All they ever talk about is him catching the ball. Is he going to take snaps as a real running back or what?
Steven
A: No knock on Patrick Crayton, but Jones was the third best receiver I saw in the Cowboys camp behind Terrell Owens and Jason Witten. Jones, Darren McFadden and Chris Johnson will be the rookies making the biggest impact catching the ball out of the backfield this season. Jones looks natural running routes from the backfield. He makes defenders miss him when he runs in the open field. I can figure him for about 10 carries and four or five catches a game.
Q: John, wouldn't LeCharles Bentley be an upgrade over Adrian Jones? Wouldn't Eric Parker or Koren Robinson be an upgrade over Jeff Webb? Hell, even though he's older, could you imagine Lorenzo Neal clearing the way for LJ for two years? Lord knows we didn't address the O-line enough! I'm on-board with the youth movement in K.C., but can we try to win some too?
Big J in Sacramento
A: The Chiefs are in veteran dependence rehab. They are trying to resist the temptation of just plugging in some aging veteran and hoping to get through a season. The Chiefs have been among the oldest teams in football for more than a decade. The change to youth will be painful and won't be successful overnight. Still, it's the right way to go. The Chiefs had one of the finest drafts I've seen in years. They could have four to six new starters and should have eight to nine rookies on the active 45-man roster every Sunday. I agree the offensive line is going to struggle, but Brandon Albert looks like the real deal at left tackle. Now that the Chiefs have embarked on this youthful path, they need to see if they have the right quarterback, then need another great draft to catch up to the rest of the league.
John Clayton, a member of the Pro Football Hall of Fame writers' wing, is a senior writer for ESPN.com.
NFL senior writer
Senior NFL writer and commentator
Joined ESPN in 1995
Member of the writers' wing of the Pro Football Hall of Fame in Canton, Ohio
SPONSORED HEADLINES
MORE NFL HEADLINES
MOST SENT STORIES ON ESPN.COM
TRAINING CAMP 2008
The regular season approaches. What teams will complete the journey to Tampa for Super Bowl XLIII? Training camp index | Dates


Commentary/features

Warner proves he has future
The Cardinals gave Kurt Warner the chance to compete with Matt Leinart for the starting spot, and the 37-year-old quarterback made the most of the opportunity.
John Clayton
---

Pennington's learning curve
It seemed the Jets could not help Chad Pennington pack his bags fast enough. Now the most experienced QB on the Dolphins, he's relishing the chance to excel again.
Jeffri Chadiha
---
•
Kreidler: Future still promising for 49ers' Smith
•
Clayton: Injuries impact preseason
•
Seifert: A new approach in Detroit
•
Smith: Favre drama a reality check for McNabb
•
Kuharsky: Titans focused on defense
•
Sando: Running key for Holmgren's swan song
•
Mosley: Giants hope history teaches well
•
Garber: Coughlin distances from SB win
•
Williamson: Chiefs engergized by youth
•
Chadiha: O-line might hold real keys for Jets
•
Wickersham: Three tips for Favre
•
Mosley: Giants done with celebrating
•
Naylor: Canadian divide on NFL invasion
•
Graham: Sleeper Bills
|
Blog: Yo, Canada
•
Seifert: For a change, no distractions for Vikes
•
Mosley: McNabb confident Eagles among elite
•
Kuharsky: Garrard taking control
•
Mosley: Eagles poised to return to prominence
•
Clayton: Young on his way to elite status
•
Kuharsky: Garrard ready to lead Jags
•
Chadiha: Delhomme determined to seize moment
•
Yasinskas: Smith's approach suits Falcons
•
Mosley: Zorn's coaching desire finally fulfilled
•
Williamson: Young Raiders share Kiffin's hunger
•
Graham: Jets wiping slate clean
•
Chadiha: Turner ready to lead Falcons
•
Clayton: Vikings firmly in Jackson's corner
•
Walker: Tough schedule awaits Steelers in 2008
•
Mosley: Favre is QB turned ringmaster
•
Clayton: 5 reasons Favre would start for Pack
•
Graham: Patriots not dwelling on past
•
Sando: Rams optimistic despite questions
•
Williamson: Shanahan points to playoffs
•
Walker: Bengals look to move past chaos
•
Yasinskas: Delhomme, Peppers must step up
NFL blog network
•
NFL Nation blog
•
AFC
:
North
|
South
|
East
|
West
•
NFC:
North
|
South
|
East
|
West
•
Contact our bloggers
Camp Confidential training camp tour
A breakdown of our annual camp tour:
• Saturday, July 26: Ravens, Saints
• Sunday, July 27: Colts, Bears
• Monday, July 28: Dolphins, Cardinals
• Tuesday, July 29: Packers

---
•
Wednesday, July 30:
Chargers
,
Cowboys
•
Thursday, July 31:
Texans
,
49ers
•
Friday, Aug. 1:
Patriots
•
Saturday, Aug. 2:
Bengals
,
Panthers
---
•
Sunday, Aug. 3:
Broncos
•
Monday, Aug. 4:
Rams
•
Tuesday, Aug. 5:
Steelers
•
Wednesday, Aug. 6:
Jets
---
•
Thursday, Aug. 7:
Raiders
|
Redskins
•
Friday, Aug. 8:
Falcons
•
Saturday, Aug. 9:
Jaguars
---
•
Tuesday, Aug. 12:
Eagles
|
Vikings
•
Wednesday, Aug. 13:
Bills
•
Thursday, Aug. 14:
Chiefs
---
•
Friday, Aug. 15:
Giants
|
Seahawks
•
Saturday, Aug. 16:
Bucs
|
Lions
•
Sunday, Aug. 17:
Browns
•
Monday, Aug. 18:
Titans
Video
•
NFL Insiders on Bills, Broncos, more
•
Rachel Nichols on Favre, Jets
•
NFL Live dissects ESPN.com power rankings
Audio
•
Podcast: Biggest questions
Scouts Inc.
•
Camp outlook: AFC Q&A on X's and O's

•
Camp outlook: NFC Q&A on X's and O's

•
Notable quarterback battles