Commentary
By winning Cardinals job, Warner proves he has a future
The Cardinals gave Kurt Warner the chance to compete with Matt Leinart for the starting spot, and the 37-year-old quarterback made the most of the opportunity, writes John Clayton.
Originally Published:
August 25, 2008
By
John Clayton
| ESPN.com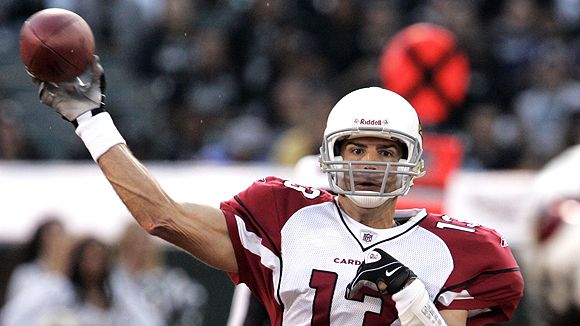 AP Photo/Paul SakumaAfter replacing an injured Matt Leinart last season, Kurt Warner completed 62.3 percent of his passes and threw for 27 touchdowns.
When I visited Cardinals camp in Flagstaff, Ariz., three weeks ago, it was
Kurt Warner
's turn in coach Ken Whisenhunt's quiet quarterback competition.
Whisenhunt never minced words this offseason. Matt Leinart was his starting quarterback, but everyone around camp knew what that meant: It was Leinart's job to lose. He lost it with a three-interception performance against the Raiders and weeks of regressing into bad habits in his dropback from center.
Leinart might have been considered the Cardinals' franchise quarterback, but Whisenhunt covered himself by having Warner alternate days with Leinart as the starting quarterback in practice. Last year, he sneaked Warner into the mix early in the season by making him the no-huddle quarterback, giving Warner enough preparation to take over as the starter if Leinart failed, which he did.
Because Warner's bid for a starting job was real but under the radar, I had a chance to compare notes with perhaps the greatest quarterback surprise story of his generation. When Trent Green went down with a preseason knee injury in 1999, Warner, a former Arena League unknown, stepped into Dick Vermeil's Rams offense and had one of the greatest quarterback runs of his age. The Rams had three consecutive seasons in which they scored more than 500 points, and Warner won two MVP awards.
At camp, Warner was pretty open about his past, present and future. Coming from the humbling background of being undrafted and having to work his way through a grocery store job, NFL Europe and the Arena League to pay his family bills, Warner wouldn't complain about spending most of the past six seasons fighting injuries or in backup roles. In fact, this could be the first season since his MVP year in 2001 that he could be a 16-game starter.
Warner admitted he had to sit down with his coaches before camp to see where he stood. Warner comes to camp each season with the idea of playing, not sitting. The coaches assured him the Cardinals' quarterback job was up for grabs even though Leinart had been named the starter. Trusting their words, Warner competed and won.
"They let me know early on," Warner said three weeks ago. "Everything I've done is with the approach that this is a competition. It's exciting for me. I feel great. I'm having fun. I feel like I'm in great command during the offseason. I'm playing as well as I ever had. I'm excited to be a part of this."
Unlike Brett Favre, who has only one more NFL MVP honor than Warner, Warner is at that year-to-year stage based on his opportunities. The NFL discriminates against age when you're a 37-year-old quarterback unless a team desperately needs you. Franchises prefer long-term quarterbacks versus year-to-year ones, and Warner knows he can't change the job realities of his position.
"I set in my mind to play two more seasons after this, and that will give me 13 years in the league," the 11-year quarterback said. "Physically, I think I can play two more years, but I'm in the year-to-year phase. I try to judge it by saying, 'If I'm a starter, how does it play into my future, and if I'm not a starter, do I want to be a backup?'"
Warner is in the last year of his Cardinals contract and is scheduled to make $4 million. He'd like an extension, but he's not pushing the issue. Though the future is in the back of his mind, Warner will concentrate on the present.
A first-round failure like Leinart's may set a franchise back for years, but Warner, though he's not demanding an extension as Jeff Garcia did this offseason in Tampa Bay, would be willing to sign on for 2009 and 2010 to be the Cardinals' starter. If that doesn't happen, he'll take things as they come, realizing 2008 could be his last fling.
Coming off the bench to replace an injured Leinart last season, Warner completed 62.3 percent of his passes, threw for 27 touchdowns and had an 89.8 quarterback rating, his best numbers since 2001. Watching him throw, I have no doubts he could maintain his gunslinging style. The Cardinals have a chance to be among the highest-scoring teams in the NFC and will challenge Seattle for the NFC West title. Warner helped carry them to the eight-win level last year.
Warner is content to finish his career in Arizona, but either the Cardinals' or league's perception of him will determine whether he will realize his goal of staying in the league until 2010. Clearly, he might not be interested in moving to another city if teams offer only backup jobs.
"The questions I will ask are, do I want to be a backup, or is there going to be an opening for me to go somewhere else to be a starter?" Warner said.
The Summer of Favre gave NFL fans an insight into what all of us who cover the sport see when following older quarterbacks. There is no closure to careers. Great quarterbacks live by the pass and survive by the possession. Whether they are down by 20 or coming off the bench, the experienced quarterbacks believe they can create magic no matter what the odds are against them.
Steve McNair's joining the Baltimore Ravens gave them a 13-win season. The Jets, with Favre, have the look of a wild-card team. Warner puts the Cardinals in the division and wild-card race. Jeff Garcia gave the Bucs a playoff run last season.
But as we witnessed with McNair, older quarterbacks are year-to-year. The air went out of McNair in 2007. He retired. Favre may have three years remaining on his contract, but a wild-card trip may not scratch his itch to continue playing after this year.
Warner's three-year plan is pretty clear. Whisenhunt believed in him enough to keep him in the competitive mix to be the starter if Leinart failed. It was a cleaner way to handle it than in San Francisco.
Mike Nolan of the 49ers knows his future as coach is tied to two things -- winning, and what happens to Alex Smith. Nolan never backed Smith, even though the franchise will pay him $10.3 million this year. He created a three-way competition, but as camp played out, J.T. O'Sullivan was in the right position to win the job. Now, Smith's a goner after the season.
Whisenhunt gave Leinart every chance to win the job. Sure, he probably felt threatened when Warner earned first-team snaps every other day, but too bad. All he had to do was light up practice and do the same in games. He didn't, and his skills have deteriorated inexplicably.
The irony to Warner's rise in Arizona is that he plays a big role in the coaching futures of Nolan and Warner's former mentor, Mike Martz, the 49ers' offensive coordinator. If Warner succeeds and the 49ers fail, the 49ers might make major changes after the season. Martz, meanwhile, loves O'Sullivan because he has some of the best of Warner and Jon Kitna.
But Warner's the original, and he's back in charge in Arizona. We'll see whether it ends up being a happy ending or a continuation of his fairy-tale career.
John Clayton, a member of the Pro Football Hall of Fame writers' wing, is a senior writer for ESPN.com.
NFL senior writer
Senior NFL writer and commentator
Joined ESPN in 1995
Member of the writers' wing of the Pro Football Hall of Fame in Canton, Ohio
SPONSORED HEADLINES
MORE NFL HEADLINES
MOST SENT STORIES ON ESPN.COM
TRAINING CAMP 2008
The regular season approaches. What teams will complete the journey to Tampa for Super Bowl XLIII? Training camp index | Dates


Commentary/features

Warner proves he has future
The Cardinals gave Kurt Warner the chance to compete with Matt Leinart for the starting spot, and the 37-year-old quarterback made the most of the opportunity.
John Clayton
---

Pennington's learning curve
It seemed the Jets could not help Chad Pennington pack his bags fast enough. Now the most experienced QB on the Dolphins, he's relishing the chance to excel again.
Jeffri Chadiha
---
•
Kreidler: Future still promising for 49ers' Smith
•
Clayton: Injuries impact preseason
•
Seifert: A new approach in Detroit
•
Smith: Favre drama a reality check for McNabb
•
Kuharsky: Titans focused on defense
•
Sando: Running key for Holmgren's swan song
•
Mosley: Giants hope history teaches well
•
Garber: Coughlin distances from SB win
•
Williamson: Chiefs engergized by youth
•
Chadiha: O-line might hold real keys for Jets
•
Wickersham: Three tips for Favre
•
Mosley: Giants done with celebrating
•
Naylor: Canadian divide on NFL invasion
•
Graham: Sleeper Bills
|
Blog: Yo, Canada
•
Seifert: For a change, no distractions for Vikes
•
Mosley: McNabb confident Eagles among elite
•
Kuharsky: Garrard taking control
•
Mosley: Eagles poised to return to prominence
•
Clayton: Young on his way to elite status
•
Kuharsky: Garrard ready to lead Jags
•
Chadiha: Delhomme determined to seize moment
•
Yasinskas: Smith's approach suits Falcons
•
Mosley: Zorn's coaching desire finally fulfilled
•
Williamson: Young Raiders share Kiffin's hunger
•
Graham: Jets wiping slate clean
•
Chadiha: Turner ready to lead Falcons
•
Clayton: Vikings firmly in Jackson's corner
•
Walker: Tough schedule awaits Steelers in 2008
•
Mosley: Favre is QB turned ringmaster
•
Clayton: 5 reasons Favre would start for Pack
•
Graham: Patriots not dwelling on past
•
Sando: Rams optimistic despite questions
•
Williamson: Shanahan points to playoffs
•
Walker: Bengals look to move past chaos
•
Yasinskas: Delhomme, Peppers must step up
NFL blog network
•
NFL Nation blog
•
AFC
:
North
|
South
|
East
|
West
•
NFC:
North
|
South
|
East
|
West
•
Contact our bloggers
Camp Confidential training camp tour
A breakdown of our annual camp tour:
• Saturday, July 26: Ravens, Saints
• Sunday, July 27: Colts, Bears
• Monday, July 28: Dolphins, Cardinals
• Tuesday, July 29: Packers

---
•
Wednesday, July 30:
Chargers
,
Cowboys
•
Thursday, July 31:
Texans
,
49ers
•
Friday, Aug. 1:
Patriots
•
Saturday, Aug. 2:
Bengals
,
Panthers
---
•
Sunday, Aug. 3:
Broncos
•
Monday, Aug. 4:
Rams
•
Tuesday, Aug. 5:
Steelers
•
Wednesday, Aug. 6:
Jets
---
•
Thursday, Aug. 7:
Raiders
|
Redskins
•
Friday, Aug. 8:
Falcons
•
Saturday, Aug. 9:
Jaguars
---
•
Tuesday, Aug. 12:
Eagles
|
Vikings
•
Wednesday, Aug. 13:
Bills
•
Thursday, Aug. 14:
Chiefs
---
•
Friday, Aug. 15:
Giants
|
Seahawks
•
Saturday, Aug. 16:
Bucs
|
Lions
•
Sunday, Aug. 17:
Browns
•
Monday, Aug. 18:
Titans
Video
•
NFL Insiders on Bills, Broncos, more
•
Rachel Nichols on Favre, Jets
•
NFL Live dissects ESPN.com power rankings
Audio
•
Podcast: Biggest questions
Scouts Inc.
•
Camp outlook: AFC Q&A on X's and O's

•
Camp outlook: NFC Q&A on X's and O's

•
Notable quarterback battles
Nike Men's Home Game Jersey Arizona Cardinals Michael Floyd #15 Shop »