Commentary
Camp Confidential: Patriots put Super Bowl disappointment behind
The New England Patriots say they have put their Super Bowl disappointment behind them and are concentrating on this season, writes Tim Graham.
Originally Published:
August 1, 2008
By
Tim Graham
| ESPN.com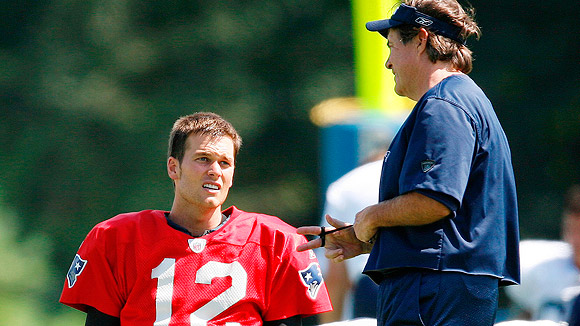 AP Photo/Michael DwyerTom Brady says he remembers the disappointment he felt after the Super Bowl loss.
FOXBOROUGH, Mass. -- People wonder how the
New England Patriots
will react to failure.
They've been pressed with questions for the past six months, asked every way imaginable whether they can rebound from their letdown. After all, so many Super Bowl losers have failed to make the playoffs the following year.
For the most part, the Patriots haven't broken stride from their lockstep responses of a year ago.
"Right now, it's really not about last year," Patriots coach Bill Belichick said. "It's about this year, and that is what we are going to concentrate on."
AFC East blog

The Bills had nothing to lose aside from nine more football games and some cash so they took a flyer on linebacker Shawne Merriman, ESPN.com's Tim Graham writes. Blog
His players recite similarly vague, bland responses by rote.
They refuse to say they're looking beyond the next practice. They won't acknowledge their epic Super Bowl loss has had an effect on them. They'd rather not reveal they're more than automatons.
Thankfully, every now and again, the Patriots do provide a glimpse that narrowly missing out on perfection still stings, that the single skinny digit in the loss column might drive them.
"You always have emotions when watching it because you remember the disappointment you felt after the game," quarterback Tom Brady said of reviewing the Super Bowl. "Just like when you watch games you have won, you remember the excitement you felt.
"It was one game last season that we all felt we could have played a little better."
Key questions
1. Will the Patriots wake up with a Super Bowl hangover?
Of the previous 10 Super Bowl losers, seven didn't make the playoffs the next year.

The Patriots, though, should maintain their vengeance level. Their videotaping scandal became the NFL's leading post-Super Bowl story and might have solidified the Patriots' us-against-the-world mentality.

"To stay on top, you can't lose that edge," owner Robert Kraft said. "You have to keep working at it. When every team plays us, their best game comes out. Everyone is either trying to raid our players or coaches or disrupt us any way they can to try and knock us down.

"It's very important that our team managers and players stay together and stay focused and don't ever let anyone get in the middle of us and try to split us. This past year was a great test of that."

2. Was enough done in the offseason to improve the secondary?

The Patriots' most significant area to address after last season was their pass defense.

"There's some questions back there," veteran cornerback Fernando Bryant said.

New England lost All-Pro corner Asante Samuel and nickelback Randall Gay to free agency and didn't have any suitable replacements on the roster. So the Pats brought in several candidates, signing free agents Bryant and Jason Webster and drafting Terrence Wheatley (second round) and Jonathan Wilhite (fourth round).

Injury-prone Bryant is the front-runner, but Wheatley has made some nifty plays at camp.

Ellis Hobbs, beaten on Plaxico Burress' Super Bowl-winning touchdown, should recover fully from shoulder and groin injuries and be the right-side corner. Rodney Harrison, 35, is back at strong safety. James Sanders returns at free safety, but Brandon Meriweather could make a push.

3. Is Matt Cassel good enough to hold down the fort if Brady gets hurt?

Brady could be the NFL's most indispensable player. If he were to suffer a prolonged injury, the Patriots' fate would belong to a fourth-year backup with 42 completions in his pro and college careers combined.

Cassel has been impressive throughout camp. He throws a gorgeous ball and clearly grasps the Patriots' offense.

"I come out with the intent of kicking [Brady's butt] every day," Cassel said. "If I can go out there and try to outperform him on certain days, that means I'm getting better. Every day, I get to compare myself to the best.

"I work really hard, and I take great pride in what I do. I feel like I'm trying to take that next step and become a star in the NFL."

But the responsibility of handling a record-setting offense on Sundays isn't the same as 11-on-11 drills.

Cassel has no history of being The Man, not even in college. He backed up Heisman Trophy winners Carson Palmer and Matt Leinart at USC.

4. How long will it take ILB Jerod Mayo to break into the starting lineup?

The open inside linebacker spot next to Tedy Bruschi is shrouded in mystery. Some think Junior Seau might come back. Belichick has been experimenting with converted free-agent safety Tank Williams through the first week of camp.

Mayo, meanwhile, is learning a position that's difficult for a rookie. Odds are, the 10th overall selection from Tennessee will be worked in slowly.
Market watch
Wide receiver Chad Jackson is 23 years old and already considered a bust. The Patriots moved up in the 2006 draft to take him with the 36th selection. Their gusto hasn't paid off.
Jackson caught 13 passes for 152 yards and three touchdowns -- not in one monumental game but in his entire rookie season. A torn knee ligament in the 2006 AFC title game ruined his sophomore year. He had zero catches in two games in 2007, but the injury couldn't be blamed for all the games he missed. The Patriots deactivated him five times.
Belichick spoke highly of Jackson in training camp, but with Randy Moss, Wes Welker and Jabar Gaffney on the roster, Jackson might not get an opportunity to sway his detractors.
Newcomer to watch
In 2005 with the Oakland Raiders, LaMont Jordan rushed for 1,025 yards and nine touchdowns and caught 70 passes for another 563 yards and two touchdowns despite missing two games. Back problems marginalized him the past two seasons. He lost his job to Justin Fargas, then the Raiders drafted Darren McFadden.
[+] Enlarge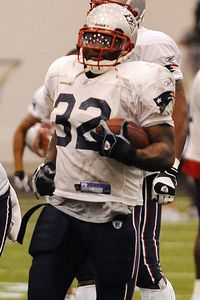 Worth Canoy/Icon SMIFormer Raider LaMont Jordan provides an insurance policy behind Laurence Maroney.

There was no more room for Jordan on one of the league's worst teams, but the AFC champions snatched him up.

Jordan provides depth and an insurance policy behind Laurence Maroney, who missed five games over his first two seasons.
Observation deck
Tom Brady has lightened his workload in camp considerably. He skips an occasional practice and is sitting out some drills to preserve his arm for the season. … Eight days into training camp, Randy Moss still hasn't talked to reporters, but his play is speaking volumes. He makes highlight-reel catches every session. … Brandon Meriweather seems much more composed this camp. Bill Belichick noted Meriweather also looks quicker and more forceful because of increased confidence. … The Tank Williams experiment doesn't look like it will end well. He seems too small to remain at linebacker and too big to be a safety. He has gotten pancaked multiple times.
Tim Graham covers the NFL for ESPN.com.
SPONSORED HEADLINES
MORE NFL HEADLINES
MOST SENT STORIES ON ESPN.COM
TRAINING CAMP 2008
The regular season approaches. What teams will complete the journey to Tampa for Super Bowl XLIII? Training camp index | Dates


Commentary/features

Warner proves he has future
The Cardinals gave Kurt Warner the chance to compete with Matt Leinart for the starting spot, and the 37-year-old quarterback made the most of the opportunity.
John Clayton
---

Pennington's learning curve
It seemed the Jets could not help Chad Pennington pack his bags fast enough. Now the most experienced QB on the Dolphins, he's relishing the chance to excel again.
Jeffri Chadiha
---
•
Kreidler: Future still promising for 49ers' Smith
•
Clayton: Injuries impact preseason
•
Seifert: A new approach in Detroit
•
Smith: Favre drama a reality check for McNabb
•
Kuharsky: Titans focused on defense
•
Sando: Running key for Holmgren's swan song
•
Mosley: Giants hope history teaches well
•
Garber: Coughlin distances from SB win
•
Williamson: Chiefs engergized by youth
•
Chadiha: O-line might hold real keys for Jets
•
Wickersham: Three tips for Favre
•
Mosley: Giants done with celebrating
•
Naylor: Canadian divide on NFL invasion
•
Graham: Sleeper Bills
|
Blog: Yo, Canada
•
Seifert: For a change, no distractions for Vikes
•
Mosley: McNabb confident Eagles among elite
•
Kuharsky: Garrard taking control
•
Mosley: Eagles poised to return to prominence
•
Clayton: Young on his way to elite status
•
Kuharsky: Garrard ready to lead Jags
•
Chadiha: Delhomme determined to seize moment
•
Yasinskas: Smith's approach suits Falcons
•
Mosley: Zorn's coaching desire finally fulfilled
•
Williamson: Young Raiders share Kiffin's hunger
•
Graham: Jets wiping slate clean
•
Chadiha: Turner ready to lead Falcons
•
Clayton: Vikings firmly in Jackson's corner
•
Walker: Tough schedule awaits Steelers in 2008
•
Mosley: Favre is QB turned ringmaster
•
Clayton: 5 reasons Favre would start for Pack
•
Graham: Patriots not dwelling on past
•
Sando: Rams optimistic despite questions
•
Williamson: Shanahan points to playoffs
•
Walker: Bengals look to move past chaos
•
Yasinskas: Delhomme, Peppers must step up
NFL blog network
•
NFL Nation blog
•
AFC
:
North
|
South
|
East
|
West
•
NFC:
North
|
South
|
East
|
West
•
Contact our bloggers
Camp Confidential training camp tour
A breakdown of our annual camp tour:
• Saturday, July 26: Ravens, Saints
• Sunday, July 27: Colts, Bears
• Monday, July 28: Dolphins, Cardinals
• Tuesday, July 29: Packers

---
•
Wednesday, July 30:
Chargers
,
Cowboys
•
Thursday, July 31:
Texans
,
49ers
•
Friday, Aug. 1:
Patriots
•
Saturday, Aug. 2:
Bengals
,
Panthers
---
•
Sunday, Aug. 3:
Broncos
•
Monday, Aug. 4:
Rams
•
Tuesday, Aug. 5:
Steelers
•
Wednesday, Aug. 6:
Jets
---
•
Thursday, Aug. 7:
Raiders
|
Redskins
•
Friday, Aug. 8:
Falcons
•
Saturday, Aug. 9:
Jaguars
---
•
Tuesday, Aug. 12:
Eagles
|
Vikings
•
Wednesday, Aug. 13:
Bills
•
Thursday, Aug. 14:
Chiefs
---
•
Friday, Aug. 15:
Giants
|
Seahawks
•
Saturday, Aug. 16:
Bucs
|
Lions
•
Sunday, Aug. 17:
Browns
•
Monday, Aug. 18:
Titans
Video
•
NFL Insiders on Bills, Broncos, more
•
Rachel Nichols on Favre, Jets
•
NFL Live dissects ESPN.com power rankings
Audio
•
Podcast: Biggest questions
Scouts Inc.
•
Camp outlook: AFC Q&A on X's and O's

•
Camp outlook: NFC Q&A on X's and O's

•
Notable quarterback battles