Commentary
Camp Confidential: Bills quietly mounting stampede to playoffs
The Bills easily are the most overlooked team in the AFC East. But they have addressed their problems and have an exciting corps of young players that could make them sleepers.
Originally Published:
August 13, 2008
By
Tim Graham
| ESPN.com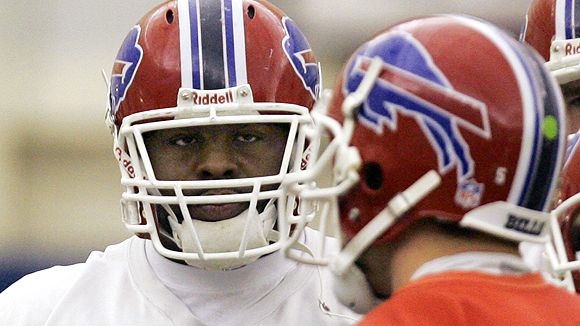 AP Photo/David DupreyIf the Bills are going to build upon the promise of 2007, they're going to need Pro Bowl left tackle Jason Peters (facing camera) in training camp. He has refused to report to camp because he wants to renegotiate his contract.
PITTSFORD, N.Y. -- There's nothing sexy about the
Buffalo Bills
. They didn't chase after a quarterback like the
New York Jets
did. They didn't bring in an accomplished renovator as the
Miami Dolphins
did. They aren't being talked about as the Super Bowl favorite like the
New England Patriots
are. The Bills easily are the most overlooked team in the AFC East. Nobody seems to remember the Bills were the second-best team in the division last year. Few recall that the Bills reinforced their most disconcerting issues, or that they welcome back an exciting nucleus of young players who are another season wiser.
AFC East blog

The Bills had nothing to lose aside from nine more football games and some cash so they took a flyer on linebacker Shawne Merriman, ESPN.com's Tim Graham writes. Blog
Most look at the Bills and yawn. That's what happens to a team that hasn't made the playoffs since 1999 or produced any splashes to arouse the national media. The only screaming headlines appeared primarily in Western New York and related to matters off the field. Their biggest story lines: running back
Marshawn Lynch
's hit-and-run incident and Pro Bowl left tackle
Jason Peters
' prolonged holdout. The Bills, however, consider themselves a big deal, and why not? They're certainly a playoff-caliber team. "I think there are some pretty high expectations in that locker room," second-year quarterback
Trent Edwards
said. "There are a lot of confident players in there that had a lot to gain off of last season's success that we had, and we're headed in the right direction."
Safety Donte Whitner took a bold step and guaranteed they would play in January.
"It's time," Whitner said. "It's been a nine-year drought, and now we have all the pieces in place. There's no time to sit back and let people do what they want to us. Now is our time to go out and force our hand and show people that we are for real."
Key questions
1. How much does Peters' holdout threaten Buffalo's playoff hopes?
Peters has a legitimate complaint. The undrafted converted tight end established himself last season among football's elite left tackles. He blossomed into an all-around force, equally adept at run and pass blocking on Edwards' blind side. He went to his first Pro Bowl.
But Peters, with three years left on a deal he signed two summers ago, is supposed to make a base salary of $3.25 million this year. That makes him the third-highest-paid offensive lineman on the roster behind left guard Derrick Dockery and usual right tackle Langston Walker, who has been switched to the left side until Peters joins the team.
The holdout could turn ugly. Peters has given Buffalo's front office the silent treatment, and management doesn't want to set a precedent by caving in to a petulant player. The Bills have no problem renegotiating contracts. They merely refuse to do so with players not in camp, as evidenced by their willingness to rework receiver Lee Evans' deal.
Every day Peters' holdout drags on, the Bills' offense suffers a little bit more.
2. Can Edwards build on his respectable rookie season?
Edwards comes into his second season the unquestioned starter. That wasn't the case a year ago, when he arrived for his first NFL camp behind J.P. Losman and took his reps accordingly.
Franchise Player

Who's the best player in franchise history? Vote Now!
But Edwards knew he had the job going into the offseason and prepared as such. The Stanford grad took all of the first-team reps through voluntary workouts and minicamp.
"It's more exciting," said Edwards, who added about 15 pounds of muscle since his rookie year. "You're more involved. You're closer with the guys on the team. You're closer with the coaches. You're getting a little more practice. You're competing at a high level."
Edwards must master a slightly different offense, but his coordinator is last season's quarterbacks coach, Turk Schonert, whose system is expected to be more exciting than Steve Fairchild's snoozer.
The tools are there for Edwards. Lynch ran for 1,115 yards and seven touchdowns as a rookie. Evans has Pro Bowl ability. The Bills drafted 6-foot-6 receiver James Hardy, giving Edwards a target taller than 5-10, something he didn't have last year.
3. Which version of NT Marcus Stroud can the Bills' defense expect?
The Bills took a bit of a gamble when they traded for defensive tackle Stroud to help fix a defense that finished 31st in yards allowed.
The three-time Pro Bowler was sublime for the Jacksonville Jaguars. But a nagging ankle injury suffered in 2006 and a four-game suspension for violating the league's performance-enhancing drug policy (he admitted using a supplement to rehab his ankle) overshadowed his rep as a run stuffer with sack capabilities.
Stroud has been a beast so far in training camp. That's a relief for defensive end Aaron Schobel, who made his second straight Pro Bowl but had his sack total slashed from 14 to 6½ because he often fought through double-teams.
"He can really change what's going on at the line of scrimmage," middle linebacker Paul Posluszny said. "To have him up there we really just have a lot of confidence in our defensive line and what they can do now."
4. What kind of impact will a healthy Posluszny make?
When analyzing the newcomers on Buffalo's roster, the second-year Posluszny might as well be among them. The former Butkus Award winner is entering his second season, but a broken forearm in his third NFL game sidelined him for the rest of the campaign.
The Bills were giddy to land the Penn State cult hero with the 34th selection in the 2007 draft. He demonstrated a relentless, sideline-to-sideline ability in training camp. His loss was a substantial blow to the defense last season.
5. Does Lynch have what it takes to be a star?
Lynch doesn't necessarily have to be a star, but the 12th overall pick in 2007 needs to be consistently productive and stay on the field. His backup is
Fred Jackson
. Who? Exactly. Lynch showed he could be a workhorse last year. He's a hard runner to bring down and can wear out a defense. But he had only 18 receptions for 184 yards and could become more of a threat in Schonert's offense.
Market watch
Many believed Evans deserved to make the Pro Bowl in 2006, when he caught 82 passes for 1,292 yards and eight touchdowns. But his numbers plummeted last season (55 receptions, 849 yards, five TDs) in Buffalo's unimaginative offense. He became frustrated with Edwards and publicly backed Losman.
Evans should return to prominence this fall. He now has embraced Edwards, as he recently explained.
"I don't regret any of the stances I took last year. Last year was one of those situations where there was a quarterback controversy. People asked me my opinion on who I thought should be the starter, and I gave my opinion,'' Evans said of his initial backing of Losman.
"Things change. The only thing I can do is rally around the guy that's in there and try to be as consistent as I can and help him be as good as he can."
Schonert also is expected to go downfield more often. And if Hardy becomes the No. 2 complement the Bills think he will, then the speedy and smart Evans should find himself in single coverage more frequently.
Newcomer to watch
One of the more under-the-radar signings was weakside linebacker Kawika Mitchell, who started every game for the Super Bowl champion New York Giants.
Mitchell is versatile, but he should help the Bills' run defense particularly. He weighs 253 pounds -- 25 pounds heavier than his predecessor,
Keith Ellison
.
Observation deck
The Bills are in trouble at offensive tackle. Not only is Peters still MIA with his contract dispute, but also reserves Patrick Estes (leg) and Matt Murphy (shoulder) went down with injuries on Monday night. … The Bills selected CB Leodis McKelvin with the 11th overall draft pick, but fourth-round CB Reggie Corner might be the most pleasant surprise of camp. He has shown enough ability that he might bump 2006 third-rounder Ashton Youboty off the roster. … Although the Bills have Pro Bowl return man Terrence McGee and the flashy Roscoe Parrish, scouts believe McKelvin will be a sensational NFL returner. McKelvin tied the NCAA Division I career record, bringing back eight kicks for TDs. In the Bills' preseason opener against the Washington Redskins, he returned a kickoff 37 yards and a punt 45 yards. … Neither Lynch (apparently bitter over coverage of his hit-and-run case) nor Losman (apparently bitter over not being the starter) has spoken to reporters throughout camp.
Tim Graham covers the NFL for ESPN.com.
SPONSORED HEADLINES
MORE NFL HEADLINES
MOST SENT STORIES ON ESPN.COM
TRAINING CAMP 2008
The regular season approaches. What teams will complete the journey to Tampa for Super Bowl XLIII? Training camp index | Dates


Commentary/features

Warner proves he has future
The Cardinals gave Kurt Warner the chance to compete with Matt Leinart for the starting spot, and the 37-year-old quarterback made the most of the opportunity.
John Clayton
---

Pennington's learning curve
It seemed the Jets could not help Chad Pennington pack his bags fast enough. Now the most experienced QB on the Dolphins, he's relishing the chance to excel again.
Jeffri Chadiha
---
•
Kreidler: Future still promising for 49ers' Smith
•
Clayton: Injuries impact preseason
•
Seifert: A new approach in Detroit
•
Smith: Favre drama a reality check for McNabb
•
Kuharsky: Titans focused on defense
•
Sando: Running key for Holmgren's swan song
•
Mosley: Giants hope history teaches well
•
Garber: Coughlin distances from SB win
•
Williamson: Chiefs engergized by youth
•
Chadiha: O-line might hold real keys for Jets
•
Wickersham: Three tips for Favre
•
Mosley: Giants done with celebrating
•
Naylor: Canadian divide on NFL invasion
•
Graham: Sleeper Bills
|
Blog: Yo, Canada
•
Seifert: For a change, no distractions for Vikes
•
Mosley: McNabb confident Eagles among elite
•
Kuharsky: Garrard taking control
•
Mosley: Eagles poised to return to prominence
•
Clayton: Young on his way to elite status
•
Kuharsky: Garrard ready to lead Jags
•
Chadiha: Delhomme determined to seize moment
•
Yasinskas: Smith's approach suits Falcons
•
Mosley: Zorn's coaching desire finally fulfilled
•
Williamson: Young Raiders share Kiffin's hunger
•
Graham: Jets wiping slate clean
•
Chadiha: Turner ready to lead Falcons
•
Clayton: Vikings firmly in Jackson's corner
•
Walker: Tough schedule awaits Steelers in 2008
•
Mosley: Favre is QB turned ringmaster
•
Clayton: 5 reasons Favre would start for Pack
•
Graham: Patriots not dwelling on past
•
Sando: Rams optimistic despite questions
•
Williamson: Shanahan points to playoffs
•
Walker: Bengals look to move past chaos
•
Yasinskas: Delhomme, Peppers must step up
NFL blog network
•
NFL Nation blog
•
AFC
:
North
|
South
|
East
|
West
•
NFC:
North
|
South
|
East
|
West
•
Contact our bloggers
Camp Confidential training camp tour
A breakdown of our annual camp tour:
• Saturday, July 26: Ravens, Saints
• Sunday, July 27: Colts, Bears
• Monday, July 28: Dolphins, Cardinals
• Tuesday, July 29: Packers

---
•
Wednesday, July 30:
Chargers
,
Cowboys
•
Thursday, July 31:
Texans
,
49ers
•
Friday, Aug. 1:
Patriots
•
Saturday, Aug. 2:
Bengals
,
Panthers
---
•
Sunday, Aug. 3:
Broncos
•
Monday, Aug. 4:
Rams
•
Tuesday, Aug. 5:
Steelers
•
Wednesday, Aug. 6:
Jets
---
•
Thursday, Aug. 7:
Raiders
|
Redskins
•
Friday, Aug. 8:
Falcons
•
Saturday, Aug. 9:
Jaguars
---
•
Tuesday, Aug. 12:
Eagles
|
Vikings
•
Wednesday, Aug. 13:
Bills
•
Thursday, Aug. 14:
Chiefs
---
•
Friday, Aug. 15:
Giants
|
Seahawks
•
Saturday, Aug. 16:
Bucs
|
Lions
•
Sunday, Aug. 17:
Browns
•
Monday, Aug. 18:
Titans
Video
•
NFL Insiders on Bills, Broncos, more
•
Rachel Nichols on Favre, Jets
•
NFL Live dissects ESPN.com power rankings
Audio
•
Podcast: Biggest questions
Scouts Inc.
•
Camp outlook: AFC Q&A on X's and O's

•
Camp outlook: NFC Q&A on X's and O's

•
Notable quarterback battles