Commentary
'Bust' label is too strong for 49ers' Smith
A revolving door of coordinators (among other things) has made life difficult for Alex Smith in San Francisco. But don't write off the former No. 1 pick. At 24, Smith still has a lot of football in front of him, writes Mark Kreidler.
Originally Published:
August 25, 2008
By
Mark Kreidler
| Special to ESPN.com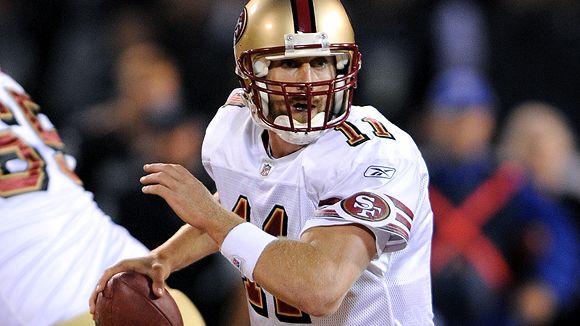 Kyle Terada/US Presswire Former No.1 pick Alex Smith has thrown 19 TD passes and 31 INTs in 32 career games.
Of all the terms you could use to describe
Alex Smith
's NFL adventure so far, there is one term that is truly best avoided.
Bust.
Smith is no bust. He might be playing Clipboard Guy to J.T. O'Sullivan, but he's no bust. A disappointment to this date, sure. A frustration, certainly, assuming your view of things begins and ends around Candlestick Point. A mystery, perhaps, if one hasn't been paying close attention to the ways in which Smith's career has been made to spin sideways.
But a bust? Not here, and absolutely not now. Smith is still just 24 years old. Strong arm, though not always accurate. Good head, though a tendency to over-intellectualize. Honest guy, though that'll get you in trouble in the NFL if you get carried away with the whole truth-telling thing.
In short, Smith remains an imperfect (but useful) product in a professional league that is made up almost entirely of flawed (but useful) products. He'll deliver for someone, and it won't take forever -- as long as that someone isn't the 49ers. The sooner San Francisco moves Smith, the sooner he can get on with the NFL career he's supposed to have.
Smith is, of course, responsible himself for some of what he's dealing with in his fourth season since being taken with the No. 1 overall pick in the 2005 draft -- a turn of events that led to his signing a contract that included $24 million in guaranteed bonus money, in case the previous 45,000 mentions of his bank account this month somehow slipped your notice.
The intervening years have been ones of hope, followed by perplexity, followed by the usual rush to figure out whom to blame for the fact that Smith didn't take this ragtag franchise by the scruff of the neck and lead it to glory.
Truth is, Alex Smith is no savior -- and never was. His No. 1 status, like some other No. 1s over the years, was a fluke, owing to the simple fact that the 49ers had to draft a quarterback in '05. The franchise narrowed its choice to Smith and Aaron Rodgers and took Smith. Even back then, his college coach at Utah, Urban Meyer, said it would take awhile for Smith to shake off Meyer's tricked-up offensive scheme and learn the NFL way of things.
Well, let's talk about that for a minute. Four years later, Smith is on his fourth offensive coordinator in San Francisco, from Mike McCarthy to Norv Turner to Jim Hostler and, now, Mike Martz. The quarterback who will start for the 49ers this season, O'Sullivan, came into camp having spent all last year learning Martz's system in Detroit. One can argue Smith ought to be able to rise above such mundane matters as who is drawing up the plays in the dirt, but that's not the reality of the NFL.
The reality, in fact, isn't kind to the 49ers and head coach Mike Nolan from any angle where Smith is concerned. Top pick or no top pick, Nolan rushed Smith into the job as a rookie, promoting him over Tim Rattay after a 1-3 start. Smith's reward? His first NFL start, against the Indianapolis Colts, who came into the game with one of the best defenses in the league. Four interceptions and a fumble later: Welcome to the show, kid.
It went like that. McCarthy left for Green Bay after year one, replaced by Turner, under whom Smith had his best season to date. Turner promptly left to become the Chargers' head coach, and Nolan, with the blessing of the front office, brought in the unproven Hostler to replace him. Hostler was promptly ditched after a single, disastrous season, yet somehow Smith is the one on the hook for the damage.
It's easy to forget Smith's 58 percent completion average under Turner in 2006, especially in light of the gear-stripping year of '07. Again, look at the role the 49ers played in this debacle. Smith limped out of the gate, trying to make Hostler's anemic system work on offense. Nolan, already feeling the pressure of a third-year coach who hadn't achieved a franchise turnaround, just had no patience on any level.
When Smith separated his shoulder, Nolan tried to say it was no big deal. Even as neutral observers could easily spot Smith sailing passes that he'd never missed before, Nolan essentially implied that Smith wasn't tough enough to handle the usual in-season injuries that all players face. Smith made things infinitely worse by answering truthfully reporters' questions about his condition, admitting his shoulder was "killing" him, and thus violating Rule No. 1 in the locker room (don't tell a reporter anything, ever).
The team wanted Smith to rehab the injury, clearly underestimating its severity. Smith didn't finally have surgery until December, a ridiculous mistake. Fault Smith for not simply taking over and going for the surgery himself sooner; he tried to play it the 49ers' way, and he lost.
The question of whether Smith will ever be a dominator is something else again. It's mostly silly, but it comes with the territory of being the top draft pick and being paid by the duffel bags full of cash. Smith ultimately is the guardian of his own career, a lesson he undoubtedly has learned several times over while going through the meat-grinder of the NFL life in San Francisco.
But a bust? It's way too early in the game for that. What Smith needs is a new zip code, not a gold watch.
Mark Kreidler's book "Six Good Innings," about the pressure-filled season of one Little League team intent on upholding its town's championship tradition, will be released July 1 and can be ordered now. His book "Four Days to Glory" has been optioned for film/TV development by ESPN Original Entertainment. A regular contributor to ESPN.com, Kreidler can be reached at mark@markkreidler.com.
Page 2
Regular contributor to ESPN.com
Author of "The Voodoo Wave" and "Six Good Innings"
Radio host, "The Rise Guys Show," Sacramento
TRAINING CAMP 2008
The regular season approaches. What teams will complete the journey to Tampa for Super Bowl XLIII? Training camp index | Dates


Commentary/features

Warner proves he has future
The Cardinals gave Kurt Warner the chance to compete with Matt Leinart for the starting spot, and the 37-year-old quarterback made the most of the opportunity.
John Clayton
---

Pennington's learning curve
It seemed the Jets could not help Chad Pennington pack his bags fast enough. Now the most experienced QB on the Dolphins, he's relishing the chance to excel again.
Jeffri Chadiha
---
•
Kreidler: Future still promising for 49ers' Smith
•
Clayton: Injuries impact preseason
•
Seifert: A new approach in Detroit
•
Smith: Favre drama a reality check for McNabb
•
Kuharsky: Titans focused on defense
•
Sando: Running key for Holmgren's swan song
•
Mosley: Giants hope history teaches well
•
Garber: Coughlin distances from SB win
•
Williamson: Chiefs engergized by youth
•
Chadiha: O-line might hold real keys for Jets
•
Wickersham: Three tips for Favre
•
Mosley: Giants done with celebrating
•
Naylor: Canadian divide on NFL invasion
•
Graham: Sleeper Bills
|
Blog: Yo, Canada
•
Seifert: For a change, no distractions for Vikes
•
Mosley: McNabb confident Eagles among elite
•
Kuharsky: Garrard taking control
•
Mosley: Eagles poised to return to prominence
•
Clayton: Young on his way to elite status
•
Kuharsky: Garrard ready to lead Jags
•
Chadiha: Delhomme determined to seize moment
•
Yasinskas: Smith's approach suits Falcons
•
Mosley: Zorn's coaching desire finally fulfilled
•
Williamson: Young Raiders share Kiffin's hunger
•
Graham: Jets wiping slate clean
•
Chadiha: Turner ready to lead Falcons
•
Clayton: Vikings firmly in Jackson's corner
•
Walker: Tough schedule awaits Steelers in 2008
•
Mosley: Favre is QB turned ringmaster
•
Clayton: 5 reasons Favre would start for Pack
•
Graham: Patriots not dwelling on past
•
Sando: Rams optimistic despite questions
•
Williamson: Shanahan points to playoffs
•
Walker: Bengals look to move past chaos
•
Yasinskas: Delhomme, Peppers must step up
NFL blog network
•
NFL Nation blog
•
AFC
:
North
|
South
|
East
|
West
•
NFC:
North
|
South
|
East
|
West
•
Contact our bloggers
Camp Confidential training camp tour
A breakdown of our annual camp tour:
• Saturday, July 26: Ravens, Saints
• Sunday, July 27: Colts, Bears
• Monday, July 28: Dolphins, Cardinals
• Tuesday, July 29: Packers

---
•
Wednesday, July 30:
Chargers
,
Cowboys
•
Thursday, July 31:
Texans
,
49ers
•
Friday, Aug. 1:
Patriots
•
Saturday, Aug. 2:
Bengals
,
Panthers
---
•
Sunday, Aug. 3:
Broncos
•
Monday, Aug. 4:
Rams
•
Tuesday, Aug. 5:
Steelers
•
Wednesday, Aug. 6:
Jets
---
•
Thursday, Aug. 7:
Raiders
|
Redskins
•
Friday, Aug. 8:
Falcons
•
Saturday, Aug. 9:
Jaguars
---
•
Tuesday, Aug. 12:
Eagles
|
Vikings
•
Wednesday, Aug. 13:
Bills
•
Thursday, Aug. 14:
Chiefs
---
•
Friday, Aug. 15:
Giants
|
Seahawks
•
Saturday, Aug. 16:
Bucs
|
Lions
•
Sunday, Aug. 17:
Browns
•
Monday, Aug. 18:
Titans
Video
•
NFL Insiders on Bills, Broncos, more
•
Rachel Nichols on Favre, Jets
•
NFL Live dissects ESPN.com power rankings
Audio
•
Podcast: Biggest questions
Scouts Inc.
•
Camp outlook: AFC Q&A on X's and O's

•
Camp outlook: NFC Q&A on X's and O's

•
Notable quarterback battles
Nike Toddler Home Game Jersey Kansas City Chiefs Alex Smith #11 Shop »

MOST SENT STORIES ON ESPN.COM