Commentary
Camp Confidential: Texans not satisfied with status quo
The Texans are determined to establish themselves as legitimate contenders. The first step is having better success within their own division, writes Paul Kuharsky.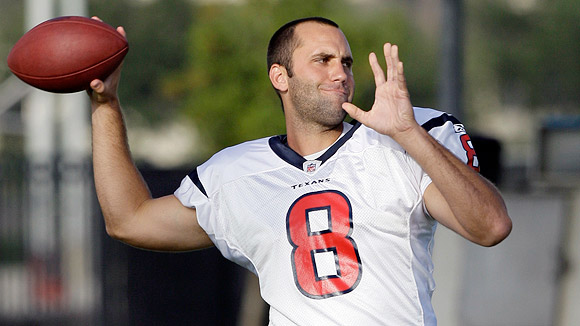 AP Photo/David J. PhillipMatt Schaub's ability to stay healthy is key to Houston's chances of having a breakout season.
HOUSTON -- Never mind, for the time being, the three teams ahead of them.
The Houston Texans have a positive buzz at training camp, the sort that's never existed before for a seven-year team. Some players have tiptoed around it and stopped just short of saying the follow-up to an 8-8 season is playoffs or bust. But the Texans' expect to be a breakout team that the rest of the league will have no choice but to talk about.
In his third year as coach, Gary Kubiak's plan is moving along. This team is deeper, understands that plan better and, after a year of key players getting injured, anticipates better health.
"The expectations aren't just to survive or get by," said offensive lineman Chester Pitts, one of the four remaining original members of the team. "The expectations are to play well and do well. I kind of like the vibe, the added pressure. Good players, when the pressure is on, the cream rises to the top, right?"
Backup quarterback Sage Rosenfels arrived in 2006 as Kubiak and GM Rick Smith were in the early stages of building their team.
"It's a whole different world from two years ago to now -- players-wise, coaching-wise and absolutely expectations-wise," he said. "The attitudes of players are so much better as far as guys just want to win and do the right things and go to work every day and play like a champion."
Should they lose key people to injuries again, middle linebacker DeMeco Ryans said the Texans are better equipped to handle it.
"When I first got here, you had 'OK guy here, OK guy here,'" he said. "You come out to practice now, you've got to step up and compete, you've got to bring it every day."
To improve on 2007, the Texans need to do better at forging their identity. They are in a division where Tony Dungy has led the Colts to five straight titles and a Super Bowl win, where Jeff Fisher is the league's longest-tenured coach with his team and where Jack Del Rio has led his team to a road playoff win.
"I speak for everybody, I think, when I say we all trust Kubiak," tight end Owen Daniels said. "With what he's done in the past [as an assistant] in Denver, he knows how to win and he's obviously improved this team a great deal."
Key questions
Can Matt Schaub stay healthy and establish himself as a consistent quarterback?
He brings great leadership qualities to the job and he's got the complete backing of the team. Now he needs to avoid the kind of shots he took last season right after letting the ball go, perhaps bailing on a few of those plays for the greater good.

When they were both healthy at the start of 2007, Schaub and receiver Andre Johnson worked magic, and the team is confident that connection can rival any in the league.

Although Kubiak is unlikely to waver, if Schaub doesn't play well early, there could be sentiment in Houston for a change to Rosenfels.

Can they get out of the basement?

At 8-8 last season, the Texans could have finished in second place or tied for it in five other divisions. Instead, they finished fourth in the AFC South and watched the Colts, Jaguars and Titans make the playoffs.

Vaulting any of those teams will be tough, as the Texans were 1-5 in the division. That's where their success this season will be determined, and it needs to start with better results against third-place Tennessee.

The Texans are 2-10 against the former Houston Oilers and dropped two they could have won last year. Houston came back from 25-point deficit to take a late lead, then watched Rob Bironas kick an NFL-record eighth field goal to win a 38-36 game in Houston. In Nashville, a muffed punt by Jacoby Jones undid another comeback attempt.

Can they run it?

With assistant coach Alex Gibbs coordinating the running game with a zone-blocking scheme, the Texans should be a better run team than the one that averaged 3.8 yards a carry last year. Behind all those cut blocks that topple defenders, one of their backs should emerge and put up numbers in the system, and they have several options better than Ron Dayne, last year's leading rusher.

Speaking of the offensive line -- although people can't get the images of former Texans quarterback David Carr getting creamed in the pocket over and over, Houston allowed only 22 sacks last season, the seventh-best mark in the league.

[+] Enlarge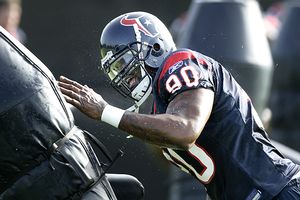 AP Photo/David J. PhillipThe Texans are counting on Mario Williams to make life difficult for AFC South QBs.
How much impact can Mario Williams have?
The Texans' vision when they drafted the defensive end No. 1 overall in 2006 was that he'd harass Peyton Manning and other quarterbacks the Texans need to beat in order to move up in the standings.
Last season, Williams had a breakout year with 14 sacks. This year, teams will have to game plan for Williams, meaning he'll create opportunities for others as well. He's not yet close to maxing out his potential, and other young defenders, most notably defensive tackle Amobi Okoye, are going to get better, too.
Market watch
Owen Daniels quietly caught 63 passes last year, more than any tight end in the AFC not named Gonzalez, Gates or Winslow. If the zone-blocking run game is working and teams are devoting resources to slowing down Johnson, Daniels could be in line for an even bigger season.
Newcomer to watch
Antwaun Molden may have a big impact on the secondary. The third-round pick out of Eastern Kentucky was working as the nickelback early in camp and drawing raves for his athletic play and the way he's catching on to things. With Dunta Robinson expected to miss the first month or more of the season, Molden has a chance to establish himself as a guy who must play.
Observation deck
While Ahman Green and Chris Brown are at the head of the line of running backs, many are expecting Chris Taylor and/or Steve Slaton to emerge as key players in the new scheme. … WR Johnson is lined up to have a big, bounce-back year. … Rosevelt Colvin is a situational defensive end now and could prove to be a nice addition. … We'll know an awful lot about the Texans after a brutal five-game opening run that includes three division games in a row. At camp, however, most players were already into one-game-at-a-time cliché mode.
Paul Kuharsky covers the NFL for ESPN.com.
ESPN Tennessee Titans reporter
Covered AFC South for five years for ESPN.com
Covered Oilers/Titans for The Tennessean
New Jersey native and Columbia graduate lives in Nashville with his wife and son
TRAINING CAMP 2008
The regular season approaches. What teams will complete the journey to Tampa for Super Bowl XLIII? Training camp index | Dates


Commentary/features

Warner proves he has future
The Cardinals gave Kurt Warner the chance to compete with Matt Leinart for the starting spot, and the 37-year-old quarterback made the most of the opportunity.
John Clayton
---

Pennington's learning curve
It seemed the Jets could not help Chad Pennington pack his bags fast enough. Now the most experienced QB on the Dolphins, he's relishing the chance to excel again.
Jeffri Chadiha
---
•
Kreidler: Future still promising for 49ers' Smith
•
Clayton: Injuries impact preseason
•
Seifert: A new approach in Detroit
•
Smith: Favre drama a reality check for McNabb
•
Kuharsky: Titans focused on defense
•
Sando: Running key for Holmgren's swan song
•
Mosley: Giants hope history teaches well
•
Garber: Coughlin distances from SB win
•
Williamson: Chiefs engergized by youth
•
Chadiha: O-line might hold real keys for Jets
•
Wickersham: Three tips for Favre
•
Mosley: Giants done with celebrating
•
Naylor: Canadian divide on NFL invasion
•
Graham: Sleeper Bills
|
Blog: Yo, Canada
•
Seifert: For a change, no distractions for Vikes
•
Mosley: McNabb confident Eagles among elite
•
Kuharsky: Garrard taking control
•
Mosley: Eagles poised to return to prominence
•
Clayton: Young on his way to elite status
•
Kuharsky: Garrard ready to lead Jags
•
Chadiha: Delhomme determined to seize moment
•
Yasinskas: Smith's approach suits Falcons
•
Mosley: Zorn's coaching desire finally fulfilled
•
Williamson: Young Raiders share Kiffin's hunger
•
Graham: Jets wiping slate clean
•
Chadiha: Turner ready to lead Falcons
•
Clayton: Vikings firmly in Jackson's corner
•
Walker: Tough schedule awaits Steelers in 2008
•
Mosley: Favre is QB turned ringmaster
•
Clayton: 5 reasons Favre would start for Pack
•
Graham: Patriots not dwelling on past
•
Sando: Rams optimistic despite questions
•
Williamson: Shanahan points to playoffs
•
Walker: Bengals look to move past chaos
•
Yasinskas: Delhomme, Peppers must step up
NFL blog network
•
NFL Nation blog
•
AFC
:
North
|
South
|
East
|
West
•
NFC:
North
|
South
|
East
|
West
•
Contact our bloggers
Camp Confidential training camp tour
A breakdown of our annual camp tour:
• Saturday, July 26: Ravens, Saints
• Sunday, July 27: Colts, Bears
• Monday, July 28: Dolphins, Cardinals
• Tuesday, July 29: Packers

---
•
Wednesday, July 30:
Chargers
,
Cowboys
•
Thursday, July 31:
Texans
,
49ers
•
Friday, Aug. 1:
Patriots
•
Saturday, Aug. 2:
Bengals
,
Panthers
---
•
Sunday, Aug. 3:
Broncos
•
Monday, Aug. 4:
Rams
•
Tuesday, Aug. 5:
Steelers
•
Wednesday, Aug. 6:
Jets
---
•
Thursday, Aug. 7:
Raiders
|
Redskins
•
Friday, Aug. 8:
Falcons
•
Saturday, Aug. 9:
Jaguars
---
•
Tuesday, Aug. 12:
Eagles
|
Vikings
•
Wednesday, Aug. 13:
Bills
•
Thursday, Aug. 14:
Chiefs
---
•
Friday, Aug. 15:
Giants
|
Seahawks
•
Saturday, Aug. 16:
Bucs
|
Lions
•
Sunday, Aug. 17:
Browns
•
Monday, Aug. 18:
Titans
Video
•
NFL Insiders on Bills, Broncos, more
•
Rachel Nichols on Favre, Jets
•
NFL Live dissects ESPN.com power rankings
Audio
•
Podcast: Biggest questions
Scouts Inc.
•
Camp outlook: AFC Q&A on X's and O's

•
Camp outlook: NFC Q&A on X's and O's

•
Notable quarterback battles

MOST SENT STORIES ON ESPN.COM