Commentary
Camp Confidential: Zorn ready to lead Campbell, Redskins
Updated:
August 25, 2008, 1:46 PM ET
By
Matt Mosley
| ESPN.com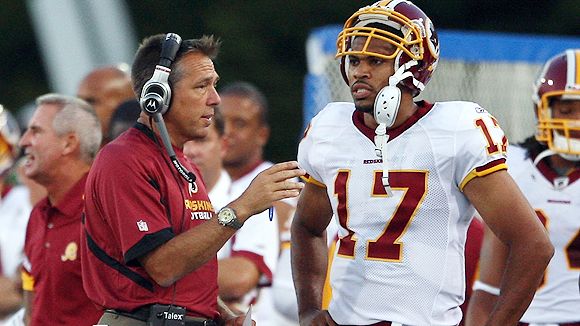 Ben Liebenberg/NFL Photos/Getty ImagesNew Redskins coach Jim Zorn hopes to turn Jason Campbell into one of the league's top quarterbacks.
ASHBURN, Va. -- The one thing keeping Jim Zorn from becoming a NFL head coach was his burning desire to land the job.
He spent years wondering how to board the "fast track" while coaching quarterbacks in Seattle and even when the Seahawks made it to the Super Bowl in 2005, his name didn't show up on anyone's short list. Zorn made a vow to stop worrying about his future, and now three years later, he has replaced Joe Gibbs as the head coach of the Redskins.
"I always tried to figure out the formula," Zorn said. "It seemed like the natural progression was to become an offensive coordinator, but when we made it to the Super Bowl, no one on our staff became a coordinator. After that, I finally decided to relax and stop trying to find the formula."
Zorn was hired by Redskins owner Dan Snyder to be the offensive coordinator, but after a lengthy search that lasted past the Super Bowl, Snyder and vice president of football operations Vinny Cerrato decided to interview Zorn for their top job.

When the announcement was made, the man who was supposed to be the biggest beneficiary from the hire sat in a hotel room in the Bahamas. Quarterback Jason Campbell saw the news scroll across the bottom of his TV and let out a "Wow!" And if you've spent time with Campbell, you know that's about as demonstrative as he gets.

Zorn, the former Seahawks quarterback coach who has spent the last seven years tutoring Matt Hasselbeck, was hired to help Campbell become an elite quarterback. When he told Snyder and Cerrato that it was important for him to be in charge of the quarterbacks, it was the sign they were looking for. When Zorn had left Seattle, Mike Holmgren gave him the following advice: Be yourself and be involved with the quarterbacks. And so on a sweltering day in early August, Zorn wasn't standing off to the side with his arms crossed during practice. He was interacting with his four quarterbacks after every set of repetitions.

"You sort of have that image in your mind of how a head coach is supposed to behave," Zorn said. "But I have to be myself."
Key questions
1. How will defensive end Jason Taylor adjust to his new surroundings?
For the better part of the past 11 years in Miami, Taylor has terrorized quarterbacks from the right side. But that's where Redskins defensive end Andre Carter lines up, and at least for now, that's where he'll stay. Playing on the left side (something he did some under Nick Saban), Taylor will have a different hand on the ground and he'll be dipping a different shoulder. He's used to bashing offensive tackles with his right arm on his way to the quarterback, so it will be an adjustment.

"You do get comfortable in that one spot," Taylor said on Wednesday. "You get in a groove all those years, but you always have to challenge yourself to improve."

In addition to a possible future in acting, Taylor might want to look into politics. He was exceedingly gracious and diplomatic in acknowledging the loss of Redskins defensive end Phillip Daniels to injury, which is the main reason he's here. And despite his superstar status, he's been deferential to Carter and teammates such as linebacker London Fletcher.

"We have enough components that the pressure's not really on anyone," he said. "Hopefully everyone's stock is going to grow."

2. Can the second-round rookies make a difference in the passing game?
Before the draft, Snyder, Cerrato and Campbell hopped on a jet and traveled to several colleges. The purpose was to find more weapons for Campbell. On one day, they landed in Norman, Okla., to see Malcolm Kelly in person one last time and then made a last-minute trip to Kansas State to see Jordy Nelson. In the end, the Redskins passed on the opportunity to select defensive end Philip Merling of Clemson and grabbed two wide receivers in the second round. Michigan State's Devin Thomas and Kelly are supposed to complement mighty mites Santana Moss and Antwaan Randle El, but so far, they can't get on the field because of injury. Thomas is fighting through a hamstring injury and Kelly had to have his knee scoped. Kelly's not as much of a concern because he played so much at Oklahoma, but the knock on Thomas was that he'd had only one outstanding season in college. Cerrato and Zorn didn't seem overly concerned, but tight end Chris Cooley was upset in general with all the players who are missing time in training camp. It's something that bears watching. 3. What about the punting battle?
I know it might seem like a waste of a "key question," but the coaching staff is taking the competition between rookie Durant Brooks and veteran Derrick Frost seriously. Brooks the 2007 Ray Guy Award winner at Georgia Tech, was taken in the sixth round. Organizations don't like to use picks on specialists unless they have to, so Brooks might have the edge. He averaged 46 yards per punt against the Colts in the Hall of Fame Game. Coaches say that it might come down to who's the best holder.
Market watch
[+] Enlarge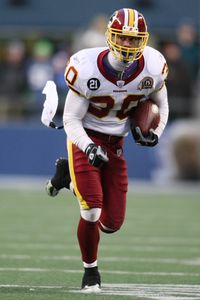 AP Photo/John FroschauerLaRon Landry had 95 tackles and 1.5 sacks as a rookie in 2007.

All eyes will be on starting safeties LaRon Landry and Reed Doughty this season. Landry is listed at 6-0, 202 pounds, but he looks more like 230. He could be the most dynamic player on the defense because of his punishing style. Doughty was thrust into the lineup following the death of Sean Taylor and he performed well during the team's improbable playoff run. Former Raiders safety Stuart Schweigert, who was supposed to compete against Doughty, was sent packing after one preseason game. The only definitive explanation anyone was offering was that Schweigert never opened his mouth on the field -- and getting burned badly for a touchdown didn't help.
Newcomer to watch
If you watched the Hall of Fame Game, you kept seeing No. 48 come across your screen. In the first few minutes of the game, seventh-round rookie Chris Horton fielded an onside kick and sacked Colts quarterback Jim Sorgi. He's a safety out of UCLA, but Horton will probably make his biggest impact on special teams.
Cerrato said that Horton has been showing up on film ever since the beginning of camp.
"He's constantly around the ball," he said.
Observation Deck
The Redskins are also pleased with the work of another seventh-round pick, defensive end Rob Jackson out of Kansas State. He sacked Sorgi in the Hall of Fame Game and showed excellent quickness. Snyder & Co. asked Jackson to stop by while working out wide receiver Jordy Nelson two days before the draft ... Third-round pick Chad Rinehart is having an excellent camp. The Redskins have been fortunate to find veteran help with players such as Pete Kendall and Jason Fabini, but Rinehart looks to more of a long-term solution. He's versatile enough to play guard or tackle ... Everyone was excited about Colt Brennan's debut in Canton, Ohio, but don't forget about former Marshall quarterback Derek Devine. Quarterback specialists such as Zorn love surrounding themselves with as many quarterbacks as possible. And he told me on Tuesday that Devine "has a hose." ... Everyone in the organization thinks that Cooley's about to have a huge season. He's caught everything thrown his way, and he spent the offseason watching films of players such as Jeremy Shockey and Jason Witten. Oh, and he has a great blog.
Matt Mosley covers the NFL for ESPN.com
TRAINING CAMP 2008
The regular season approaches. What teams will complete the journey to Tampa for Super Bowl XLIII? Training camp index | Dates


Commentary/features

Warner proves he has future
The Cardinals gave Kurt Warner the chance to compete with Matt Leinart for the starting spot, and the 37-year-old quarterback made the most of the opportunity.
John Clayton
---

Pennington's learning curve
It seemed the Jets could not help Chad Pennington pack his bags fast enough. Now the most experienced QB on the Dolphins, he's relishing the chance to excel again.
Jeffri Chadiha
---
•
Kreidler: Future still promising for 49ers' Smith
•
Clayton: Injuries impact preseason
•
Seifert: A new approach in Detroit
•
Smith: Favre drama a reality check for McNabb
•
Kuharsky: Titans focused on defense
•
Sando: Running key for Holmgren's swan song
•
Mosley: Giants hope history teaches well
•
Garber: Coughlin distances from SB win
•
Williamson: Chiefs engergized by youth
•
Chadiha: O-line might hold real keys for Jets
•
Wickersham: Three tips for Favre
•
Mosley: Giants done with celebrating
•
Naylor: Canadian divide on NFL invasion
•
Graham: Sleeper Bills
|
Blog: Yo, Canada
•
Seifert: For a change, no distractions for Vikes
•
Mosley: McNabb confident Eagles among elite
•
Kuharsky: Garrard taking control
•
Mosley: Eagles poised to return to prominence
•
Clayton: Young on his way to elite status
•
Kuharsky: Garrard ready to lead Jags
•
Chadiha: Delhomme determined to seize moment
•
Yasinskas: Smith's approach suits Falcons
•
Mosley: Zorn's coaching desire finally fulfilled
•
Williamson: Young Raiders share Kiffin's hunger
•
Graham: Jets wiping slate clean
•
Chadiha: Turner ready to lead Falcons
•
Clayton: Vikings firmly in Jackson's corner
•
Walker: Tough schedule awaits Steelers in 2008
•
Mosley: Favre is QB turned ringmaster
•
Clayton: 5 reasons Favre would start for Pack
•
Graham: Patriots not dwelling on past
•
Sando: Rams optimistic despite questions
•
Williamson: Shanahan points to playoffs
•
Walker: Bengals look to move past chaos
•
Yasinskas: Delhomme, Peppers must step up
NFL blog network
•
NFL Nation blog
•
AFC
:
North
|
South
|
East
|
West
•
NFC:
North
|
South
|
East
|
West
•
Contact our bloggers
Camp Confidential training camp tour
A breakdown of our annual camp tour:
• Saturday, July 26: Ravens, Saints
• Sunday, July 27: Colts, Bears
• Monday, July 28: Dolphins, Cardinals
• Tuesday, July 29: Packers

---
•
Wednesday, July 30:
Chargers
,
Cowboys
•
Thursday, July 31:
Texans
,
49ers
•
Friday, Aug. 1:
Patriots
•
Saturday, Aug. 2:
Bengals
,
Panthers
---
•
Sunday, Aug. 3:
Broncos
•
Monday, Aug. 4:
Rams
•
Tuesday, Aug. 5:
Steelers
•
Wednesday, Aug. 6:
Jets
---
•
Thursday, Aug. 7:
Raiders
|
Redskins
•
Friday, Aug. 8:
Falcons
•
Saturday, Aug. 9:
Jaguars
---
•
Tuesday, Aug. 12:
Eagles
|
Vikings
•
Wednesday, Aug. 13:
Bills
•
Thursday, Aug. 14:
Chiefs
---
•
Friday, Aug. 15:
Giants
|
Seahawks
•
Saturday, Aug. 16:
Bucs
|
Lions
•
Sunday, Aug. 17:
Browns
•
Monday, Aug. 18:
Titans
Video
•
NFL Insiders on Bills, Broncos, more
•
Rachel Nichols on Favre, Jets
•
NFL Live dissects ESPN.com power rankings
Audio
•
Podcast: Biggest questions
Scouts Inc.
•
Camp outlook: AFC Q&A on X's and O's

•
Camp outlook: NFC Q&A on X's and O's

•
Notable quarterback battles
Nike Men's Alternate Limited Jersey Washington Redskins Robert Griffin Iii #10 Shop »

MOST SENT STORIES ON ESPN.COM