Commentary
Camp Confidential: McNabb confident Eagles will return to prominence
Updated:
August 13, 2008, 10:44 AM ET
By
Matt Mosley
| ESPN.com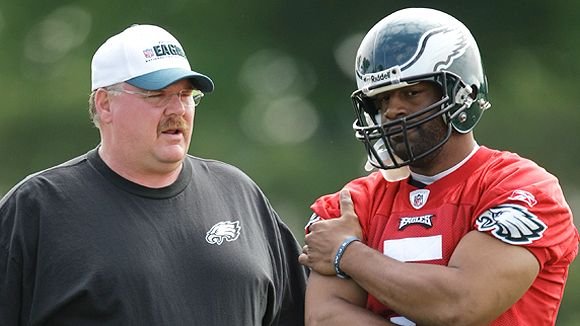 Drew Hallowell/Getty ImagesOff-field issues have hindered Andy Reid and injuries have hampered Donovan McNabb recently.
BETHLEHEM, Pa. -- If you listen to
Donovan McNabb
long enough, you might think the Eagles are coming off the best 8-8 season in the history of the league. The quarterback kicked off training camp by detailing how each of the team's losses to division opponents easily could've been averted.
This was news to New York Giants' Pro Bowl representative Osi Umenyiora, who stacked up nearly half of his season sack total (13) in one game against the Eagles. But for now, delusion is bliss, and McNabb is convinced that the Eagles are poised to return to prominence in what may be the most competitive division in the NFL.
"I still put us at the top of the NFC," McNabb told ESPN.com Monday. "I feel confident in saying that because all the best teams are pretty much in our division. The Giants and Cowboys are coming off great seasons, and the Redskins had a decent year."
If you've followed McNabb's career outside this column, you know he's following a time-honored blueprint. When in doubt, go with bravado. Fans panicked after the Eagles lost three of their first five games in 2003, but McNabb said the road to the NFC East crown still would go through Philly. The club then won its next nine games on the way to another appearance in the NFC title game.
No fan base obsesses more about its quarterback's health than the Eagles' -- and with good reason. McNabb has had two major knee surgeries, the most recent one in 2006. It was evident from the start of last season that he hadn't made a full recovery.
"You knew he wasn't himself at all," veteran offensive tackle Jon Runyan said. "He had defensive linemen catching him from behind, so it had to be frustrating."
McNabb scrambled for 25 yards on a play against the Dolphins on Nov. 18, but he injured his ankle in that game. He returned in time to lead the Eagles to win three of their final four games, and head coach Andy Reid hopes that momentum will carry over to this season.
The Eagles weren't able to lure Randy Moss out of New England, but McNabb thinks the addition of rookie DeSean Jackson and improved health of tight end L.J. Smith will pump life into the offense.
"I thought L.J. was really a big loss," McNabb said. "But he looks great now."
McNabb thinks Smith will help improve the Eagles' fortunes in the red zone, which was a major area of concern last season. McNabb has never been a fan of fade patterns, but the Eagles appear to be intent on using the route this season. In practice, wide receiver Hank Baskett has become a consistent target for McNabb on the fade.
McNabb sounds like a man at peace, but he also has a sense of urgency. He still thinks the Eagles have the pieces in place to make a Super Bowl run, and no one will convince him otherwise.
Key questions
1. How will the Eagles' cornerback situation play out?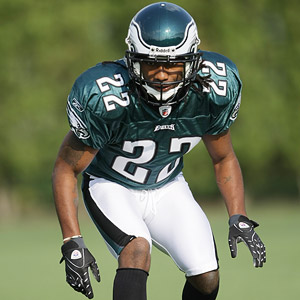 Drew Hallowell/Getty ImagesThe Eagles' addition of Asante Samuel makes an already-good defense even better.
It's been an offseason of unrest for cornerback
Lito Sheppard
, who will be replaced in the starting lineup by former Patriots All-Pro
Asante Samuel
, who has missed most of training camp with a strained right hamstring. Sheppard is a talented player, but he has trouble staying on the field because of injuries. And to make matters worse, owner Jeffrey Lurie called out Sheppard for having a poor YPA, a relatively obscure stat that measures the yards per attempt defensive backs give up on balls thrown in their direction. Sheppard accused the owner of reaching with the YPA comment -- and he has a point.
Ever the diplomats, the Eagles have listed Sheppard and Sheldon Brown as co-starters. But it's obvious Sheppard will be the odd man out.
2. How long will it take Pro Bowl left guard Shawn Andrews to catch up with his teammates?

By Eagles standards, this offseason has been relatively benign on the turmoil front. But Andrews missed the first three weeks while dealing with depression. He showed up in the locker room Sunday, but he's on the team's physically unable to perform list for now. Andrews can be a dominant player, but Reid is taking a wait-and-see approach. Veteran offensive tackle Runyan has publicly voiced his displeasure about Andrews' absence, and there's no guarantee that Andrews will claim his starting role once he's activated.
3. Will the team's young linebackers take the next step?

Starters Chris Gocong, Stewart Bradley and Omar Gaither have made veterans such as Jeremiah Trotter and Takeo Spikes expendable. Gocong and Bradley were third-round picks and Gaither was a fifth-round pick in 2006. Bradley, who played at Nebraska, is listed as 6-foot-4, 255 pounds, but he looks bigger than that. The Eagles splurged on Samuel in the secondary, but they need to have strong seasons from their homegrown talent among the front seven. Gaither learned a lot from Trotter, and he's made steady improvement in coverage.
Market watch
The Eagles need to see something from defensive ends Jerome McDougle and Darren Howard. Both have made plays during camp, but their production has to go up in games. Howard was a free-agent signing in 2006 who has never panned out. McDougle is a former Eagles first-round pick who managed one sack in 2007. Both players need to start producing quickly, else they'll be on the street.
Newcomer to watch
All eyes will be on second-round pick DeSean Jackson out of Cal. McNabb is going out of his way not to put pressure on Jackson, but he thinks he'll make an immediate impact in the return game.
His head coach agrees. "He's picking things up well," Reid told reporters recently. "He's a sharp kid. He has a nice feel for the game."
For the usually reticent Reid, that last sentence qualifies as gushing.
The Eagles don't exactly have a great track record (Freddie Mitchell, Billy McMullen) when it comes to drafting wide receivers.
Observation deck
Offensive tackle Tra Thomas left practice Sunday with back spasms, something he's dealt with in the past. ... You won't see it on the depth chart yet, but the rookie Jackson could challenge for the No. 2 wide receiver spot at some point this season. Maybe even sooner than people think -- like now. ... Rookie Trevor Laws and Dan Klecko will offer depth at defensive tackle behind Mike Patterson and Brodrick Bunkley. The Klecko-to-fullback move lasted at least two days. ... Quintin Mikell will not give the starting strong safety position back to Sean Considine. ... Lightning has thwarted the past two practices for the Eagles, but players haven't filed any complaints. When a water main break caused a canceled practice earlier in camp, shouts of joy were heard from the players.
Matt Mosley covers the NFL for ESPN.com.
TRAINING CAMP 2008
The regular season approaches. What teams will complete the journey to Tampa for Super Bowl XLIII? Training camp index | Dates


Commentary/features

Warner proves he has future
The Cardinals gave Kurt Warner the chance to compete with Matt Leinart for the starting spot, and the 37-year-old quarterback made the most of the opportunity.
John Clayton
---

Pennington's learning curve
It seemed the Jets could not help Chad Pennington pack his bags fast enough. Now the most experienced QB on the Dolphins, he's relishing the chance to excel again.
Jeffri Chadiha
---
•
Kreidler: Future still promising for 49ers' Smith
•
Clayton: Injuries impact preseason
•
Seifert: A new approach in Detroit
•
Smith: Favre drama a reality check for McNabb
•
Kuharsky: Titans focused on defense
•
Sando: Running key for Holmgren's swan song
•
Mosley: Giants hope history teaches well
•
Garber: Coughlin distances from SB win
•
Williamson: Chiefs engergized by youth
•
Chadiha: O-line might hold real keys for Jets
•
Wickersham: Three tips for Favre
•
Mosley: Giants done with celebrating
•
Naylor: Canadian divide on NFL invasion
•
Graham: Sleeper Bills
|
Blog: Yo, Canada
•
Seifert: For a change, no distractions for Vikes
•
Mosley: McNabb confident Eagles among elite
•
Kuharsky: Garrard taking control
•
Mosley: Eagles poised to return to prominence
•
Clayton: Young on his way to elite status
•
Kuharsky: Garrard ready to lead Jags
•
Chadiha: Delhomme determined to seize moment
•
Yasinskas: Smith's approach suits Falcons
•
Mosley: Zorn's coaching desire finally fulfilled
•
Williamson: Young Raiders share Kiffin's hunger
•
Graham: Jets wiping slate clean
•
Chadiha: Turner ready to lead Falcons
•
Clayton: Vikings firmly in Jackson's corner
•
Walker: Tough schedule awaits Steelers in 2008
•
Mosley: Favre is QB turned ringmaster
•
Clayton: 5 reasons Favre would start for Pack
•
Graham: Patriots not dwelling on past
•
Sando: Rams optimistic despite questions
•
Williamson: Shanahan points to playoffs
•
Walker: Bengals look to move past chaos
•
Yasinskas: Delhomme, Peppers must step up
NFL blog network
•
NFL Nation blog
•
AFC
:
North
|
South
|
East
|
West
•
NFC:
North
|
South
|
East
|
West
•
Contact our bloggers
Camp Confidential training camp tour
A breakdown of our annual camp tour:
• Saturday, July 26: Ravens, Saints
• Sunday, July 27: Colts, Bears
• Monday, July 28: Dolphins, Cardinals
• Tuesday, July 29: Packers

---
•
Wednesday, July 30:
Chargers
,
Cowboys
•
Thursday, July 31:
Texans
,
49ers
•
Friday, Aug. 1:
Patriots
•
Saturday, Aug. 2:
Bengals
,
Panthers
---
•
Sunday, Aug. 3:
Broncos
•
Monday, Aug. 4:
Rams
•
Tuesday, Aug. 5:
Steelers
•
Wednesday, Aug. 6:
Jets
---
•
Thursday, Aug. 7:
Raiders
|
Redskins
•
Friday, Aug. 8:
Falcons
•
Saturday, Aug. 9:
Jaguars
---
•
Tuesday, Aug. 12:
Eagles
|
Vikings
•
Wednesday, Aug. 13:
Bills
•
Thursday, Aug. 14:
Chiefs
---
•
Friday, Aug. 15:
Giants
|
Seahawks
•
Saturday, Aug. 16:
Bucs
|
Lions
•
Sunday, Aug. 17:
Browns
•
Monday, Aug. 18:
Titans
Video
•
NFL Insiders on Bills, Broncos, more
•
Rachel Nichols on Favre, Jets
•
NFL Live dissects ESPN.com power rankings
Audio
•
Podcast: Biggest questions
Scouts Inc.
•
Camp outlook: AFC Q&A on X's and O's

•
Camp outlook: NFC Q&A on X's and O's

•
Notable quarterback battles
Nike Women's Philadelphia Eagles Rewind Script Grey Long Sleeve Shirt Shop »

MOST SENT STORIES ON ESPN.COM