Commentary
Eagles' fate dependent on McNabb's health, production
A lot has changed in Philly over the past 10 years. But the Eagles' success still hinges on QB Donovan McNabb's ability to stay healthy -- and produce at a high level, writes Sal Paolantonio.
LEHIGH, Pa. -- On another stifling summer morning on the south mountain of Lehigh University, here's what Year 10 of the Andy Reid-Donovan McNabb era in Philadelphia looked like: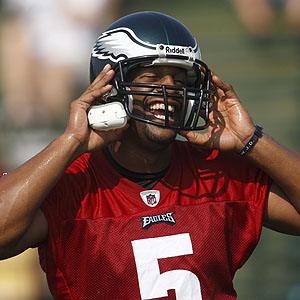 Howard Smith/US PRESSWIRE Donovan McNabb expects the Eagles to quickly establish themselves as contenders in the NFC.
Reid, standing alone at the 50-yard line, stone silent, watched the quarterback he drafted in 1999 throw to another fresh-faced crop of wide receivers. And McNabb dropped back five steps and fired a laser -- definitely no sign of any lingering tendinitis in his throwing shoulder -- across the middle to rookie second-round pick
DeSean Jackson
.
Diminutive Jackson was unprepared for McNabb's velocity, and the ball caromed off the rookie's shoulder pads. McNabb looked away, less than pleased. Reid never moved a muscle.
Ten years Reid and McNabb have been together. It is the longest current tenure of a coach and quarterback without winning a Super Bowl -- 112 starts without a title. Indeed, only Marv Levy and Jim Kelly (151 starts) in Buffalo, and Tom Coughlin and Mark Brunell (117) in Jacksonville started more games together without claiming the Lombardi trophy.
Still, on Tuesday morning, McNabb was conceding nothing -- not a hint of remorse or perspective about the frustration that has transpired, not a scintilla of fear about what is expected in 2008. Whether he is at a crossroads or, more likely, the end of the road in Philadelphia, McNabb believes the Eagles are the team to beat in the NFC this year.
"A lot of people have picked us to win the NFC, and rightfully so," said McNabb, suggesting all business in a plain white T-shirt and ball cap. "It's not that hard to see the type of team we have. You don't win NFC championships or the NFC on paper. You put it out on the field. Our team hasn't changed that much where we can't win the NFC again."

A lot of people have picked us to win the NFC, and rightfully so.
--Donovan McNabb
With a straightforward matter-of-factness, McNabb insisted that the start of this season will be different from 2007, when he was coming back from knee surgery. There will be no excuses, he said, and the results will be different. In fact, he almost sounded as though he was calling out his teammates -- and putting division rivals on notice that the NFC East title will go through Philadelphia again.
"We beat the Cowboys last year, and we should have beaten them in the first game," said McNabb, apparently not afraid to provide a little bulletin board material for the folks training in Oxnard, Calif. "The Redskins, we should have beaten them the first time. The Giants, we should have beaten them both times. It's not just teams in our division; it's the NFC, period. I feel like we can compete with all of them. If you ask those teams, they'll tell you the same, that we have the type of team you have to look out for.
"Again, the ball starts with me. Then you go throughout the whole offense, everybody knows who No. 36 [running back Brian Westbrook] is. Just like on defense, everybody knows who 20 [safety Brian Dawkins] is. We have the players. We just have to put it together."
Putting it together starts with keeping everybody in one piece. And that starts with No. 5.
McNabb, who is 31 and has missed 15 starts in the past three seasons because of various injuries (a sports hernia, a torn knee ligament and an ankle sprain), sat out about a half-dozen minicamp sessions in May and June because of stiffness and tendinitis in his throwing (right) shoulder. Eagles trainer Rick Burkholder put McNabb on an intense regimen of stretching and rest, and Reid put him on a pitch count, which will continue throughout this summer.
Quarterback-Coach Tandems: Most Starts Without Super Bowl Title
Start Year
Coach-Quarterback Tandem
Starts
1986
Marv Levy-Jim Kelly, Buffalo Bills
151
1995
Tom Coughlin-Mark Brunell, Jacksonville Jaguars
117
1999
Andy Reid-Donovan McNabb, Philadelphia Eagles
112
1984
Sam Wyche-Boomer Esiason, Cincinnati Bengals
107
1976
Jack Patera-Jim Zorn, Seattle
85
Courtesy of the Elias Sports Bureau
Moreover, Reid has inaugurated an "Over 30 Club." Any player over the age of 30 gets a morning off after two straight days of training camp, which -- despite the league's 80-man roster limit -- is a week longer in Lehigh this year.
The Eagles have gone to a youth movement in many areas, particularly the front seven on defense. But this team's core is aging quickly, and the window of its opportunity to win a championship is nearly closed. In addition to McNabb on offense, both his tackles are most likely in their last seasons in Philadelphia: Jon Runyan (34) and Tra Thomas (33). On defense, former All-Pro safety Brian Dawkins, who suffered through various ailments last year in camp and missed six games last season, will be 35 in October.
Given all that, McNabb must start the year healthy -- and productive. It's not enough anymore for him just to be on the field. In the 33 regular-season starts he has made since his appearance in Super Bowl XXXIX, McNabb is just one game above .500 (17-16).
The Eagles (8-8) finished last in the NFC East in 2007 despite having allowed the fewest points in the division. So, you have to point the finger at the team's offense. It finished sixth in the league in total yards. But that's deceptive because Philadelphia finished 17th in total points. Why? The Eagles' red zone production was 24th in the league.
McNabb finished strong, winning the final three games with five touchdown passes, just one interception and a 65 percent completion rate.
But, still wearing a knee brace and trying to find his footing and rhythm, McNabb stumbled through September and October last year, and that can't happen this fall. And he knows it.
"I didn't prepare for the type of start we had last year," McNabb said. "I thought we would come out of the gate a little bit better than we did. You focus on yourself and not necessarily everybody. For myself, I expected to come out a lot better than I did. That was the frustrating part about it, because you just don't have all of your faculties -- if it was the mobility or if it was just the sudden movement to be able to react a little bit quicker. Fortunately, I've had a great offseason and look forward to having a way better start than last year. As a team, I just kind of thought that we were trying to find our niche in this offense together. I thought we began to get that towards the middle of the year on, and it got better and better. Now, we need to start that way."
In the red zone, it will help to have tight end L.J. Smith, who is coming off sports hernia surgery, healthy for a full 16-game schedule. Running back Lorenzo Booker, acquired from the Dolphins in the spring, is expected to provide another option out of the backfield.
But keeping the No. 1 option happy will be tricky. Westbrook, who led the league in yards from scrimmage last season, wants a new deal. The Eagles want to reward him. But negotiations have been slow, and frustrating, and -- given the Eagles' history of nasty contract disputes with Terrell Owens, Jeremiah Trotter, Duce Staley and others -- could easily poison the Reid-McNabb 10th anniversary celebration.
McNabb sidestepped discussing Westbrook's dispute with the Eagles' front office.
"That's not my business," he said. "Besides … who knows if it will be me next year?"
Sal Paolantonio covers the NFL for ESPN.
SportsCenter correspondent / NFL reporter
Sal Paolantonio joined ESPN as a SportsCenter correspondent in August 1995, primarily reporting on the NFL. Beginning in 2004, he also served as host of NFL Match-Up, a weekly "Xs and Os" football show produced by NFL Films.
TRAINING CAMP 2008
The regular season approaches. What teams will complete the journey to Tampa for Super Bowl XLIII? Training camp index | Dates


Commentary/features

Warner proves he has future
The Cardinals gave Kurt Warner the chance to compete with Matt Leinart for the starting spot, and the 37-year-old quarterback made the most of the opportunity.
John Clayton
---

Pennington's learning curve
It seemed the Jets could not help Chad Pennington pack his bags fast enough. Now the most experienced QB on the Dolphins, he's relishing the chance to excel again.
Jeffri Chadiha
---
•
Kreidler: Future still promising for 49ers' Smith
•
Clayton: Injuries impact preseason
•
Seifert: A new approach in Detroit
•
Smith: Favre drama a reality check for McNabb
•
Kuharsky: Titans focused on defense
•
Sando: Running key for Holmgren's swan song
•
Mosley: Giants hope history teaches well
•
Garber: Coughlin distances from SB win
•
Williamson: Chiefs engergized by youth
•
Chadiha: O-line might hold real keys for Jets
•
Wickersham: Three tips for Favre
•
Mosley: Giants done with celebrating
•
Naylor: Canadian divide on NFL invasion
•
Graham: Sleeper Bills
|
Blog: Yo, Canada
•
Seifert: For a change, no distractions for Vikes
•
Mosley: McNabb confident Eagles among elite
•
Kuharsky: Garrard taking control
•
Mosley: Eagles poised to return to prominence
•
Clayton: Young on his way to elite status
•
Kuharsky: Garrard ready to lead Jags
•
Chadiha: Delhomme determined to seize moment
•
Yasinskas: Smith's approach suits Falcons
•
Mosley: Zorn's coaching desire finally fulfilled
•
Williamson: Young Raiders share Kiffin's hunger
•
Graham: Jets wiping slate clean
•
Chadiha: Turner ready to lead Falcons
•
Clayton: Vikings firmly in Jackson's corner
•
Walker: Tough schedule awaits Steelers in 2008
•
Mosley: Favre is QB turned ringmaster
•
Clayton: 5 reasons Favre would start for Pack
•
Graham: Patriots not dwelling on past
•
Sando: Rams optimistic despite questions
•
Williamson: Shanahan points to playoffs
•
Walker: Bengals look to move past chaos
•
Yasinskas: Delhomme, Peppers must step up
NFL blog network
•
NFL Nation blog
•
AFC
:
North
|
South
|
East
|
West
•
NFC:
North
|
South
|
East
|
West
•
Contact our bloggers
Camp Confidential training camp tour
A breakdown of our annual camp tour:
• Saturday, July 26: Ravens, Saints
• Sunday, July 27: Colts, Bears
• Monday, July 28: Dolphins, Cardinals
• Tuesday, July 29: Packers

---
•
Wednesday, July 30:
Chargers
,
Cowboys
•
Thursday, July 31:
Texans
,
49ers
•
Friday, Aug. 1:
Patriots
•
Saturday, Aug. 2:
Bengals
,
Panthers
---
•
Sunday, Aug. 3:
Broncos
•
Monday, Aug. 4:
Rams
•
Tuesday, Aug. 5:
Steelers
•
Wednesday, Aug. 6:
Jets
---
•
Thursday, Aug. 7:
Raiders
|
Redskins
•
Friday, Aug. 8:
Falcons
•
Saturday, Aug. 9:
Jaguars
---
•
Tuesday, Aug. 12:
Eagles
|
Vikings
•
Wednesday, Aug. 13:
Bills
•
Thursday, Aug. 14:
Chiefs
---
•
Friday, Aug. 15:
Giants
|
Seahawks
•
Saturday, Aug. 16:
Bucs
|
Lions
•
Sunday, Aug. 17:
Browns
•
Monday, Aug. 18:
Titans
Video
•
NFL Insiders on Bills, Broncos, more
•
Rachel Nichols on Favre, Jets
•
NFL Live dissects ESPN.com power rankings
Audio
•
Podcast: Biggest questions
Scouts Inc.
•
Camp outlook: AFC Q&A on X's and O's

•
Camp outlook: NFC Q&A on X's and O's

•
Notable quarterback battles

MOST SENT STORIES ON ESPN.COM