Commentary
Camp Confidential: End run for Holmgren regime
While all 11 starters return from a star-studded Seahawks defense, an offense in transition might hold the key to Mike Holmgren's swan song in Seattle, writes Mike Sando.
Updated:
August 16, 2008, 9:29 AM ET
By
Mike Sando
| ESPN.com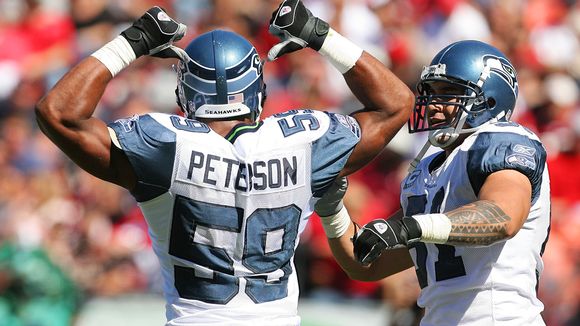 Greg Trott/Getty ImagesLinebackers Julian Peterson (left) and Lofa Tatupu anchor a Seahawks defense that returns all 11 starters from last season. While the offense retools to find new stars at running back and receiver, the defense might have to lead the charge.
KIRKLAND, Wash. -- The
Seattle Seahawks
are a team in transition as they chase a fifth consecutive NFC West title. Coach Mike Holmgren is entering his 10th and final season with the team. Defensive backs coach Jim Mora already has signed an agreement naming him the sixth head coach in franchise history and will begin in 2009. As training camp breaks, the organization is moving into a $75 million waterfront facility nine miles south of its outdated longtime headquarters. Leading receiver
Bobby Engram
, a fixture during the Holmgren years, is entering a contract year without assurances he fits into the team's plans beyond 2008. Several long-term Holmgren assistants also face uncertain futures. The marketing slogan adopted for Holmgren's initial season in Seattle -- "It's Now Time!" -- has never seemed more appropriate. "It's hard to believe it's been 10 years," Holmgren said.
NFC West Blog

ESPN.com's Mike Sando writes about all things NFC West in his division blog.
The veteran offense Holmgren assembled during the team's rise also finds itself in transition. This team features new starters at running back, tight end and left guard. Injuries at receiver have created uncertainty. "I think the biggest question mark for us is the wide receiver position," Holmgren said. The defense ranked 15th in total yards allowed and ninth in yards allowed per play in 2007, but inconsistent play on the road was a problem. Seattle nonetheless became the only team to field 2008 Pro Bowl starters at defensive end (
Patrick Kerney
), linebacker (
Julian Peterson
and
Lofa Tatupu
) and cornerback (
Marcus Trufant
). All 11 defensive starters return. First-round defensive end
Lawrence Jackson
and fourth-round defensive tackle
Red Bryant
both should contribute immediately. Expectations are higher for this group. "Our defensive line was a tough group to deal with, but front to back, we can dominate more than we have," safety
Brian Russell
said. "We have been good and at times solid, but I don't think with the caliber of players we have, solid is going to do it for us."
Key questions
1. How much will Seattle miss Engram?

The Seahawks have enough depth at receiver -- and sufficient options at tight end -- to compensate while a shoulder injury sidelines Engram for the first two or three games. Engram caught a franchise-record 94 passes in 2007, but the number is misleading. Seattle lacked a consistent tight end. Running back Shaun Alexander wasn't much of a receiver out of the backfield. The offense is different this season. Running backs Julius Jones and Maurice Morris will become involved in the passing game. Rookie John Carlson has a chance to catch 40 or 50 passes. Receiver Deion Branch could be back for the season opener, and Nate Burleson returns after leading the team with nine touchdown receptions last season. "Bobby's 94 catches last year, for this place, that was really something," Holmgren said. "That's very good. Probably a little high, if everyone stays healthy. We're better if we spread it around more." 2. Who starts at running back, Jones or Morris?


Holmgren hasn't named a starter, but Jones and Morris both will play extensively. Jones wants to prove he's an every-down back capable of carrying 20 or 25 times per game. The Seahawks set aside that many carries for Alexander during his MVP heyday, but the offense is different now. Holmgren wants to reestablish a pass-oriented attack that spreads the ball around.

Jones was the primary back in Dallas during the 2005 and 2006 seasons. Morris has been a career backup. Logic said Jones would become the starter in Seattle once the Seahawks signed him in free agency, but that might not be the case. Morris rushed for more yards than Jones last season despite 24 fewer carries. He also put up impressive numbers in the Seahawks' exhibition opener.

3. Will the Mora situation become a distraction? Mora's hiring as defensive backs coach in 2007 fueled speculation he one day would succeed Holmgren as head coach. The Seahawks removed any doubt when they named Mora their next head coach, starting in 2009.

The announcement left some coaches unsure whether their tenures with the team would extend beyond the Holmgren era. Several longtime Holmgren assistants bolted for jobs elsewhere, but quite a few remain. It's an awkward situation for some.

Holmgren is a strong enough personality and leader to maintain order. He has vowed emphatically to intercede if players or anyone else aligns themselves with Mora prematurely.

Mora, for his part, has kept a low profile. He is declining to speak publicly about matters beyond his immediate duties coaching the defensive backs. Holmgren and Mora appear determined to make this work.
Market watch



Pro Bowl linebackers Tatupu and Peterson remain under contract for the long term, but emerging star Leroy Hill is entering the final year of his rookie deal. Hill can secure a lucrative payday by demonstrating better consistency. The 2005 third-round choice has been the Seahawks' best linebacker at times, notably in the playoffs, but he hasn't played to his potential for a full season.

Rookie first-round draft choice Lawrence Jackson has a chance to beat out incumbent defensive end Darryl Tapp for the starting job on the right side. Tapp might be the better pure pass-rusher, but Jackson could be better suited on early downs. The Seahawks needed better depth at the position because Patrick Kerney is 31 and coming off surgery for the second consecutive offseason.

Second-year center Steve Vallos could emerge as a surprise starter this season because the Seahawks can't count on incumbent Chris Spencer's health. A back injury forced Spencer, a first-round choice in 2005, to miss nearly all of training camp. He remains sidelined indefinitely. A back injury already forced Spencer's backup, Chris Gray, into retirement. Vallos performed surprisingly well as the starter during the exhibition opener.
Newcomer to watch



Veteran guard Mike Wahle has restored personality and athleticism to the Seahawks' interior offensive line. Holmgren, who was with Green Bay when the Packers drafted Wahle in 1998, couldn't be happier with the free-agent addition from Carolina.

"I think the biggest thing in the offseason was [adding] Mike Wahle," Holmgren said. "That was huge. He's really a good football player, and you don't really get a chance to do that all that much in free agency with a player of his caliber. Normally, he winds up staying with his team." Injuries caught up with Wahle in Carolina. The Panthers also wanted more powerful linemen. Wahle is better suited for the Seahawks' offense, which values mobility over raw power. Carlson, the rookie tight end from Notre Dame, is another key addition. The Seahawks think his versatility will help the offense become less predictable. Past Seattle tight ends excelled at either blocking or receiving. Carlson has the potential to do both well. As a result, Holmgren won't have to limit his play calling based on personnel at tight end.
Observation deck

The offensive line will improve with Wahle at guard and two new line coaches, but continuity is a concern early. Spencer hasn't practiced since the first day of training camp. Shoulder surgery previously limited his work during the offseason. The team gave left tackle Walter Jones time off during camp to rest his surgically repaired shoulders. Seattle hasn't been able to put the same five players on the field and let them gell. … The Seahawks appeared to lose quality depth when they let backup linebackers Niko Koutouvides and Kevin Bentley depart in free agency. That might be the case, but undrafted rookie middle linebacker David Hawthorne looks like a keeper. Teammates are calling him "The Heater" for the big hits he makes regularly. … Rookie Brandon Coutu and veteran Olindo Mare continue to battle for the kicking job. Coutu probably has the edge in a close race because he's younger and the Seahawks invested a draft choice in him.

Mike Sando covers the NFL for ESPN.com.
NFL Insider
ESPN Insider NFL columnist and blogger
Covered the NFL since 1998
Member of Pro Football Hall of Fame selection committee
TRAINING CAMP 2008
The regular season approaches. What teams will complete the journey to Tampa for Super Bowl XLIII? Training camp index | Dates


Commentary/features

Warner proves he has future
The Cardinals gave Kurt Warner the chance to compete with Matt Leinart for the starting spot, and the 37-year-old quarterback made the most of the opportunity.
John Clayton
---

Pennington's learning curve
It seemed the Jets could not help Chad Pennington pack his bags fast enough. Now the most experienced QB on the Dolphins, he's relishing the chance to excel again.
Jeffri Chadiha
---
•
Kreidler: Future still promising for 49ers' Smith
•
Clayton: Injuries impact preseason
•
Seifert: A new approach in Detroit
•
Smith: Favre drama a reality check for McNabb
•
Kuharsky: Titans focused on defense
•
Sando: Running key for Holmgren's swan song
•
Mosley: Giants hope history teaches well
•
Garber: Coughlin distances from SB win
•
Williamson: Chiefs engergized by youth
•
Chadiha: O-line might hold real keys for Jets
•
Wickersham: Three tips for Favre
•
Mosley: Giants done with celebrating
•
Naylor: Canadian divide on NFL invasion
•
Graham: Sleeper Bills
|
Blog: Yo, Canada
•
Seifert: For a change, no distractions for Vikes
•
Mosley: McNabb confident Eagles among elite
•
Kuharsky: Garrard taking control
•
Mosley: Eagles poised to return to prominence
•
Clayton: Young on his way to elite status
•
Kuharsky: Garrard ready to lead Jags
•
Chadiha: Delhomme determined to seize moment
•
Yasinskas: Smith's approach suits Falcons
•
Mosley: Zorn's coaching desire finally fulfilled
•
Williamson: Young Raiders share Kiffin's hunger
•
Graham: Jets wiping slate clean
•
Chadiha: Turner ready to lead Falcons
•
Clayton: Vikings firmly in Jackson's corner
•
Walker: Tough schedule awaits Steelers in 2008
•
Mosley: Favre is QB turned ringmaster
•
Clayton: 5 reasons Favre would start for Pack
•
Graham: Patriots not dwelling on past
•
Sando: Rams optimistic despite questions
•
Williamson: Shanahan points to playoffs
•
Walker: Bengals look to move past chaos
•
Yasinskas: Delhomme, Peppers must step up
NFL blog network
•
NFL Nation blog
•
AFC
:
North
|
South
|
East
|
West
•
NFC:
North
|
South
|
East
|
West
•
Contact our bloggers
Camp Confidential training camp tour
A breakdown of our annual camp tour:
• Saturday, July 26: Ravens, Saints
• Sunday, July 27: Colts, Bears
• Monday, July 28: Dolphins, Cardinals
• Tuesday, July 29: Packers

---
•
Wednesday, July 30:
Chargers
,
Cowboys
•
Thursday, July 31:
Texans
,
49ers
•
Friday, Aug. 1:
Patriots
•
Saturday, Aug. 2:
Bengals
,
Panthers
---
•
Sunday, Aug. 3:
Broncos
•
Monday, Aug. 4:
Rams
•
Tuesday, Aug. 5:
Steelers
•
Wednesday, Aug. 6:
Jets
---
•
Thursday, Aug. 7:
Raiders
|
Redskins
•
Friday, Aug. 8:
Falcons
•
Saturday, Aug. 9:
Jaguars
---
•
Tuesday, Aug. 12:
Eagles
|
Vikings
•
Wednesday, Aug. 13:
Bills
•
Thursday, Aug. 14:
Chiefs
---
•
Friday, Aug. 15:
Giants
|
Seahawks
•
Saturday, Aug. 16:
Bucs
|
Lions
•
Sunday, Aug. 17:
Browns
•
Monday, Aug. 18:
Titans
Video
•
NFL Insiders on Bills, Broncos, more
•
Rachel Nichols on Favre, Jets
•
NFL Live dissects ESPN.com power rankings
Audio
•
Podcast: Biggest questions
Scouts Inc.
•
Camp outlook: AFC Q&A on X's and O's

•
Camp outlook: NFC Q&A on X's and O's

•
Notable quarterback battles
ESPN FAN SHOP