Commentary
Camp Confidential: QBs will make or break Bears' season
Although coach Lovie Smith is trying to deflect attention away from his QBs, the Bears' season is clearly riding on whether the team can generate competent play from the position, writes Kevin Seifert.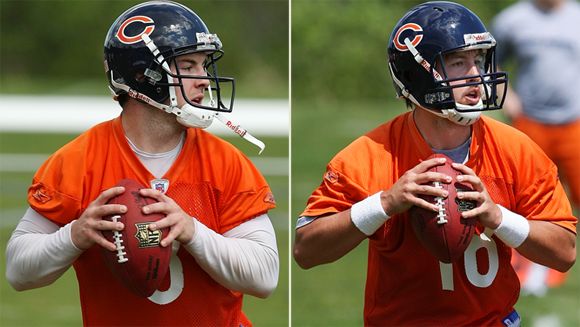 Getty Images The Bears have to choose between Rex Grossman, left, and Kyle Orton, regardless of whether either quarterback truly deserves to be a starter.
BOURBONNAIS, Ill. -- It didn't take long on July 23 for
Chicago Bears
coach Lovie Smith to establish the tone of his 2008 training camp.
Minutes after the first practice of the summer, Smith gently scolded reporters for focusing on the Bears' quarterback derby between Rex Grossman and Kyle Orton.
"I wouldn't read into anything about how anything is going," Smith said. "The quarterback competition is going to go down to it. Let's not worry about this guy doing this here and this guy doing that there. You can spend all your time with that if you like. I am just going to let it play out. We'll get back with you on it a little later on. So let's forget the quarterback position."
A cynic would suggest the Bears themselves forgot about the quarterback position this offseason, leaving them with two candidates whose pedigrees are mixed at best. Whether Smith likes it or not, the Bears' season is riding on whether they can generate competent play from their quarterback -- whoever it is -- and provide enough offensive production to support a defense and special teams group that should rank among the NFL's best.
"We're just looking for consistency," offensive coordinator Ron Turner said. "We want them to execute the offense, make the right reads; just be smart about where they're going and do their job on a consistent basis."
Key questions
1. Do the Bears have a starting-caliber quarterback on their roster?
There is an old saying about NFL personnel competitions: If you think you have two starters, you probably don't have one. The Bears have two quarterbacks competing to start, but it's not clear -- even after the first few days of training camp -- whether either of them deserves a starting job.
Both Grossman and Orton have been benched during their careers with the Bears -- Grossman as recently as 2007. He threw 27 interceptions in his past 24 games, and his gunslinger mentality hurt the Bears as much as it helped them.
Neither he nor Orton have ever displayed the type of consistency Smith and Turner are looking for, a deficiency reflected in their early training camp performances. Grossman followed several strong-armed throws with interceptions thrown into double coverage, while Orton appeared crisp on one play, but would launch a wobbly duck toward the sideline on the next.
There has been some discussion of acquiring Tampa Bay's Chris Simms, but unless that happens soon, either Grossman or Orton will start the Sept. 7 opener at Indianapolis. Because of Grossman's propensity for mistakes, some believe Orton could emerge as the surprise winner of the competition because he has a better chance of producing a steady -- if not spectacular -- performance.
Orton, in fact, embraced the term "game manager" during training camp interviews.

"People use that term with me all the time," Orton said, "but I don't think it's necessarily a negative connotation. It has been a little bit of a negative stigma, but I just try to limit mistakes on the field and certainly have the situation of the game in my mind at all times."

2. Can Devin Hester learn to play wide receiver?

Not only are the Bears counting on Hester to transition into a full-time receiver, but they also want him to be their No. 1 option. It is an incredible challenge for a player whose role has mostly been confined to special teams in his previous two seasons.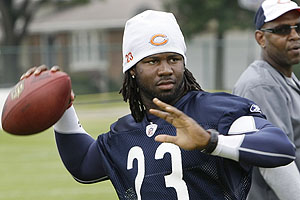 AP Photo/Charles Rex ArbogastThe Bears will do everything in their power to help Devin Hester develop into a No. 1-caliber WR.
Hester learned a small package of offensive plays in 2007 -- reportedly, he was only asked to learn four -- and still caught 20 passes for 299 yards and two touchdowns. That performance had Bears coaches salivating over the prospects of what he could do in a full-time role.
"I just know he's done everything we've asked him to do," Smith said. "He's really become a student of the game. It's not like we're out there telling him plays. He's one of our receivers just like the rest of the guys, and right now it's about him making plays because he knows what he's doing."
Hester might have made some progress learning his playbook during spring workouts, but an unexpected holdout -- and subsequent hamstring injury -- stalled the experiment during training camp. On-field repetitions are paramount to making this adjustment, but Hester missed five practices before agreeing to a new contract on Sunday.
The Bears, however, have invested too much of their organizational plan in Hester to turn back now. The rest of their receiving corps -- Marty Booker, Brandon Lloyd, Mark Bradley, Rashied Davis and rookie Earl Bennett -- are secondary players at best.
3. Can the defense win games on its own?
From the outside, it appears the Bears will ask their talented group of defensive players to do just that. They made a point of ensuring the happiness of three key players this offseason, granting contract extensions to linebackers Lance Briggs and Brian Urlacher and defensive tackle Tommie Harris.
That trio, combined with playmaking cornerbacks Nate Vasher and Charles Tillman, is expected to lift the Bears back among the NFL's elite defenses. The return of oft-injured safety Mike Brown, who appears healthy after recovering from a torn anterior cruciate ligament, only adds credibility to this unit.
Briggs, for one, said he was actually looking forward to training camp this summer as it approached.
"I usually dread camp every year," Briggs said, "but this year I'm happy to be here. … We want to get back to being the best defense in the league. We want to have the most takeaways. We want to have the most scores. We want to be dominant, and this is where it begins."
Market watch
The middle linebacker is the core of any defense, and so all eyes will be on Urlacher this summer as he recovers from a disappointing year that featured significant back pain and ultimately led to offseason neck surgery.
Urlacher, 30, is entering his ninth NFL season and probably doesn't have nine more seasons in him. But the Bears were confident enough he will resume a high level of play to give him an annual $1 million raise as well as a $6 million signing bonus last week.
"I'm not worried about it," Urlacher said. "I feel great."
There were no warning signs early in training camp, but the real test occurs later this summer, when Urlacher finds out whether his neck and back hold up under game conditions.
Newcomer to watch
The release of tailback Cedric Benson made rookie Matt Forte the top candidate to start for a team that figures to run the ball as often as it can in 2008. Forte has a gliding style that makes him hard to tackle, even though at 6-foot-2 he appears to run dangerously upright.
"I've been running like that since I started playing football," Forte said. "I wouldn't call it an upright running style, because if I'm running and I see somebody coming at me, I'm not going to stand straight up. I hear that all the time, but obviously I'm going to protect myself out here. I run with my pads low. You can make easier cuts that way."
Veteran Adrian Peterson opened training camp working with the first team, but it seems only a matter of time before Forte takes over that role. Forte also looked surprisingly smooth as a receiver and could help the Bears' limited passing game as an outlet receiver from the backfield.
Veteran Kevin Jones, signed earlier this month, is on the physically unable to perform list (knee) and might not be ready to play when the regular season begins.
Observation deck
The Bears want first-round pick Chris Williams to start at left tackle and they have already moved John Tait to the right side to make room. But Williams' back flared up in the second practice of camp and his progress has been stalled. … There is some concern about the long-term health of defensive tackle Dusty Dvoracek, who is a candidate to start next to Harris if he can avoid injury. He missed his rookie season because of a foot injury, played in only one game in 2007 after injuring his knee and opened camp this summer on the non-football injury list because of a calf strain. … Receiver Booker has lost some of his speed, but during training camp practices he displayed a veteran's ability to ward off defenders and catch the ball. … Second-year cornerback Corey Graham got plenty of work with the first team while Tillman tended to a personal issue at home, and Graham could fit heavily into the Bears' plans.
Kevin Seifert covers the NFL for ESPN.com.
NFL Nation
ESPN.com national NFL writer
ESPN.com NFC North reporter, 2008-2013
Covered Vikings for Minneapolis Star Tribune, 1999-2008
TRAINING CAMP 2008
The regular season approaches. What teams will complete the journey to Tampa for Super Bowl XLIII? Training camp index | Dates


Commentary/features

Warner proves he has future
The Cardinals gave Kurt Warner the chance to compete with Matt Leinart for the starting spot, and the 37-year-old quarterback made the most of the opportunity.
John Clayton
---

Pennington's learning curve
It seemed the Jets could not help Chad Pennington pack his bags fast enough. Now the most experienced QB on the Dolphins, he's relishing the chance to excel again.
Jeffri Chadiha
---
•
Kreidler: Future still promising for 49ers' Smith
•
Clayton: Injuries impact preseason
•
Seifert: A new approach in Detroit
•
Smith: Favre drama a reality check for McNabb
•
Kuharsky: Titans focused on defense
•
Sando: Running key for Holmgren's swan song
•
Mosley: Giants hope history teaches well
•
Garber: Coughlin distances from SB win
•
Williamson: Chiefs engergized by youth
•
Chadiha: O-line might hold real keys for Jets
•
Wickersham: Three tips for Favre
•
Mosley: Giants done with celebrating
•
Naylor: Canadian divide on NFL invasion
•
Graham: Sleeper Bills
|
Blog: Yo, Canada
•
Seifert: For a change, no distractions for Vikes
•
Mosley: McNabb confident Eagles among elite
•
Kuharsky: Garrard taking control
•
Mosley: Eagles poised to return to prominence
•
Clayton: Young on his way to elite status
•
Kuharsky: Garrard ready to lead Jags
•
Chadiha: Delhomme determined to seize moment
•
Yasinskas: Smith's approach suits Falcons
•
Mosley: Zorn's coaching desire finally fulfilled
•
Williamson: Young Raiders share Kiffin's hunger
•
Graham: Jets wiping slate clean
•
Chadiha: Turner ready to lead Falcons
•
Clayton: Vikings firmly in Jackson's corner
•
Walker: Tough schedule awaits Steelers in 2008
•
Mosley: Favre is QB turned ringmaster
•
Clayton: 5 reasons Favre would start for Pack
•
Graham: Patriots not dwelling on past
•
Sando: Rams optimistic despite questions
•
Williamson: Shanahan points to playoffs
•
Walker: Bengals look to move past chaos
•
Yasinskas: Delhomme, Peppers must step up
NFL blog network
•
NFL Nation blog
•
AFC
:
North
|
South
|
East
|
West
•
NFC:
North
|
South
|
East
|
West
•
Contact our bloggers
Camp Confidential training camp tour
A breakdown of our annual camp tour:
• Saturday, July 26: Ravens, Saints
• Sunday, July 27: Colts, Bears
• Monday, July 28: Dolphins, Cardinals
• Tuesday, July 29: Packers

---
•
Wednesday, July 30:
Chargers
,
Cowboys
•
Thursday, July 31:
Texans
,
49ers
•
Friday, Aug. 1:
Patriots
•
Saturday, Aug. 2:
Bengals
,
Panthers
---
•
Sunday, Aug. 3:
Broncos
•
Monday, Aug. 4:
Rams
•
Tuesday, Aug. 5:
Steelers
•
Wednesday, Aug. 6:
Jets
---
•
Thursday, Aug. 7:
Raiders
|
Redskins
•
Friday, Aug. 8:
Falcons
•
Saturday, Aug. 9:
Jaguars
---
•
Tuesday, Aug. 12:
Eagles
|
Vikings
•
Wednesday, Aug. 13:
Bills
•
Thursday, Aug. 14:
Chiefs
---
•
Friday, Aug. 15:
Giants
|
Seahawks
•
Saturday, Aug. 16:
Bucs
|
Lions
•
Sunday, Aug. 17:
Browns
•
Monday, Aug. 18:
Titans
Video
•
NFL Insiders on Bills, Broncos, more
•
Rachel Nichols on Favre, Jets
•
NFL Live dissects ESPN.com power rankings
Audio
•
Podcast: Biggest questions
Scouts Inc.
•
Camp outlook: AFC Q&A on X's and O's

•
Camp outlook: NFC Q&A on X's and O's

•
Notable quarterback battles
ESPN FAN SHOP