Commentary
Camp Confidential: Packers focused on blocking out distractions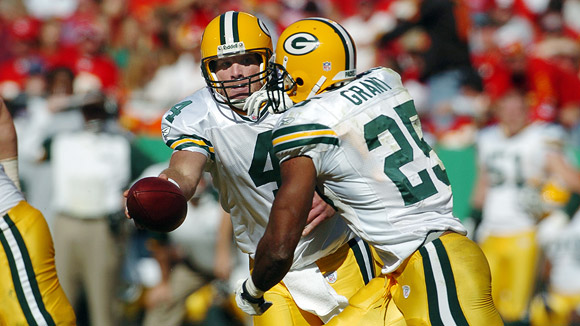 John Rieger/US PresswireEven in their absence, Brett Favre and Ryan Grant have been the main focus at Packers training camp.
GREEN BAY, Wis. -- One of the youngest teams in the NFL is receiving an intense lesson in blocking out distractions.
That's probably the most positive way to describe the challenge that's facing the Green Bay Packers as they opened training camp Monday. Not only is their former quarterback engaging the team in an unprecedented public battle, but arguably their best remaining skill player also is embroiled in a contract dispute.
While Brett Favre forces his way back into the game and running back Ryan Grant sits in his New York City home, the Packers hope to lay the foundation for a second consecutive postseason run. General manager Ted Thompson has assembled a deep and balanced roster of homegrown players, and many observers still consider Green Bay the team to beat in the NFC North.
That is, if they can keep their eye on the ball. The first day of practice produced more false starts and offside infractions than coach Mike McCarthy would have liked, but McCarthy attributed the mistakes to rust rather than the elephant(s) in the room.
"I think our football team, particularly the players, have handled this better than anybody," he said. "I have been very impressed with the feedback from the players and the way they've handled it."
Key questions
How will the offense change without Favre (and possibly Grant)?

[+] Enlarge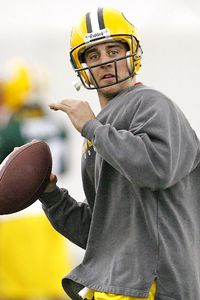 AP Photo/Matt LudtkeCan Aaron Rodgers become the franchise quarterback in Green Bay?
McCarthy's overriding philosophy is to win with a strong defense and a balanced offense, so Favre's (apparent) departure gave McCarthy the opportunity to re-emphasize the running game. The Packers threw the sixth-most passes in the NFL last season (578), but it's fair to expect that ranking to fall into the middle of the league pack -- even though Grant has stayed away from camp.
Green Bay is thrilled with the progress of second-year player Brandon Jackson, who has added muscle during the offseason without sacrificing speed and appears to have a much better handle on the team's running philosophy. McCarthy believes Jackson can handle the majority of the workload, and the public sentiment he has expressed appears to be genuine rather than designed to drive Grant into camp.
The Packers will be thrilled if new quarterback Aaron Rodgers simply plays within the offense, moves outside the pocket when needed and limits his mistakes. During Monday night's practice, more than a few people noticed when Rodgers -- scrambling toward the right sideline -- threw an intentionally uncatchable ball instead of forcing it into coverage.
"All I know is, I just want to win football games," right tackle Mark Tauscher said. "And right now, Aaron Rodgers is our starting quarterback, and I feel great about it."
Will the Packers stay with their traditional four-man rush, bump-and-run defense?
Green Bay coaches have put a lot of work into mixing up their schemes on pass defense. Based on offseason workouts and a few glimpses on the first day of training camp, it's fair to say they at least want opponents to expect a bigger variety of blitz packages.
Linebackers Nick Barnett, A.J. Hawk and Brady Poppinga will get opportunities to rush the quarterback. The Packers also want to take a long look at their lone free-agent acquisition, Brandon Chillar, in that role.
The additional pass rush will only help veteran cornerbacks Al Harris and Charles Woodson. Both remain strong cover men, but some receivers -- such as the New York Giants' Plaxico Burress -- are too physical to cover consistently with bump-and-run schemes.
Do the Packers have enough depth behind Rodgers?

Publicly, at least, the Favre debate has overshadowed what ultimately could be a more pressing problem for this team: The Packers don't have a quarterback on their roster who has started an NFL game.
Rodgers has been a reserve for three seasons, and behind him are two rookies: Second-round pick Brian Brohm and seventh-round pick Matt Flynn. Both are well-regarded prospects but represent a frightening level of inexperience at the game's most important position.
The Packers could seek a veteran later this summer, but for now they don't want another player to take away practice snaps from Brohm and Flynn. McCarthy said no rookie quarterback has ever learned his offense faster than Brohm, and Flynn has demonstrated a strong arm in practice -- including a strong, deep throw down the right sideline Monday that landed in the hands of receiver Jake Allen.
Barring any changes, Brohm figures to be the No. 2 quarterback to open the season.
"I feel pretty comfortable," Brohm said. "I'm getting better every day. That's the goal, to come out and be as comfortable as I can and know all the intricacies and get them all as quickly as possible. That's the thing for me, making sure it comes as fast as it needs to."
Market watch
Kabeer Gbaja-Biamila managed 9½ sacks last season -- his most since 2004 -- despite a knee injury that slowed him during the second half of the season. He had offseason surgery to repair the damage, but he will turn 31 in September, and no one knows how long he will maintain the quickness that has made him one of the NFC's most feared edge rushers.
McCarthy is treating Gbaja-Biamila with care, as he does with many veterans, and hopes to nurture him through at least one more season of providing a situation pass rush on third downs and other obvious passing situations. On Monday, for example, Gbaja-Biamila sat out the morning practice so he could be fresh for Monday night's full-pads workout.
Even with his injury last season, Gbaja-Biamila is one of the team's most durable players. He has played in 123 of the Packers' past 125 games, including playoff games, and he should have a chance at a 10-sack season if the Packers maintain their smart approach with his practice time.
Newcomer to watch
The Packers rarely sign veterans off the free-agent market -- in fact, Chillar was their only 2008 addition -- so their newcomers almost always come through the draft. To that end, many eyes will be on second-round draft pick Jordy Nelson, a wide receiver from Kansas who will push James Jones for playing time as the Packers' No. 3 receiver.
Nelson has a tight end's height (6-foot-3) but has excellent hands and is fast enough to run outside routes. For now, the Packers are using him at the split end position, but he might eventually see some action in the slot.
Nelson, regardless of whether he's designated as the Packers' No. 3 receiver, figures to get consistent playing time because the Packers' offense uses at least a four-man receiving rotation.
"As the minicamps went on this offseason, I think I had steady improvement," Nelson said. "I'm just going to continue to learn and improve, and we'll see where we end up in the regular season."
Observation deck
In the offseason, the Packers considered their defensive line deep enough for them to trade tackle Corey Williams. But injuries to Ryan Pickett (hamstring) and Justin Harrell (back), along with the legal issues of Johnny Jolly, have considerably thinned the position's depth. … The forgotten man in the Packers' backfield is DeShawn Wynn, a seventh-round pick in 2007 who started four games before suffering a season-ending shoulder injury. Wynn is the team's thickest tailback, at nearly 240 pounds, but he is battling Jackson, Vernand Morency and Noah Herron for playing time and a roster spot. … With an 80-man roster limit, the Packers are going without a fourth quarterback and do not have competition in camp for kicker Mason Crosby or punter Jon Ryan.
Kevin Seifert covers the NFL for ESPN.com.
NFL Nation
ESPN.com national NFL writer
ESPN.com NFC North reporter, 2008-2013
Covered Vikings for Minneapolis Star Tribune, 1999-2008
TRAINING CAMP 2008
The regular season approaches. What teams will complete the journey to Tampa for Super Bowl XLIII? Training camp index | Dates


Commentary/features

Warner proves he has future
The Cardinals gave Kurt Warner the chance to compete with Matt Leinart for the starting spot, and the 37-year-old quarterback made the most of the opportunity.
John Clayton
---

Pennington's learning curve
It seemed the Jets could not help Chad Pennington pack his bags fast enough. Now the most experienced QB on the Dolphins, he's relishing the chance to excel again.
Jeffri Chadiha
---
•
Kreidler: Future still promising for 49ers' Smith
•
Clayton: Injuries impact preseason
•
Seifert: A new approach in Detroit
•
Smith: Favre drama a reality check for McNabb
•
Kuharsky: Titans focused on defense
•
Sando: Running key for Holmgren's swan song
•
Mosley: Giants hope history teaches well
•
Garber: Coughlin distances from SB win
•
Williamson: Chiefs engergized by youth
•
Chadiha: O-line might hold real keys for Jets
•
Wickersham: Three tips for Favre
•
Mosley: Giants done with celebrating
•
Naylor: Canadian divide on NFL invasion
•
Graham: Sleeper Bills
|
Blog: Yo, Canada
•
Seifert: For a change, no distractions for Vikes
•
Mosley: McNabb confident Eagles among elite
•
Kuharsky: Garrard taking control
•
Mosley: Eagles poised to return to prominence
•
Clayton: Young on his way to elite status
•
Kuharsky: Garrard ready to lead Jags
•
Chadiha: Delhomme determined to seize moment
•
Yasinskas: Smith's approach suits Falcons
•
Mosley: Zorn's coaching desire finally fulfilled
•
Williamson: Young Raiders share Kiffin's hunger
•
Graham: Jets wiping slate clean
•
Chadiha: Turner ready to lead Falcons
•
Clayton: Vikings firmly in Jackson's corner
•
Walker: Tough schedule awaits Steelers in 2008
•
Mosley: Favre is QB turned ringmaster
•
Clayton: 5 reasons Favre would start for Pack
•
Graham: Patriots not dwelling on past
•
Sando: Rams optimistic despite questions
•
Williamson: Shanahan points to playoffs
•
Walker: Bengals look to move past chaos
•
Yasinskas: Delhomme, Peppers must step up
NFL blog network
•
NFL Nation blog
•
AFC
:
North
|
South
|
East
|
West
•
NFC:
North
|
South
|
East
|
West
•
Contact our bloggers
Camp Confidential training camp tour
A breakdown of our annual camp tour:
• Saturday, July 26: Ravens, Saints
• Sunday, July 27: Colts, Bears
• Monday, July 28: Dolphins, Cardinals
• Tuesday, July 29: Packers

---
•
Wednesday, July 30:
Chargers
,
Cowboys
•
Thursday, July 31:
Texans
,
49ers
•
Friday, Aug. 1:
Patriots
•
Saturday, Aug. 2:
Bengals
,
Panthers
---
•
Sunday, Aug. 3:
Broncos
•
Monday, Aug. 4:
Rams
•
Tuesday, Aug. 5:
Steelers
•
Wednesday, Aug. 6:
Jets
---
•
Thursday, Aug. 7:
Raiders
|
Redskins
•
Friday, Aug. 8:
Falcons
•
Saturday, Aug. 9:
Jaguars
---
•
Tuesday, Aug. 12:
Eagles
|
Vikings
•
Wednesday, Aug. 13:
Bills
•
Thursday, Aug. 14:
Chiefs
---
•
Friday, Aug. 15:
Giants
|
Seahawks
•
Saturday, Aug. 16:
Bucs
|
Lions
•
Sunday, Aug. 17:
Browns
•
Monday, Aug. 18:
Titans
Video
•
NFL Insiders on Bills, Broncos, more
•
Rachel Nichols on Favre, Jets
•
NFL Live dissects ESPN.com power rankings
Audio
•
Podcast: Biggest questions
Scouts Inc.
•
Camp outlook: AFC Q&A on X's and O's

•
Camp outlook: NFC Q&A on X's and O's

•
Notable quarterback battles
Nike Women's Away Game Jersey Green Bay Packers Aaron Rodgers #12 Shop »

MOST SENT STORIES ON ESPN.COM