Commentary
Camp Confidential: Vikings are focused on football
After bringing in several impact players in the offseason, the Vikings believe this is the year they can win the NFC North, writes Kevin Seifert.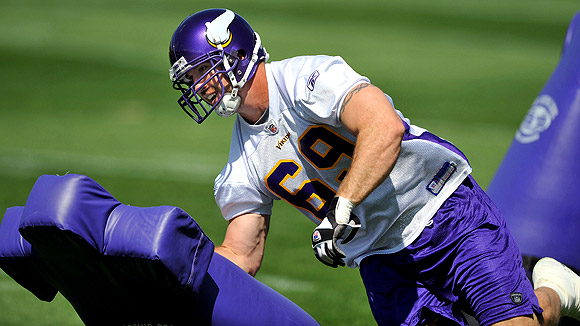 Tom Dahlin/Getty ImagesThe Vikings hope the acquisition of defensive end Jared Allen will upgrade their woeful pass defense.
MANKATO, Minn. -- For the first time in years, the
Minnesota Vikings
have done nothing in training camp but … well … train.
There have been no ugly holdouts. (See Bryant McKinnie, 2002.)
No high-profile arrests. (Koren Robinson, 2006.)
Franchise Player

Who's the best player in franchise history? Vote Now!
No tragedies. (
Korey Stringer
, 2001.)
No AWOL players. (Dimitrius Underwood, 1999.)
No one trying to sell the team. (Red McCombs, 2002-04.)
No quarterback controversies. (Tarvaris Jackson/Brooks Bollinger, 2007.)
It has been quite a departure for the perennially distracted franchise, made all the more stark by the summer-long drama across the border in Wisconsin. While the Green Bay Packers absorb a painful divorce from quarterback Brett Favre, the Vikings quietly are going about the business of building their team.
The timing has been fortuitous. After an offseason shopping spree that netted defensive end Jared Allen, wide receiver Bernard Berrian and safety Madieu Williams -- among others -- the Vikings believe 2008 is the year they can snatch the NFC North. (They haven't won a division title since 2000.)
"I think we're getting there," coach Brad Childress said. "But I just always look at it as if it's never a finished product. We have to always try to get better."
Said nose tackle Pat Williams: "Every day down here, I see our offense getting better. I see our special teams getting better, and I see our defense getting better. It's just small parts here and there that we have to get fixed. Everything is going to be OK for us."
Key questions
1. Is Jackson an NFL-caliber quarterback?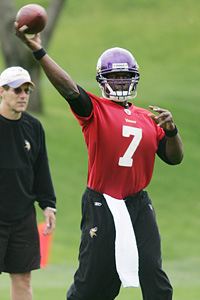 AP Photo/Andy KingThe Vikings need Tavaris Jackson to make defenses pay for ignoring the passing game.
Entering his third season, Jackson is still developing. But by now, he should be able to at least answer that question.
Early indications are that Jackson has improved considerably from his 2007 debut but still needs to make more progress. He appeared exceptionally sharp on short- and medium-range passes during an 8- for-11 performance in the preseason opener against the Seattle Seahawks. But Jackson overthrew receiver Berrian on his lone deep pass and continues to struggle with long-range accuracy.
While the Vikings would love for Jackson to start hitting big plays with regularity, all they need him to do is make sound decisions and make defenses pay for ignoring the passing game. At the very least, he appears more equipped to perform those duties than he was a year ago.
"I just felt real comfortable," Jackson said after the Seahawks game. "I was seeing things clear. It is the preseason, so we weren't doing a lot. But I still feel real comfortable out there. I felt like I was on the same page as everyone."
2. Has Adrian Peterson learned how to run against stacked defensive fronts?

No matter how much Jackson improves, the Vikings know opposing defenses always will focus on Peterson. During the offseason, Peterson and running backs coach Eric Bieniemy studied ways to attack eight-man fronts -- utilizing patience and knowledge of zone blocking schemes to find the hole. Peterson appeared to be his early 2007 self during a recent training camp practice, galloping through the Vikings' first-team defensive line on several occasions.
But Peterson did not have a carry in the preseason opener and doesn't figure to get much work in game conditions before the regular season begins. The Vikings, in fact, passed on 11 consecutive plays to open the Seahawks game.
"He's a team player," Childress said of Peterson. "He knows what he needs to improve in."
3. Are the Vikings any closer to solving their woes in pass defense?

No NFL team gave up more passing yards than the Vikings in 2007, prompting the trade for Allen and the signing of Madieu Williams.
Things didn't exactly get off to a smoking start in the preseason opener, as the Seahawks threw for four touchdowns in a 34-17 victory. But Williams did not play because of a sore neck that could sideline him for the early part of the season, and coaches relied almost exclusively on a four-man pass rush to test their individual defensive linemen.
Any extended absence by Williams would curtail defensive coordinator Leslie Frazier's plan to rely more on safeties in single coverage. Williams likely would be replaced by rookie Tyrell Johnson, but more than ever, it will be on Allen and the defensive line to elevate the pass rush in order to protect the defensive secondary.
Market watch
Safety Darren Sharper is entering the final year of his contract and, as he nears his 33rd birthday, could be in his final year with the team. Sharper plans to go into broadcasting when he retires, but he hopes to extend his playing career by keeping himself in excellent physical condition -- in part by sleeping in a hyperbaric chamber to speed his recovery time.
The Vikings seem headed to a future with Madieu Williams and Johnson as their starting safeties. But Sharper ran a 40-yard dash in 4.45 seconds prior to training camp and plans to play several more years -- with some team, if not the Vikings. If Williams returns quickly from his injury, Sharper will have a chance to roam the field and make the kind of big plays that have characterized his career.
Newcomer to watch
There has been plenty of talk about Allen's potential effect, but Berrian's role will be no less important. The Vikings have to score more points this season, and consequently, they need Berrian to be a legitimate deep threat. The stage is set: Berrian figures to get plenty of single coverage as long as Peterson is in the game.
Berrian's summer, however, has been slowed by a strained groin that has limited him in team drills. The last thing any receiver wants is a nagging leg strain, so it will be interesting to see how the team weighs his health with the need to develop his chemistry with Jackson.
Observation deck
Offensive coordinator Darrell Bevell is calling plays this summer from the sideline instead of the press box, allowing him more interaction with Tarvaris Jackson. Quarterbacks coach Kevin Rogers moves upstairs. … The team's defensive depth has taken a hit. Linebacker Heath Farwell and defensive end Jayme Mitchell, both prominent members of the second-team defense, will miss the season because of torn anterior cruciate ligaments. Meanwhile, the Vikings don't know when they'll get defensive end Brian Robison back. He had two blood clots removed from his leg as part of a procedure to address a varicose vein. … It would be hard to imagine Brooks Bollinger beating out rookie John David Booty for the No. 3 quarterback job. Undrafted rookie Darius Reynaud has been an exciting kick returner in camp and has a chance to make the team.
Kevin Seifert covers the NFL for ESPN.com.
NFL Nation
ESPN.com national NFL writer
ESPN.com NFC North reporter, 2008-2013
Covered Vikings for Minneapolis Star Tribune, 1999-2008
SPONSORED HEADLINES
MORE NFL HEADLINES
MOST SENT STORIES ON ESPN.COM
TRAINING CAMP 2008
The regular season approaches. What teams will complete the journey to Tampa for Super Bowl XLIII? Training camp index | Dates


Commentary/features

Warner proves he has future
The Cardinals gave Kurt Warner the chance to compete with Matt Leinart for the starting spot, and the 37-year-old quarterback made the most of the opportunity.
John Clayton
---

Pennington's learning curve
It seemed the Jets could not help Chad Pennington pack his bags fast enough. Now the most experienced QB on the Dolphins, he's relishing the chance to excel again.
Jeffri Chadiha
---
•
Kreidler: Future still promising for 49ers' Smith
•
Clayton: Injuries impact preseason
•
Seifert: A new approach in Detroit
•
Smith: Favre drama a reality check for McNabb
•
Kuharsky: Titans focused on defense
•
Sando: Running key for Holmgren's swan song
•
Mosley: Giants hope history teaches well
•
Garber: Coughlin distances from SB win
•
Williamson: Chiefs engergized by youth
•
Chadiha: O-line might hold real keys for Jets
•
Wickersham: Three tips for Favre
•
Mosley: Giants done with celebrating
•
Naylor: Canadian divide on NFL invasion
•
Graham: Sleeper Bills
|
Blog: Yo, Canada
•
Seifert: For a change, no distractions for Vikes
•
Mosley: McNabb confident Eagles among elite
•
Kuharsky: Garrard taking control
•
Mosley: Eagles poised to return to prominence
•
Clayton: Young on his way to elite status
•
Kuharsky: Garrard ready to lead Jags
•
Chadiha: Delhomme determined to seize moment
•
Yasinskas: Smith's approach suits Falcons
•
Mosley: Zorn's coaching desire finally fulfilled
•
Williamson: Young Raiders share Kiffin's hunger
•
Graham: Jets wiping slate clean
•
Chadiha: Turner ready to lead Falcons
•
Clayton: Vikings firmly in Jackson's corner
•
Walker: Tough schedule awaits Steelers in 2008
•
Mosley: Favre is QB turned ringmaster
•
Clayton: 5 reasons Favre would start for Pack
•
Graham: Patriots not dwelling on past
•
Sando: Rams optimistic despite questions
•
Williamson: Shanahan points to playoffs
•
Walker: Bengals look to move past chaos
•
Yasinskas: Delhomme, Peppers must step up
NFL blog network
•
NFL Nation blog
•
AFC
:
North
|
South
|
East
|
West
•
NFC:
North
|
South
|
East
|
West
•
Contact our bloggers
Camp Confidential training camp tour
A breakdown of our annual camp tour:
• Saturday, July 26: Ravens, Saints
• Sunday, July 27: Colts, Bears
• Monday, July 28: Dolphins, Cardinals
• Tuesday, July 29: Packers

---
•
Wednesday, July 30:
Chargers
,
Cowboys
•
Thursday, July 31:
Texans
,
49ers
•
Friday, Aug. 1:
Patriots
•
Saturday, Aug. 2:
Bengals
,
Panthers
---
•
Sunday, Aug. 3:
Broncos
•
Monday, Aug. 4:
Rams
•
Tuesday, Aug. 5:
Steelers
•
Wednesday, Aug. 6:
Jets
---
•
Thursday, Aug. 7:
Raiders
|
Redskins
•
Friday, Aug. 8:
Falcons
•
Saturday, Aug. 9:
Jaguars
---
•
Tuesday, Aug. 12:
Eagles
|
Vikings
•
Wednesday, Aug. 13:
Bills
•
Thursday, Aug. 14:
Chiefs
---
•
Friday, Aug. 15:
Giants
|
Seahawks
•
Saturday, Aug. 16:
Bucs
|
Lions
•
Sunday, Aug. 17:
Browns
•
Monday, Aug. 18:
Titans
Video
•
NFL Insiders on Bills, Broncos, more
•
Rachel Nichols on Favre, Jets
•
NFL Live dissects ESPN.com power rankings
Audio
•
Podcast: Biggest questions
Scouts Inc.
•
Camp outlook: AFC Q&A on X's and O's

•
Camp outlook: NFC Q&A on X's and O's

•
Notable quarterback battles