Commentary
Favre drama is a reality check for McNabb
Brett Favre's divorce from the Packers reminds the Eagles' Donovan McNabb that, in the NFL, nothing is forever, writes Stephen A. Smith.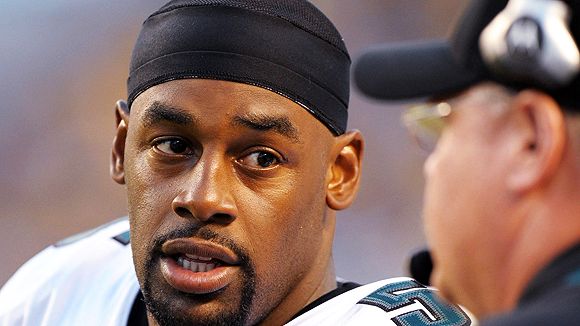 Don Wright/US PresswireDonovan McNabb says Brett Favre's leaving the Packers shows "now that it can happen to anybody."
PHILADELPHIA -- While the rest of the NFL world contemplated the unceremonious manner in which
Brett Favre
was summarily kicked out of Green Bay, another star quarterback, entering his 10th season as the face of his franchise, watched with great interest. Try imagining what was going through the mind of
Donovan McNabb
of the
Philadelphia Eagles
as all of this was unfolding.
Here was Favre, the pre-eminent face of the league since McNabb's high school days. A champion universally recognized as an iron man for his durability, Favre was perceived as a force threatening to infect the progress of a Packers franchise looking to hand the reins to comparative toddler Aaron Rodgers. The Packers' greatest hero found himself pushed out of Green Bay like some vagabond with offensive body odor.
Sure, his teary retirement turned out to be an awkward head-fake. But this was the man whose 17th NFL season nearly ended in a Super Bowl appearance. And retirement or not, this was the man who, in a two-series sneak preview against the Washington Redskins on Saturday, looked ready to add to his already record-setting résumé.
For any NFL quarterback not named Peyton Manning or Tom Brady, the entire scenario is uncomfortable. For McNabb, it's flat-out alarming. Remember, he doesn't play in a low-key, get-'em-next-time environment like Green Bay. He punches a clock in Philadelphia, a city of fans so annoyed with his plethora of injuries and/or his inability to lead the Eagles to the postseason two of the past three years that the calls for backup Kevin Kolb have already begun.
With the boot so conspicuously placed in Favre's backside, you've got to wonder when McNabb believes it'll be his turn to get kicked out of the door.
"Well, when you talk about a guy who's broken every record possible that any QB dreams of achieving, who's been the face of the league and Green Bay -- I think it's shown for guys playing the position now that it can happen to anybody," McNabb said last week.
"No matter what your accomplishments are, the records you've broken, etc., when a team is ready to move in a direction -- they're ready. So I guess Brett will continue on by any means necessary, which means being with another team."
Pay attention to that last sentence.
McNabb was all smiles after the Eagles' preseason 24-13 victory over the Carolina Panthers last Thursday. He looked sharp, agile and mobile, every bit the playmaker he has been known to be since joining the league. He certainly looked fully capable of duplicating the impressive numbers he racked up last season: 3,324 yards passing, 19 touchdowns and only seven interceptions, and the second-highest completion percentage (61.5) of his career.
Then again, last season's most important stat for Eagles fans was the team's record: 8-8.
For fans, it didn't matter that coach Andy Reid had serious off-the-field family issues. Nor did it matter that McNabb was devoid of bona-fide weapons at the wideout position -- despite Kevin Curtis' numbers (77 catches, 1,110 yards).
What mattered to Eagles fans was that McNabb, the five-time Pro Bowler, appeared to be losing a step.
"We're aware of all those things," Reid said. "All I can tell you is that he's had a great offseason. His camp has been phenomenal. And that the goal is always the same with us: We're shooting for the stars every year. We're after a championship. He's here and we're ready."
McNabb received similar words of support from an even higher Eagles authority.
"I can tell you I have very high expectations for us this season, and a lot of that has to do with Donovan," team owner Jeffrey Lurie said. "He's looked as good as I've ever seen him in training camp. He knows what it takes. There's always pressure on the quarterback. As the leader of this team, Donovan knows he has to do well in order for us to do well. And when he's healthy, I believe he's the best QB in football."
Similar things were once said about Favre.
Unlike McNabb, Favre captured a Super Bowl title. He led his team to two NFC Championships, and his Packers never lost three NFC Championship Games in a row. And while McNabb has missed 15 games over the past three seasons, Favre -- well, you know that story.
Meanwhile for McNabb, there was the Terrell Owens fiasco. Absentee status in the postseason. Offseason after offseason in which Eagles fans begged for offensive weapons and received relatively little (Donte Stallworth, Reggie Brown, etc.) in return. Each of these developments became, for this impatient town, statements on the leadership qualities of the franchise player.
In July, it seemed McNabb had decided to address this concern, publicly stating his dissatisfaction with the Eagles' inability to acquire Randy Moss, Larry Fitzgerald, Chad Johnson or Roy Williams. More recently, McNabb has apparently taken a different tack, acting as if the Eagles are suddenly title contenders with the squad they have.
"The way Donovan's mind is right now, I'm not knocking him," said Eagles safety Brian Dawkins, who spent significant time training with McNabb during the offseason. "He's locked in right now. I haven't seen him this focused in years. He's ready."
A skeptic might attribute this focus to the $9.2 million base salary McNabb is scheduled to make in 2009, or the $52.4 million he's due to cash in the next four years. Instead, all of us should understand that this is far more attributable to the rampant trade speculation about McNabb this offseason, and to the rumblings of a city weary of its prematurely dimming star.
Asked to consider what transpired with Favre, Dawkins said: "None of us are safe. I feel the same way Donovan does. I can't speak to whether the whole Favre scenario added to Donovan's focus. Knowing him, he'd probably say it didn't. But I certainly believe it did. To watch what happened to Brett Favre has to be a wakeup call for anyone in the NFL, but especially a quarterback of Donovan's stature."
Especially in Philadelphia?
"Look, Philadelphia is a different place," Dawkins said. "I've said it a thousand times: Everybody can't play in Philadelphia. There has to be something about you to be able to survive here. And the cats who can -- may not want to."
Dawkins swears McNabb isn't one of those people. "He's not bitter," Dawkins said. "He's still a guy who swears he wants to win for this city."
Problem? The Packers said much the same thing about Favre, and look where it got him.
"It doesn't make you afraid," McNabb said. "Just ready for anything."
Stephen A. Smith is a columnist for ESPN.com and ESPN The Magazine.
ESPNNewYork.com columnist
Stephen A. Smith is a featured columnist for ESPNNewYork.com, a co-host on First Take" and a regular on "SportsCenter."
TRAINING CAMP 2008
The regular season approaches. What teams will complete the journey to Tampa for Super Bowl XLIII? Training camp index | Dates


Commentary/features

Warner proves he has future
The Cardinals gave Kurt Warner the chance to compete with Matt Leinart for the starting spot, and the 37-year-old quarterback made the most of the opportunity.
John Clayton
---

Pennington's learning curve
It seemed the Jets could not help Chad Pennington pack his bags fast enough. Now the most experienced QB on the Dolphins, he's relishing the chance to excel again.
Jeffri Chadiha
---
•
Kreidler: Future still promising for 49ers' Smith
•
Clayton: Injuries impact preseason
•
Seifert: A new approach in Detroit
•
Smith: Favre drama a reality check for McNabb
•
Kuharsky: Titans focused on defense
•
Sando: Running key for Holmgren's swan song
•
Mosley: Giants hope history teaches well
•
Garber: Coughlin distances from SB win
•
Williamson: Chiefs engergized by youth
•
Chadiha: O-line might hold real keys for Jets
•
Wickersham: Three tips for Favre
•
Mosley: Giants done with celebrating
•
Naylor: Canadian divide on NFL invasion
•
Graham: Sleeper Bills
|
Blog: Yo, Canada
•
Seifert: For a change, no distractions for Vikes
•
Mosley: McNabb confident Eagles among elite
•
Kuharsky: Garrard taking control
•
Mosley: Eagles poised to return to prominence
•
Clayton: Young on his way to elite status
•
Kuharsky: Garrard ready to lead Jags
•
Chadiha: Delhomme determined to seize moment
•
Yasinskas: Smith's approach suits Falcons
•
Mosley: Zorn's coaching desire finally fulfilled
•
Williamson: Young Raiders share Kiffin's hunger
•
Graham: Jets wiping slate clean
•
Chadiha: Turner ready to lead Falcons
•
Clayton: Vikings firmly in Jackson's corner
•
Walker: Tough schedule awaits Steelers in 2008
•
Mosley: Favre is QB turned ringmaster
•
Clayton: 5 reasons Favre would start for Pack
•
Graham: Patriots not dwelling on past
•
Sando: Rams optimistic despite questions
•
Williamson: Shanahan points to playoffs
•
Walker: Bengals look to move past chaos
•
Yasinskas: Delhomme, Peppers must step up
NFL blog network
•
NFL Nation blog
•
AFC
:
North
|
South
|
East
|
West
•
NFC:
North
|
South
|
East
|
West
•
Contact our bloggers
Camp Confidential training camp tour
A breakdown of our annual camp tour:
• Saturday, July 26: Ravens, Saints
• Sunday, July 27: Colts, Bears
• Monday, July 28: Dolphins, Cardinals
• Tuesday, July 29: Packers

---
•
Wednesday, July 30:
Chargers
,
Cowboys
•
Thursday, July 31:
Texans
,
49ers
•
Friday, Aug. 1:
Patriots
•
Saturday, Aug. 2:
Bengals
,
Panthers
---
•
Sunday, Aug. 3:
Broncos
•
Monday, Aug. 4:
Rams
•
Tuesday, Aug. 5:
Steelers
•
Wednesday, Aug. 6:
Jets
---
•
Thursday, Aug. 7:
Raiders
|
Redskins
•
Friday, Aug. 8:
Falcons
•
Saturday, Aug. 9:
Jaguars
---
•
Tuesday, Aug. 12:
Eagles
|
Vikings
•
Wednesday, Aug. 13:
Bills
•
Thursday, Aug. 14:
Chiefs
---
•
Friday, Aug. 15:
Giants
|
Seahawks
•
Saturday, Aug. 16:
Bucs
|
Lions
•
Sunday, Aug. 17:
Browns
•
Monday, Aug. 18:
Titans
Video
•
NFL Insiders on Bills, Broncos, more
•
Rachel Nichols on Favre, Jets
•
NFL Live dissects ESPN.com power rankings
Audio
•
Podcast: Biggest questions
Scouts Inc.
•
Camp outlook: AFC Q&A on X's and O's

•
Camp outlook: NFC Q&A on X's and O's

•
Notable quarterback battles
Nike Men's Salute To Service Limited Jersey Philadelphia Eagles Nick Foles #9 Shop »

MOST SENT STORIES ON ESPN.COM