Commentary
Camp Confidential: Bengals looking to move past chaotic offseason
Updated:
August 18, 2008, 8:21 AM ET
By
James Walker
| ESPN.com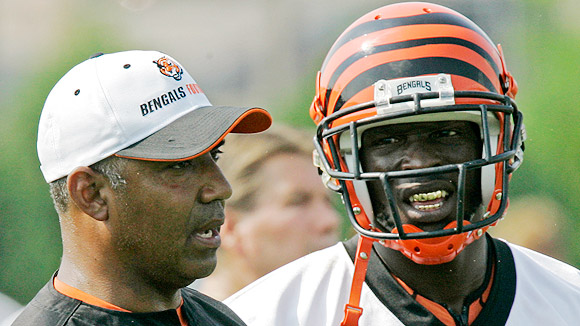 AP Photo/Al BehrmanMarvin Lewis (left) and Chad Johnson are looking to put a rocky offseason behind them and focus on getting back to the playoffs.
GEORGETOWN, Ky. -- Following a chaotic offseason that included two high-profile releases and a star player that wanted out, the
Cincinnati Bengals
finally shifted their focus to football this week. Training camp couldn't come soon enough for Cincinnati. Head coach Marvin Lewis is coming off his worst season as an NFL head coach with last year's 7-9 finish. The Bengals were once considered a team on the rise. But injuries, inconsistent play and off-the-field misconduct caught up with this team the past two seasons.
Cutting talented high draft picks Chris Henry (arrested but charges dismissed) and Odell Thurman (failed substance abuse test) for recent transgressions were significant statements that Cincinnati is going in another direction. The team also took a hard-line stance with Pro Bowl receiver Chad Johnson's trade demands, and it worked in Cincinnati's favor. But an array of questions remains for the 2008 season.
Key questions



1. Is this the year the defense improves?
The Bengals are on their third defensive coordinator in five years and hope Mike Zimmer is the guy that can finally fix this leaky unit. Cincinnati has a lot going against its defense because many of its best players are young. Linebacker Keith Rivers, defensive tackle Domata Peko and cornerbacks Johnathan Joseph and Leon Hall make for a good nucleus of playmakers, but these four players combine for just five years of experience. The rest of the defense consists of unproven talent and veteran journeymen trying to fill roles. Free-agent pickup Antwan Odom, who had a career-high eight sacks last year, could be a force but the defensive end suffered a foot sprain on the first day of training camp. His timetable to return is unknown. Zimmer wants a physical 4-3 defense that can pressure and stop the run. But it's questionable if Cincinnati, which ranked No. 27 in total defense last season, has the proper personnel and enough talent to pull it off. "They're young players but I don't treat them like young guys," Zimmer said. "I treat them like veteran guys and they've responded well. It's good to get the pads on the last few days and find out what we're really about. Because we look OK in shorts, but whether or not we look good in pads remains to be seen." 2. Will Chad Johnson stay focused?
Fans in Cincinnati are tired of hearing about Chad Johnson and his public squabbles with the Bengals, and that's understandable. He dominated the headlines all offseason in Cincinnati.

But Johnson is an integral part of what the Bengals do offensively. He commands double teams so T.J. Houshmandzadeh can roam free against one-on-one coverage. And Johnson remains the team's best deep threat, especially after Henry's release.

If Johnson were not in the lineup, the Bengals offense wouldn't be the same. Houshmandzadeh could be the No. 1 receiver, but they wouldn't have a reliable second threat, though Jerome Simpson or Andre Caldwell may someday fill that void. The Bengals need Johnson to perform this year if they want to be a playoff team, so his happiness is important. Along those lines, the team reportedly recently agreed to revisit his contract status in 2009, which should cease the constant infighting between Johnson and the organization. 3. Is Marvin Lewis on the hot seat?
Hold off on all the hot-seat talk. Marvin Lewis is secure in his post in Cincinnati. Lewis instantly brought a morbid franchise back to respectability and has a solid 42-38 career record in Cincinnati. It's amazing how easily people forget the Bengals were 19-61 during the previous five years before Lewis arrived. A strong case can be made that he's done more with less than any head coach over the past five years. But Bengals fans have raised the bar on Lewis by expecting consistent playoff appearances, and he hasn't delivered. Lewis also deserves blame for his first losing season and a series of arrests with players that he drafted. But it's not to the point where Lewis is coaching for his job.

Lewis also has the respect of his boss, owner Mike Brown, and that goes a long way with the Bengals.
Market watch



Stock in Cincinnati's No. 3 receiver spot has fallen after the release of Chris Henry. He brought a rare combination of size and speed that the Bengals will struggle to replace this season.

Cincinnati has a pair of rookies in Simpson and Caldwell that the team hopes can step up and fill the void Henry left behind. Caldwell is a little bit more polished than Simpson at this point. Both have shown flashes but are not making enough plays consistently. Backups Glenn Holt and Antonio Chatman also have a shot, but are not considered long-term solutions.

Look out for four-year veteran Marcus Maxwell, who has made a lot plays in training camp thus far. He has been the most consistent receiver of this group, but with just one career reception Maxwell still has to prove he can perform in game situations. "It will come," Maxwell said. "This is my first opportunity in three and a half years where I actually have a chance to be on the field [in games]. But being on the practice squad, I've had the chance to play against some real good DBs, so it's all about getting acclimated to what you're doing."
Newcomer to watch
[+] Enlarge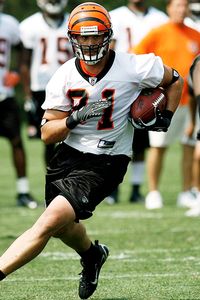 Frank Victores/US PresswireFormer Colt Ben Utecht should give Carson Palmer a good option at tight end.

Ben Utecht is giving quarterback Carson Palmer something he's never had -- a receiving tight end. The Bengals became predictable last season when their running game stalled. Houshmandzadeh and Johnson were the only viable threats, prompting Cincinnati to add another threat at tight end this offseason. Utecht had 31 receptions for Indianapolis last season as the backup to Dallas Clark. "I think I'm someone that's going to spread out the defense, and it's going to do nothing but help the receivers that we already have on this team," Utecht said. "We have T.J. and Chad getting double teamed, and you put another guy down the middle of the field that's going to relieve some of the pressure there." The addition of Utecht also allows backup Reggie Kelly to focus solely on run blocking, which is what he does best.
Observation deck
Rookie outside linebacker Keith Rivers, the No. 9 overall pick in April's draft, remains the lone holdout for the Bengals. Rivers solidified his spot on the first team with an impressive spring but is hurting his chances by missing the first week of camp. Third-year linebacker Brandon Johnson is working with the first team in Rivers' place. ... Stacy Andrews has all but secured the right tackle spot from longtime stalwart Willie Anderson, who is slowing down in his 13th season. Andrews, 27, is physical and athletic and looks like a younger version of Anderson, who was a Pro Bowler in his prime. &The Bengals' tailback tandem of Rudi Johnson and Chris Perry has looked impressive in camp. Both players are coming of injuries that hampered them during the 2007 season.
James Walker covers the NFL for ESPN.com
ESPN Miami Dolphins reporter
A Temple graduate and Hyattsville, Md., native who lives in Miami
Joined ESPN in 2008
TRAINING CAMP 2008
The regular season approaches. What teams will complete the journey to Tampa for Super Bowl XLIII? Training camp index | Dates


Commentary/features

Warner proves he has future
The Cardinals gave Kurt Warner the chance to compete with Matt Leinart for the starting spot, and the 37-year-old quarterback made the most of the opportunity.
John Clayton
---

Pennington's learning curve
It seemed the Jets could not help Chad Pennington pack his bags fast enough. Now the most experienced QB on the Dolphins, he's relishing the chance to excel again.
Jeffri Chadiha
---
•
Kreidler: Future still promising for 49ers' Smith
•
Clayton: Injuries impact preseason
•
Seifert: A new approach in Detroit
•
Smith: Favre drama a reality check for McNabb
•
Kuharsky: Titans focused on defense
•
Sando: Running key for Holmgren's swan song
•
Mosley: Giants hope history teaches well
•
Garber: Coughlin distances from SB win
•
Williamson: Chiefs engergized by youth
•
Chadiha: O-line might hold real keys for Jets
•
Wickersham: Three tips for Favre
•
Mosley: Giants done with celebrating
•
Naylor: Canadian divide on NFL invasion
•
Graham: Sleeper Bills
|
Blog: Yo, Canada
•
Seifert: For a change, no distractions for Vikes
•
Mosley: McNabb confident Eagles among elite
•
Kuharsky: Garrard taking control
•
Mosley: Eagles poised to return to prominence
•
Clayton: Young on his way to elite status
•
Kuharsky: Garrard ready to lead Jags
•
Chadiha: Delhomme determined to seize moment
•
Yasinskas: Smith's approach suits Falcons
•
Mosley: Zorn's coaching desire finally fulfilled
•
Williamson: Young Raiders share Kiffin's hunger
•
Graham: Jets wiping slate clean
•
Chadiha: Turner ready to lead Falcons
•
Clayton: Vikings firmly in Jackson's corner
•
Walker: Tough schedule awaits Steelers in 2008
•
Mosley: Favre is QB turned ringmaster
•
Clayton: 5 reasons Favre would start for Pack
•
Graham: Patriots not dwelling on past
•
Sando: Rams optimistic despite questions
•
Williamson: Shanahan points to playoffs
•
Walker: Bengals look to move past chaos
•
Yasinskas: Delhomme, Peppers must step up
NFL blog network
•
NFL Nation blog
•
AFC
:
North
|
South
|
East
|
West
•
NFC:
North
|
South
|
East
|
West
•
Contact our bloggers
Camp Confidential training camp tour
A breakdown of our annual camp tour:
• Saturday, July 26: Ravens, Saints
• Sunday, July 27: Colts, Bears
• Monday, July 28: Dolphins, Cardinals
• Tuesday, July 29: Packers

---
•
Wednesday, July 30:
Chargers
,
Cowboys
•
Thursday, July 31:
Texans
,
49ers
•
Friday, Aug. 1:
Patriots
•
Saturday, Aug. 2:
Bengals
,
Panthers
---
•
Sunday, Aug. 3:
Broncos
•
Monday, Aug. 4:
Rams
•
Tuesday, Aug. 5:
Steelers
•
Wednesday, Aug. 6:
Jets
---
•
Thursday, Aug. 7:
Raiders
|
Redskins
•
Friday, Aug. 8:
Falcons
•
Saturday, Aug. 9:
Jaguars
---
•
Tuesday, Aug. 12:
Eagles
|
Vikings
•
Wednesday, Aug. 13:
Bills
•
Thursday, Aug. 14:
Chiefs
---
•
Friday, Aug. 15:
Giants
|
Seahawks
•
Saturday, Aug. 16:
Bucs
|
Lions
•
Sunday, Aug. 17:
Browns
•
Monday, Aug. 18:
Titans
Video
•
NFL Insiders on Bills, Broncos, more
•
Rachel Nichols on Favre, Jets
•
NFL Live dissects ESPN.com power rankings
Audio
•
Podcast: Biggest questions
Scouts Inc.
•
Camp outlook: AFC Q&A on X's and O's

•
Camp outlook: NFC Q&A on X's and O's

•
Notable quarterback battles
ESPN FAN SHOP