Commentary
Camp Confidential: Steelers have talent, momentum to excel in 2008
Updated:
August 18, 2008, 8:17 AM ET
By
James Walker
| ESPN.com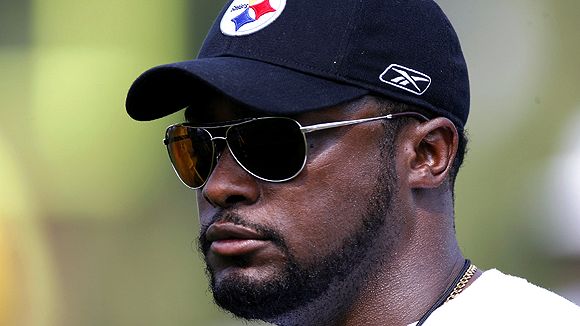 Gregory Shamus/Getty ImagesMike Tomlin's first season as Steelers' head coach saw him win 10 games and earn a division title.
LATROBE, Pa. -- The
Pittsburgh Steelers
, the reigning champions of the AFC North, are looking to build on that momentum in 2008.
This marks the second season for Steelers head coach Mike Tomlin, who did a solid job of getting Pittsburgh to 10 wins and a playoff berth during his first season at the helm.
Now, Tomlin and the Steelers want more.
This team certainly has talent. Pittsburgh returns a majority of its starters from last year's top-ranked defense. And the Steelers also added offensive firepower in the draft with its first-round pick, running back Rashard Mendenhall, and its second-round pick, receiver Limas Sweed, to go with a solid core of players on that side of the football.
But the Steelers are not without holes, particularly along the offensive line, and they have several more questions heading into this season.
Key questions
1. Can Pittsburgh overcome a tough schedule?

No team in the NFL has a tougher schedule than the Steelers. With a .598 opponent winning percentage, the team will get very few breathers during a grueling 16-game season.
The schedule includes the NFC East, which had three playoff teams in 2007, and the reigning Super Bowl champion New York Giants.
But the key will be Pittsburgh's ability to win within the AFC North. The Steelers went 5-1 in the division last season, helping them win a tiebreaker over Cleveland after sweeping the Browns last season.
Ten wins likely will win the division again this year and give Pittsburgh, at the very least, a home playoff game. But the Steelers' dominance in the division surely will be tested this year by a young, up-and-coming Browns team that had seven Pro Bowlers last season.
The
Baltimore Ravens
also match up well with Pittsburgh every year, in addition to the
Cincinnati Bengals
with their high-powered offense.
2. Will the offensive line protect Big Ben?

Ben Roethlisberger is a large quarterback at 6-foot-5, 241 pounds. But that's no excuse for the offensive line to allow an astounding 93 sacks the past two seasons.
No matter how you slice it, pass protection will be a big issue in Pittsburgh.
Either Roethlisberger, coming off a $102 million contract extension this offseason, will be protected and the Steelers will be serious contenders, or the offensive line will fall apart and prevent Pittsburgh from competing with elite teams in the AFC such as the New England Patriots, Indianapolis Colts, San Diego Chargers and last year's nemesis -- the Jacksonville Jaguars.
Pittsburgh signed free agent Justin Hartwig to solidify the center position, which was arguably its weakest last season. Unproven guard Chris Kemoeatu (triceps) just practiced for the first time on Monday, and he's trying to replace former Steeler and seven-time Pro Bowler Alan Faneca. Veteran guard Kendall Simmons has started 14 or more games five straight years and is the most reliable of the group. Left tackle Marvel Smith is returning from back surgery, and Willie Colon is leading Max Starks in the competition for the right tackle spot.
3. Can Roethlisberger ascend to the elite QBs?

The pass protection issue goes hand in hand with Roethlisberger's development as one of the NFL's elite quarterbacks. But based on the way he has been throwing the football during the spring and summer, Roethlisberger appears ready to ascend to previously unseen heights in 2008.
Roethlisberger had a stellar minicamp in the spring and hasn't slowed his momentum so far in training camp. He's coming off a career year in which he threw for 3,154 yards and 31 touchdowns, and he was one of only three quarterbacks to have a triple-digit passer rating.
Roethlisberger has reached the status of a Pro Bowl quarterback after making his first trip to Hawaii last season. But he is not yet considered NFL quarterback royalty in the mold of the New England Patriots' Tom Brady and the Indianapolis Colts' Peyton Manning.
With continued improvement and another deep run into the postseason, you can start to put "Big Ben" in that conversation. If Roethlisberger can get rid of the ball faster and get improved pass protection up front, expect another monster year.
Market watch
[+] Enlarge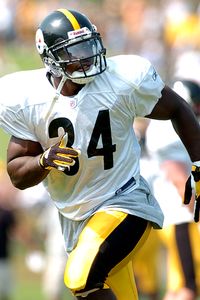 Michael Fabus/Getty ImagesRookie Rashard Mendenhall will add much needed depth to the Steelers' running attack.
Stock in Pittsburgh's running back position was upgraded with the addition of Mendenhall.
The Steelers were hurt by their lack of depth last season when Willie Parker suffered a broken leg, and now they have Parker back and very good insurance in Mendenhall.
Some scouts felt Mendenhall was the second-best tailback in the draft behind Darren McFadden of the Oakland Raiders. Still, Mendenhall surprisingly fell to the No. 23 spot to Pittsburgh and was the fourth running back taken.
Although Mendenhall will be a backup, Pittsburgh is devising ways to get him acclimated into the offense. There will be packages in which the Steelers will use both Parker and Mendenhall in the backfield simultaneously.
Newcomer to watch
Second-year linebacker LaMarr Woodley will get his first chance to be a full-time starter this season. Woodley showed flashes in a reserve role in 2007 as a rookie.
Woodley had four sacks and proved that he could get to the quarterback, a skill that is vital for the outside linebacker position in Pittsburgh. Woodley will replace Clark Haggans, who signed with the Arizona Cardinals.
But the Steelers will need more from Woodley this season as the starter. He only had 14 total tackles last season.
Observation deck
Former first-round pick Lawrence Timmons also will be relied upon as a versatile backup in Pittsburgh. He is currently the first backup middle linebacker but also has enough ability to fill in at outside linebacker if necessary. ... Entering his 12th season, starting receiver Hines Ward was voted as the NFL's smartest offensive player (non-quarterback) this year by league head coaches. ... The Steelers have faced the injury bug this summer. Key players such as safety Troy Polamalu (hamstring), linebacker James Harrison (groin), guard Kendall Simmons (shoulder) and kicker Daniel Sepulveda (knee) all have injuries. Only Sepulveda's torn ACL injury is serious. He will have surgery on Wednesday and is expected to miss the entire 2008 season. ... Last year's Heisman Trophy candidate Dennis Dixon was taken in the fifth round and could turn out to be a decent player for Pittsburgh. He is currently the No. 3 quarterback and could find his way onto the field on trick plays.
James Walker covers the NFL for ESPN.com.
ESPN Miami Dolphins reporter
A Temple graduate and Hyattsville, Md., native who lives in Miami
Joined ESPN in 2008
TRAINING CAMP 2008
The regular season approaches. What teams will complete the journey to Tampa for Super Bowl XLIII? Training camp index | Dates


Commentary/features

Warner proves he has future
The Cardinals gave Kurt Warner the chance to compete with Matt Leinart for the starting spot, and the 37-year-old quarterback made the most of the opportunity.
John Clayton
---

Pennington's learning curve
It seemed the Jets could not help Chad Pennington pack his bags fast enough. Now the most experienced QB on the Dolphins, he's relishing the chance to excel again.
Jeffri Chadiha
---
•
Kreidler: Future still promising for 49ers' Smith
•
Clayton: Injuries impact preseason
•
Seifert: A new approach in Detroit
•
Smith: Favre drama a reality check for McNabb
•
Kuharsky: Titans focused on defense
•
Sando: Running key for Holmgren's swan song
•
Mosley: Giants hope history teaches well
•
Garber: Coughlin distances from SB win
•
Williamson: Chiefs engergized by youth
•
Chadiha: O-line might hold real keys for Jets
•
Wickersham: Three tips for Favre
•
Mosley: Giants done with celebrating
•
Naylor: Canadian divide on NFL invasion
•
Graham: Sleeper Bills
|
Blog: Yo, Canada
•
Seifert: For a change, no distractions for Vikes
•
Mosley: McNabb confident Eagles among elite
•
Kuharsky: Garrard taking control
•
Mosley: Eagles poised to return to prominence
•
Clayton: Young on his way to elite status
•
Kuharsky: Garrard ready to lead Jags
•
Chadiha: Delhomme determined to seize moment
•
Yasinskas: Smith's approach suits Falcons
•
Mosley: Zorn's coaching desire finally fulfilled
•
Williamson: Young Raiders share Kiffin's hunger
•
Graham: Jets wiping slate clean
•
Chadiha: Turner ready to lead Falcons
•
Clayton: Vikings firmly in Jackson's corner
•
Walker: Tough schedule awaits Steelers in 2008
•
Mosley: Favre is QB turned ringmaster
•
Clayton: 5 reasons Favre would start for Pack
•
Graham: Patriots not dwelling on past
•
Sando: Rams optimistic despite questions
•
Williamson: Shanahan points to playoffs
•
Walker: Bengals look to move past chaos
•
Yasinskas: Delhomme, Peppers must step up
NFL blog network
•
NFL Nation blog
•
AFC
:
North
|
South
|
East
|
West
•
NFC:
North
|
South
|
East
|
West
•
Contact our bloggers
Camp Confidential training camp tour
A breakdown of our annual camp tour:
• Saturday, July 26: Ravens, Saints
• Sunday, July 27: Colts, Bears
• Monday, July 28: Dolphins, Cardinals
• Tuesday, July 29: Packers

---
•
Wednesday, July 30:
Chargers
,
Cowboys
•
Thursday, July 31:
Texans
,
49ers
•
Friday, Aug. 1:
Patriots
•
Saturday, Aug. 2:
Bengals
,
Panthers
---
•
Sunday, Aug. 3:
Broncos
•
Monday, Aug. 4:
Rams
•
Tuesday, Aug. 5:
Steelers
•
Wednesday, Aug. 6:
Jets
---
•
Thursday, Aug. 7:
Raiders
|
Redskins
•
Friday, Aug. 8:
Falcons
•
Saturday, Aug. 9:
Jaguars
---
•
Tuesday, Aug. 12:
Eagles
|
Vikings
•
Wednesday, Aug. 13:
Bills
•
Thursday, Aug. 14:
Chiefs
---
•
Friday, Aug. 15:
Giants
|
Seahawks
•
Saturday, Aug. 16:
Bucs
|
Lions
•
Sunday, Aug. 17:
Browns
•
Monday, Aug. 18:
Titans
Video
•
NFL Insiders on Bills, Broncos, more
•
Rachel Nichols on Favre, Jets
•
NFL Live dissects ESPN.com power rankings
Audio
•
Podcast: Biggest questions
Scouts Inc.
•
Camp outlook: AFC Q&A on X's and O's

•
Camp outlook: NFC Q&A on X's and O's

•
Notable quarterback battles
ESPN FAN SHOP